Orange Infused Avocado Sourdough Bread
Making breads must be a disease like any other addiction.  You don't want to stop once you get going.  
We just planted a baby avocado tree in our backyard.  A big storm last November uprooted one of our jacaranda trees and there was a spot available.  It will be years before our avocado bears fruit if it survives, but I am getting ahead of my game and practising my skill.  
Hass avocado is our favorite variety of avocado here in Australia.  Apparently in the U.S. it accounts for more than 80% of the avocado crop, including 95% of the California crop.  So, plenty is available.
I once made an avocado moose with orange cream and the kids loved it.  I haven't tried avocado in breads.  The tricky part would be how to let the sourdough shine - would the oil in avocado interfere with the sourdough culture? and, how to preserve the vibrant green color?  I know I will need the help of a little bit of instant yeast.  As well, I am pairing orange with avocado as avocado on its own may be a bit bland.  There may be one too many flavors but this is just my first try.
Formula
 250 g starter (refreshed last night at 75% hydration)
 485 g King Arthur Flour Sir Lancelot white bread flour
100 g water
100 g orange juice (about 1  1/2 navel oranges)
10 g very fine orange zest (about 1  1/2 navel oranges)
20 g honey
1.5 g instant yeast (1/2 tsp)
the avocado mixture
150 g roughly mashed avocado (about 1  1/2 medium size avocado)
10 g lemon juice (about 1/2 lemon)
11 g salt
I was aiming for a final dough hydration of around 63.5% and I figured the oil/liquid in avocado is anywhere from 40 - 50% its weight. 
              orange zest                                                                       mixing with avocado
I first mixed the starter, flour, orange and honey (for no more than 30 seconds), and while the sticky mess was being infused in orange flavors in resting, I prepared the ingredients for my avo mixture.  I chose the avocado slightly under ripe as I find if avo is too ripe it tends to oxidise too quickly once it's open.  I left it to the last minute to cut open my avo, mashed it with lemon juice and salt - the mixture is great to eat as is - then, chucked it right into my bread machine and turned it on at low speed.  I had to help the machine as the avo was swept aside and not being mixed in.
The rest of the procedure is pretty standard.  Today the weather was warmer than yesterday (around 21C); the first fermentation took 4 hours.  I divided the dough into two pieces and shaped.  Proofing was another 1 1/2 hours.  And here is today's bake: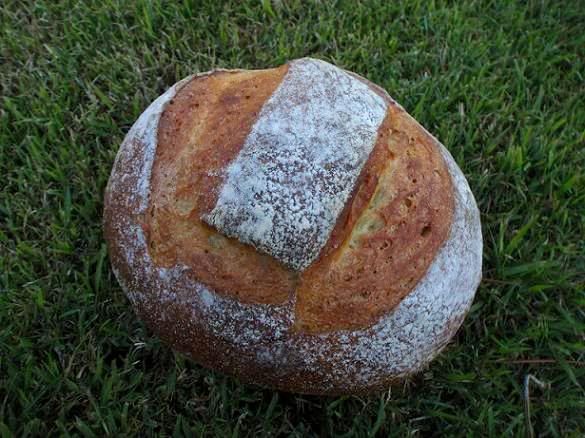 The boule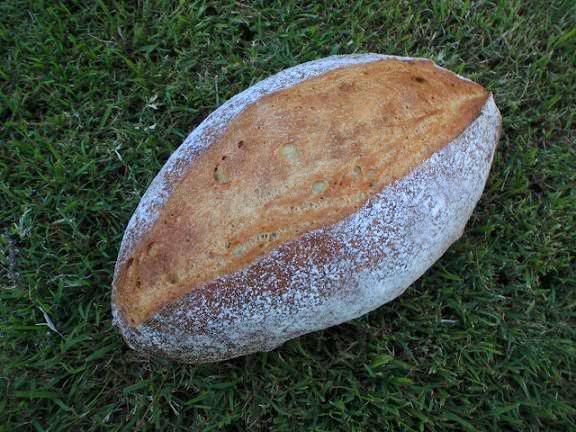 The...(what do you call this shape?)
                                         The bread basket
The crumb was a little bit on the dense side, but the aroma!... the orange fragrance really comes through the crumb!  The avocado was also there. The crumb color was a pale olive green (somehow the crumb photo below does not show the color accurately but the open sandwich picture further down is more true).  We sliced the bread after 30 minutes from the oven (couldn't wait any longer), the first thing that hit us was orange, then a slight hint of avocado.  The interest thing was, after the bread rested for another hour and a half, the sourdough taste comes alive.   It was only then that all flavors and sourdough have come together nicely.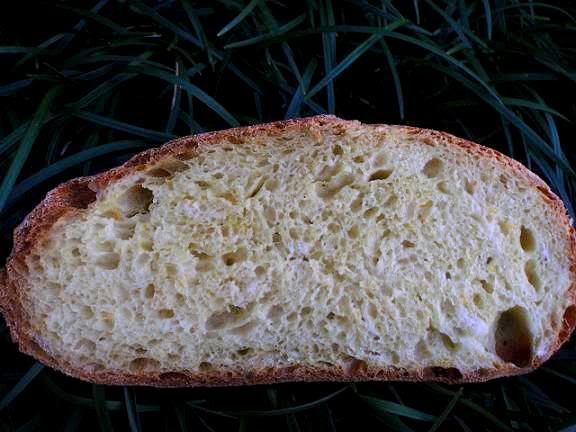 The crumb
There is definitely room for improvement on the crumb.  I am sure Sir Lancelot flour was not the right choice of flour as it is a high protein, hard wheat flour.  I used it because I've only just received it from America and wanted to try it out.  For a more open crumb I should have used a lower protein and more balanced flour.   Nontheless, for the moment, I am happy to have it on its own or in a sandwich...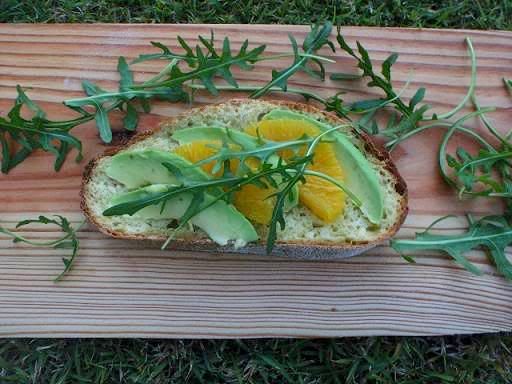 The open sandwich
The forefathers in 18th century Paris making sourdough breads in their little dark dungeons in the wee hours of the morning, had they had access to ample fresh avocado supply, and fresh oranges supply, would they not have tried the combination?
I've got to finish reading S L Kaplan's book before I get any older.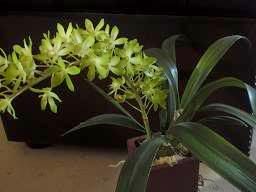 Shiao-Ping