Kalamata Olive, Sun-dried tomato, and Feta Bread
A friend of mine, who is a great baker, sent me this recipe that she adapted from a clipping that she cut out of the Chicago Tribune in 1994. She's getting ready to move and discovered it when cleaning out her files. She had kept it for 15 years but never tried it (just how many of us have recipes lying around for decades that we've never tried?) The recipe from the clipping was from The Bread Book by Betsy Oppenneer.
I just made half of the recipe but I was really sorry that I didn't make the full batch because this is such a delicious bread with a lot of interesting flavors, a nice soft crust, and a powerful aroma that was even present upon opening the loaf up the next morning. It made my whole kitchen smell like a bakery.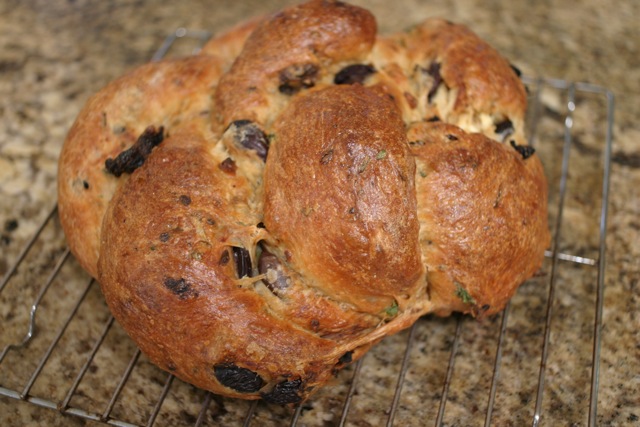 400 g water
14 g instant yeast
625 g bread flour (I used KA--you might need a little more flour depending on how wet your olives and tomatoes are)
42 g dried milk powder
18 g sugar
7 g salt
1 egg, beaten
180 g pitted Kalamata olives, cut in half or thirds (I used a drained 6.5 oz. jar of TJs)
8 oz. julienned sun-dried tomatoes packed in oil, drained (can use reconstituted dry pack if you prefer; I used an 8.5 oz. of TJs julienned sun-dried tomatoes)
25 g chopped fresh parsley (fresh basil would also be delicious)
8 oz. feta cheese, crumbled
Egg wash
Combine water, yeast, flour, dry milk, sugar, egg, and salt in mixer bowl. Mix with paddle just to combine. Add in tomatoes, olives and parsley at the end being careful not to break them up too much.
Let dough rest 15 minutes in covered mixer bowl. Turn out onto lightly floured counter and knead a few turn to form a ball. Place in oiled covered container and let rest another 15 minutes. Do a stretch and fold. Return dough to bowl. Wait another 15 minutes and do a 2nd stretch and fold.
Return to covered bowl and let rise until double (about an 1 1/2 hours--I can't remember exactly how long this took).
Divide dough into two equally sized balls and roll each out into a cylinder about 12" long and 1/4" thick. Sprinkle each rectangle with half the feta, and then cut the rectangle in half length-wise.
Roll up each strip of dough tightly to form a long cylinder, and then roll each cylinder back and forth until each is 24" long. Braid two cylinders together and then coil them to form a round loaf.
Place each loaf on parchment, spray lightly with pan-spray, cover loosely with plastic wrap, and let proof until almost double, about one hour.
Place oven stone on rack in middle position and preheat oven to 375º F.
Just before baking, brush loaves with egg wash. Bake directly on stone for about 35 minutes until center reaches 190º F.
Makes two round loaves (can also be baked in loaf pans).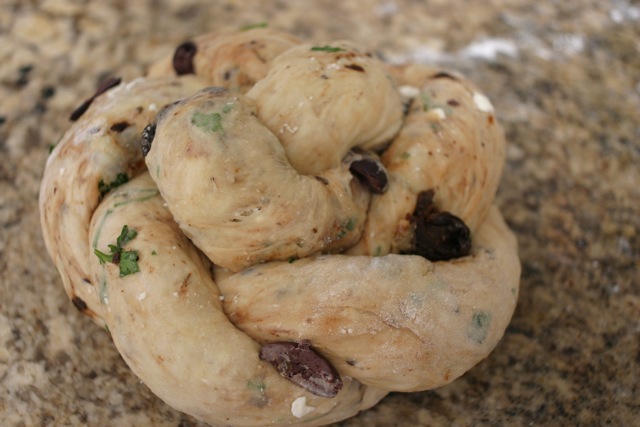 We cut a few slices of the bread when it was still warm (we just couldn't wait; it smelled so good). The reason why part of the slice is missing in this shot is because my husband pulled off one of the bulbs and ate it before going to bed. (Geeze, Jim, you wrecked my picture!)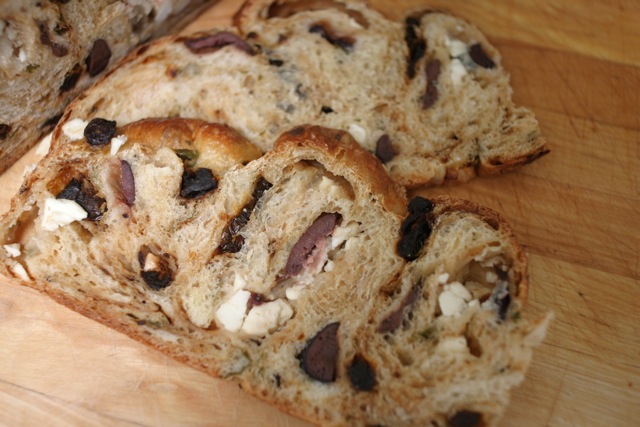 It also makes great toast. I had it for breakfast and lunch!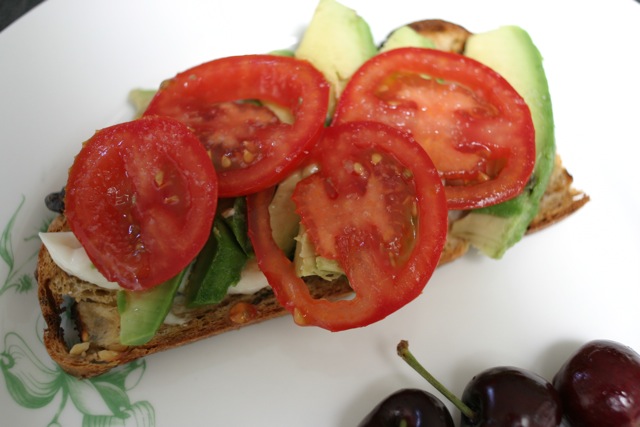 --Pamela