French sourdough breads in Japan? ... and "variety breads"?
The method of these two sourdough breads came from Bolangerie Comme Chinois' head chef, Nishikawa Takaaki, in Kobe, Japan.  His most recent cook, "Varie" (i.e., variety breads) is one of the most amazing books of modern French breads I have ever read.  For over many decades Japan has had dedicated chefs working and training in France; they then went back to Japan to not only spread the French bread culture but also to enrich their own.   The breads and pastry shops in Japan are simply wonderful.  In 2002 Japan won the triennial Coupe du Monde de la Boulangerie in Paris.  (The US team took gold in 2005 and France only reclaimed their home gold in 2008.  Incidentally, Taiwan's first-ever representation to this event in 2008 came second to hosts France.)  
As Taiwan was under Japanese occupation for 50 years which ended at the end of the Second World War, many of my parents' generation speak Japanese.  I grew up in Taiwan eating what I now know as "variety breads" from Japan, which in turn came from France but with a heavy Japanese influence.  The "variety breads" that I had as a young kid were, and still are today, a meal on its own.  They can be either savory or more desert like - anything is possible with these variety breads.     
All variety breads came from a basic dough piece with "variety" built on to it.  Before I tried anything fancy, I thought I'd start off plain.   I used Nishikawa Takaaki's Pain Paysanne recipe for both breads here, which has 15% whole wheat and 5% rye meal.  It employs a poolish as well as a very firm starter @ 49% hydration.  My basic dough weighed 1,250g at 65% hydration, 700g of which I used for the plain sourdough bread below, and the balance 550g for the "wave" loaf.  For the sourdough bread, it's bulk fermented for 50 minutes at 28 degree C (82F) with one stretch & fold at the 30 minutes mark, then shaped and proofed for 3 hours also at 28 degree C.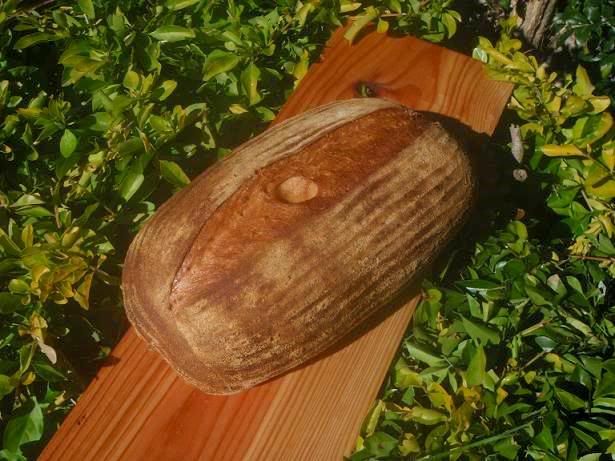 plain sourdough bread using Nishikawa's Pain Paysanne recipe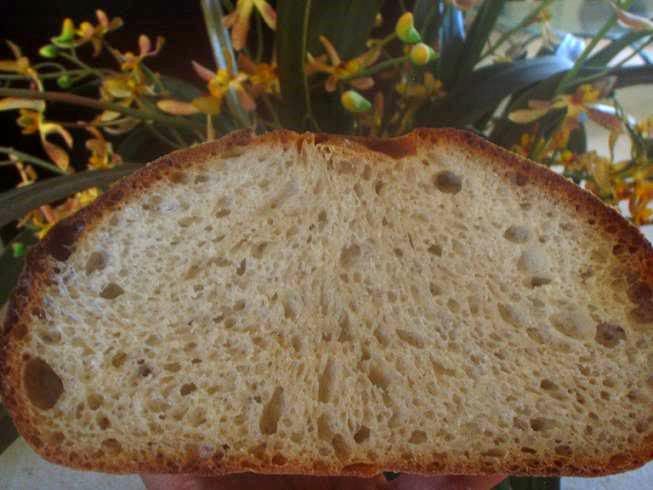 My "wave" loaf below is a poor representation of Nishikawa Takaaki's version.  The basic dough is placed in freezer for 30 minutes to firm up, at which point a piece of flatten out butter (25% dough weight) is incorporated and folded several times - much like the way dough is prepared for croissant.  The dough is then divided into two pieces which are twisted and, at the same time, braided before being placed into a loaf tin to proof for 3 hours at 28 degree C (82.5F), then bake with steam.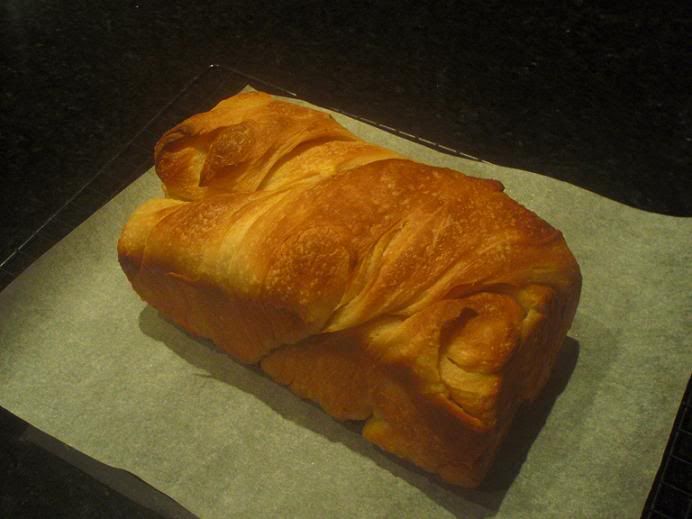 sourdough "wave" loaf using Nishkawa's Pain Paysanne's recipe as the basic dough
Shiao-Ping