DiMuzio's San Francisco Sourdough
Happy Memorial Day, Everybody!
I made Dan's SF SD bread yesterday, baked it last night (it got a lot of oven spring), and let it cool on the counter overnight. When I sliced into it this morning, I was very pleased with its structure and open crumb. I would have liked a bit more tang but think that could be achieved by retarding the proof overnight in the fridge. I'm not sure if that would required reducing the amount of starter, but perhaps Dan will supply an opinion. Dan's formula for SFSD was both easy and rapid. Another benefit to Dan's formula (indeed all of the formulas in Bread Baking) is that you can use KA AP, which can be purchased is 25 pound sacks, instead of KA Bread flour. I was amazed that I could turn such a professional looking loaf in a mere day, not counting the time required for getting the starter ready. Dan's formula also incorporated a lot more starter in it than I'm used to! I think this was a very successful bake and I would definitely recommend it to anyone wanting to reproduce an authentic San Francisco Sourdough!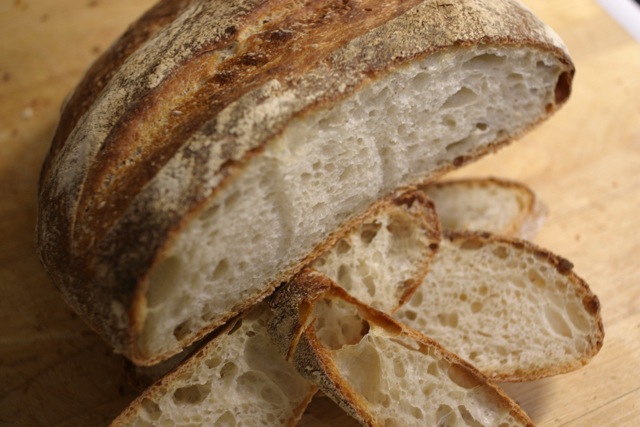 Formula for two loaves:
700 g bread flour (because KA bread flour is so strong, I used KA AP)
500 g water
20 g salt
480 g firm ripe levain (67% hydration)
My method: mix the water and ripe levain together to combine, add the remaining ingredients and mix with the paddle on speed 1 for 1 minute. Turn off mixer and let rest 5 minutes. Mix with dough hook on speed 2 for 4 minutes. Let dough rest covered in mixer bowl for 20 minutes. Dump dough on lightly floured counter and do a stretch and fold. Put dough into an oiled dough bucket and let rest another 20 minutes. Do another stretch and fold. Let rise until double in the covered dough bucket. Form into two loaves and proof onto a well-floured linen-lined banneton until nearly double. Bake at 450º on a hot stone with steam until done, about 27 minutes. Let rest in a turned off oven for about 10 minutes to darken and harden the crust.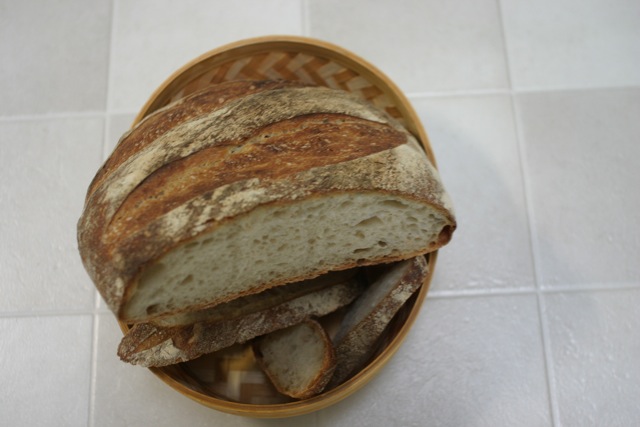 --Pamela