Here are some of my recent loaves: This weekend I had a go at a Pain Meunier ("Miller's bread"), which is a great tasting wheat loaf. Apparently, this kind of bread was invented by boulangers as a way to thank their millers for reliable flour and grains. The whole wheat kernel is used in these recipes; in addition to wheat flours, cracked wheat, wheat germ and wheat bran are often added. The result is a wonderful, nutritious wheat loaf, with an appealing golden colour.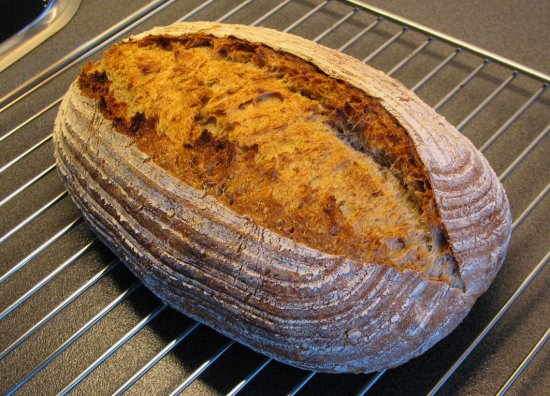 I used the overall recipe from Suas' ABAP as my jumping off point, added some more whole wheat flour, increased the hydration slightly, and tweaked it so that I could use my firm, white starter for the loaf. A very nice everyday wheat loaf!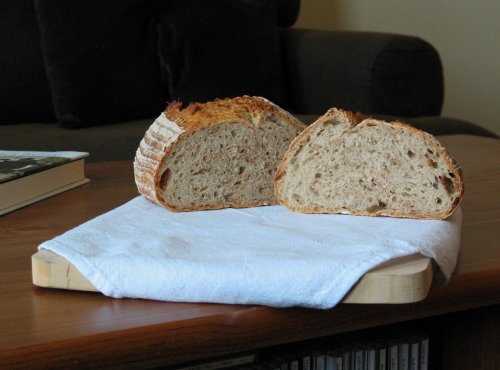 I've also had great success with turning this dough into rustic wheat baguettes, but then I've opted for a poolish instead of a firm starter as the preferment. This dough yields baguettes with a crisp crust and a full wheaty flavour. Recommended.
The next loaf is the whole grain loaf from the same book. My first go at this formula, so you can see from the photo below that I was slightly "optimistic" in scoring the loaf... The oven spring wasn't exactly tremendous, so the cuts just barely opened up, but the loaf held its profile very well during the bake. I guess a thorough mix followed by gentle shaping is the way to go with loaves like this.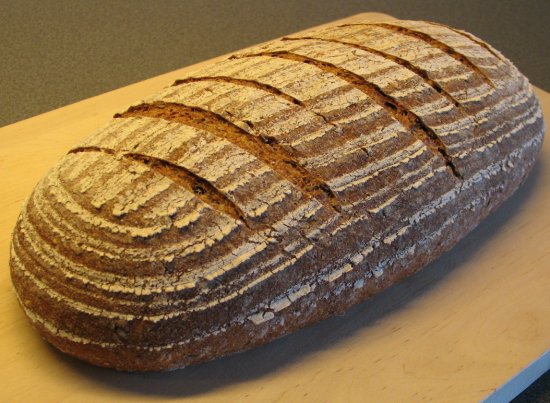 The formula calls for a whole wheat levain, so the only white flour comes from the stiff starter used to seed the levain. The rest is a mix of whole wheat flour, rye meal, medium rye flour and a soaker of flax, sesame, sunflower seeds and rolled oats. I just had a slice with some chèvre and one with herring, and I found both to be "most agreeable" (i.e. "great"). The dominating taste in this loaf for me, is the soaker combined with a certain spicyness that I'll ascribe to the rye meal.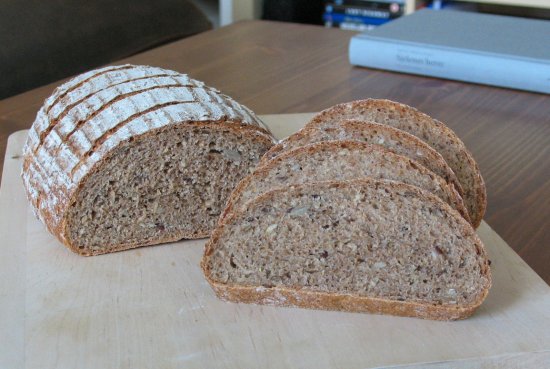 Yesterday I baked two Gibassiers - a flat bread from the Luberon region of France. The dough is rich, made up of milk, eggs, olive oil, butter, orange blossom water (I couldn't find any, so I used Cointreau instead - perhaps making this the "grown up version" of the Gibassier?), candied orange peel and anise seeds. Mixing this kind of dough is pretty labour intensive, as it should have a good windowpane before mixing is over, and sugar and butter need to be added late in the mixing process to not inhibit gluten formation.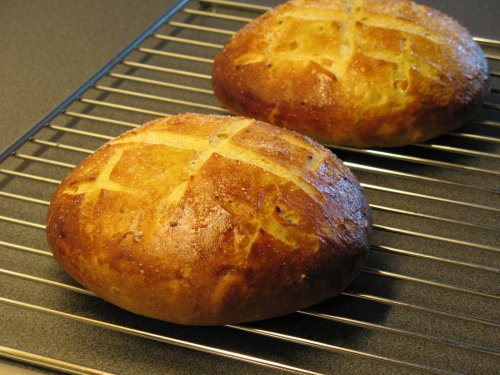 To be perfectly honest, I was slightly disappointed by the resulting loaves. Don't get me wrong: The taste was remarkabe, the crumb was velvety soft and delicate and the kitchen filled up with the most pleasing orange scent. It was just that, at every second bite, I was a bit reminded by my favourite scone recipe... And that's something one pulls from the oven about 30 minutes after mixing has begun - the Gibassier is made with an overnight sponge and needs to see some pretty intense mixing. Of course, a scone can never compete in terms of crumb texture, keeping qualities or the full taste complexity of the Gibassier, but I'm still undecided whether the end result is fully worth it. Well, it certainly is if you want to bake something special for a celebration or a holiday, but perhaps not as a mid-week treat... Let's leave it at that for now. I'll probably change my mind the next time I make them ;)