Leader's Flax, Sesame, and Sunflower Rye: Dreikornbrot
This is a very tasty bread with a light crumb and nice crunch from the soaked seeds. I would make it again. In spite of the German rye sourdough incorporated in it, which was very sour tasting, I don't really taste any sour. It is a lovely, soft sandwich-type bread with only a hint of rye flavor. I can't imagine anyone, including children, disliking it. There are a number of errors in the recipe. I have pointed those out below, and indicated my experience when making this recipe in case someone else wants to try it.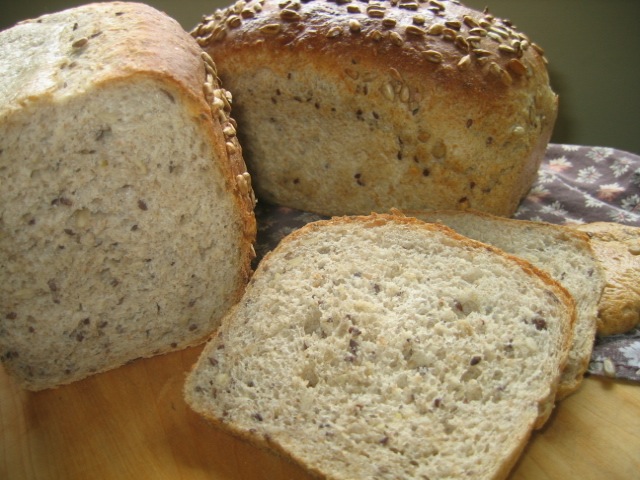 This sunflower-crusted rye gets great chew from the flax, sesame, and sunflower seeds inside. Flax isn't familiar to most people, but it is one of my favorite bread-baking ingredients. The glossy, tiny golden brown seeds have a wonderful sweet nuttiness. Until I saw this bread at Tobias Maurer's bakery in Stuttgart, I wouldn't have believed it was possible to put so many seeds into one loaf. I had seen how an abundance of seeds can draw moisture from dough, drying out the bread as it bakes. Tobias showed me how an overnight soak softens the seeds, turning them into a gelatinous mass that does the opposite, moistening the dough as it bakes (Local Breads, p. 282).
From Leader's Local Breads:
50 g German rye sourdough
28 g flax seeds
28 g raw, white sesame seeds
28 g raw sunflower seeds
525 g water* (I will probably either reduce the water by 50 g the next time I make the bread)
5 g instant yeast
300 g unbleached bread flour (I used KA Bread flour)
200 g whole grain rye flour (I ground my own)
10 g salt
Topping: 28 g raw sunflower seeds
Soak seeds, except topping, in 175 g water and make German rye sourdough 12 to 24 hours before mixing dough. (I did not find that these formed a gelatinous mass after soaking overnight, but whatever they formed seemed to work perfectly.)
On baking day: Pour remaining 350 g water in mixer bowl and stir in yeast, soaked seeds, bread flour, rye flour, salt, and German rye sourdough. Using the dough hook, knead the dough on speed 2 for 8 minutes, let rest in bowl for 10 minutes, resume kneading for another 8 minutes. I had to incorporate a substantial amount of extra bread flour during the final kneading time owing perhaps to errors in the amount of water* specified in Leader's recipe, which is different in the ingredients column than in the text.
Transfer the dough to a lightly oiled container with a lid and let rise until double, about 2 hours.
Divide the dough in half, shape, and place in two 8 1/2 x 4 1/2 inch pans. (I got two, 1-1/2 pound loaves out of the recipe, but Leader indicates there would be two 17 ounce loaves.) Mist the loaves with water or brush with egg wash and sprinkle with remaining sunflower seeds. Cover loosely and let proof for about an hour until nearly double (mine were doming the pans).
Preheat the oven to 400º twenty minutes before baking and place the oven rack at the lower middle position.
Bake the loaves for about 35 minutes. (I got a lot of oven spring.)
German rye-sourdough: mix 50 g liquid levain, 100 g water, and 75 g rye flour. Let stand at room temperature for 12 to 24 hours. It is ready when it has doubled and tastes very tangy. It is alright to use if it has deflated (this was the case with me). This makes more sourdough than you need. According to the recipe, you can store the unused portion in the fridge until you are ready to use it again.