Recipe page/Baker's percentage spreadsheet
I have tinkered around and created a spreadsheet for myself that is sort of a recipe, sort of a baking log, and an ingredient/baker's percentage calculator all in one.  It has a place to list the ingredient names and then you can input the weight of each item in grams (you will have to do those conversions yourself until I have worked on that part of it) and it will calculate the baker's percentage for you. Or... if you only have the baker's percentage numbers you can enter those in and tell it how much flour you want to use or how much you want the final dough to weigh and it will tell you how much of each ingredient to use.  It will even work for a preferment (that's the correct term right?) although you have to be a little tricky to get it to tell you the weights for the preferment ingredients from just the baker's percentage (although it can be done fairly easily). 
There is also a fair bit of space for taking notes and if you can print double sided then it will give you lines for notes on the back too.  What I am doing is entering everything in on the computer, printing it out (landscape), and then I put the printed page into a plastic three ring binder sleeve to protect it and have a way to keep my recipes in one spot in a binder. I take handwritten notes on it each time I make that recipe to document what I did (right or wrong) and just print out more "notes" pages when I need them (Ok I haven't done that yet but once I've baked enough times I will).
There doesn't seem to be a way to host a file like this on here but if anyone knows how or where I can put it up for others to use please let me know.  I would also be glad to have others use this and poke holes in it and (nicely) tell me where/how it is messed up.  I've tried to make sure that it works correctly but I'm pretty much a babe in the woods in the baking world so something that makes absolutely no sense at all wouldn't necessarily raise a warning flag for me ;-)
I call it my sBreadsheet :-)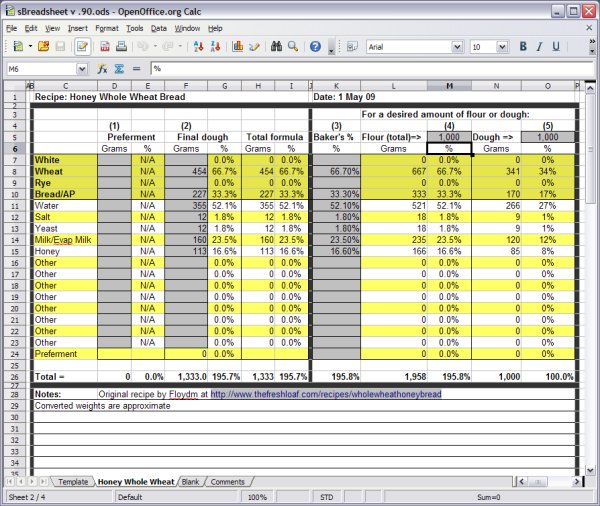 Dave
P.S. I think I am putting this in the right place but not completely sure.