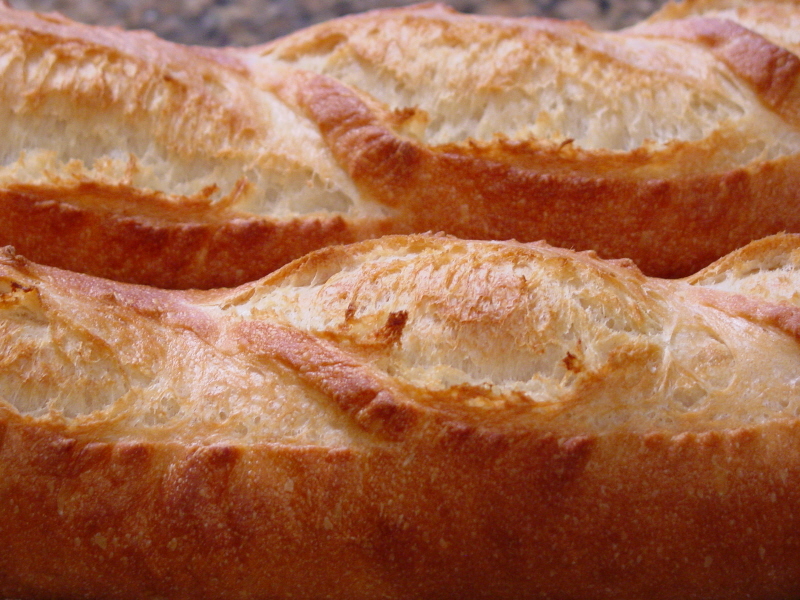 We were planning to cook dinner out on the grill this evening, but it was wet and dreary here today, so we changed plans and pulled some French onion soup out of the freezer instead. I opened Hamelman's book this morning to make the Baguettes with Poolish, only to be reminded that the poolish needs overnight fermentation, so I switched gears and mixed the straight French Bread dough instead. The loaves turned out feather-light and much tastier than anything I could have bought at the store. Given enough time, I would have chosen a bread with a pre-ferment, but under the circumstances these fit the bill perfectly. Since the formula is easy to access in Bread, a Baker's Book of Techniques and Recipes (page 233), I'll give my favorite recipe for French Onion Soup instead. This freezes very well. Enjoy!
Famous Barr's French Onion Soup
3 pounds onions (5-pound bag, peeled)
4 ounces butter
1 1/2 teaspoons freshly ground black pepper
2 tablespoons paprika
1 bay leaf
3/4 cup all-purpose flour
3 quarts beef bouillon
1 cup dry white wine (optional)
Slice onions thinly. Melt butter in large soup pot, and saute onions slowly for 1 1/2 hours. Add all the dry ingredients, and saute over low heat 10 minutes more. Add the bouillon and wine, and simmer for 2 hours. Adjust color to a rich brown, if desired, with caramel coloring or Kitchen Bouquet. Season with salt to taste. Refrigerate overnight.
To serve: Heat soup. Fill fireproof casserole or individual fireproof bowls. Top with French bread and swiss cheese. Place under broiler until browned.