I made two loaves this week: The first was a take on the "Pain au levain with whole wheat flour" from Hamelman's book. Although I've had the book on my shelf for just over a year, I hadn't tried any of his pain au levains before. The time was overripe (like a "bubbly, collapsed poolish"-overripe). To make things a bit more interesting, I replaced half of the bread flour with spelt, and added a liberal amount of wheat bran to the recipe. I guess this detracted a bit from the potential loaf volume, but added to its nutritional value and the flavour.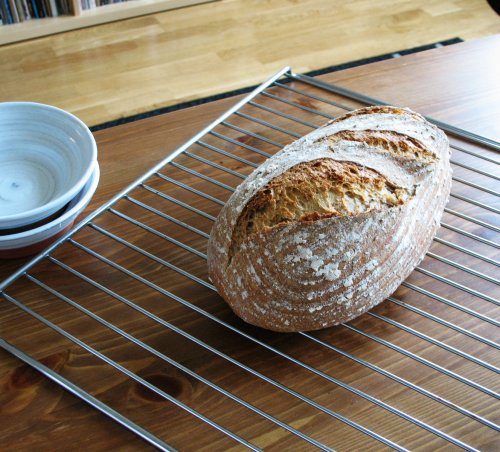 Cutting loaves successfully is something of the hardest of the whole bread baking process if you ask me... Since this is a pretty light loaf (only 20% whole wheat and 5% rye), I opted for the classic baguette cut. Not very symmetrical or anything, but a nice bloom on the first cut at least. "The first cut is the deepest", that's a song, isn't it?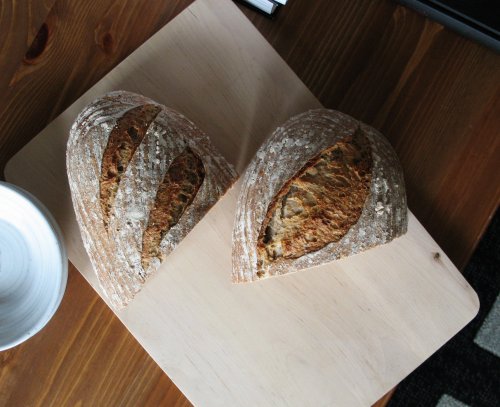 Below is a photo of the crumb - pretty homogeneous crumb with no large pockets, but that's usually the way loaves turn out at my place. To be honest, I prefer a more even crumb too. I was very happy with the profile of the loaf, especially since there's quite a bit of spelt in there. The photo doesn't show it, but the crumb is also specked with wheat bran. Yum!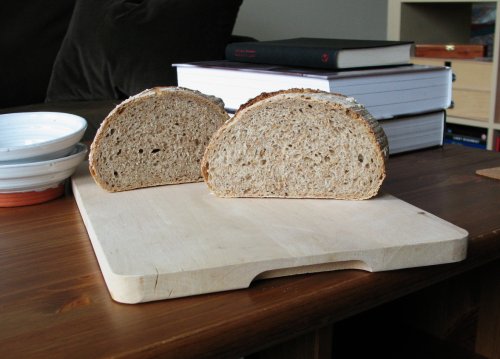 I really enjoyed making this pain au levain from "Bread", and I was amazed by how quickly it all came together. That's what you get from working mainly with rye doughs, I guess :-)
The flavour is very clean, wholesome wheat and the crust has a brilliant crunch to it. The crumb is also very soft, and this loaf goes well with both fish, meat and cheese.
The second loaf I made was a Leinsamenbrot - a rye loaf stuffed with flax seed. This is approximately 66% rye, so it's a pretty filling bread. I'm getting more and more into making hearty rye loaves with my firm white starter (50% hydration), and I wonder how much further the rye content can be increased without getting those large holes from the dreaded starch attack during baking. For this loaf, approx. 15% of the total flour comes from the starter, the final dough is quite high in hydration (77-78% I guess), and there's only a small speck of yeast in it (about 0.3% fresh yeast). I let it bulk ferment for roughly 2 hours and final proof 1hr 15 mins. I've found this procedure to result in nice, open crumbs and a pleasant rye flavour. If you're after a really sour rye, you'll probably have to opt for a rye starter as well!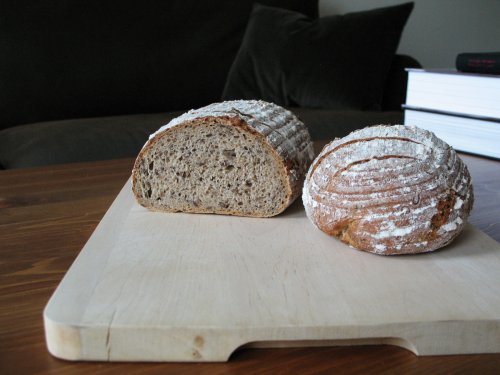 I also promised desert! I found some tempting pears at the store the other day, and decided to have a go at a pear tart. I used a sweet tart dough (pâte sucrée), a frangipane filling and sprinkled the poached pears with cinnamon and sugar. Some chopped almonds and powdered sugar in between the pears. I had no idea how much frangipane to put in the tart - I was hungry and running a bit late, so I think I scooped a bit much into it, but fortunately it didn't spill over the edge...