Flouring the Work Surface
A couple weeks ago, I got the urge to bake some biscuits to go with the big pot of vegetable-beef stew I had simmering on the stove. I rarely make biscuits because we don't eat refined carbs most days. But once in a while, I just get a craving for old-fashioned comfort food. And, light biscuits are still on my list of things to master before I die. Both the fluffy kind, and the flaky kind. So now, I probably have you thinking this post is about biscuits, and it really isn't. I found this recipe for Flaky Buttermilk Buscuits in Cook's Illustrated (Jan/Feb 2006), and decided to give it a whirl. Not too bad, huh?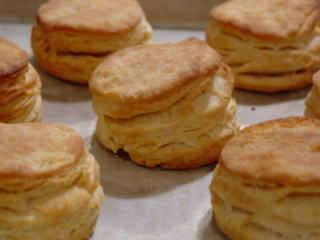 The biscuits were higher and flakier than I ever thought possible, but I screwed up a couple steps, and they were not quite as great as they could have been. I forgot to heed the warning to not open the oven door, which I did to rotate the pan halfway through baking. The biscuits immediately fell about half an inch--if you can believe it, they were actually taller than this! Then I didn't pull them out of the oven soon enough, and they turned out a bit too overdone. But what potential these have, so hopefully there will be another post about them in the future. When I've mastered them...
What today's entry's about, is the technique utilized in this recipe for flouring the counter. It worked so well for me, I thought I should share. Ordinarily, I just sprinkle or dust the flour over the surface, as evenly as I can, but sometimes I get a few "drops" that need smoothing out. And sweeping your hand over the top, really just wipes the flour away and it ends up too thin to keep wet or soft dough from sticking. The author, Sean Lawler has you first spray the counter lightly with non-stick spray, and spread the oil evenly with a cloth or paper towel. It really gives the flour something to adhere to, but the dough releases easily. It worked really well for laminating this sticky biscuit dough, and I think it would be great for rolling out pie pastry too. Try it.