Sylvia's Irish Soda Bread
Irish American Heritage Month
This is the way my Irish Mother 'Sylvia' taught me to make Irish Soda Bread.  I was born in Belfast, Ireland and raised in the USA.  All my family...My Children and Grandchildren 'My Brother his Irish wife and her family '10 brothers and sisters' their four children and now Great Grandkids,Aunts, Uncle's,cousins..you name it are close by here in the USA and a few Aunt's and Uncle's cousins in Australia!  We all love Irish Soda Bread!  This Soda Bread is very Basic and yet this recipe can be made using some wheat flour, even the Irish Wheaten flour, add raisins, currants or sultans and make "Spotted Dog" or "Spotted Dick", shape into Farls or Round Bread and cut a cross on top.  I didn't use my currants today...but you get the idea!  I baked my Farls in my Iron skillet...heated until a little flour sprinkled on the bottom turns brown..a med. low heat!  Farls also bake up very nicely on griddle...my Aunt used to cover hers with a towel to help them bake a little warmer.  I bake a Farl about 10min. on each side..till they are nice and lightly browned and then turn them over once and finish.  The oven baked soda bread is baked in a preheated oven 350F for apx. 35 min.
I hope this might help some who are making Irish Soda Bread on St. Patrick's Day...It's simple fast and delicious warm or cold!
This Recipe Makes One Round Loaf "or" 4 Farls.
2  Full Cups of All Purpose Flour or 1 1/2 Cups AP and 1/2 Whole Wheat> my Mum always said the Irish cup measures are larger so we filled them!!
1 tsp. Salt
1  Slightly Heaped tsp. Cream of Tartar "This is a Family Secret sort of : )"  you can take it out if you insist on using only Baking Soda!! 
1 Heaped tsp. Baking Soda> I use the one from the health food store
1 Full Cup of Buttermilk
Mix all dry ingredients well.  Make a well in the flour and pour in buttermilk.  Toss with fork until all flour sticks together.  Handling is  fast, gentle and not over mixed...Iron fist velvet glove!!  Drop out onto a very well floured surface and push into a ball and give 2 or 3 gentle kneads it can be sticky so use extra flour.  Form gently into a ball.  Place into pie pan. Flatten a little, cut a cross on top with a floured knife.  For Farls.  Flatten cut into fourths and bake in a skillet or on a griddle.
Bake 350F Oven 35min. till sounds hollow when bottom is tapped and nicely browned -Farls are>    Med-Low Skillet/Griddle  Nicely browned not to dark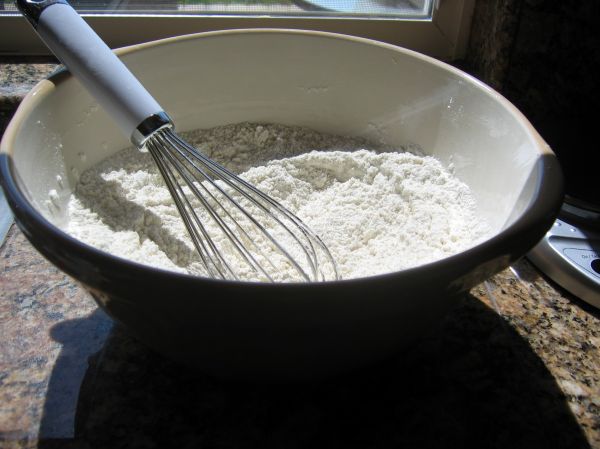 Mixing Dry Ingredients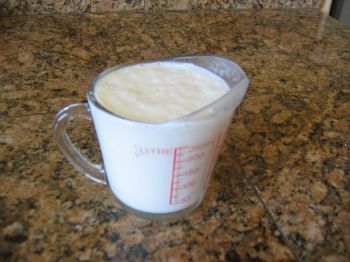 Your gonna love these measurments...Full Cup of Buttermilk...same with Flour measurements...flour is heaped in this cup!!  Hey this is the old fashioned Irish Way!!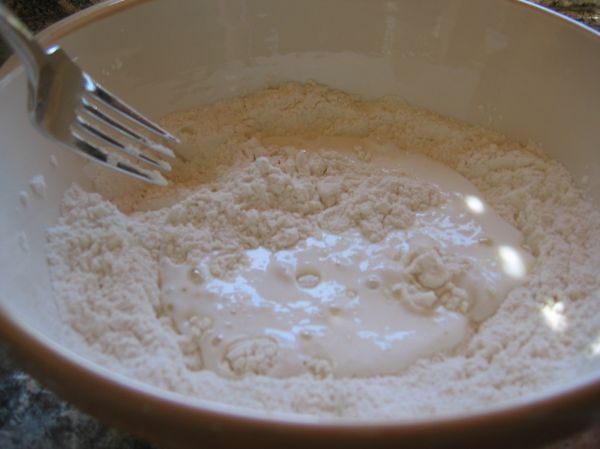 Pour Buttermilk into a well of Flour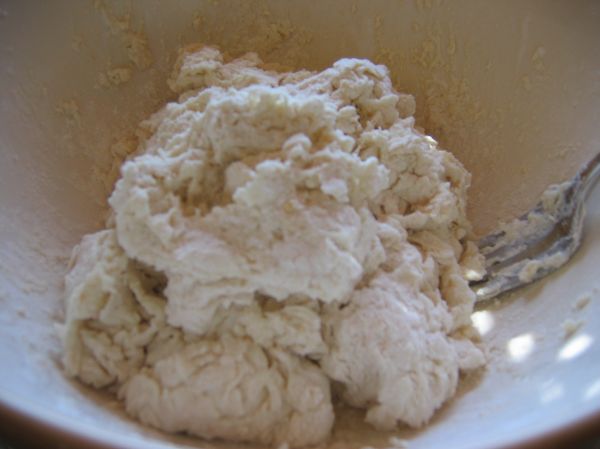 Form into a sticky mass Gently!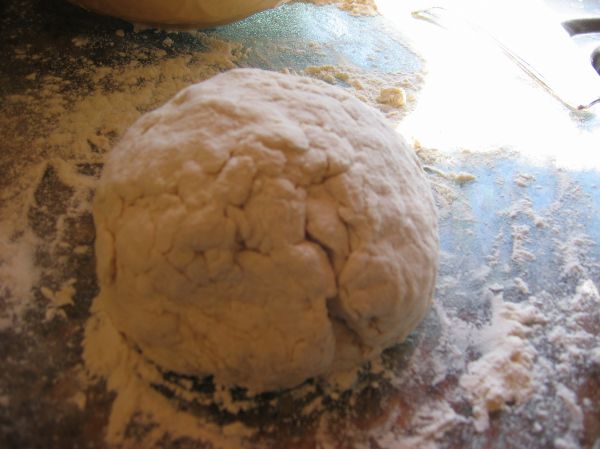 Gently knead 2 or 3 times into a ball adding extra flour to keep from sticking.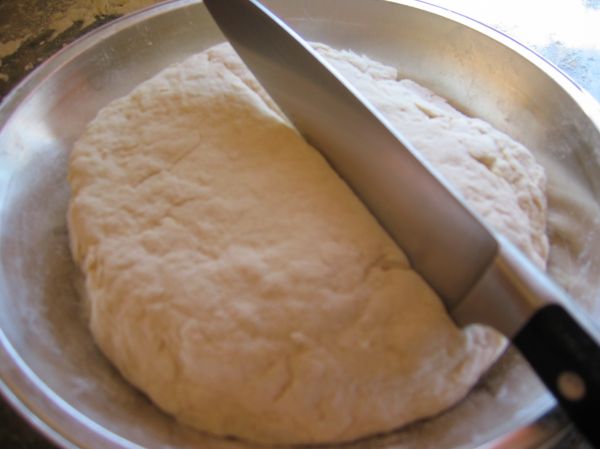 Cut a cross on top or flatten a little more and cut all the way through with a floured knife and flour sliced areas and make  Soda Farls.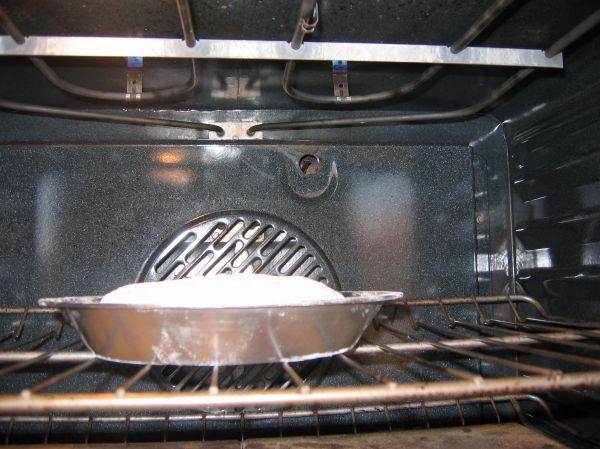 Place in 350F preheated oven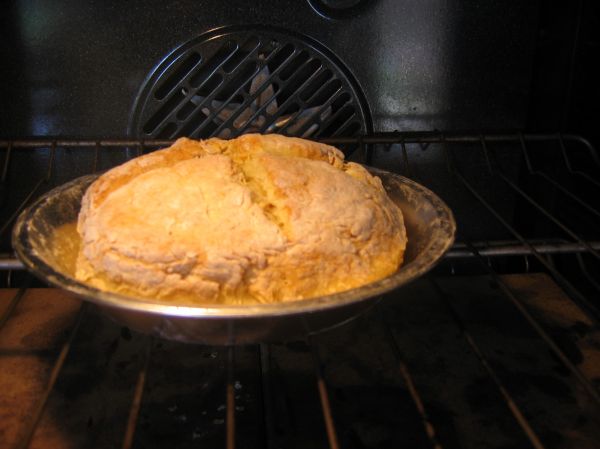 Apx. 35 min till done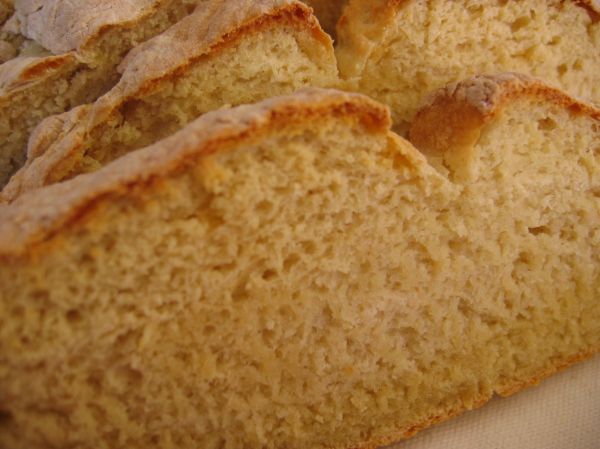 Sliced Warm Crumb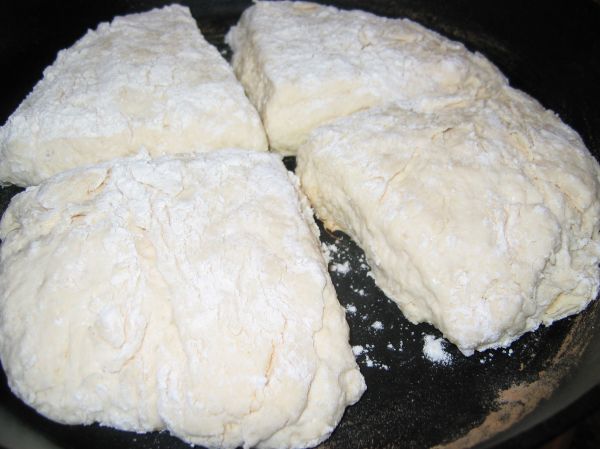 Soda Farls in the Iron Pan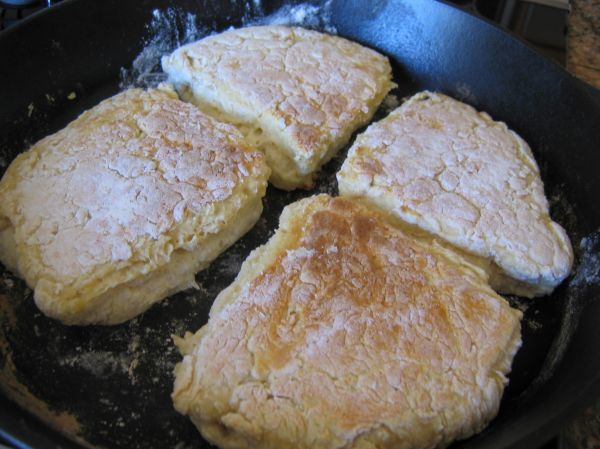 Turned Over after about 10mins.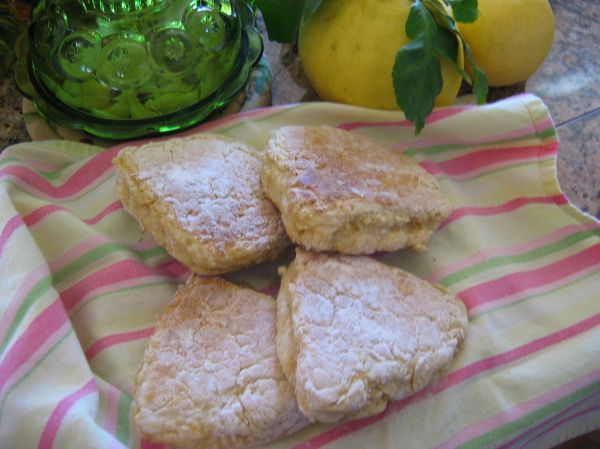 Place in towel to keep soft.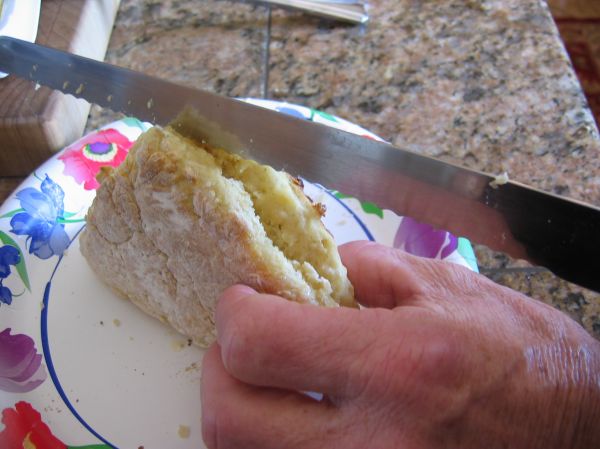 Slice like this...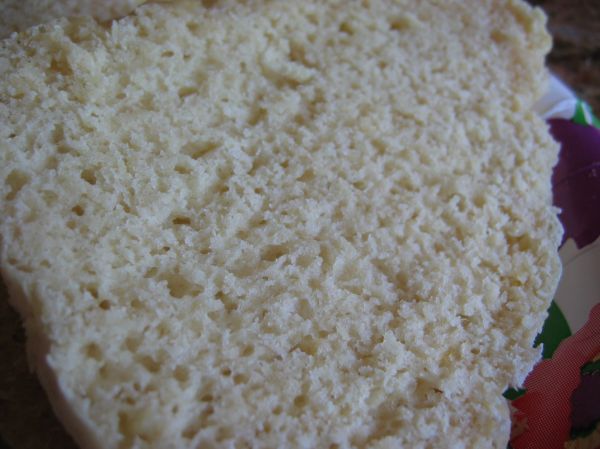 Farl Crumb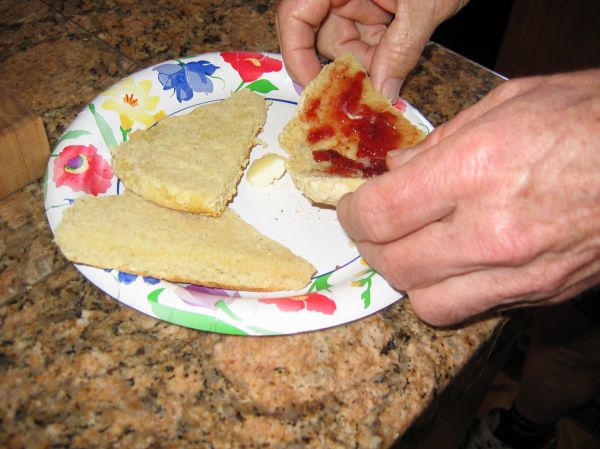 Oh I'll just have an 1/8th...and another and another before I go on my bike ride!!
Hope you enjoyed my photos...I let the battery run down in my new camera and still not sure how to use this older one! 
May The Luck of The Irish Be With You!  If you try this recipe : ))
Sylvia