Old-Fashioned Pudding Cake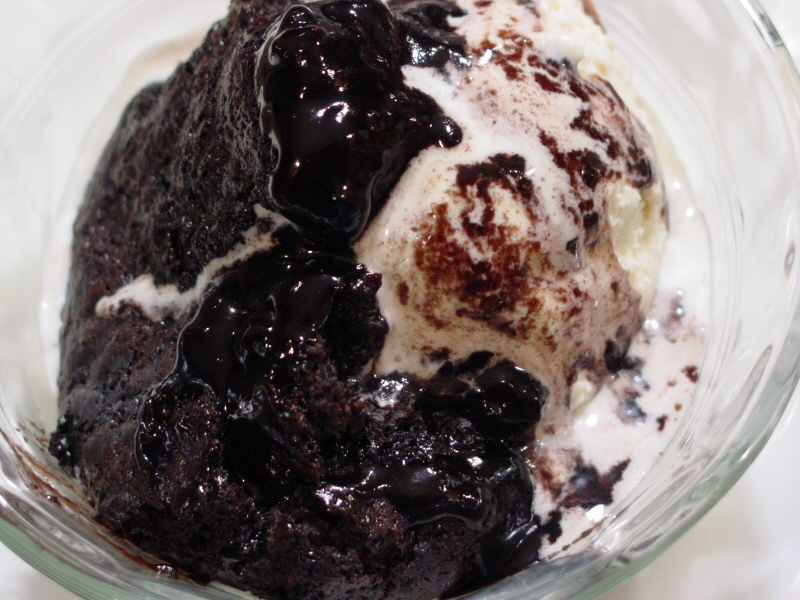 I
I was looking through my old Betty Crocker's Cookbook a while back, and came across a couple of pudding cake recipes. Does anybody else remember pudding cakes? I'm probably dating myself here. My mom made a chocolate version when I was growing up, so this was like a blast from the past. All the ingredients are usually hanging out in my pantry, so I had to whip one up right away...
Well, either Betty's version is a dud, or my remembrance is a little distorted, because it was disappointingly bland, pale and lacking a good chocolate punch. The recipe called for shortening, very little salt, and no vanilla. No vanilla! Well I fixed that. I've omitted the one cup of finely chopped nuts from the cake layer, because I felt the texture didn't belong. And I switched from regular cocoa to Dutch processed for a deeper chocolate flavor. Now it's better than I remember.
The thing is so quick and easy to throw together, that it would be equally great as a week-night treat for the family, or an impromptu dessert that'll impress unexpected company. You don't have to get out a mixer, or even grease the pan. And you don't need to let it cool either, because it's best served warm... or hot with ice cream. Now that's immediate gratification!
Hot Fudge Pudding Cake
Makes 9 servings 
1 cup all-purpose flour
¾ cup granulated sugar
2 tablespoons Dutch processed cocoa
2 teaspoons baking powder (preferably non-aluminum)
¼ teaspoon salt
½ cup milk
1 teaspoon vanilla extract
2 tablespoons butter, melted
1 cup light brown sugar
¼ cup Dutch processed cocoa
¼ teaspoon salt
1¾ cup hot water
2 teaspoons vanilla extract
Heat oven to 350ºF.
Measure flour, granulated sugar, 2 tablespoons cocoa, the baking powder and ¼ teaspoon salt into a mixing bowl. Stir in milk, 1 teaspoon vanilla and melted butter; blend in nuts if using. Spread batter in an ungreased 9-inch square pan.
Stir together brown sugar, ¼ teaspoon salt and ¼ cup cocoa; sprinkle over batter. Stir 2 teaspoons vanilla into hot water and pour gently over all.
Bake 45 minutes. Serve warm with sweetened whipped cream or ice cream.