90% Milanaise Whole Wheat Sourdough, long cool ferment
I decided to revive my dormant Carl Griffith's 1847 Oregon Trail starter last week, so I had a lot of nice ripe starter by the end of the week on hand that I wanted to use up. I used an excel spreadsheet I made up for Flo's 1-2-3 sourdough to use up any amount of excess ripe sourdough starter, except in this case, I needed to increase the hydration since I was using all whole wheat flour in the final dough, so it became 1-2.25-3 bread (78% hydration final dough). The reason I made this as 90% whole wheat is simply because the excess starter I had was made up of about 25% whole wheat and 75% AP, so even though the final dough is all whole wheat, there is about 10% AP in the overall formula due to the large amount of starter.
One other thing that I got away with that I don't usually do is that all the starter used in this formula was actually ripe the day before I made the dough, but I got busy and just put it in the frig, so it was not as strong as it could have been since it was past peak, but the bread still came out with great flavor and a nice soft open crumb, chewy dark golden crust, not at all dense.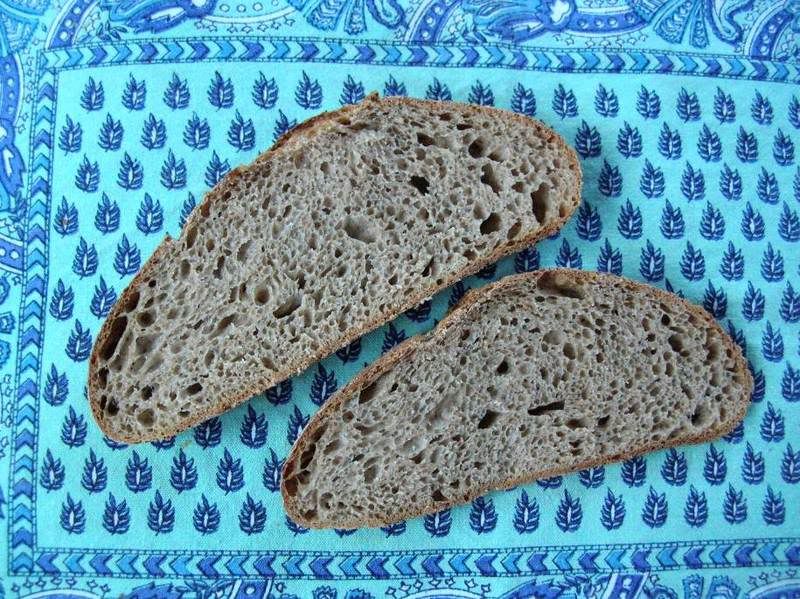 This is also the first bread I've made with my new big bag of organic Meunerie Milanaise flour from Quebec, and I notice a distinct difference in taste compared to either the King Arthur WW or Bob's Red Mill WW that I usually use (it handled very differently as well, very extenisble and silky dough). The Milanaise flour had absolutely no bitter whole wheat aftertaste, it was sweet, I imagine this must be what freshly-ground whole wheat flour tastes like, and this bag was milled on January 8 I think (thanks to Tete au Levain's tip on how to determine the milling date on the bag I had).
After mixing the final dough with my dough whisk just long enough to get everything incorporated, I let it rest 30 minutes, then did about 2-3 minutes of folding in the bowl with dough scraper, rest another 30 min., then 2 stretch & folds 30 min. apart, then just left it in it's bucket to bulk ferment overnight in my 62F basement Thursday night.  Friday morning before I left for work, I shaped the loaves and placed them in a couche in my 50F basement refrigerator until I got home from work, then baked them as soon as the oven was preheated. They came out flatter than I had hoped, but since it is a wet dough, and mostly whole wheat, that may be expecting too much. To me the most important thing was the open crumb and great taste these had, much better than the desem bread I attempted 2 years ago.
I am happy enough with this result and the taste that I plan to make this our weekly bread from now on, since I'd like to reduce the amount of white flour we are eating these days. The Oregon Trail starter is a very strong and fast riser, so I was hoping it would do well with whole grains, and I think it did. I will try this formula again with my home-made starter to see if it does as good a job rising this dough as "Carl" did. I also hope using a starter that is at peak (as opposed to older discarded starter past peak as used here) will improve the volume.