February 23, 2009 - 1:48pm
Billowy Sourdough Cinnamon Rolls with Cream Cheese Icing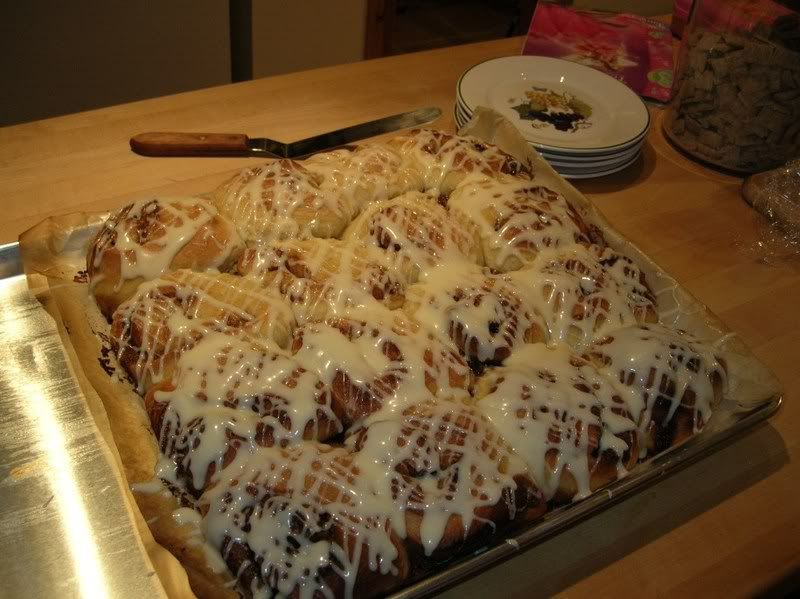 I was inspired from Teresa at her Northwest Sourdough website to try her sourdough cinnamon rolls pictured there, but the closest actual written recipe I could find to that was her Festive Hawaiian Roll recipe. After studying a lot of other sweet dough recipes and brioche recipes, I decided to make a hybrid dough with what I thought were the best aspects of each, that would also use only sourdough starter as the leavening agent. The main differences from NWSD's recipe is my addition of eggs and buttermilk, plus I added 4 times the amount of butter, bringing the butter content up to 11%, which is still not as high as many sweet doughs and not nearly as high as brioche.
This recipe will make about 16-24 large and airy, but rich and tender Cinnamon Rolls. We don't like excess cinnamon flavor in our rolls and so use about half the amount of cinnamon usually called for in the filling of similar recipes. We are also not *fond* of white fondant glaze, so I made up this cream cheese/buttercream glaze to provide a more flavorful topping that complements the flavor of the rolls well. I also did not use any nuts in these, but they could also be added to the filling if desired.
Beware of these rolls: Due to the potato and buttermilk in the dough, these are by far the richest, most moist, tender, and flavorful cinnamon rolls we've ever had, the dough itself is fragrant with vanilla and butter, it almost does not need the filling or icing. The sourdough made these extraordinarily airy and puffy with no commercial yeast added. Because these are so rich, they will be reserved for special occasions or special visitors in our house, they are far too addictive to keep around otherwise. Because they are also so light and billowy - similar to a good sourdough waffle, they are not overly filling and heavy in your stomach.
The total preparation time is about 36 hours to allow for the long cool ferments. If you want to serve these rolls on a Sunday morning, you need to build the levain the preceding Friday evening.
Approx. 12 hours before making the final dough, build the levain as follows:
Levain Build:
grams          Item
150       100% hydration sourdough starter, recently fed and ripened
340       Lukewarm water
340       AP flour
850       Total Wt.

Let this mixture sit at room temperature until doubled (usually overnight, if your starter is fast and the levain is active early, keep it in the frig. until ready to make dough). Meanwhile, make a small amount of mashed potato by boiling or microwaving (covered) 1 medium peeled & sliced potato in a little water until soft. Mash with fork and a little milk until smooth.
Final Dough:
grams     Item
113       1 stick Unsalted butter, softened
225       3 large eggs
42        1 ½ TBSP Honey
24        2 TBSP Vanilla Extract
130       Mashed potato
195       ¾ c. Buttermilk or whole milk
850       Levain
700       AP flour
21        Salt
2300       Total Wt.

Once levain is ripe, make the final dough. First cream the softened (not melted) butter by hand or in mixer with paddle attachment, then beat in eggs, honey, vanilla, and mashed potato and continue mixing. Stop to scrape down sides of bowl with spatula as needed and continue to mix just until well-blended. Switch to dough hook and add buttermilk and levain until blended, then gradually add flour and salt and continue mixing with dough hook until well-blended. Scrape down sides of bowl with spatula, cover, and let rest 20 min. After rest, uncover and continue to mix with dough hook another 2-3 minutes (or by hand, fold in bowl with plastic bowl scraper for 3 min.). This will be a very soft, sticky dough, around 71% hydration if you count the liquid from eggs and milk, but not counting the butter.
Place the dough into a container sprayed with cooking oil, cover, and bulk ferment in a cool location (55-65F) until doubled, approx. 8-12 hours depending on temperature and how fast a riser your starter is. Every few hours, give the dough a stretch and fold, for a total of about 2 folds.
Meanwhile, make the filling as follows:
Filling:
grams       Item
170       1 ½ sticks Unsalted butter, softened
85        Cream or half&half
300       Dark brown sugar
180       Raisins
3         1 ½ tsp. Cinnamon
12        1 TBSP Vanilla extract
750       Total Wt.

For the filling, add all above ingredients to a medium sized saucepan and bring to a low boil over medium heat while stirring. As soon as the mixture boils, take off heat and chill to a spreadable consistency before using.
After dough has doubled, divide it into 2 pieces on a flour-dusted surface (it may be sticky even though the butter should be solid from the cool temps), then roll out each piece of dough into a rectangle shape about 10 x 16 inches across. Spread the filling across each rectangle of dough, leaving 1 inch clean where the outer seam edge of the roll will be and then taking the opposite edge, roll up the dough gently but firmly and seal the seam.
Slice each log into 8 or 12 rolls (depending on how big a rectangle you rolled out and how large you want the rolls to be) with serrated knife and place them just barely touching each other on baking parchment on sheet pan. Don't worry if log gets flattened as you slice each roll, you can straighten them out once placed on the sheet pan, and they should rise very high and straighten out when proofing. Spray tops of rolls lightly with cooking spray, cover with plastic wrap, and slowly proof rolls overnight or up to 12 hrs. in the refrigerator or cool place between 45 and 55F until the dough is about doubled and puffy looking. Bake right out of frig. at 400 degrees for about 25-35 minutes until light golden, or until the center of dough registers about 195-200F on instant-read thermometer. Do not let the rolls get very brown. Melt about 4 TBSP of butter in microwave and as soon as rolls are out of oven, brush them with the melted butter to keep crust soft before icing them.
Here are the rolls right out of oven and after being brushed with butter, they had a great amount of oven spring and rose tremendously during the bake: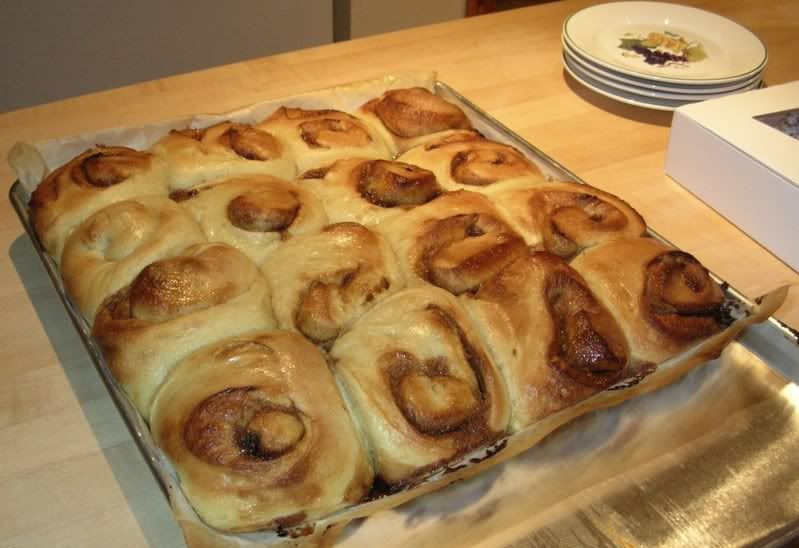 While rolls are baking, make a glaze/icing as follows:
Cream Cheese Glaze:
grams       Item
56        ½ (4 TBSP) stick Unsalted butter, softened
56        4 TBSP. Cream cheese
165       ¾ c. Confectioner's sugar
65        ¼ c. Milk, whole
2         ½ tsp. Vanilla extract
344       Total Wt.

Microwave the butter and cream cheese together until very soft but not melted. Whisk them together while adding the vanilla, powdered sugar, and enough milk to thin out the icing to a drip-able consistency.
Let the rolls mostly cool before glazing them with icing. Dip a wire whisk in the icing and drizzle across surface of each roll in crisscross pattern. Serve and enjoy.
(NOTE: I've not yet tried this, but it should also be possible to chill the un-sliced logs in frig overnight and slice just before baking, or freeze the logs for up to 1 month, take out the night before baking and defrost in frig. Next morning, remove from frig., slice, and let warm up at room temp about 1-2 hours before baking.)
It's a good thing we had a house full of guests this past weekend to help us put away not only the cinnamon rolls, but also these Vermont Sourdough boules, and cherry-sunflower-seed levains.