February 16, 2009 - 5:47am
A loaf and something for the coffee
I've seen Hamelman's five-grain rye sourdough bread recommended a couple of times, but it wasn't until this morning that I had the opportunity to bake it for myself. It's a modest 25% whole rye, but the loaf is also studded with seeds and cracked rye, and there's a lot of flavor in it.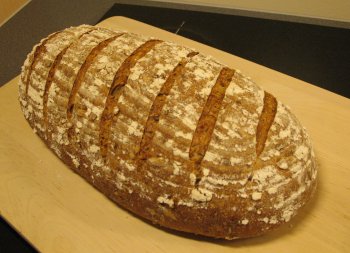 No easily obtainable "high-gluten flour" around these parts, so I used my regular flour, but made sure the dough was strong and well-developed before bulk fermentation. It looked delicious even at that stage: A nice brown ball, flecked with dark flaxseeds and cracked rye. The rye sour infuses each slice with great taste, and the soaker and the high hydration keeps the crumb ultra moist and tender.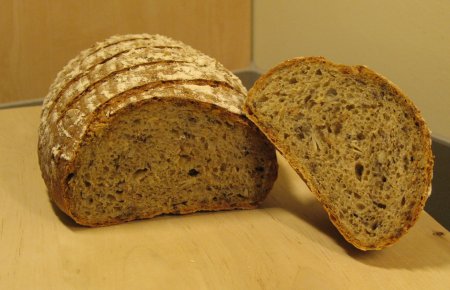 So, when breakfast's over, and you pour yourself a cup of black coffee, what better way to finish off your meal than with some Viennoserie? Last week I made a batch of croissant dough, using some prefermented dough and putting 20% whole wheat flour into the mix. Half of the dough was rolled around spinach and feta cheese filling, and the other half was brushed with pastry cream and sprinkled with raisins. Yum!