February 15, 2009 - 7:04pm
The Great Bagel Experiment
Since making a foray into pretzels and discovering the impact of a strong-ish baking soda solution on the crust of said pretzels, I've been wondering how different qualities of water affect the results on bagels.  I know from around the forums that some do without baking soda, some do a little, some go for malt syrup instead. The Bread Bakers Apprentice recipe (also the one in Floyd's bagel post) calls for 1 tablespoon soda in an unknowable amount of water.  By comparison, the concensus in the pretzel thread was 1 tablespoon soda per cup water, a 1/16 solution.  But would that work for bagels, or make a pretzel-tasting bagel?  I endeavored to find out this morning.
I made up a batch of the BBA bagel dough, shaped and refrigerated last night.  This morning I got two pots of water going with 8 cups of water in each, and did six different dipping combinations, with each bagel boiled 1 minute per side.  In this first one, from right to left, you can see plain water, 1 tbsp baking soda (the amount called for in the recipe, though probably stronger than usual since I typically use more than 8 cups water), and 4 tbsp baking soda (a 1/32 solution, half the amount recommended on the forums for pretzels).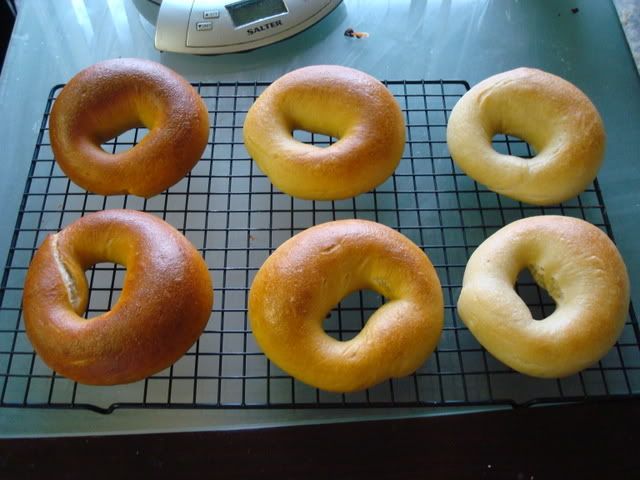 As you can see, the amount of soda makes a big difference! The rightmost pair in the next pan had 8 tbsp of baking soda--pretzel quantity.  It's hard to tell from the picture, but these were much darker than the 1/32 solution pair. After this I switched to the other pot of water, and the last two pairs of bagels were boiled with 1tbsp and 2 tbsp of malt syrup in 8 cups water, respectively.  No, it wasn't the camera's fault, I couldn't really tell them apart either.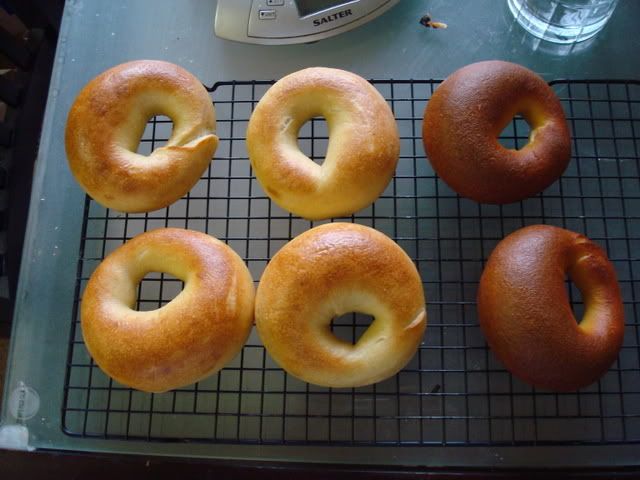 Of course, this left my wife and me with six type of bagels to taste, and only two taste testers.  We tried the 1/32 and 1/16 baking sodas, and one of the malt syrup ones (I think the 2 tbsp, but I forget).  The 1/32-solution bagel was quite good, although with a little bit of the alkaline "pretzel" taste in places where a lot of moisture from the pot stuck to the bagel.  The 1/16 solution bagel tasted like a bagel in preztel's clothing--pretzel-y on the outside, yet bagel-y on the inside.  Weird.  The bagel boiled in malt had much the same texture as the 1/32 and 1/128 baking soda bagels, though with a slightly different flavor.  My wife and I decided we like the baking soda flavor a bit better, but I figure that's a matter of taste.  I think for future I'd shoot for something like a 1/64 or 3/128 solution of baking soda (2-3 tbsp in 8 cups water).