February 1, 2009 - 10:56am
Here's a photo of some whole rye and whole spelt small breads that I pulled from the oven this morning. They're made from approx. 50% high extraction wheat flour and 25% each of whole rye and whole spelt. The rye comes from a ripe sourdough. To shape them, I form the dough into a batard that I cut crosswise into eight or nine equal pieces. One of the "cut" sides are brushed with water and gently placed in a seed mix. They're flipped and put onto a pan. Delicious and filling, with a savory, "earthy" flavor.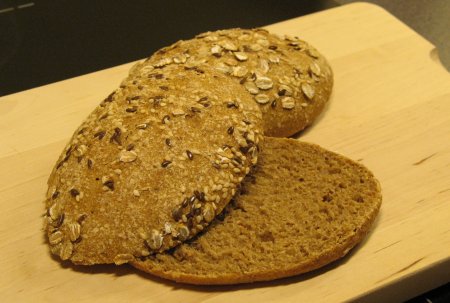 Next up is the spelt bread from Suas' Advanced Bread and Pastry. This was a great dough to work with, 90% spelt and 10% whole spelt, gently mixed, and bulk fermented for three hours. The dough is mixed very carefully, and some dough strength is developed over three folds during the bulk fermentation. 33% of the flour comes from a spelt poolish, so the dough feels quite slack and extensible all the way to final shaping. Suas writes that there's no pre-shaping for these, the dough is simply cut in two, and placed as "rectangles" on "well dusted linen". I think the dough behaved remarkably like a ciabatta dough, even though the hydration is only 68%. Quite fragile and sticky, but still smooth and a joy to work with. A fragrant, great bake that had a tremendous oven spring. The crust is very crispy, and there's a slight nutty flavor (probably coming from the poolish and the inherent "spelt" flavor). I made two of these rustic loaves, and they're well worth the effort! Advanced Bread and Pastry is a book I'm getting more and more fond of.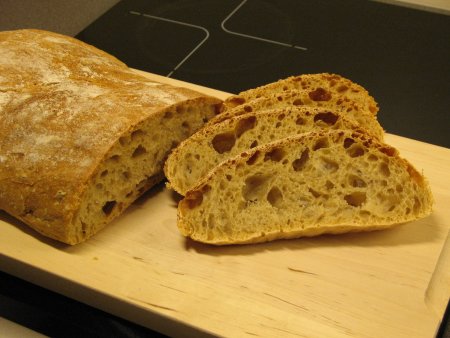 Finally, slightly branching out ("The Fresh Cake" anyone?): Apple breakfast cake, also from Suas. Lots of apples, walnuts and raisins. Yum!! Probably the best apple cake I've tasted... I picked this one, as it was the least intimidating of Suas' cake recipes ;-)