When reading recipes for French Bread, a lot of baking books will tell you to combine the ingredients in the bowl of a stand mixer and then beat the bejeezus out of the dough. 10, 15, even 20 minutes of beating is not unusual to read about in order to get maximum gluten development.
But stop and think for a moment: bread has been around for some time, longer than stand mixers have. Do you honestly think the village baker had the strength to knead a trough full of dough for 20 minutes in the days before stand mixers? Or that he had a gaggle of Oompa Loompas to do the mixing for him? Of course not!
Heavy mixing is how boulangeries today make pain ordinaire, I've been told. But more interesting breads with better, more subtle flavors require different techniques. One of the simplest is known as autolyse.
How do you use the autolyse technique? Simply combine the flour and water from your recipe in your mixing bowl. Cover the bowl with plastic or a damp towel. Walk away for 20 minutes to half an hour. That's it.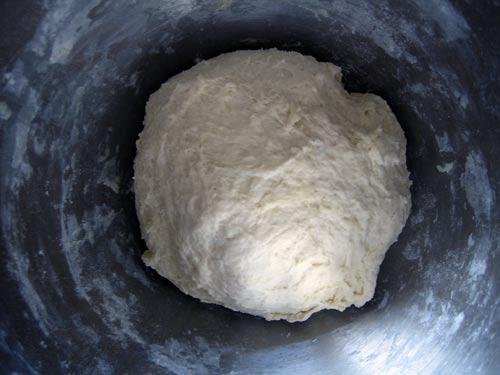 While you were away the flour was absorbing the water and the gluten strands have begun to develop. Now you can mix in your preferment, your salt, and the remainder of your yeast and, with very little mixing, achieve a high level of development with considerably less work. The crumb of your dough is also likely to come out much whiter since it has not been highly oxidized by all the beating and whipping.
Better bread, less work. What's to complain about?
Next up: Number 7: The Wetter, The Better.
Lesson Five, Number 8: Autolyse