What you put in your loaf has much more to do with the way your loaf turns out than what you put on your loaf, but glazing the exterior of your loaf can definitely help you achieve the effect you were after (i.e., soft, sweet, crusty, etc). It is, literally, the icing on the cake.
I made a batch of rolls and glazed each one with something different before scoring them. Compare: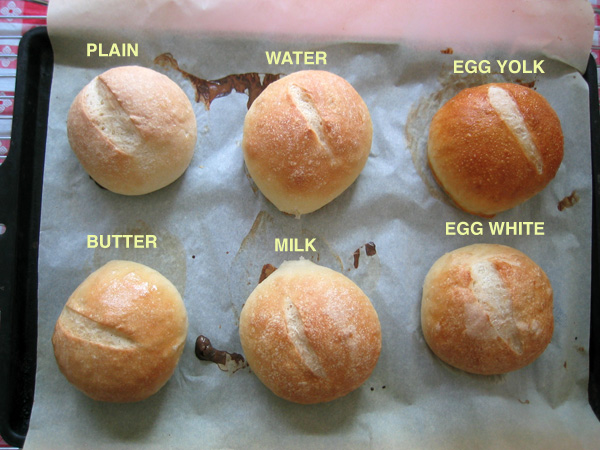 Let us look at them one-by-one.
First is the control, with no glaze. The color was fairly light, the crust dry but not particularly crusty or crackly. There was not any particular shine to the rolls.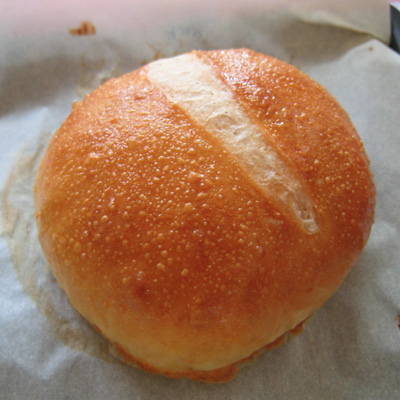 The one glazed in egg yolk came out the darkest. It stayed relatively soft, had a nice shine to it, and a slightly sweet, rich flavor.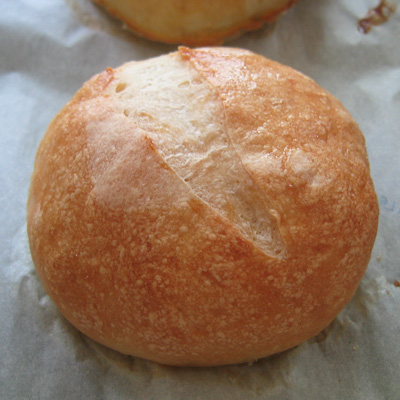 Egg whites also created a nice shiny coat and kept the crust soft. Adding a touch of salt to the egg whites helps break it down so it can be brushed on easier (something I failed to do above and may help account for the bare patches where I failed to glaze it properly).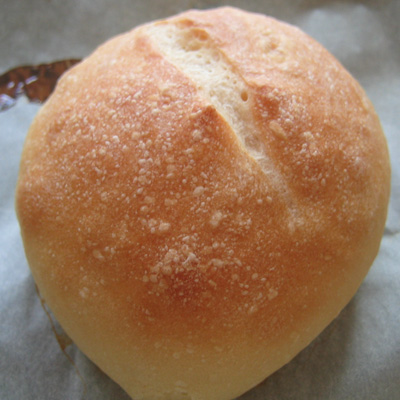 Water (above) and milk (below) both kept the crust on the soft side and gave the roll a soft, satiny coat. Milk is supposed to also darken the crust a bit more than water, though I didn't notice a significant difference here. The difference is, I suspect, more pronounced for a loaf that has to bake for 45 minutes than it is for a roll that bakes for 20 to 25 minutes.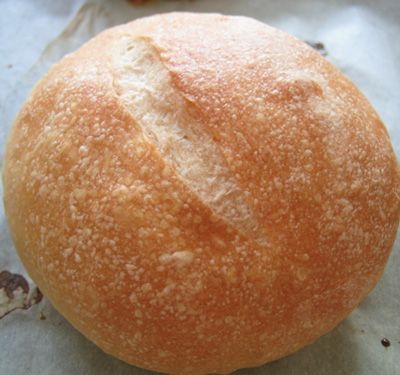 Cream can also be used to glaze a loaf of bread. It is supposed to give the loaf an even richer, darker glaze.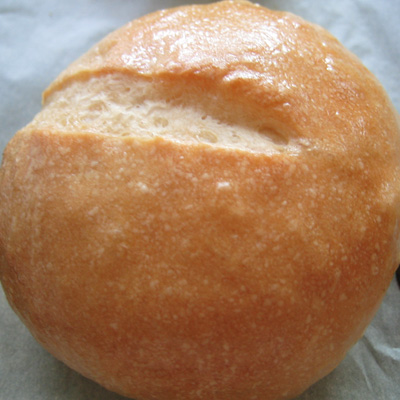 The buttered bun is above. I actually did not apply the melted butter until after the roll was removed from the oven: it was brushed on to the still hot bun. It created a very nice shine, darkened the color noticeably, and gave the roll a moist, rich glaze.
If crispy crust is what you are after, the secret is not to glaze. Instead what you need to do is fill the oven with steam in the first few minutes. Below is a previous batch of rolls I made: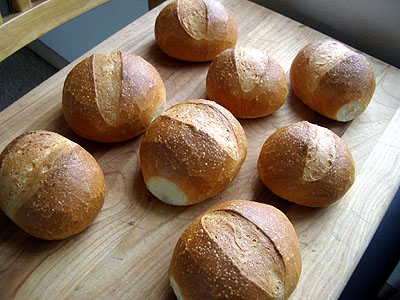 As you can see, the exterior of them was crusty and crackly. I achieved this by pouring a cup of hot water into a hot baking pan on the shelf below where my rolls were. The water evaporated, filled the oven with steam, and resulted in a wonderful crusty rolls.
There are many other things you can try glazing with: a whole beaten egg, a mixture of egg and milk, juice, and so on.
Glazes also make a good base with which to glue on seeds or grains to the exterior of your loaf.
Continue on to Lesson Five: Ten Tips for Better French Bread.