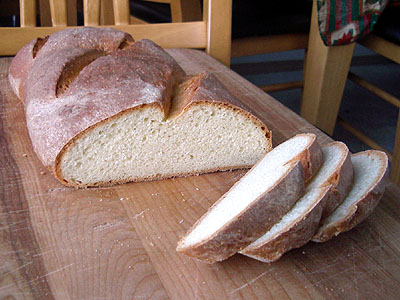 In lesson one we baked the simplest bread one can bake. It was made up of just flour, salt, yeast, and water.
As anyone who has ever looked at the ingredients on a store-bought loaf of bread knows, a lot of other ingredients can be found in loaves of bread. How those ingredients affect the flavor, color and behavior of your bread is the focus of lesson two.
We'll also bake a loaf to compare to the simple one we made in lesson one.

As one would guess, additional ingredients change the flavor of your bread. But many of these ingredients also change the behavior of your dough in ways that are not immediately obvious. Knowing a little bit about what to expect when you add a given ingredient to a dough will increase the likelihood of your experiment being a success.
Common Additional Ingredients
Sugars (sugar, honey, molasses). Sugars obviously sweeten and flavor the loaf, but bakers need to keep in mind the fact that they also provide additional food for the yeast. It is common to add a tablespoon or two of sweetener to a loaf of bread, both to feed the yeast and to add a touch of sweetness. But yeasted breads rarely contain as much sugar as one finds in unyeasted quick breads, largely because the added sugar interferes with the proper yeast cycle.

Sugars also carmalize in the oven, resulting in the rich brown color of crust.


Notice how the bread from Lesson One, which contained no added sugars, had a very pale complexion.

Recipes for sugary breads, such as holiday bread, typically call for fewer and shorter rises. Long rises of highly sweetened doughs can result in beery tasting bread, typically not the result you are after when baking a sweet bread.

Fats (butter, oils, milk, eggs). Fats enrich and flavor the bread. They also soften the dough and preserve it: whereas a fat-free loaf of bread like a French bread goes stale after only a few hours, a loaf of bread with a small amount of olive oil or butter (like a sandwich bread) retains moisture and will stay fresh longer.

Fats increase the bulk of your bread. Rarely do you get the kind of large, irregular holes inside an enriched bread as you do in a fat-free bread.

Different Flours/Grains. Different grains and types of flour impart different flavors to the bread. They also have varying levels of gluten and sugar: for example, bread flour is higher in gluten than all-purpose flour. Pastry flour is very low in gluten and is typically avoided in yeasted breads because it is incapable of forming proper crumb (the network of air pockets inside of the loaf).

In most recipes, even those labeled "Whole Wheat Bread" or "Rye Bread", the specialty flours make up no more than half of the flour in the loaf. The remainder is, more often than not, plain old All-Purpose Enriched Unbleached or Bread Flour. The characteristics of regular wheat flour are hard to beat when baking, and a little bit of specialty flour can go a long way in changing the profile of your loaf.

Whole wheat flour, rye flour, oats, rice, corn meal, mashed potatoes, and semolina flour are all common ingredients. They contain varying amounts of sugar and gluten, so experimentation and comparison are often necessary to achieve the desired result.

Other. There really is no limit on what you can add to a loaf of bread: herbs, cinnamon and raisins, garlic, cheese, nuts, dried fruit, olives, even sausage or preserved meats. Use your imagination!
"Homework" for Lesson Two
The recipe
We'll use the recipe from lesson one as the basis for this one, but we'll substitute milk for most of the water, add a little bit butter to soften it up, and add a touch of sugar. I also reduced the salt and yeast from two teaspoons to one teaspoon. When possible, reducing the yeast and increasing the fermentation time results in a better flavor (more on this in lesson three).
The result is a richer, softer loaf that makes an excellent sandwich bread. Typically I would bake a bread like this in a loaf pan, so that it makes nice, square little sandwiches, but in my example I chose to bake this one on a sheet pan so we can compare it to the loaf from lesson one.
2 cups all-purpose enriched unbleached flour
1 cup bread flour (or all-purpose flour, if you do not have bread flour)
1 teaspoon yeast
1 teaspoon salt
1/8 cup sugar
1 cup warm milk
2 tablespoons butter
1/4 - 1/2 cup lukewarm water
Mix the dry ingredients, then add the wet ingredients. Mix and adjust water until all ingredients are incorporated and the dough is capable of forming a ball. Pour the dough onto a flat, floured surface and knead for approximately ten minutes.
Return the dough to an oiled bowl and let rise until doubled in size, approximately 90 minutes. Shape the loaf and then let rise again until the desired size is reached, approximately another hour.*
Bake at 350 for 40 to 45 minutes, until when tapping the bottom of loaf the bread springs back and makes a hollow sound.
*Note that we're only letting it rise one time for this loaf. Because I added the extra sugar in there, I didn't want it to over-ferment and make the bread taste beery. It is low enough in sugar it probably could have handled another rise, I just didn't feel like risking it tonight!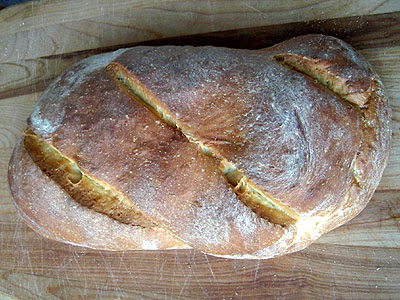 Wrap up
As expected, this loaf was creamier, sweeter, and softer than the loaf we baked in lesson one. The added sugar also carmalized and resulted in a beautiful, brown crust.
A note on storage: sandwich breads like this are best stored in air-tight plastic bags. Paper bags will help keep the crust its crustiest and are better for storing French breads.
I stored this loaf in a plastic bag three nights ago. With a bit of enrichment and proper storage, a loaf like this keeps well for up to a week.
Continue to Lesson Three: Time & Temperature.
Lesson Two: Putting Something More in Your Loaf