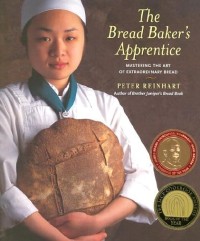 If there is one book that I would recommend to an amateur baker interested in experimenting with artisan breads, Peter Reinhart's The Bread Baker's Apprentice is it.
https://www.amazon.com/Bread-Bakers-Apprentice-15th-Anniversary/dp/1607748657/ref=dp_ob_title_bk
All of Peter Reinhart's books are good, but I find The Bread Baker's Apprentice the most rewarding.
The book is divided into two main sections. The first half of the book introduces the reader to the basic concepts of bread baking, the science of bread, and information about equipment and ingredients. This includes an extremely useful section on the twelve stages in the life of bread.
Even when I am baking breads from other cookbooks or from recipes I find online, I find myself referring to back to this section. No other cookbook that I can think of does as good a job as this one in giving the reader the information they need not just to follow the recipe but to understand why the recipes do what they do. Using the information Peter provides here, I have frequently been able to adjust recipes to my liking or to the ingredients I have on hand with a much higher level of confidence and sophistication than a typical baker at my level has.
The second half of the book is the recipes, about 50 total. I've probably baked half of the recipes in the book. All of them have been excellent. The Pain a l'Ancienne is a beautiful and facinating bread. The Anadama Bread is amazing on a cold day, and the updated version of Straun Bread in here is wonderful.
There are a lot of wonderful photos of each bread. Most of the recipes take up three or four pages and are much more in depth than in a typical cookbook. The recipes are not complicated, mind you, just a lot of emphasis is placed on the techniques involved in the shaping and baking traditional breads and in making sure the baker understand what it is about each bread than makes it unique.
There are a lot of other good bread books out there, but if I could only have one bread book in my kitchen The Bread Baker's Apprentice is it.
---
Buy The Bread Baker's Apprentice on Amazon.com.
Buy The Bread Baker's Apprentice from Chapters.

Related Article:
Q & A with Peter Reinhart
.
The Bread Baker's Apprentice