December 17, 2017 - 9:30am
Abel's 90% Biga - as baguettes of course
After Abel posted his 90% Biga @45% hydration [1] (70% overall) a few heads were turned and some fast commitments made to reproduce this bread.  Mine too.  Some questions were left unanswered, i.e. the optional levain hydration, baking temp and time.  So some jeri-rigging was needed. 
Biga hand mixed, not "crumbly" as advised.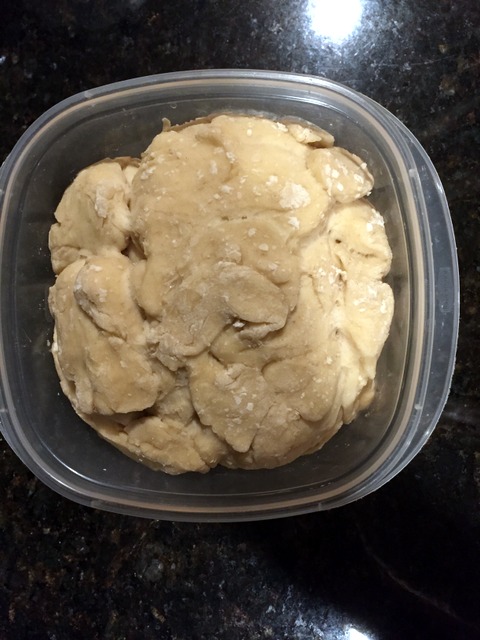 Final dough ingredients incorporated.
Completion of French Folds, awaiting bulk rise.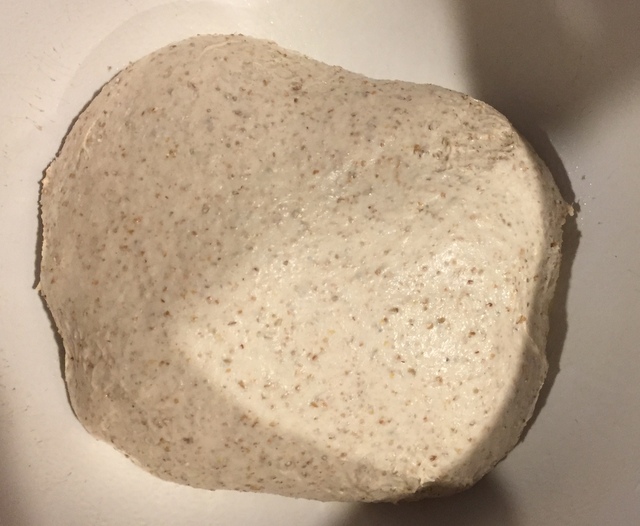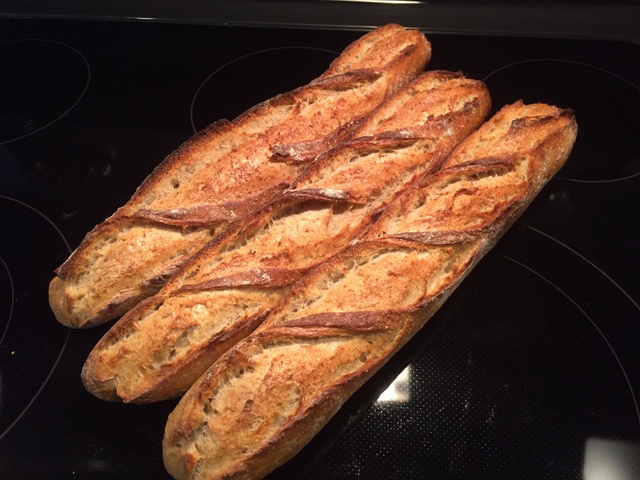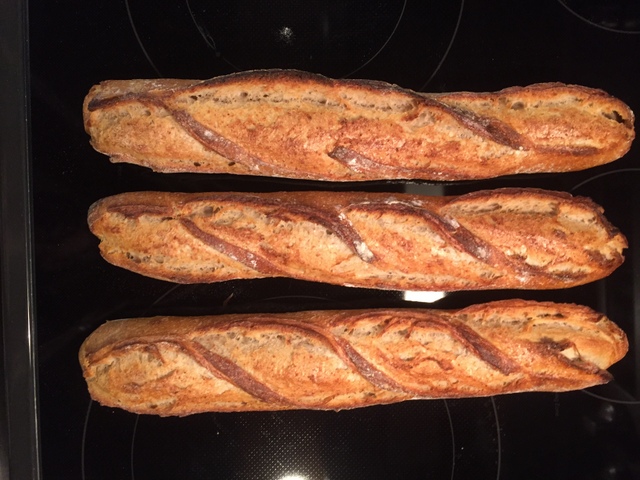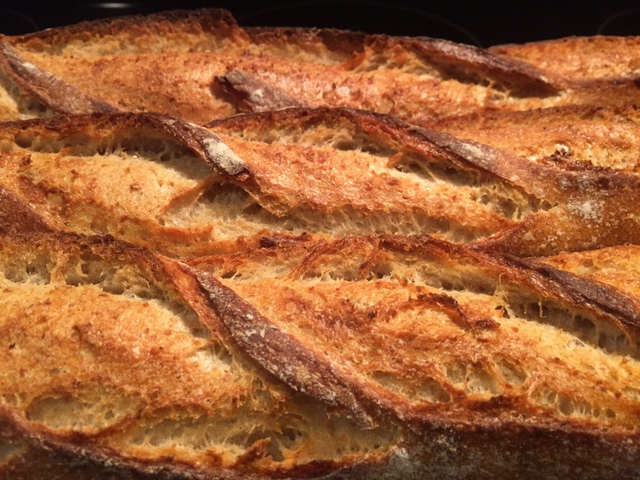 As my place is about 78dF-80dF year round, the kitchen was too hot to allow the biga to exist for the projected 14-16 hours.  It needs something in the vicinity of 62dF-65dF, according to Abel.  I emptied out a few bottles from my small wine cooler left it there for the duration  My notes:
Used Gold Medal Bread Flour which is likely not as strong as what Abel recommends.
wine cooler temp lowered the temp to 60dF
biga retarded for 22 hours, doming slightly but nothing more was noted.
100% hydration liquid levain while adjusting the remaining flour and water downward to compensate.
Used a stoneground dark rye for the final 10% flour.
Chop biga into small pieces, add to water/new flour /salt in mixer w/paddle on slow, wait to incorporate, add next small piece...
300 French Folds: 150, 5 min. rest, 150 more.
1 letter fold at 30 minutes of the 60 minute* bulk rise.  
15 minute rest after the pre-shape.
dough was very easy to shape and gave little resistance, more extensible than elastic for sure.
Dough required very little flour on couche, and came off cleanly from couche to hand peel.
60 minute* bench top proof.
Oven to 480dF for 1 hour.
Sylvia's Steaming Towel 15 minutes before bake.
2 cups boiling water on Lava Rocks just after loading dough.
Oven reset to 460dF for bake.
10 minutes under steam, then steam released and dough rotated.
10 minutes continued bake with another 3 minutes venting - oven off.
*Consideration that the levain generally takes longer than IDY to work its magic, with my kitchen being warmer than most,  I abided by Abel's timing to compensate for the warmer/faster acting environment.
Lessons applied and/or learned:
Don't mix the biga by hand.  Too difficult and the dough is not "crumbly" as Abel puts it.  I did and it was not easy.
Do mix the remaining flour, water and salt in a mechanical mixer with the paddle attachment.  It will incorporate much better than by hand.  After that, however you wish to complete the mixing phase is your decision.
Do "autolyse" the final dough ingredients (remaining flour, water and salt) to get a better hydration for the final dough.  It should be slurry, but will incorporate better.  I didn't.
350g x 3 baguettes/long batards