My bread journey: 13 months of sourdough baking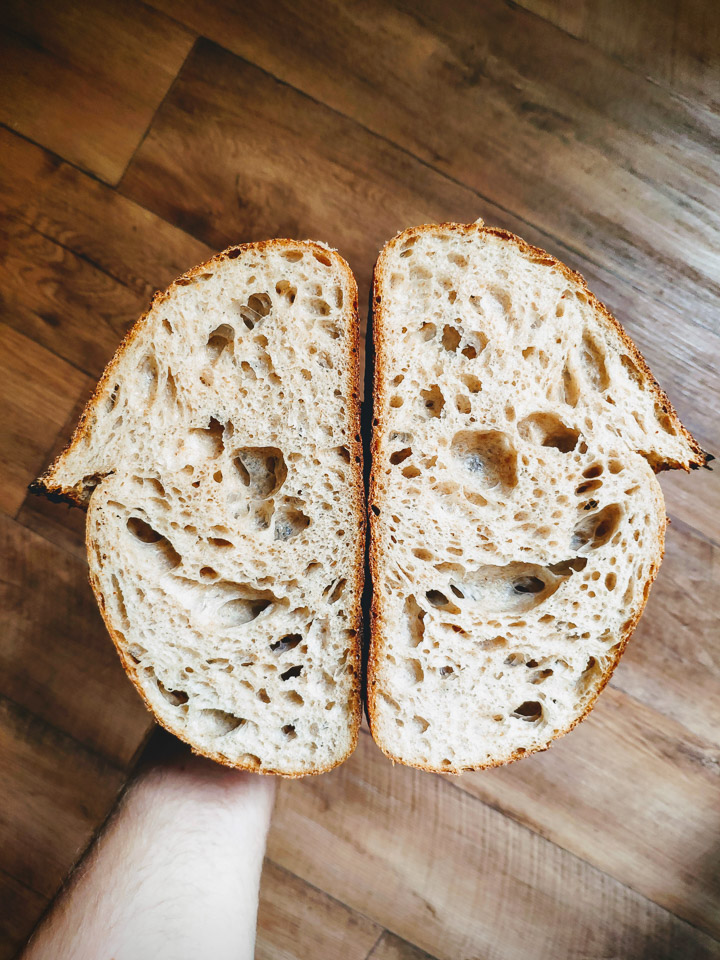 Warning: Many photos ahead!
Hey folks,
I had a good chuckle the other day as I was going through my photos of all the bakes I ever did over the course of 13 months (Tip: If you use Google photos, searching for "bread" is a fun exercise!). I thought I'd share this journey with you as I somewhat felt that I have now arrived "somewhere" – far from where I was thinking I was going, yet in a place, where I am pretty happy about the bread I make and about the consistency I achieve. I'm posting not all the photos, yet all the ups and downs I encountered... always fun to see someone else struggle! So without further ado...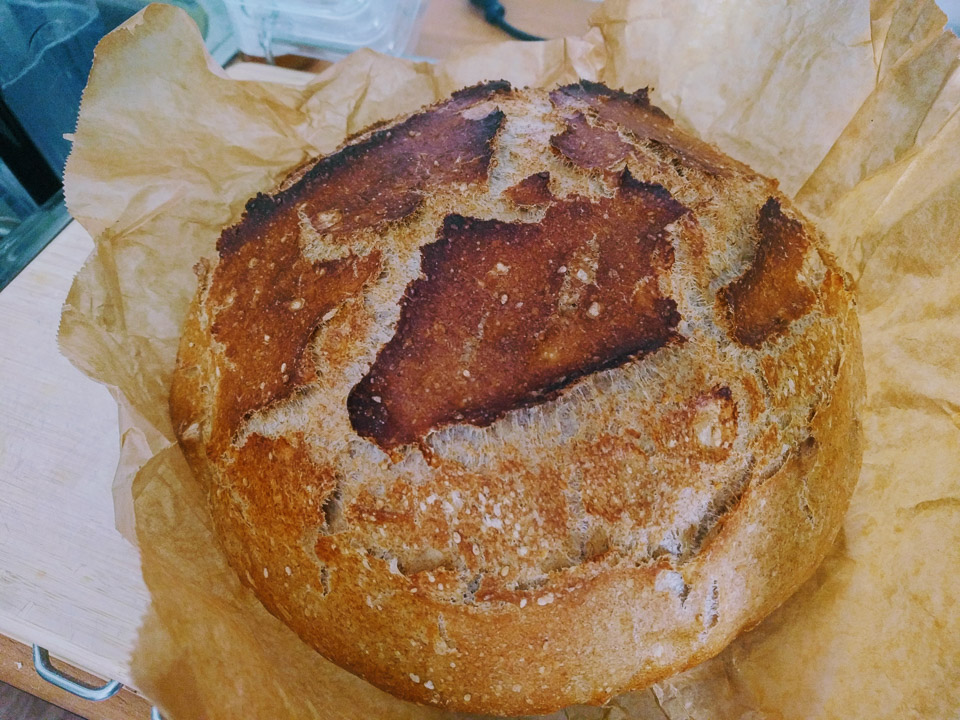 My first loaf ever. Inspired by watching "the french guy cooking" on youtube, I followed the 1-2-3-recipe he proposed, combined with a process I had seen on "Ellie's everyday" baking, where the loaf essentially proofs in the parchment and then just gets lifted into the dutch oven. The crust was thin, the oven spring... well.. yeah, there were some bubbles, so my self-made sourdough was somewhat alive!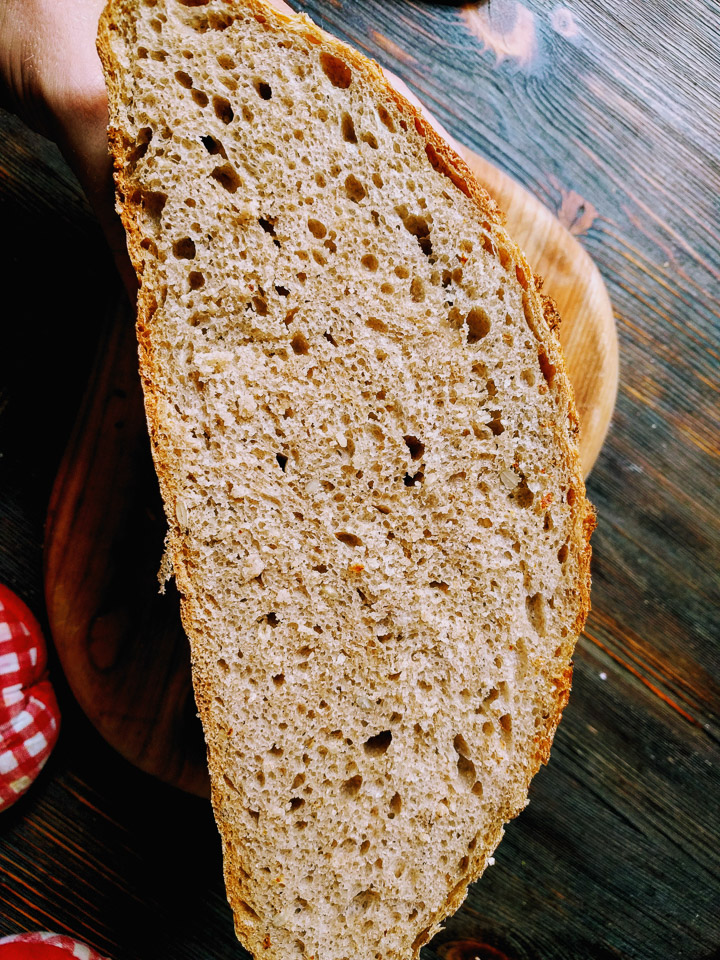 And its crumb...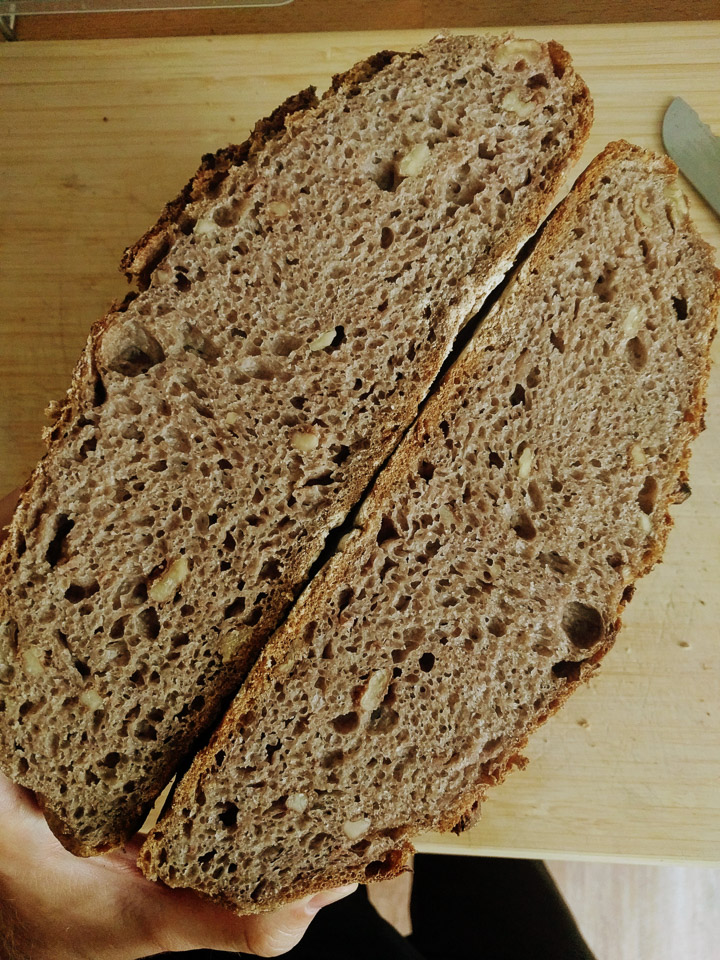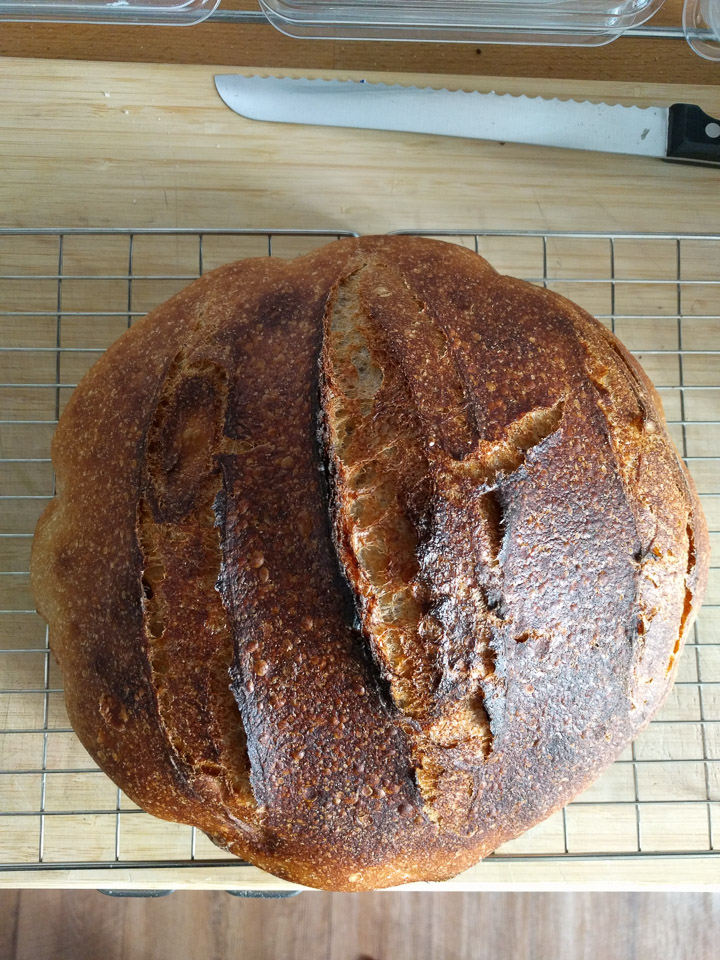 Two photos above: My second bake. More whole-grain. Pancake. Yeah.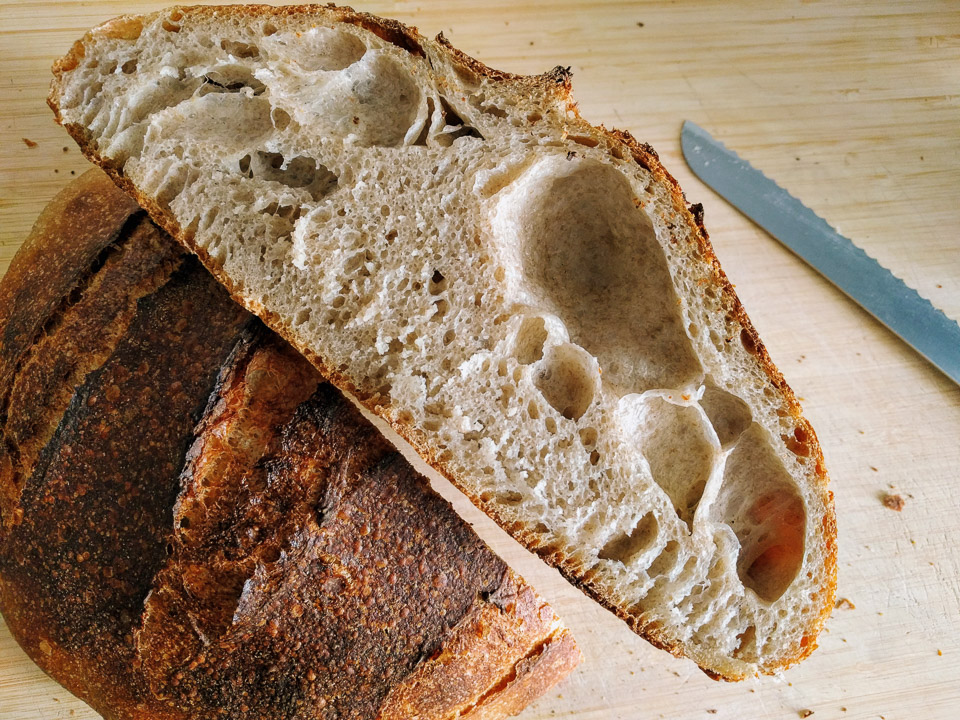 Back then, I didn't know what a "fool's crumb" is. Naturally, I didn't even know who Trevor was. ;)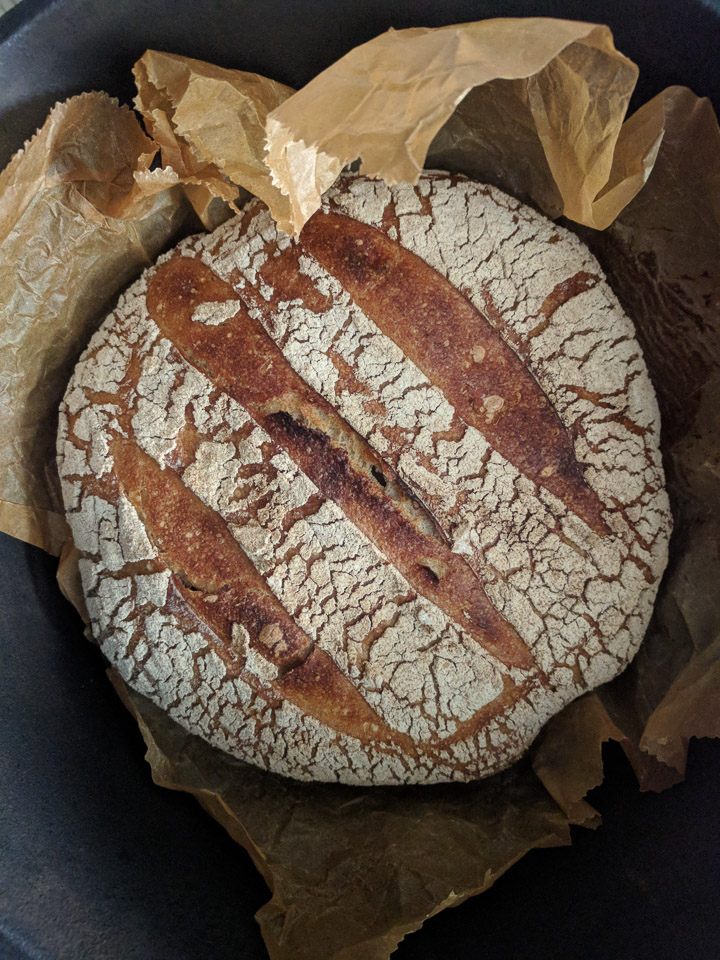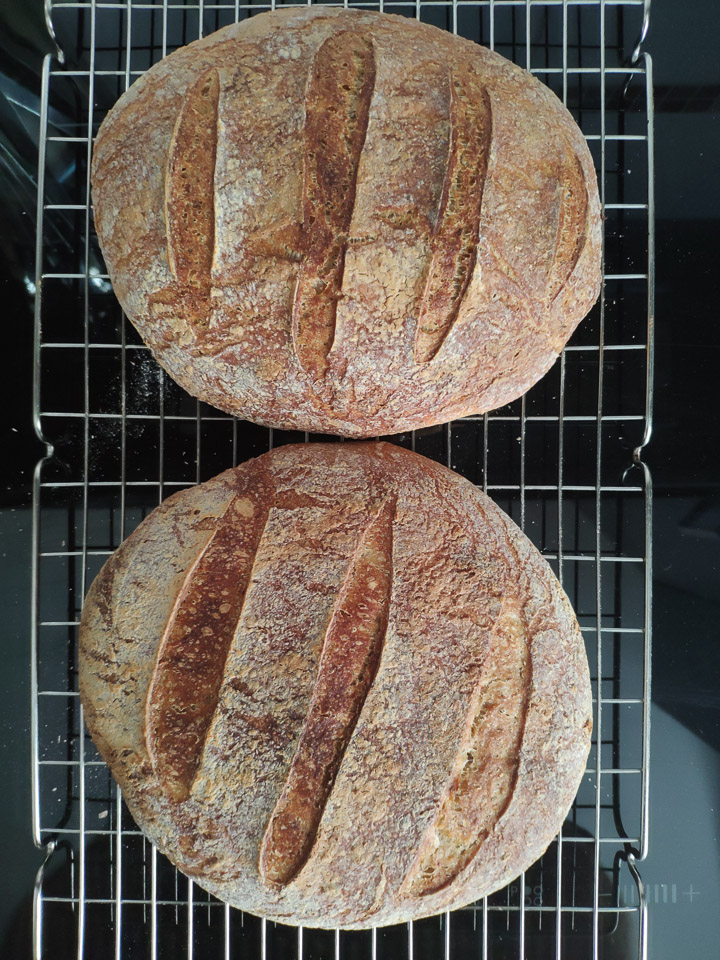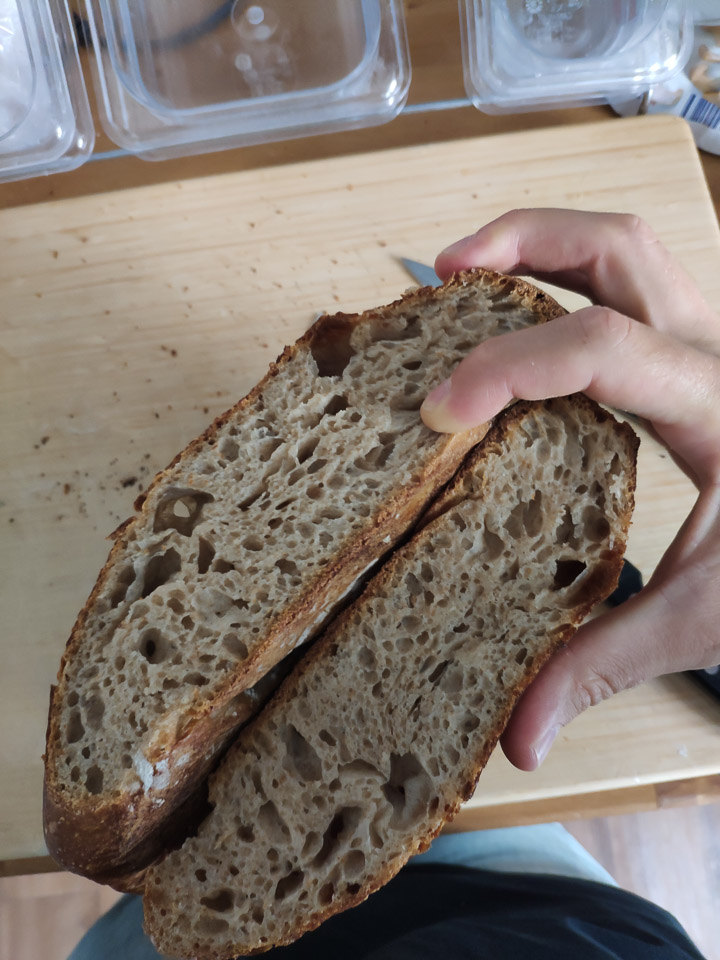 Three photos above: A nice collection of pancakes. However, they did teach me important lessons: Despite the fact that they turned out flat, the fermentation was further ahead (compared to all those underproofed loaves of the start.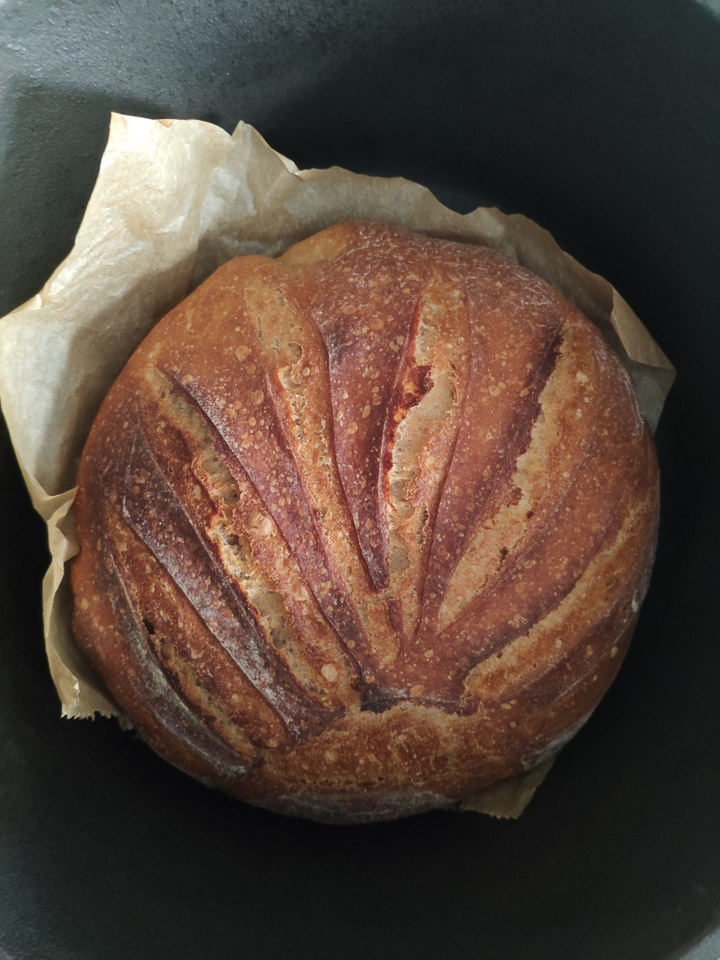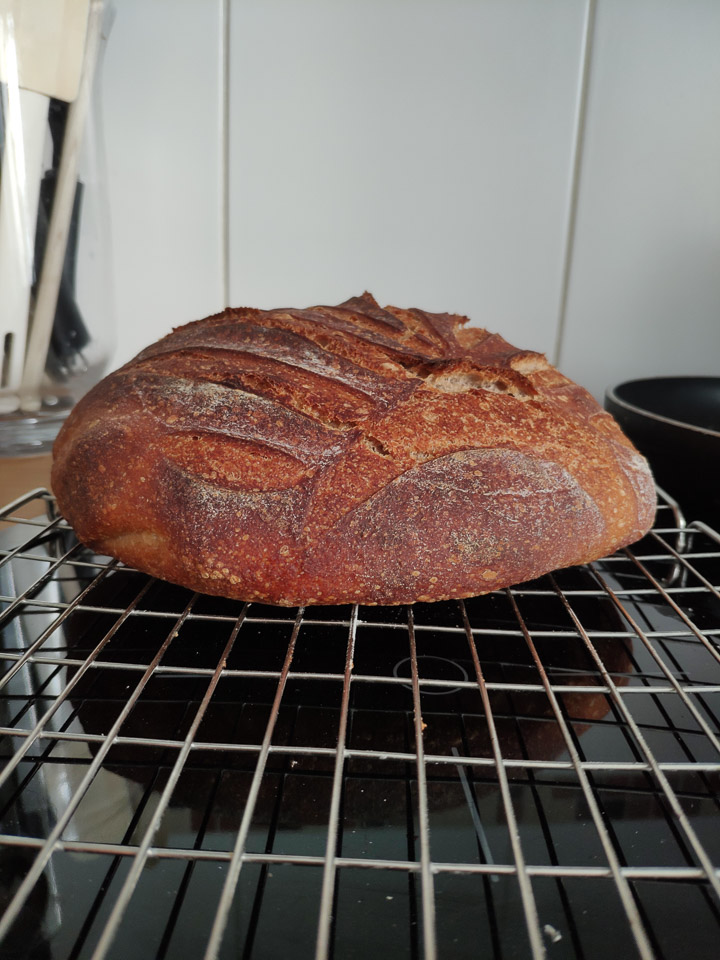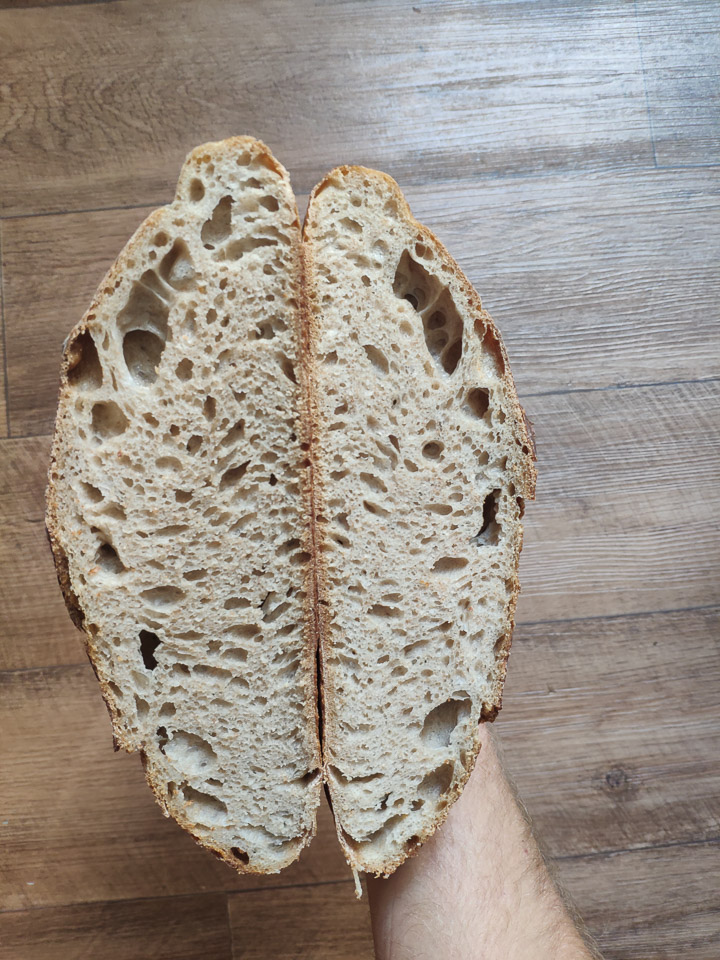 Three photos above: I got "inspired" by fancy scoring videos on instagram. Sigh. But hey, I start seeing some bubblage.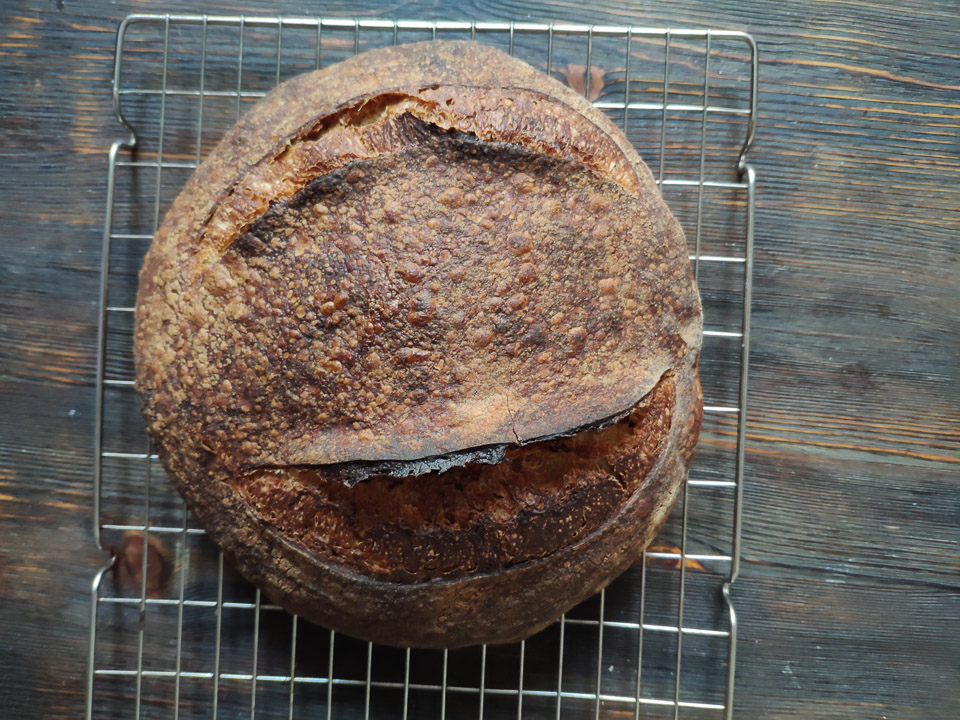 My first ear of sorts!!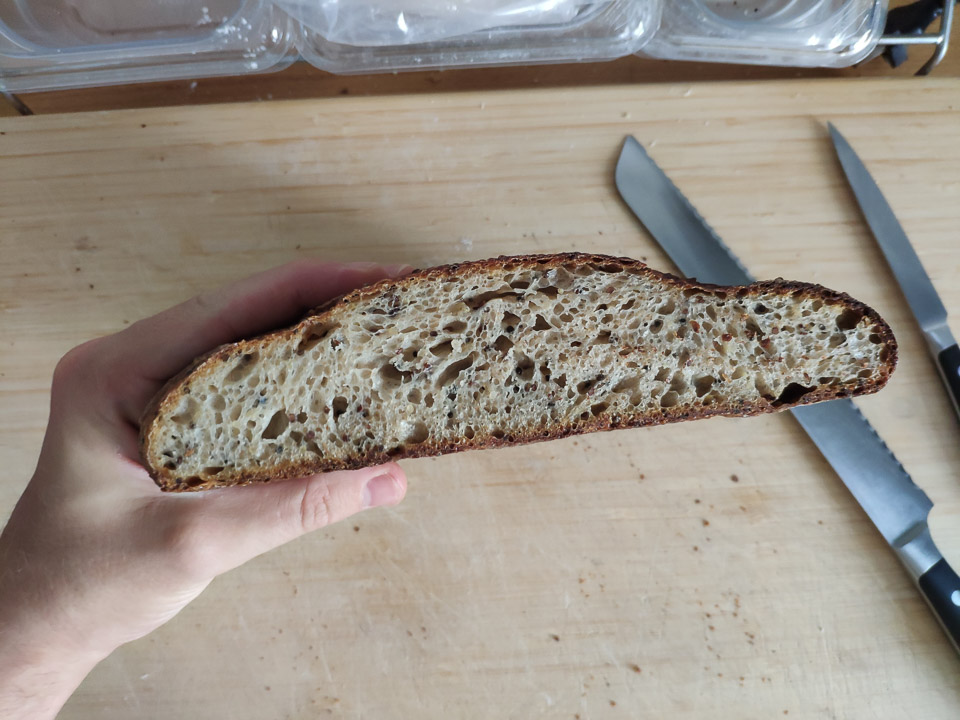 And yet, the next bread was a pancake. A delicious one, but no consistency. My process is all over the place. No notes, just mixing and matching ideas as I start to read about "Tartine" (everybody falls into that trap, I guess: 80% hydration? Can't be so hard!!). No shaping skills, no ability to read fermentation, weak starter that I didn't feed right.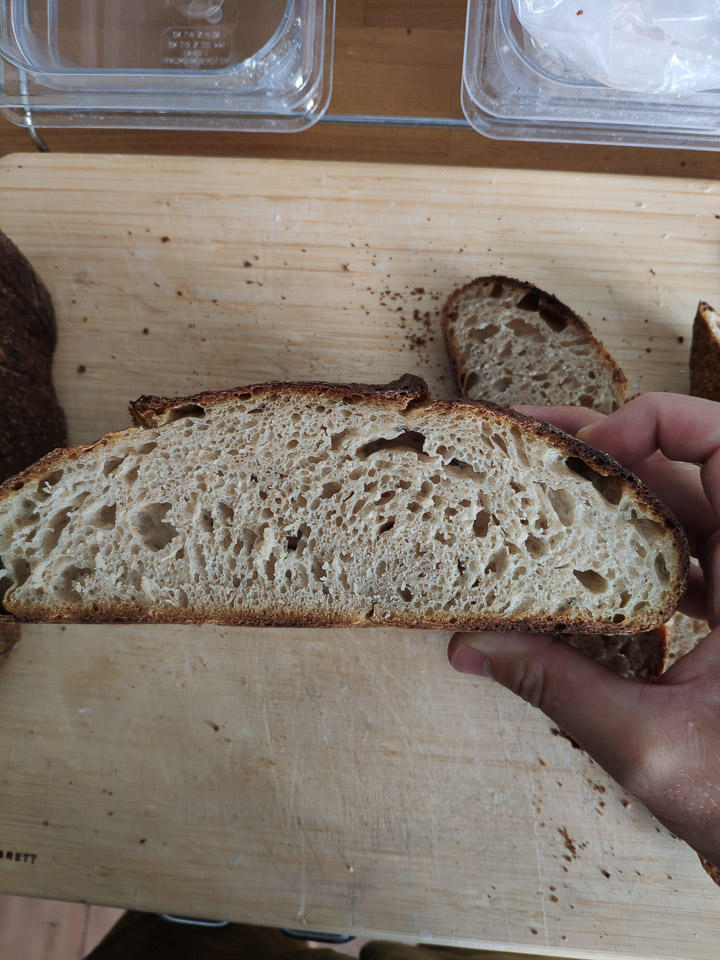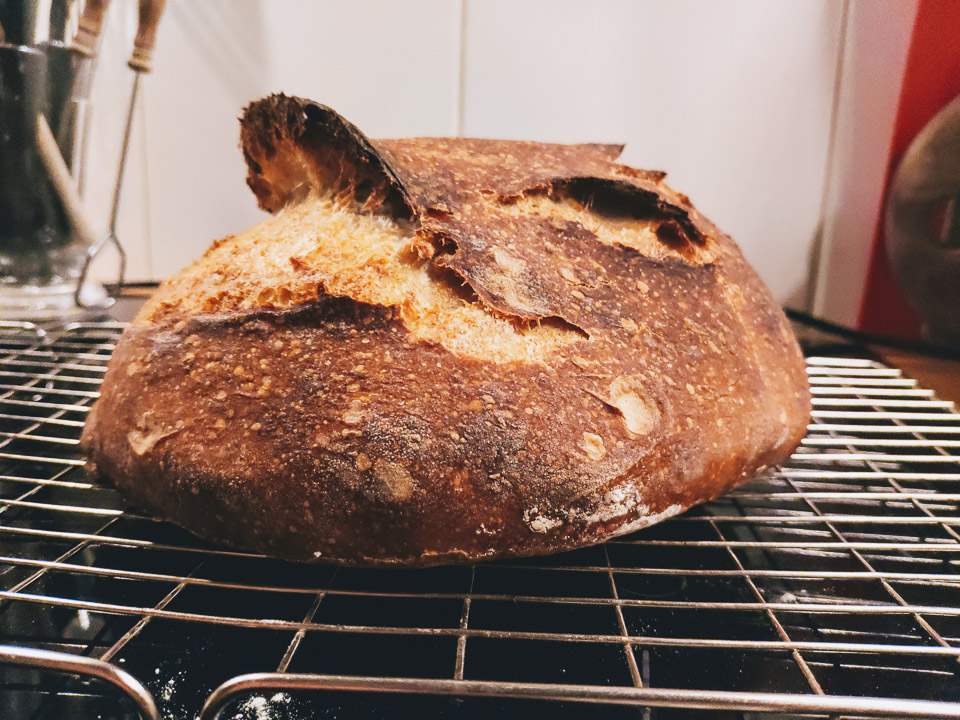 Above: Oh I remember this bake. I had @not.a.crumb.left on the phone as she was giving me LIVE SUPPORT through this bake. Pretty much all I know about baking I owe to this lovely lady in the UK (and I discovered her own bread journey on this very forum, thinking that somebody who still only recently had spectacularly overcome the early problems of sourdough baking might be better at explaining it to me... boy, was I right!)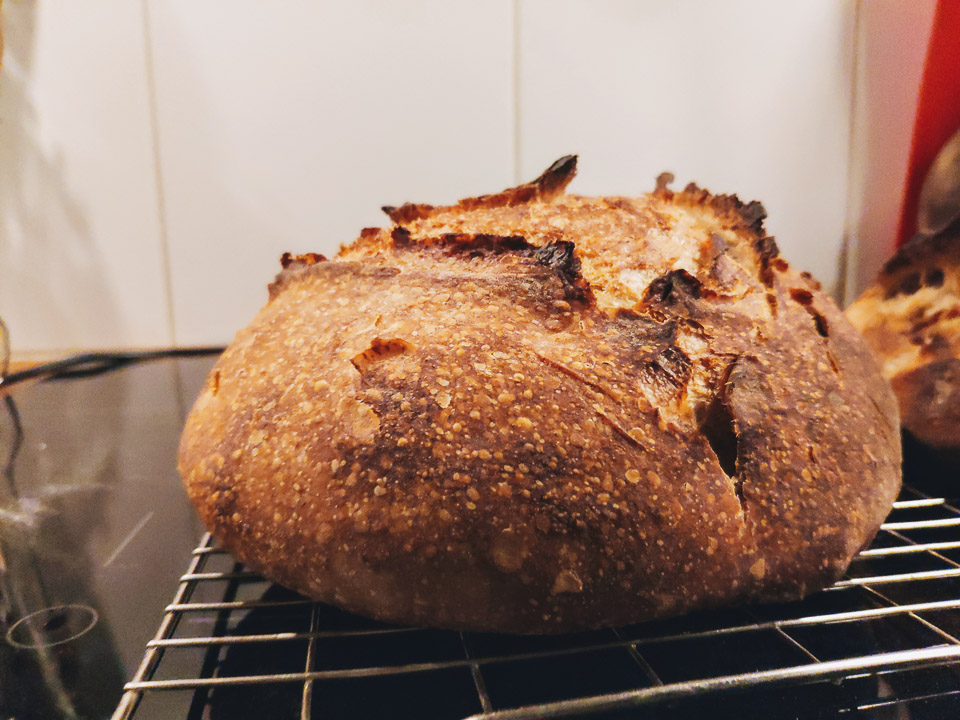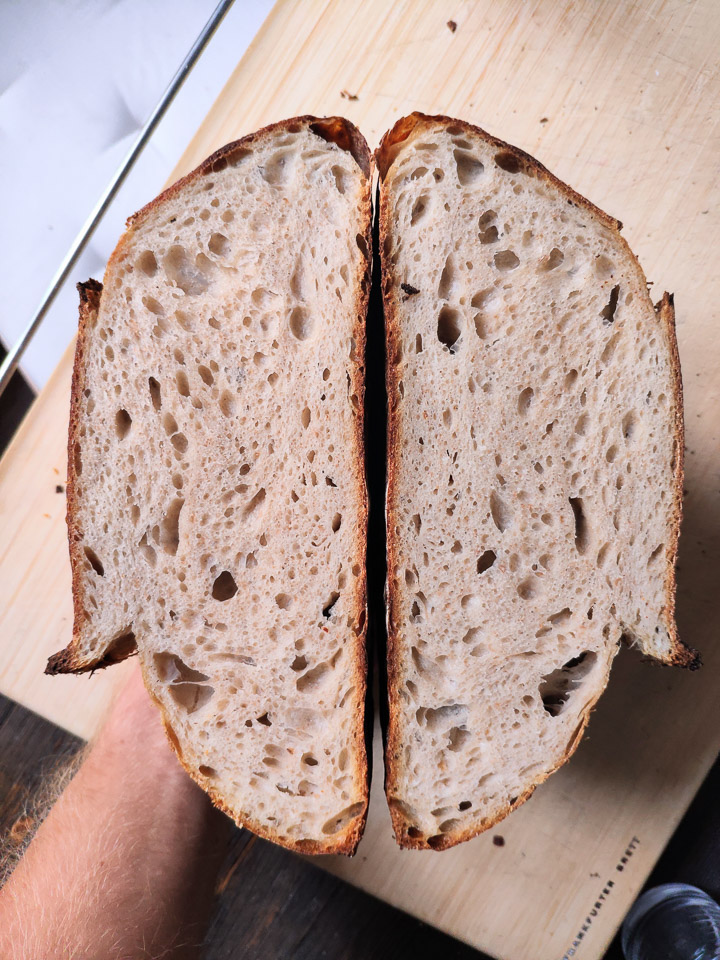 Four photos above: The first loaves I considered a success back then! Champlain recipe, tons of stretch and fold... and some height and oven spring!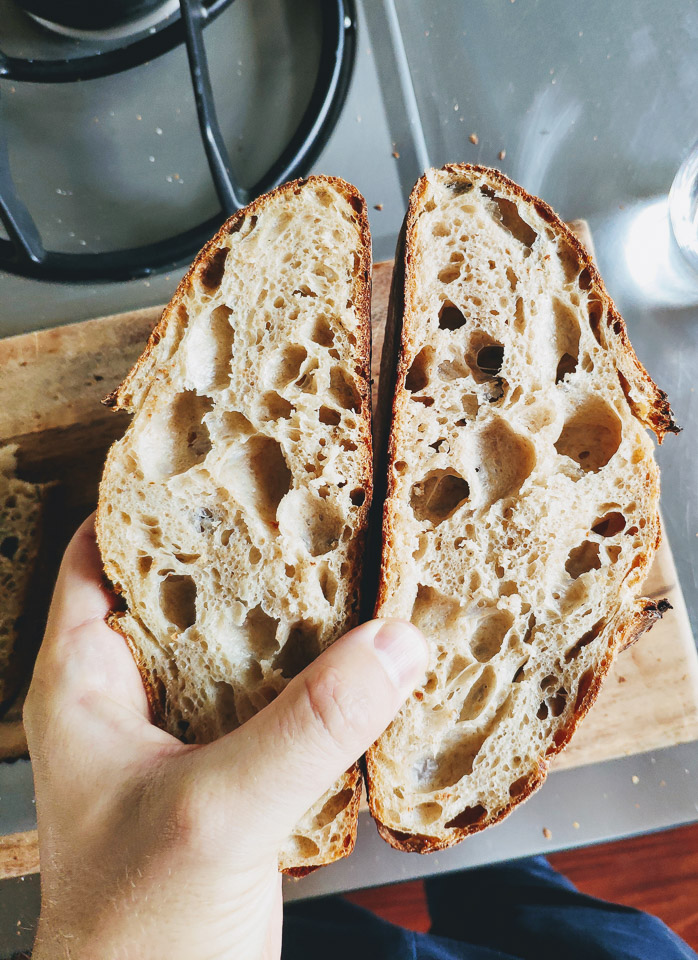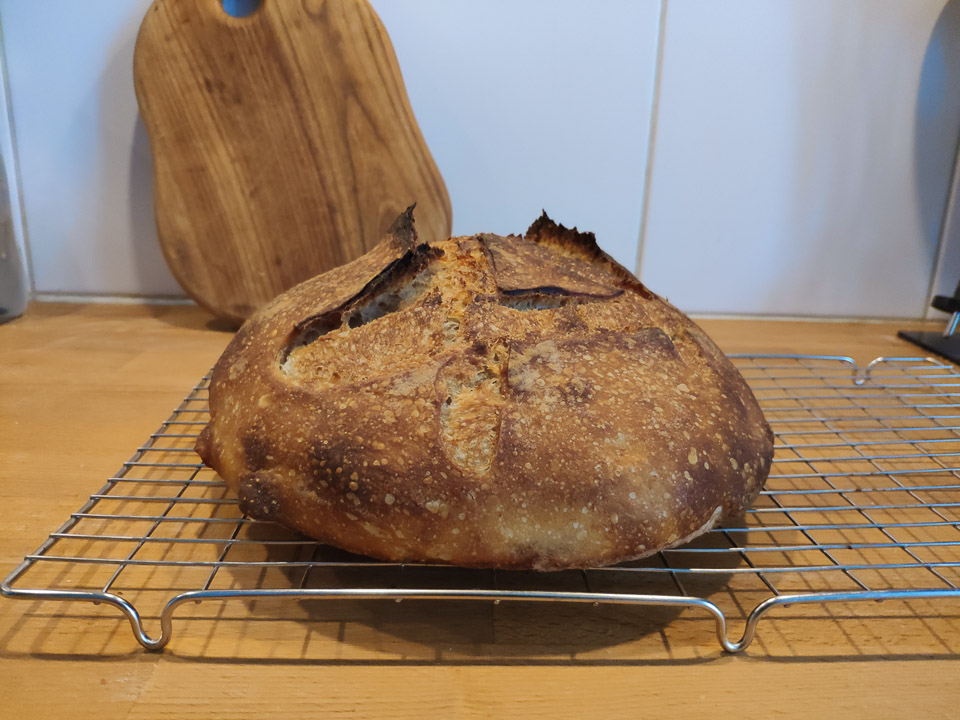 See that Trevor'esque scoring above? Ha!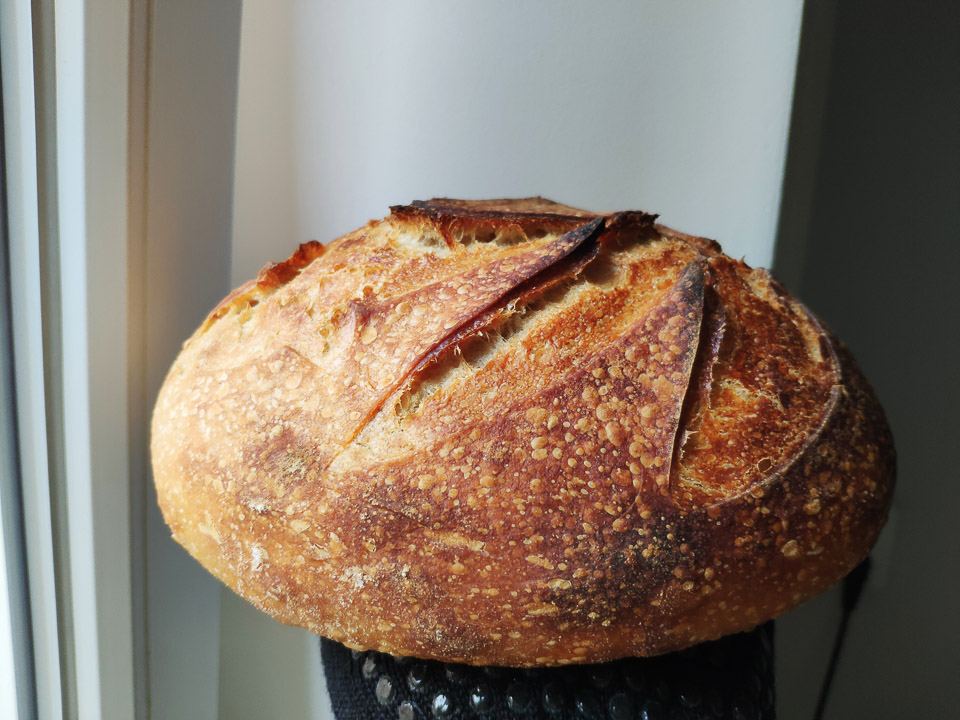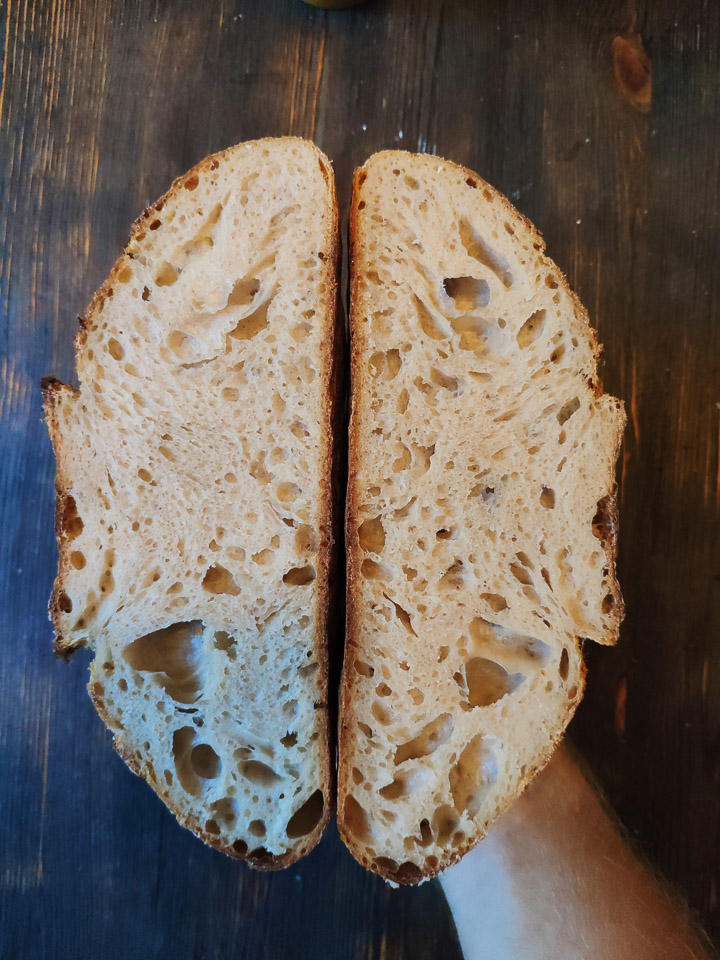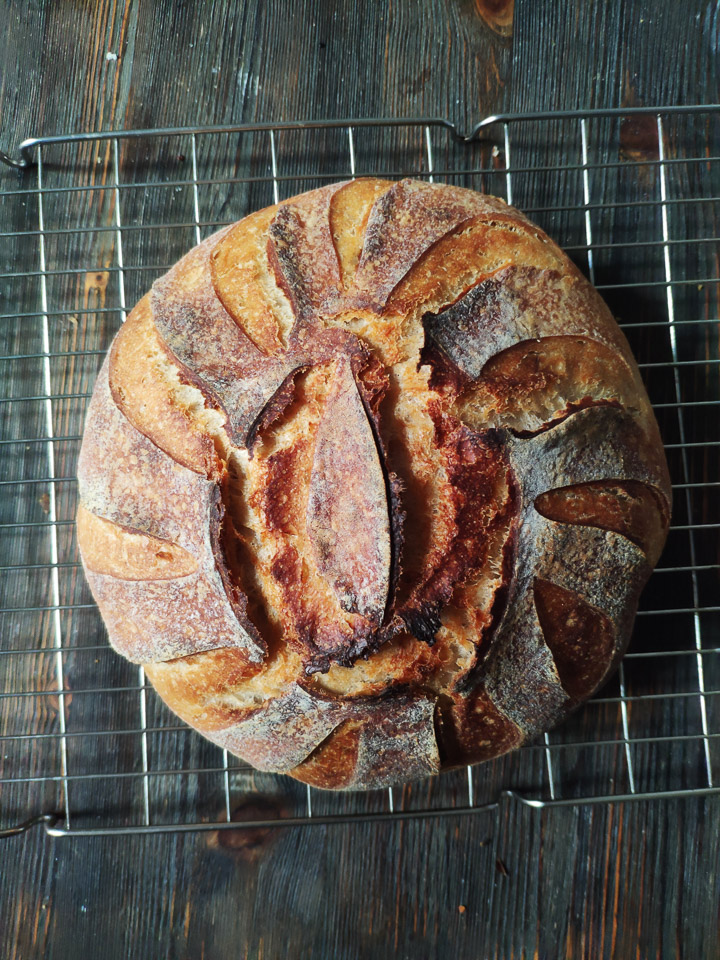 Three above: Wow, instagram really made me do this. But I got some fermentation going, so that's something.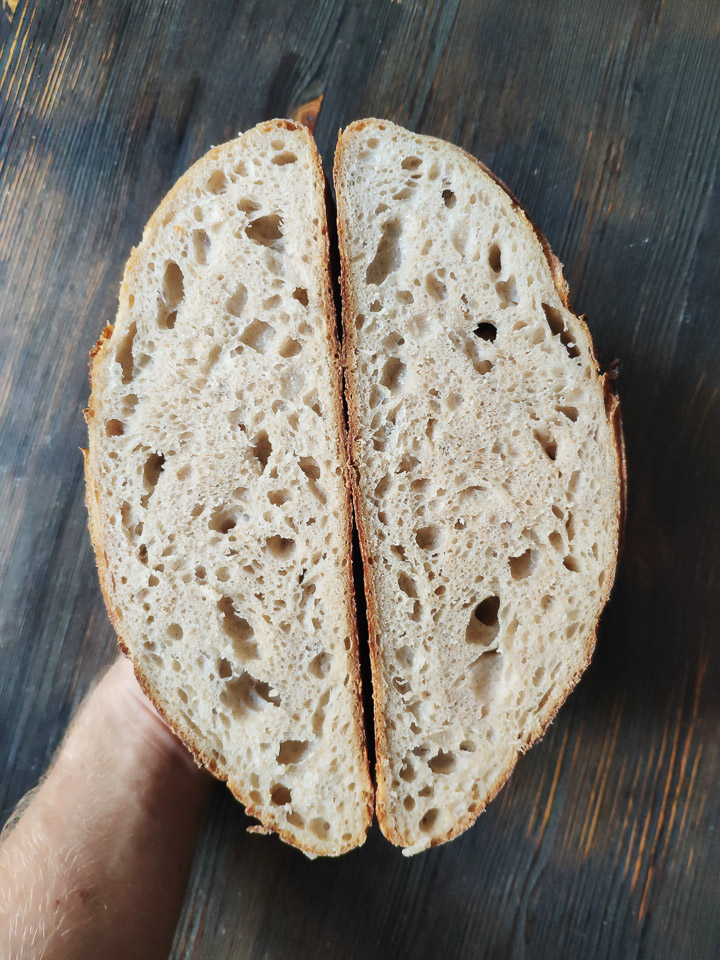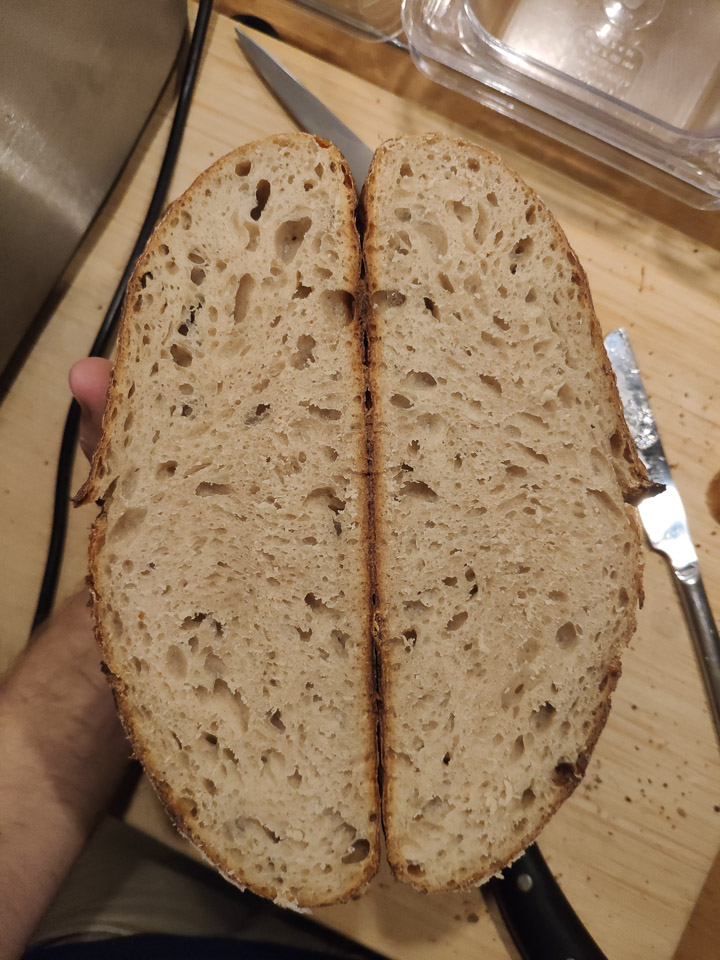 Two above: Another set of champlains, I think I plateaued at that height for a bit. Kind of OK (my wife thought they were good!), but I was never really happy as I started to see all the tall, round loaves on here and on instagram!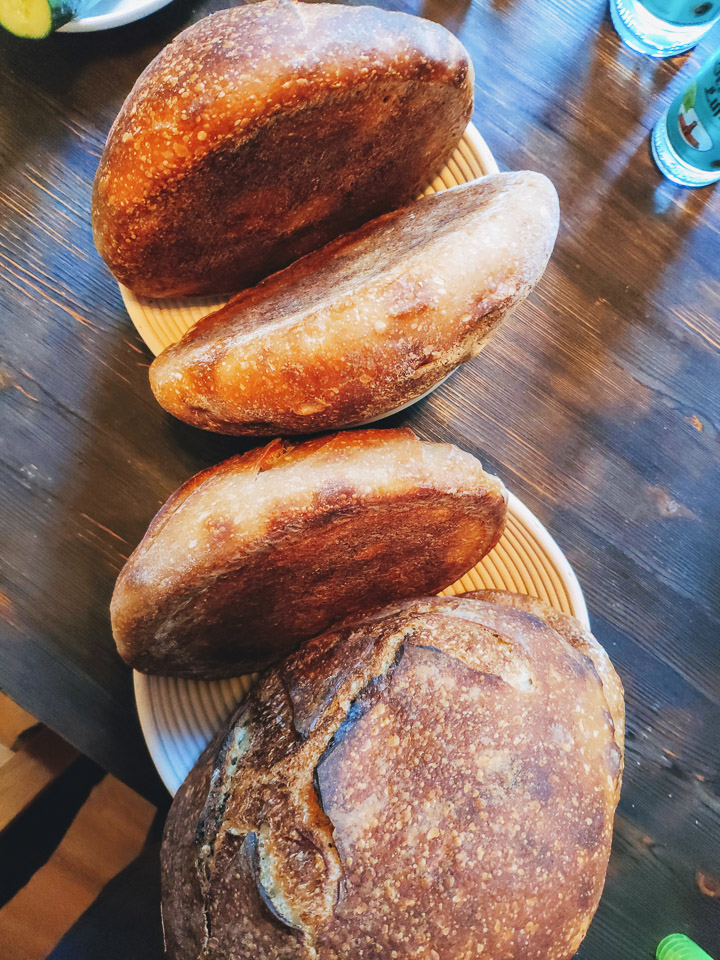 Above: My first batch production for a birthday party. Proud.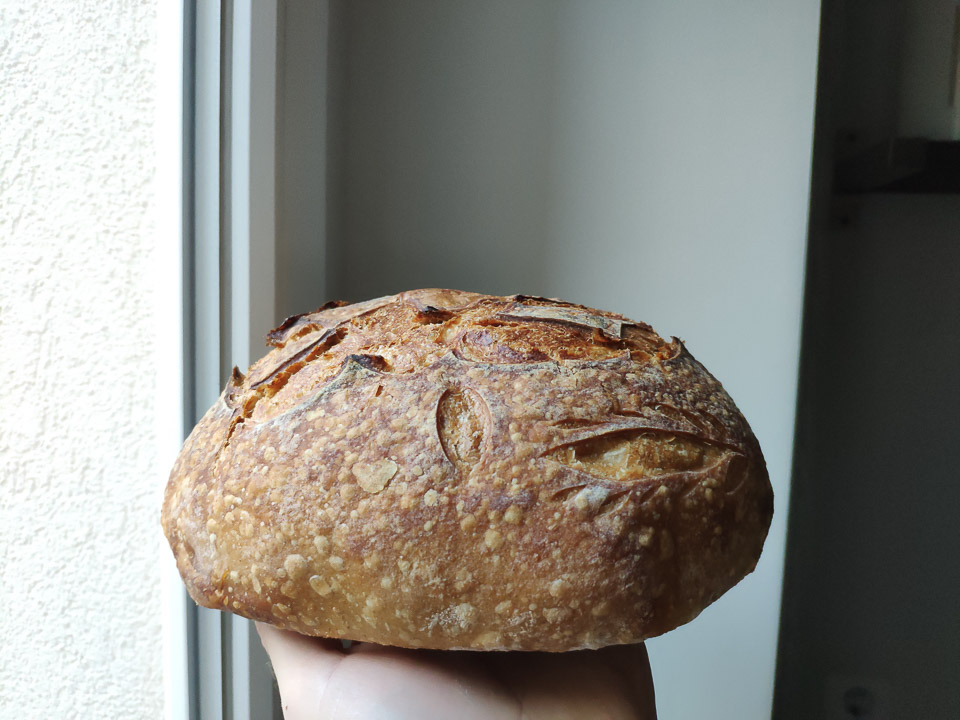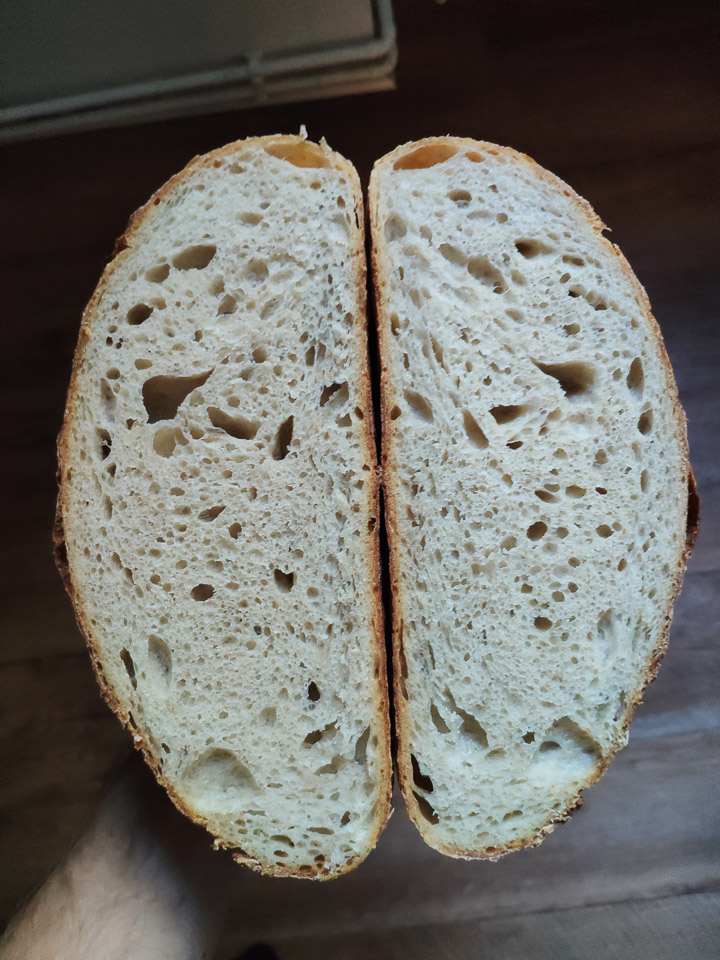 Two above: Champlain. Plateau. Why don't I get those big bubbles like the kids on insta?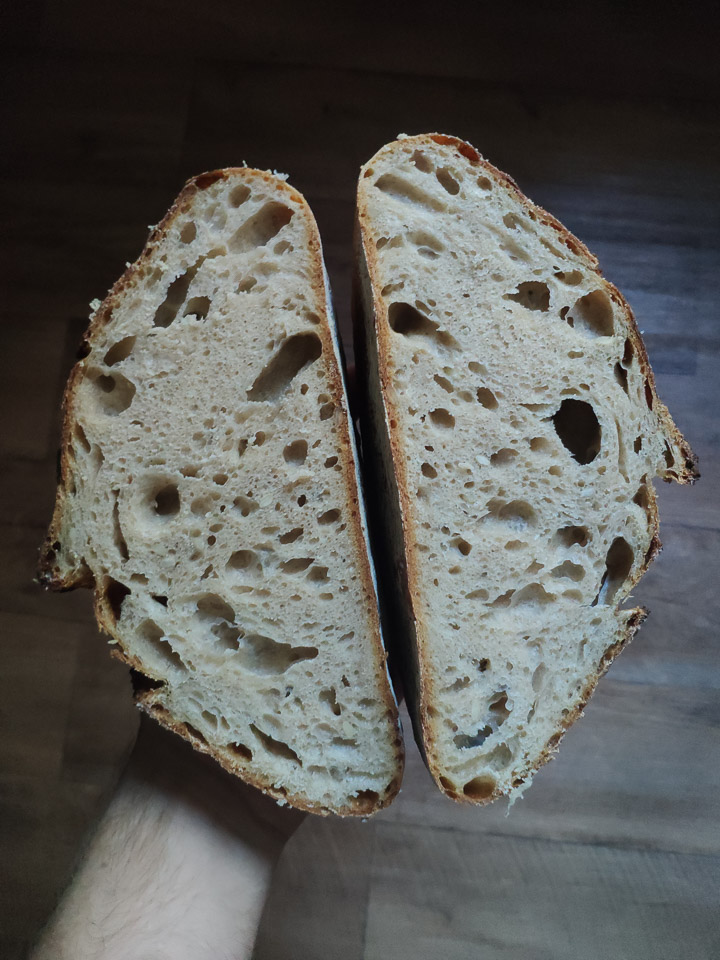 Er. Yeah. What did I do to achieve this? No idea!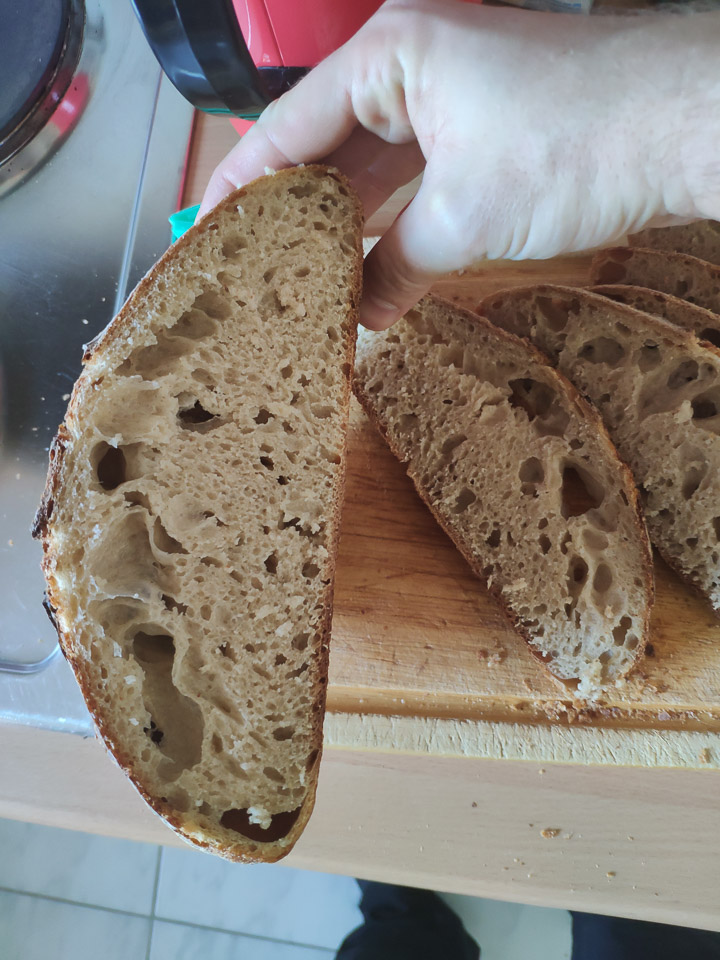 Fool's crumb time!!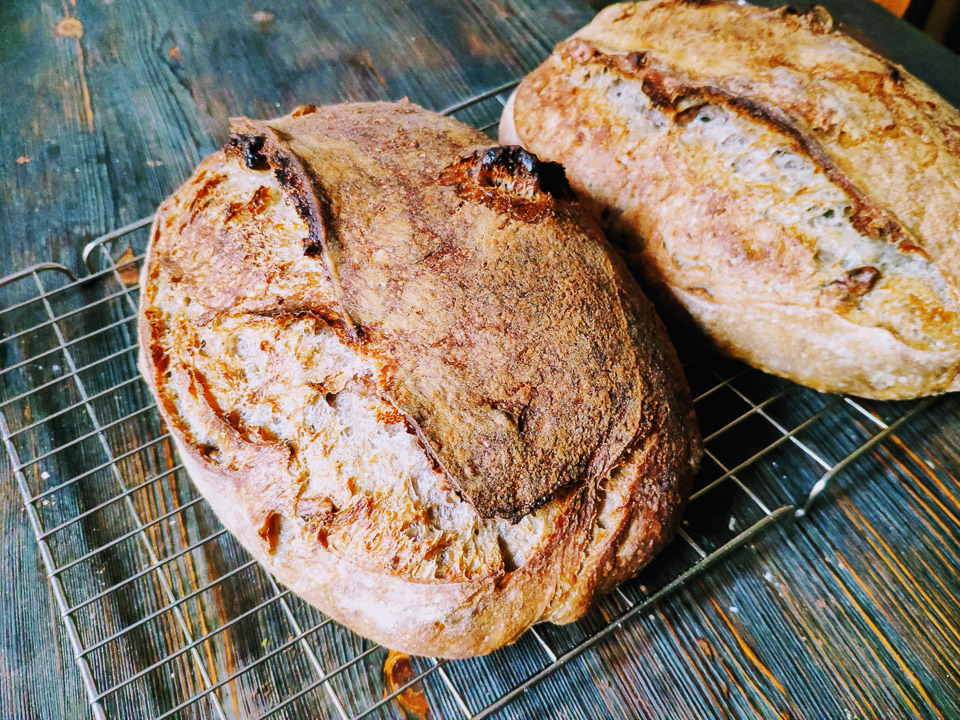 My first batards! And a porridge loaf as I got bored of all those Champlains!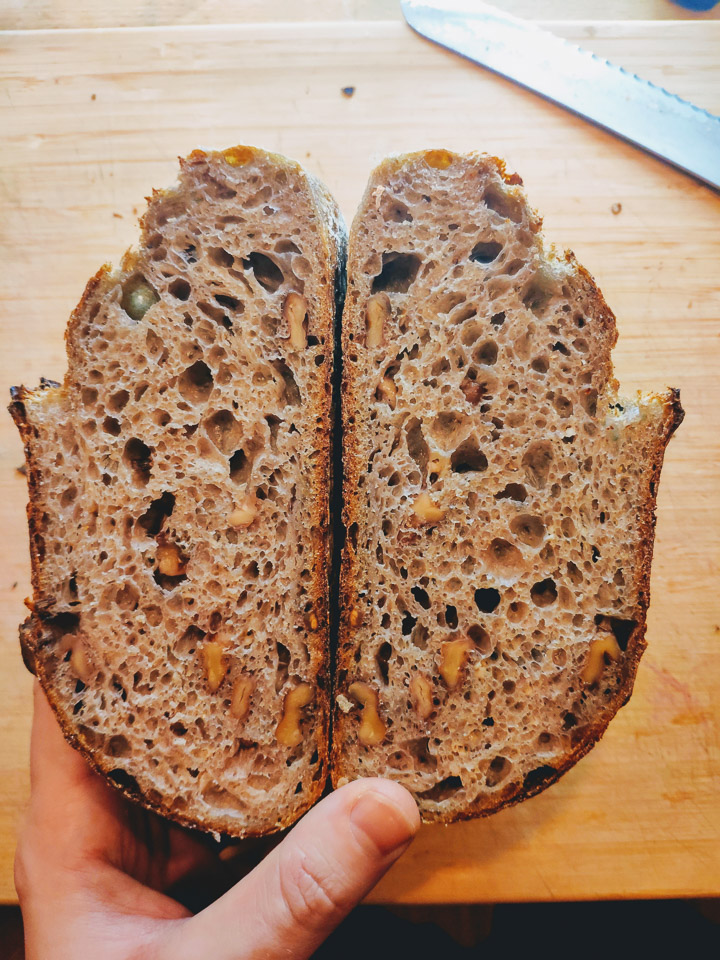 Walnut-Oat-Porridge. Still one of my favorite flavours!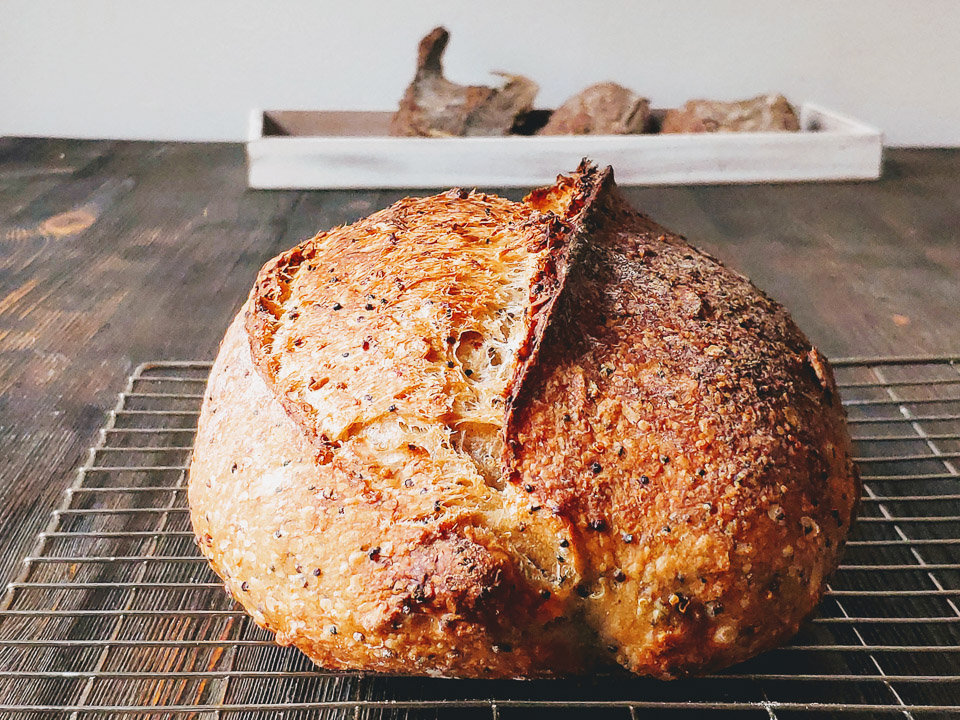 Oh, my first quinoa porridge loaf. I was proud. The first "tall" and round loaf in my collection.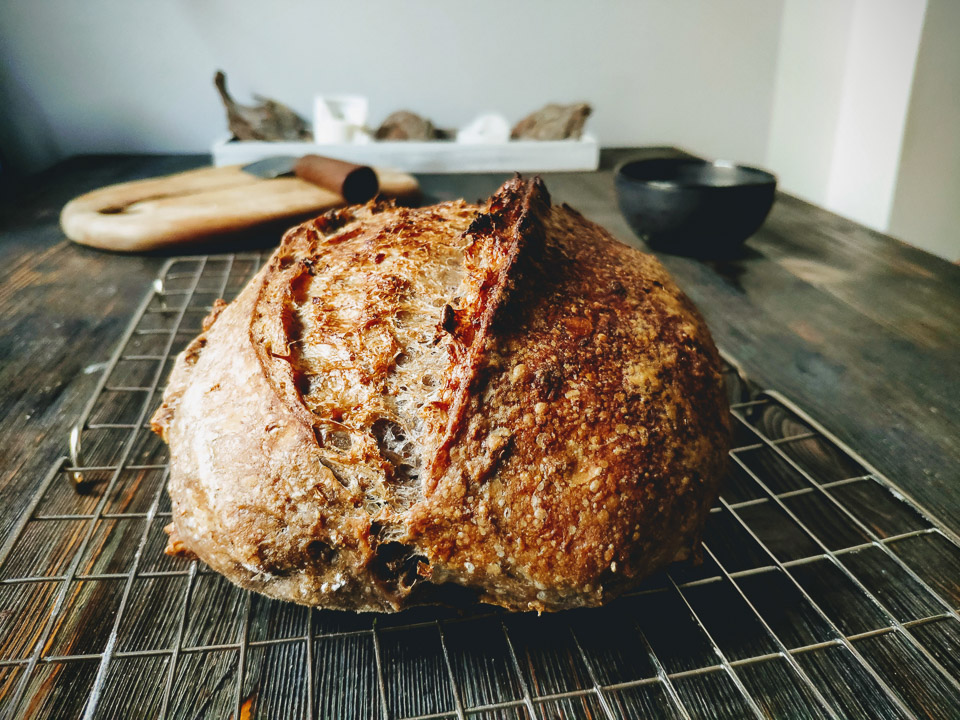 And another oat/walnut porridge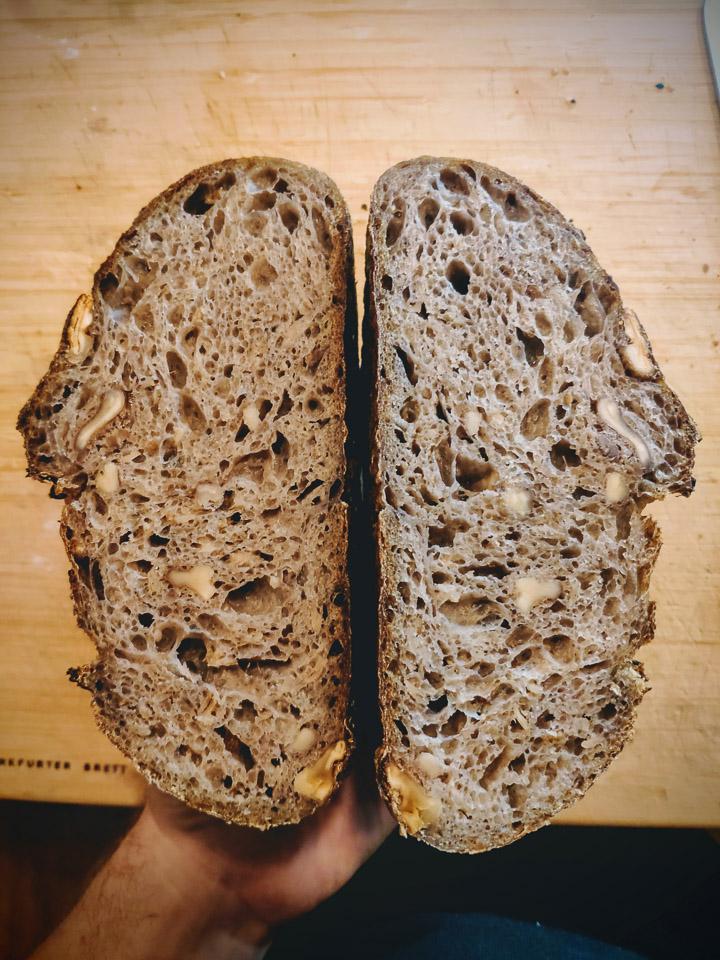 And its crumb (about 35% WG)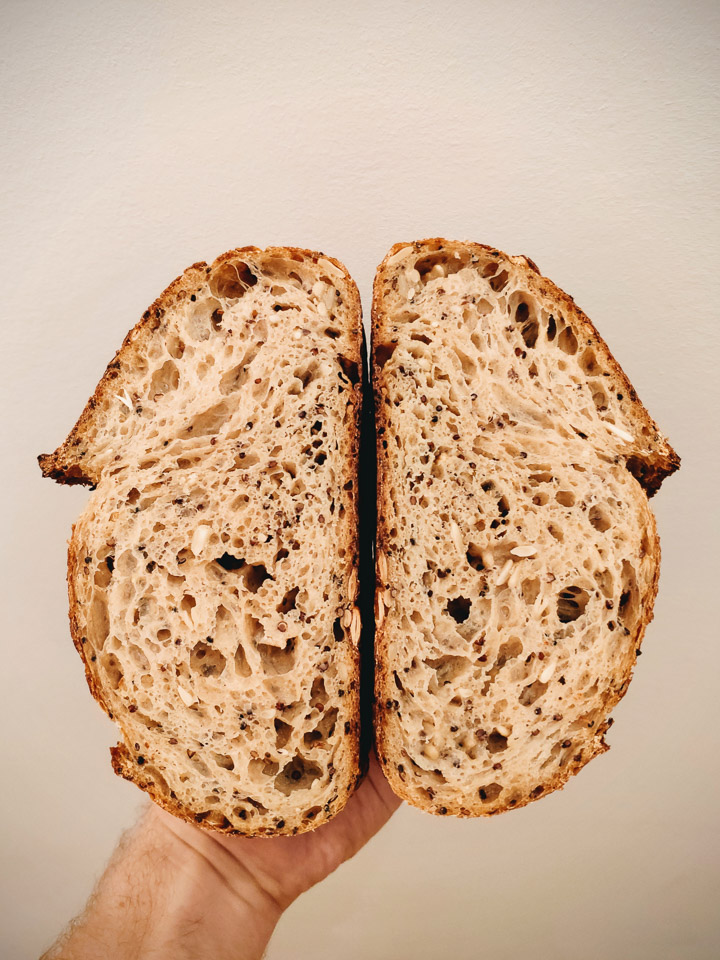 Above: This was the crumb of the quinoa porridge.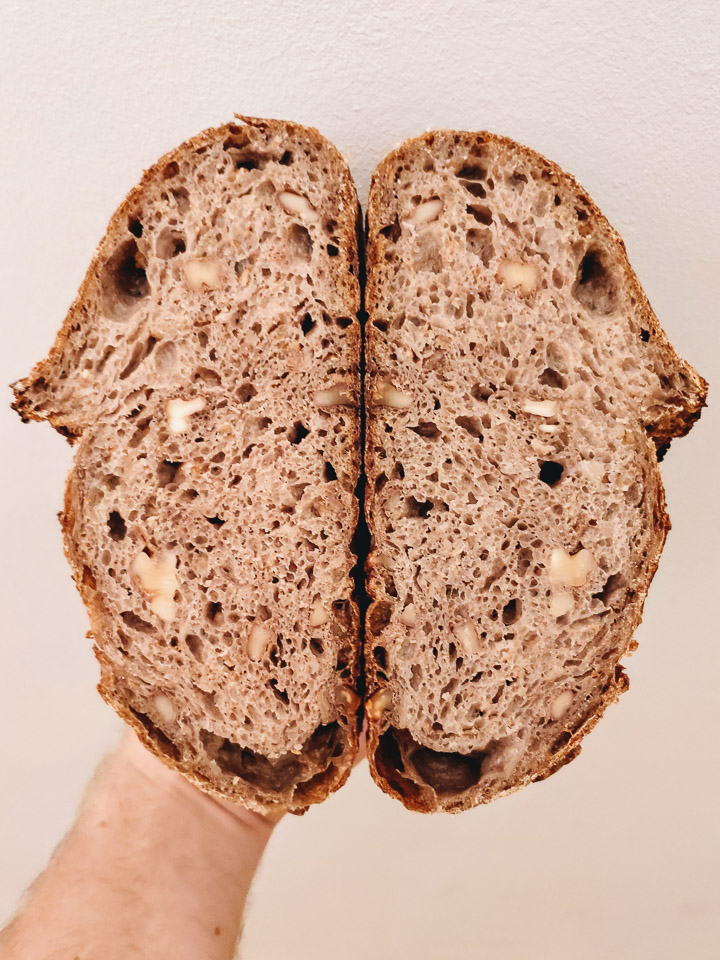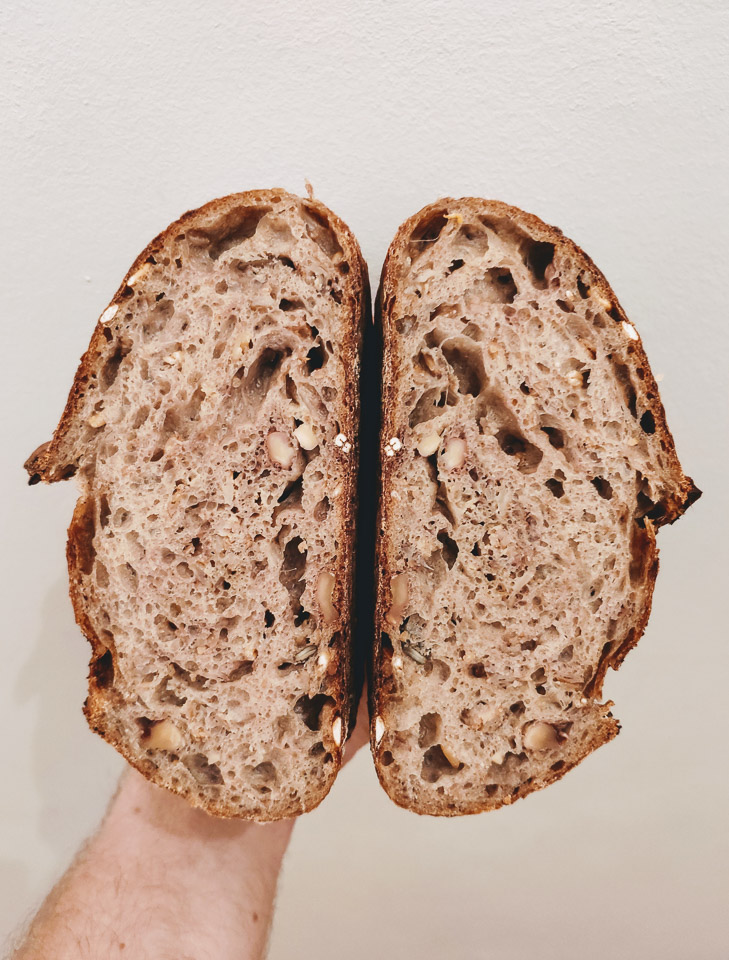 Three above: Some more porridge loaves. Kinda plateaued there, as well. Only small improvements through developing gluten early before mixing in the porridge... Small inoculations, so 5-6h bulks.. what a chore!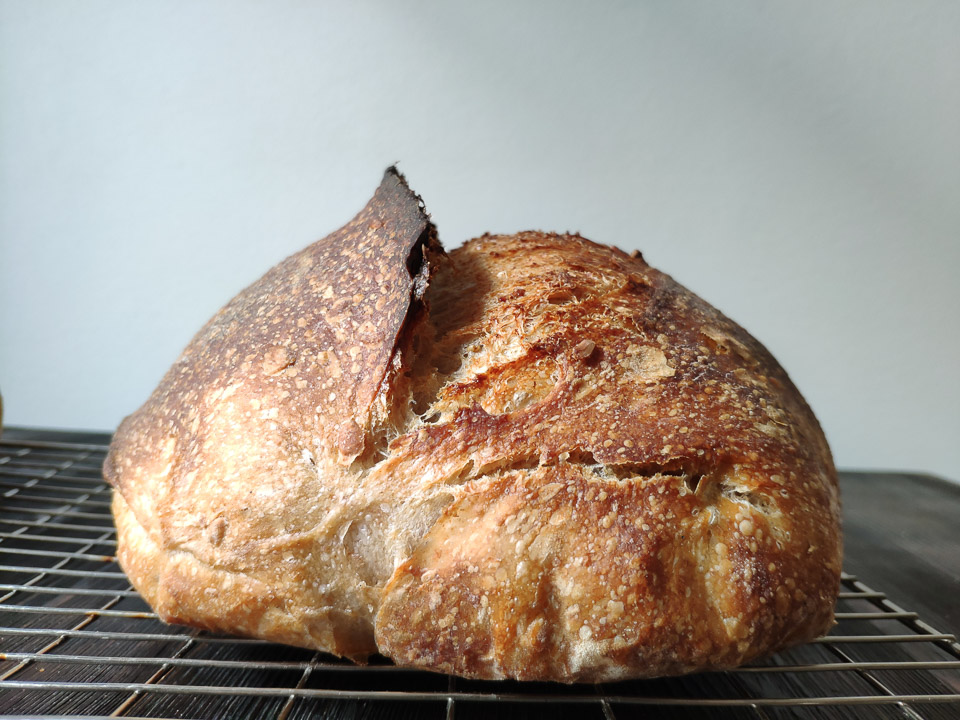 My first back-to-Champlain. And all of a sudden, some volume!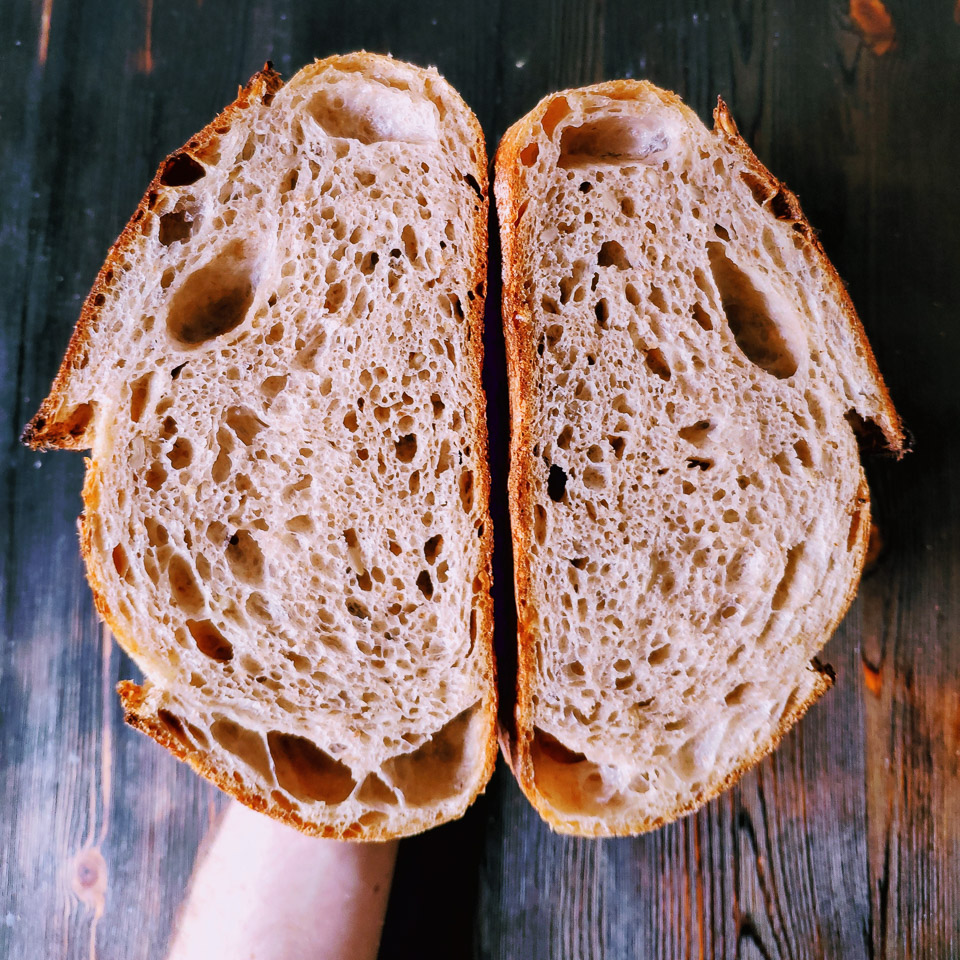 Its crumb... my first tall Champlain. What did I do differently? I think I started to push bulk more. Focused more on gluten development. Trevor doesn't do slap and folds, but I figured thanks to Kat's help that I should try it. Rubaud is great and all, but I don't seem to have the patience for it. So slap and fold was a real game-changer for me!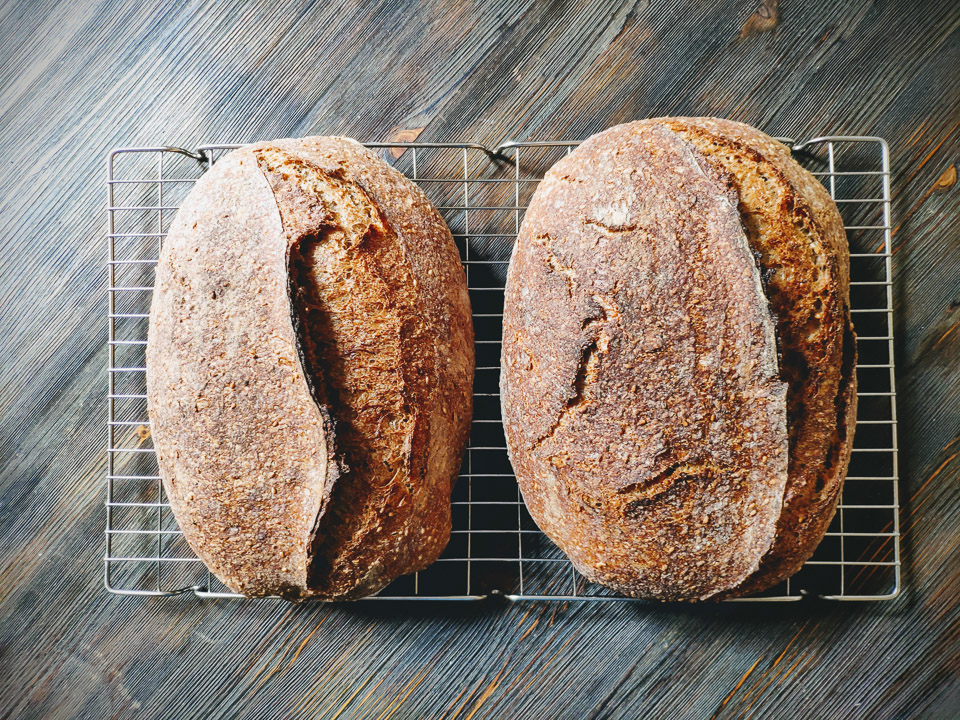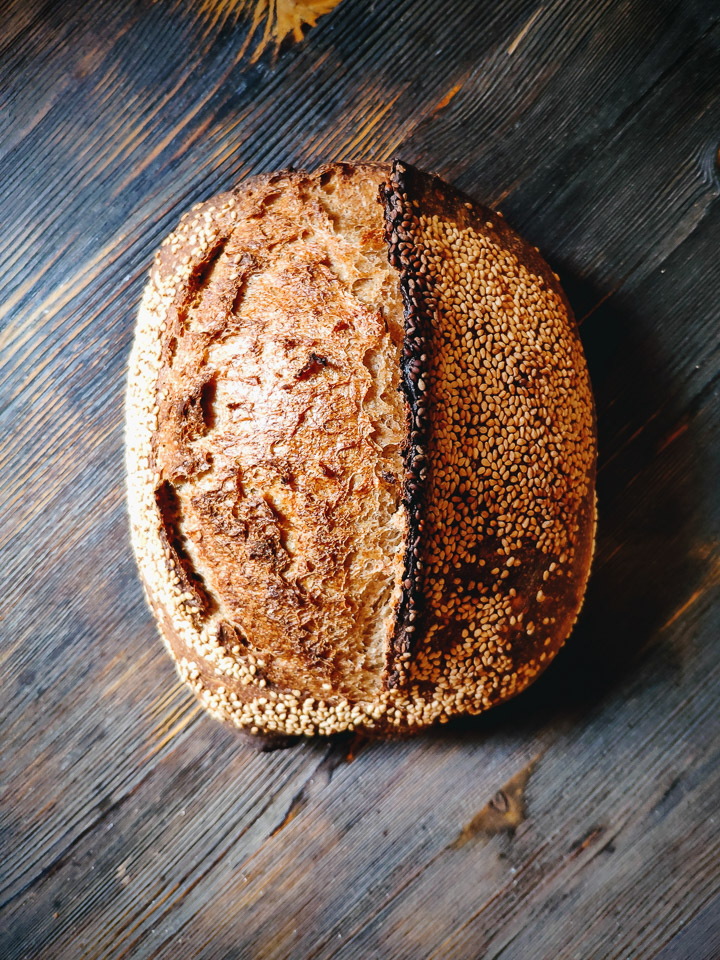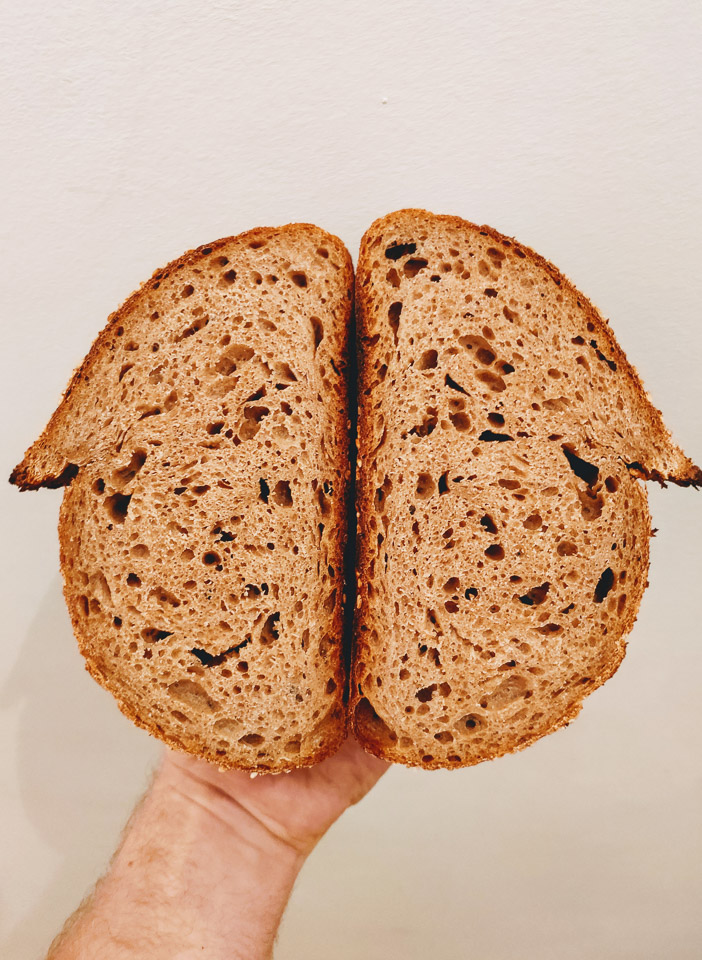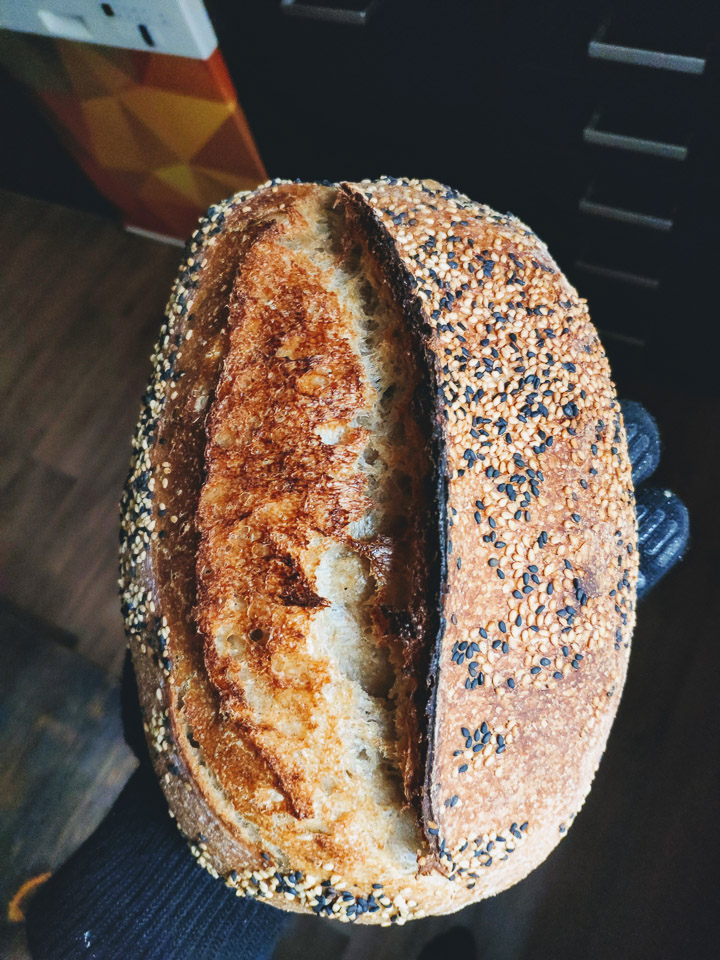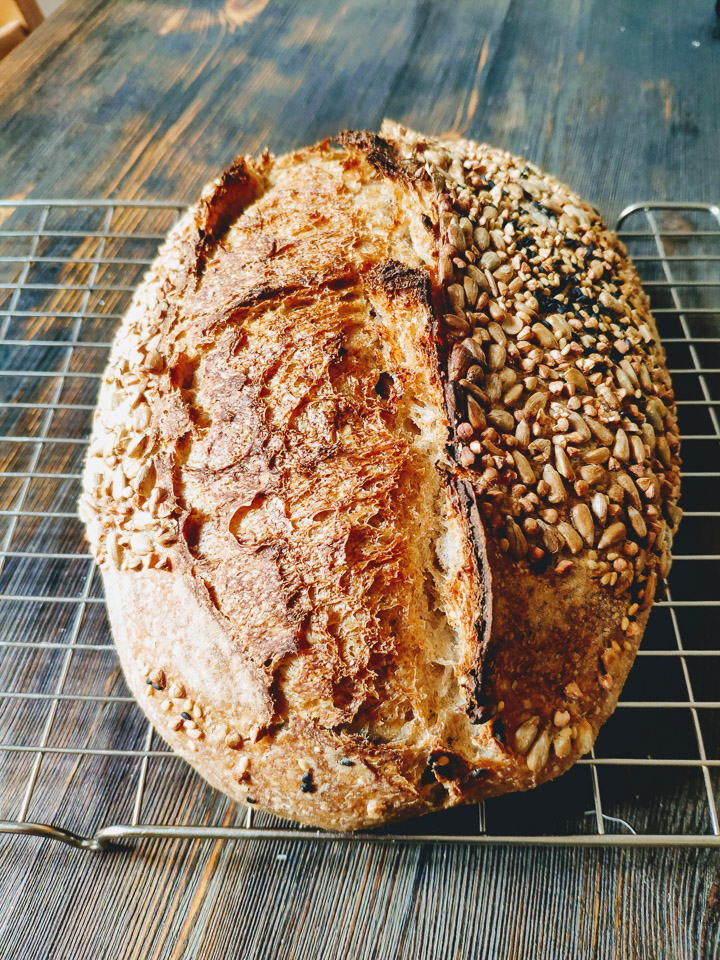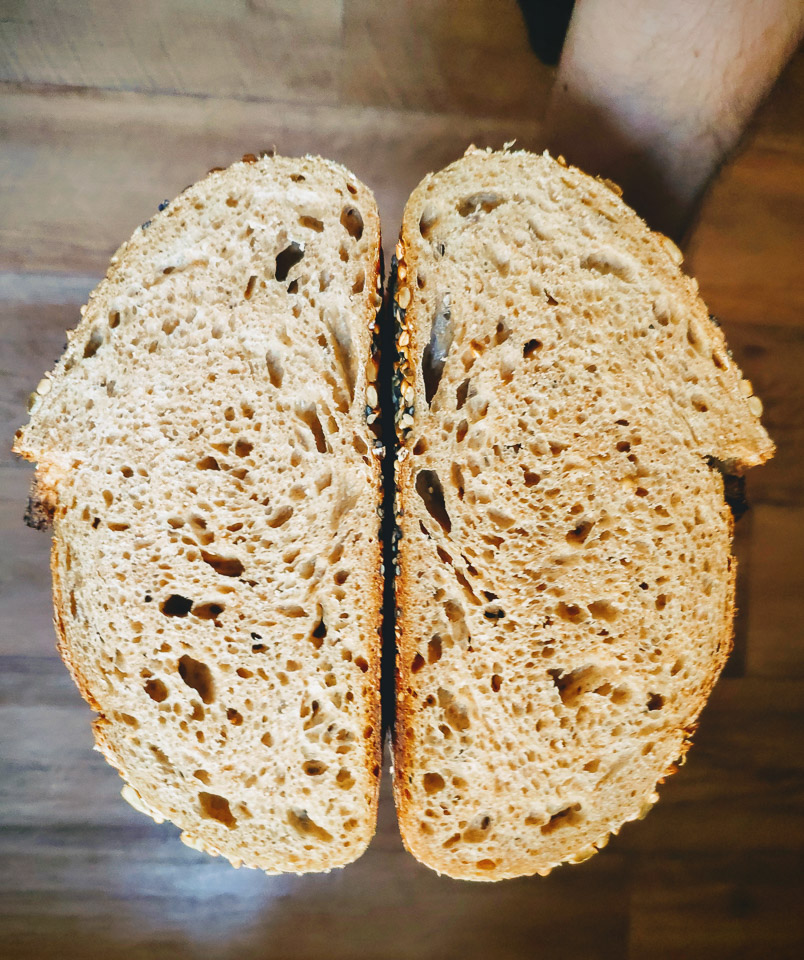 Six photos above: My first "streak" of consistency in the champlain "round and tall" category. As everything had been quite inconsistent in the past, this was the first time that I thought that "I now understand why something worked". And as mentioned above, I think it was mostly about better fermentation (watch the time, not the clock, we all heard that before), better gluten development and... good old "small improvements" overall. 
Now, let's jump into "modern day", Summer 19: I approached a small bakery here in Berlin that's just starting out. They're called "Brot ist Gold", run by two Ex-Adidas guys that decided they wanted to try something else in life. I asked if I could just join them to get some more hands-on experience. To my surprise, they kind of liked what I was doing at this stage, so they just gave me their recipe, which is a pretty "normal" wheat loaf, yet with a few twists: 20% inoculation (compared to 10% in a Champlain!), much better suited for their production times meant only 3h bulk, and it's around 76% hydration. They have a Rofco in the store for workshops, so I baked, again with Kat's help, in there: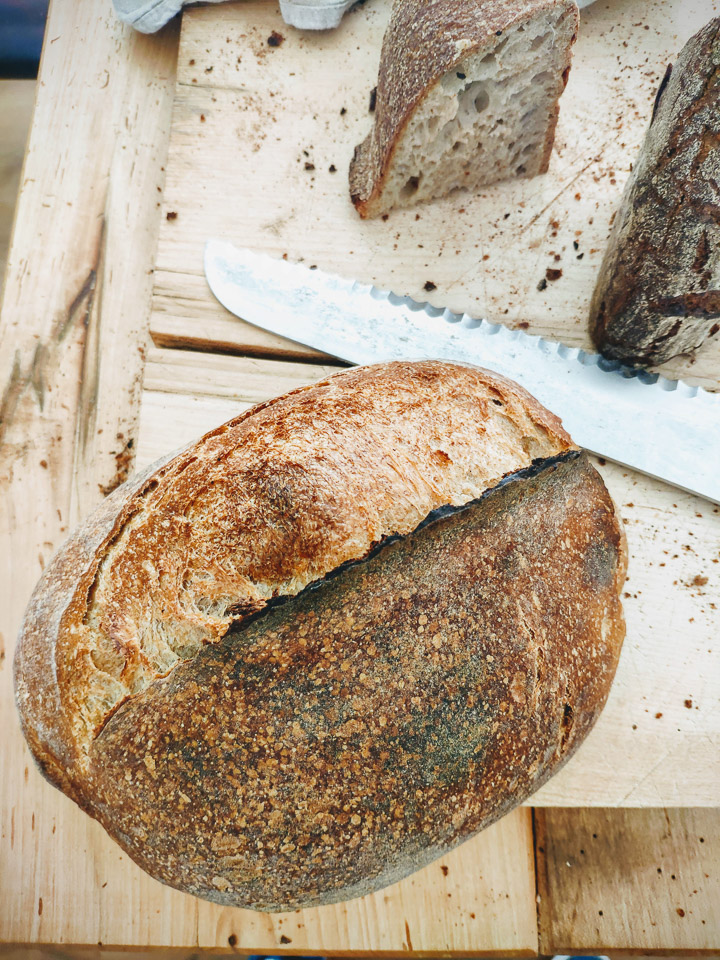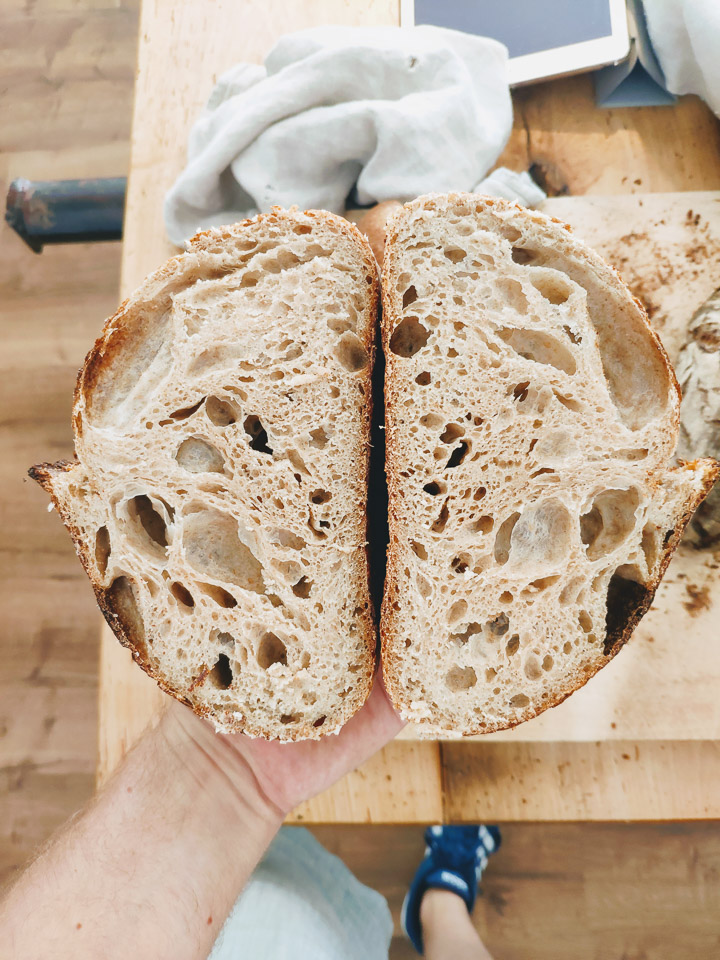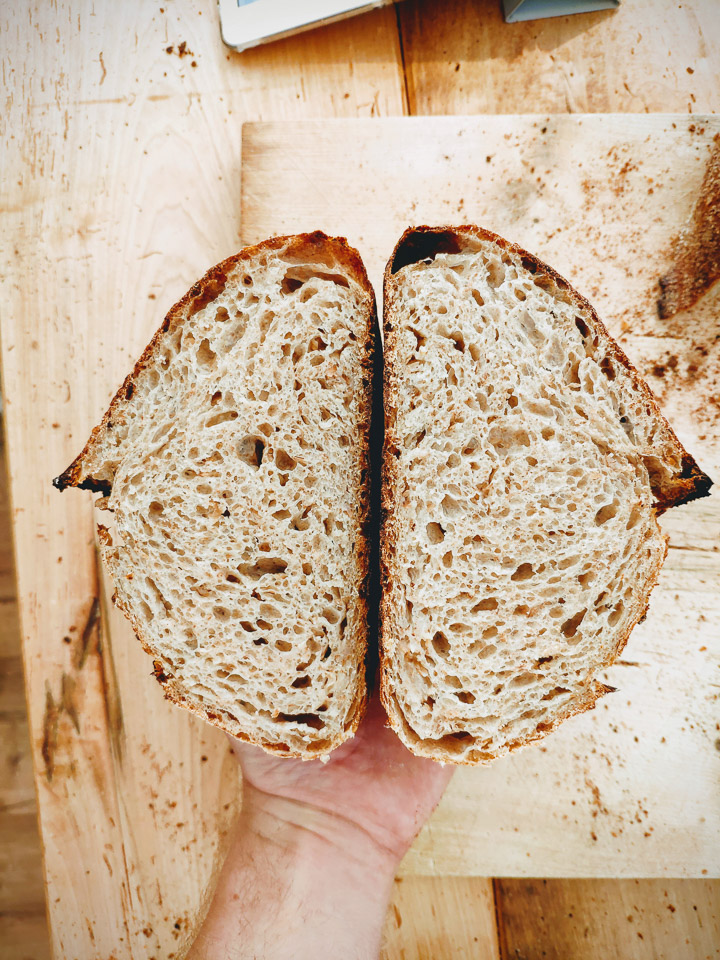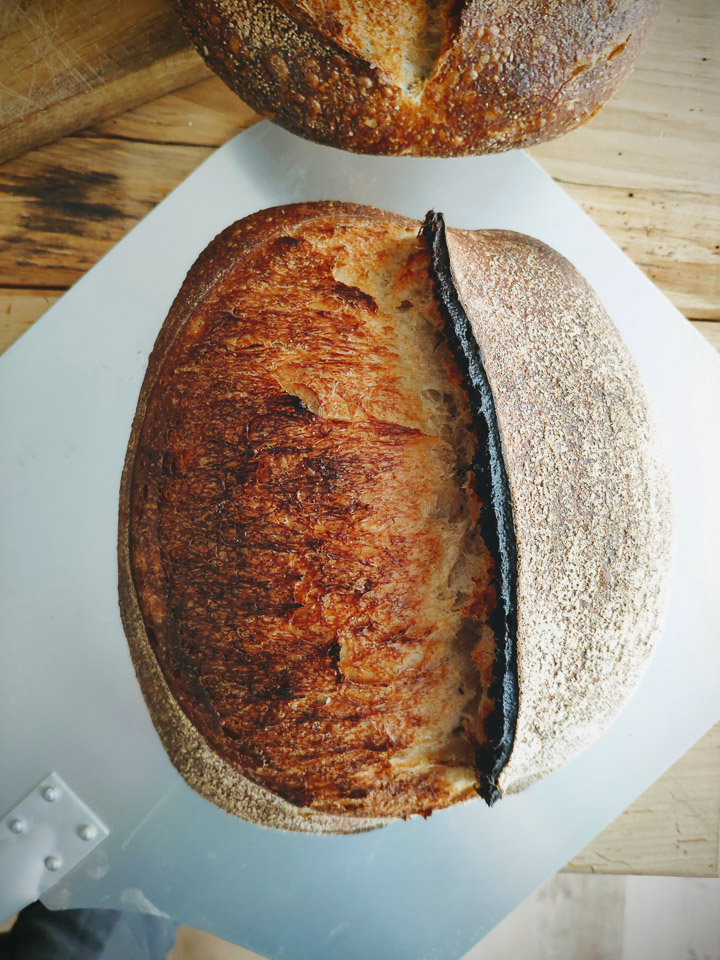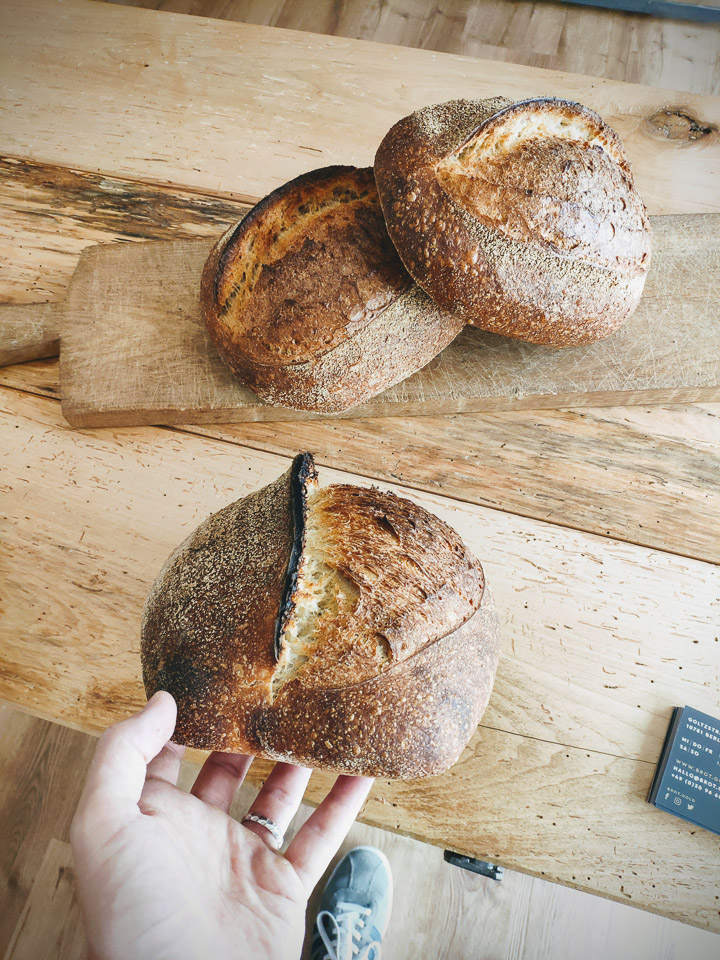 Above: The loaf I'm holding is mine, the ones in the background are theirs. I was able to "fool" customers in a blind tasting! :)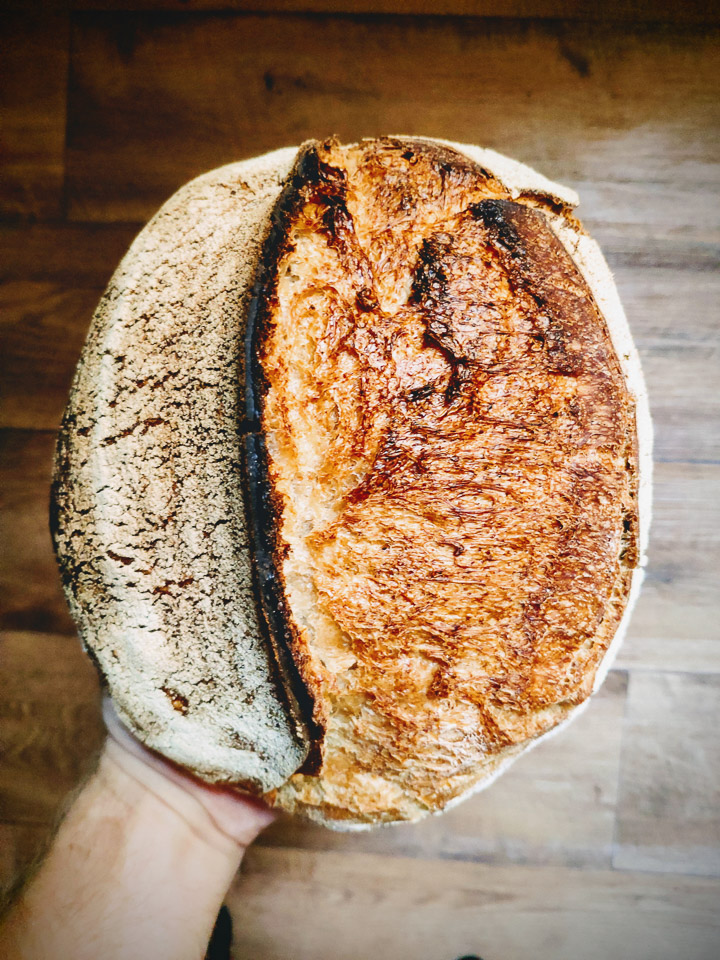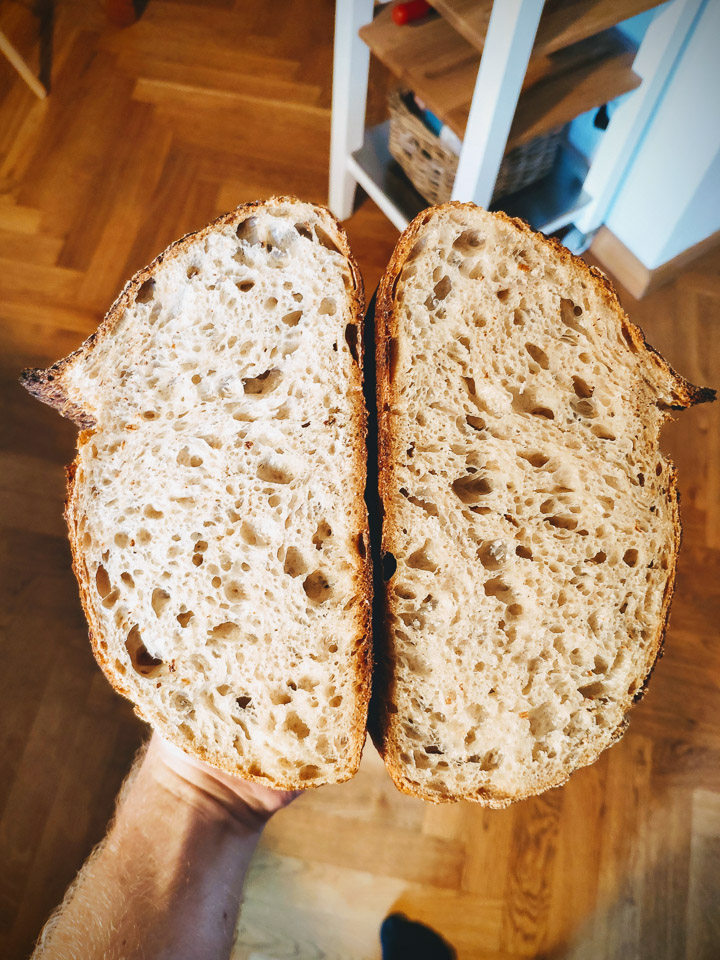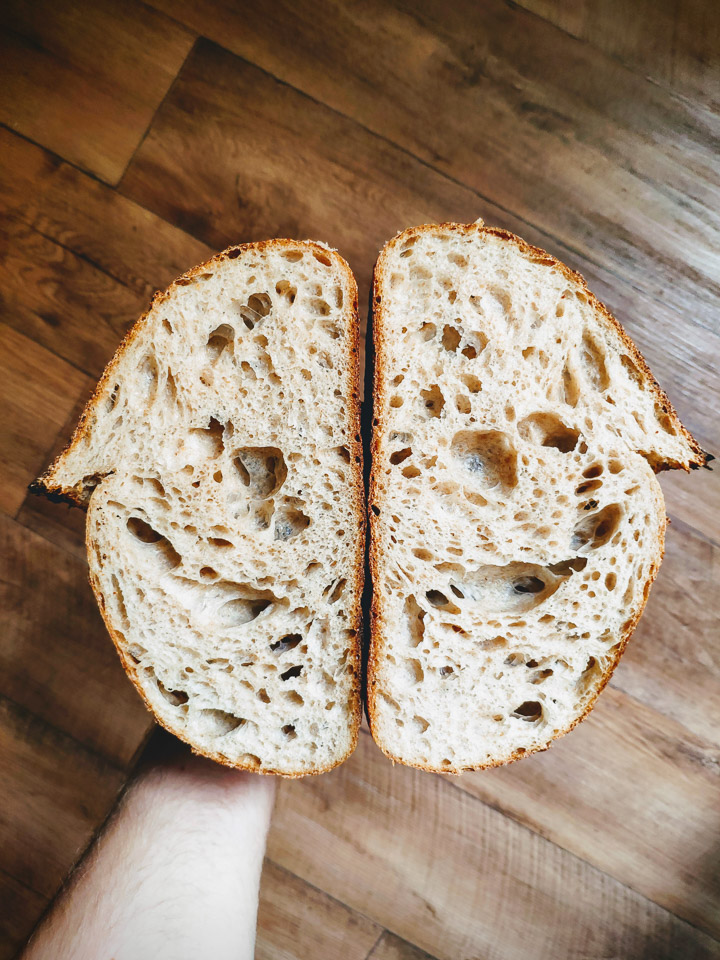 ... and that's the present: A pretty consistent outcome, only disturbed by the occasional fluctuations.. some days, my starter (his name is Siegfried, btw) is a bit slow, some days it goes crazy... but that's the sourdough life, I guess :) Meanwhile, I spent some time in their production and helped shape hundreds of loaves. And, of course, the first day I completely got my a$$ handed to me by the team – these folks know how to handle wet dough with speed and a tension that you wouldn't believe. Being a decent home baker and a pro baker... those are two very different things! 
If you happen to live in Berlin, I now actually started giving home baking workshops  for beginners at Brot ist Gold –  the next one happening next week and some dates to be announced by their newsletter! If you have any questions or comments, I'd be happy to hear them!

Cheers,
Ken