December 25, 2012 - 2:49pm
Christmas Bi-Color Rose - 30% Whole Grain, Pesto and Sun Dried Tomato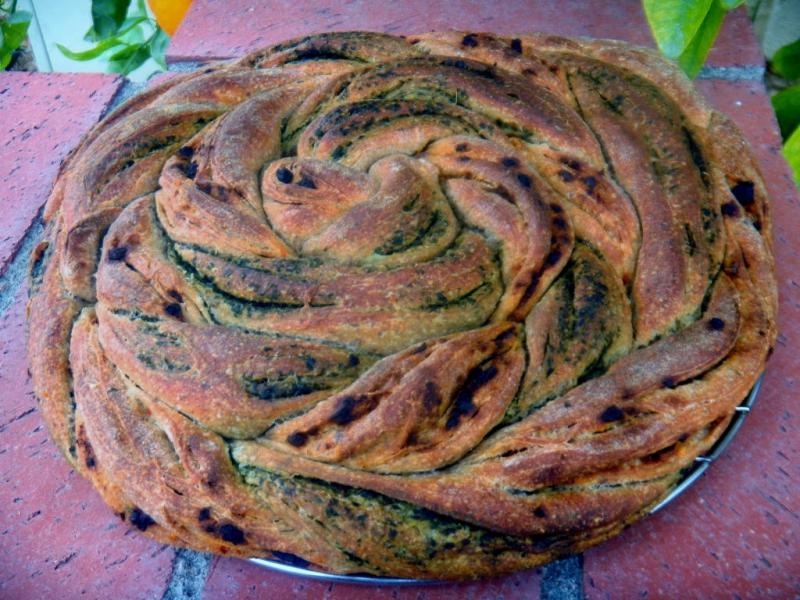 Our take on Breadsong's fabulous Christmas Rose was to make it Green with basil pesto and Red with home made sun dried tomatoes.  We used our combo yeast water, rye sour and Desem sourdough starters with our 30% whole gain multi-grain mix of Kamut, dark rye, spelt and whole wheat.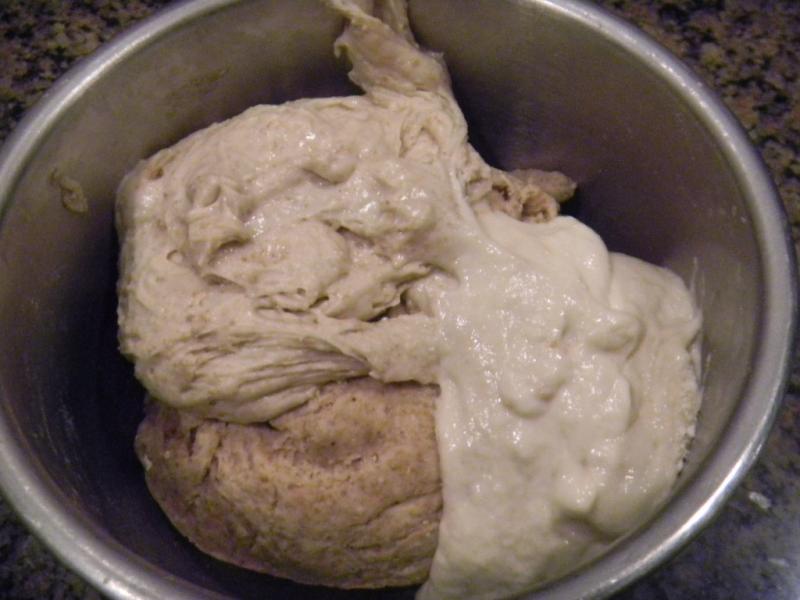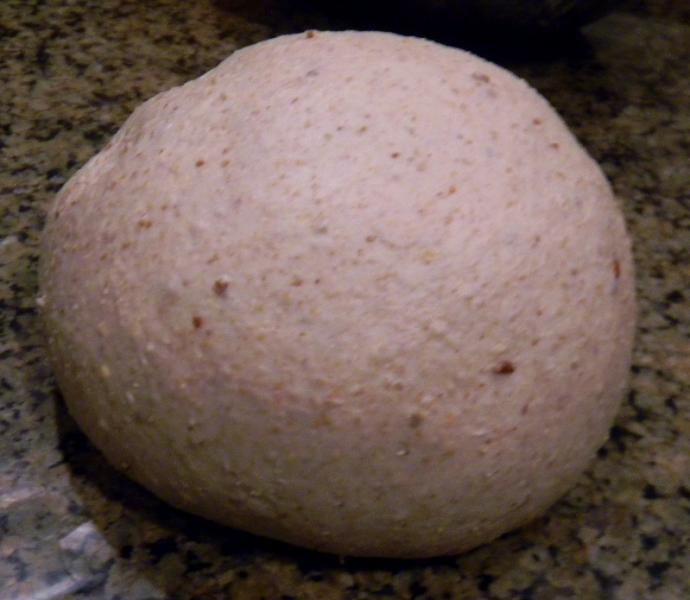 As has been the norm lately, we added some red and white malt, Toady Tom's Toasted Tidbits (wheat bran, oat bran, wheat germ and other middlings from various sifted flours), oats, potato flakes and flax seeds all ground up together as a fancy and festive bread enhancement all purpose mix.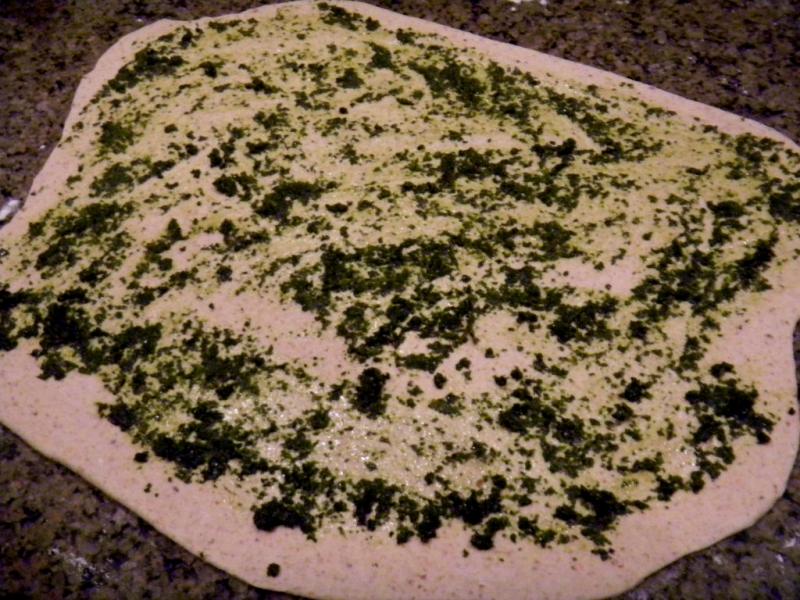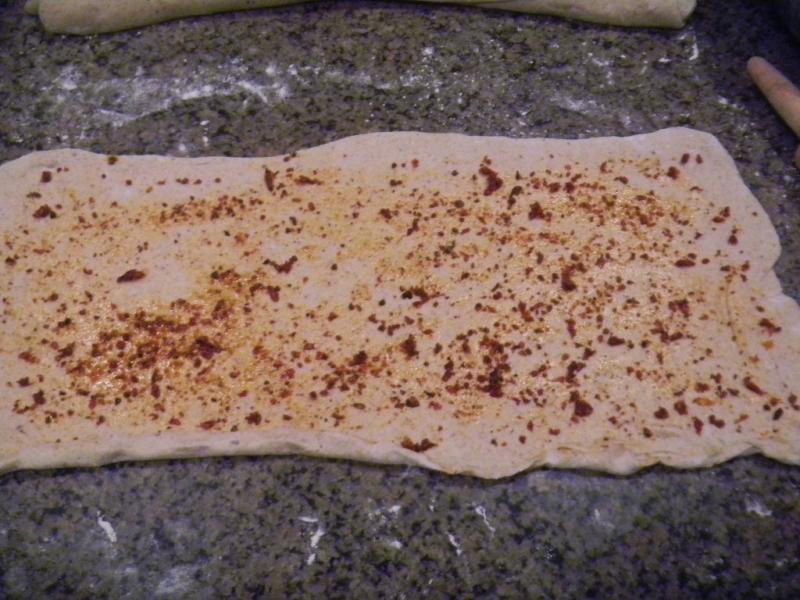 We had a little less than 900 g of dough compared to Breadsongs's 1,200 g that she split in half and she only used half.  We split this in half too,  to make 2 ropes – one basil, almond, walnut, Parmesan and olive oil and the other sun dried tomato, oregano, salt, pepper and olive oil.  We decided not to use any garlic and hoped we wouldn't miss it with all the other stuff in this bread's fillings.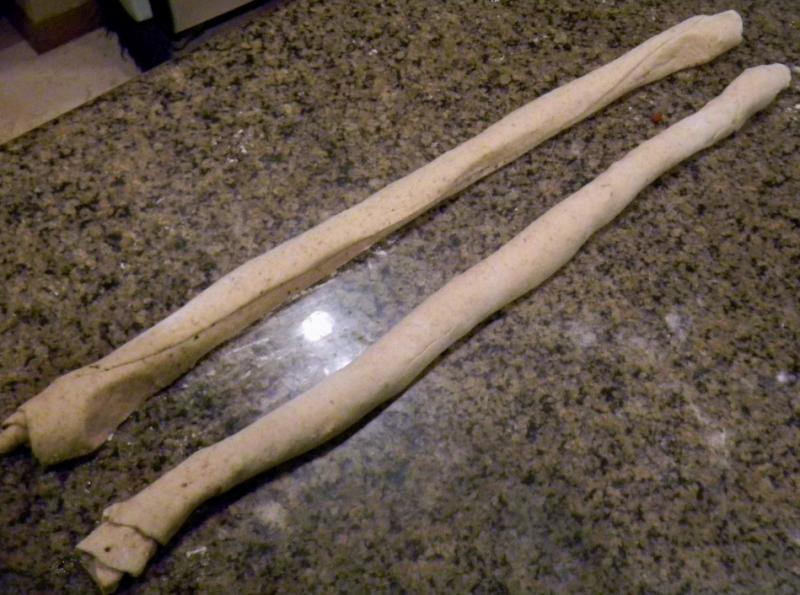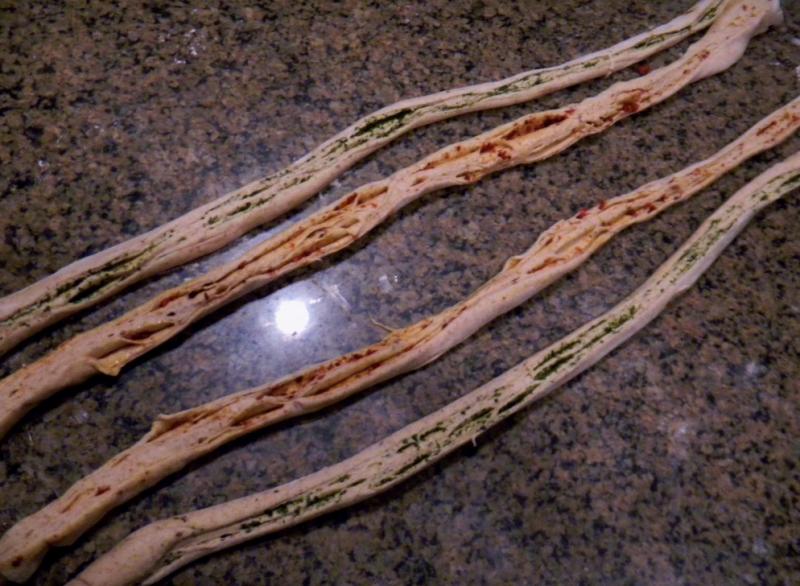 Each rope was split in half and combined with the other colored half and then braided to make (2) each red and green braids that were wrapped around each other to make a rose.  The ropes were smaller so we ended up with a more shallow Frisbee like, Italian Flat Bread Rose, but it was still very fancy do and Christmas festive looking.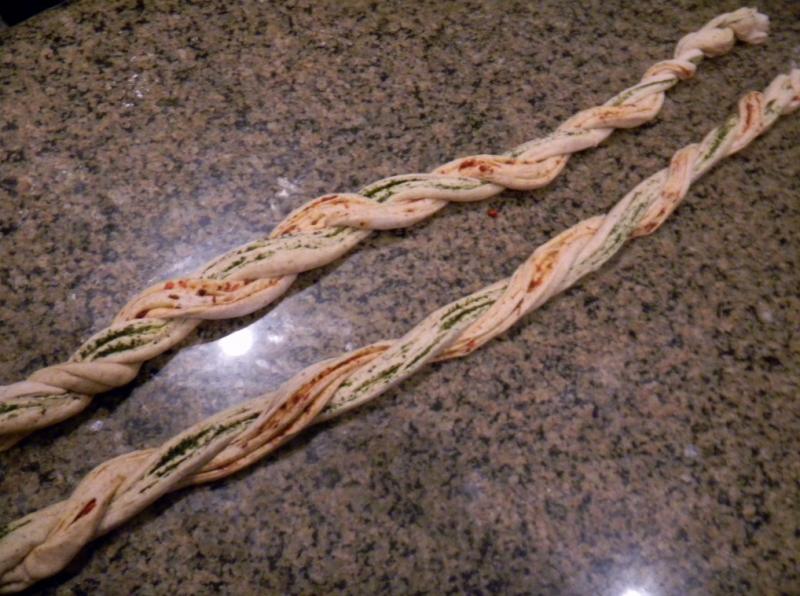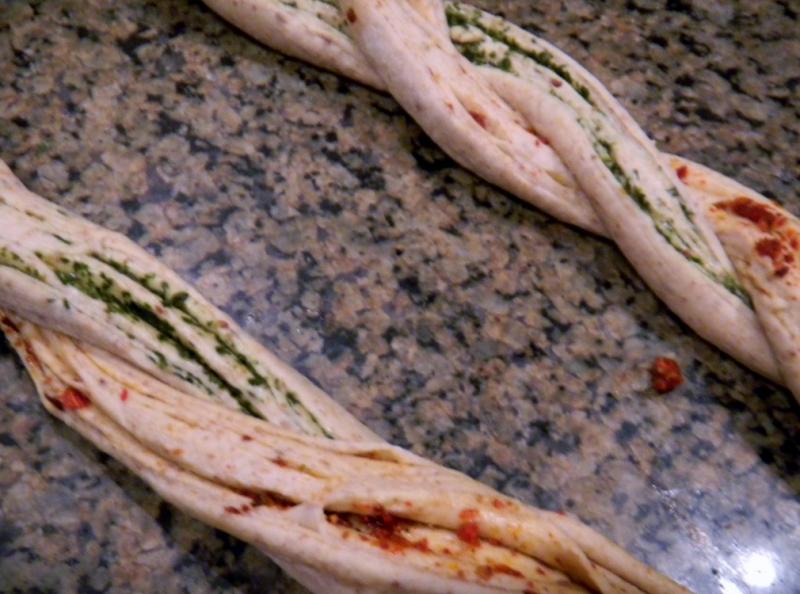 The SD and YW levains were built separately over 8 hours now that it is winter time and refrigerated overnight.  The flours and all the other ingredients were mixed with the water and allowed to autolyse for 3 hours as the levains warmed up to room temperature the next day.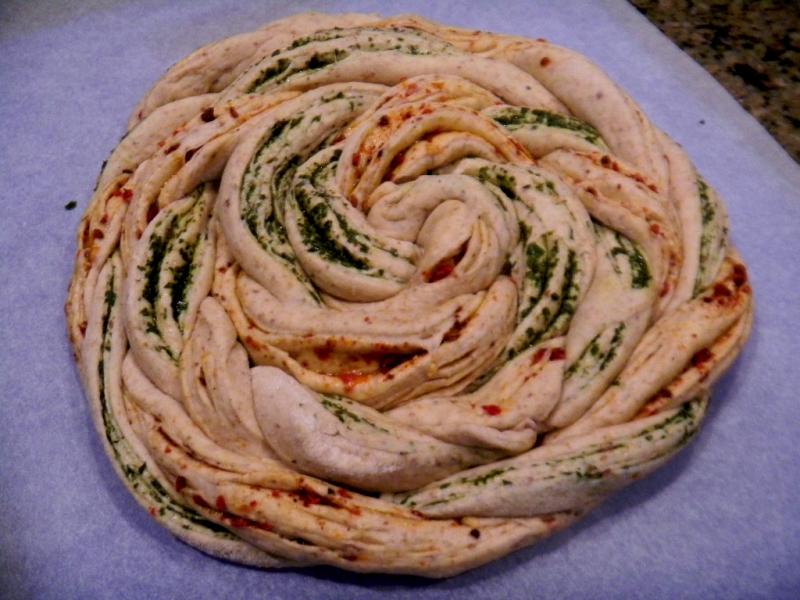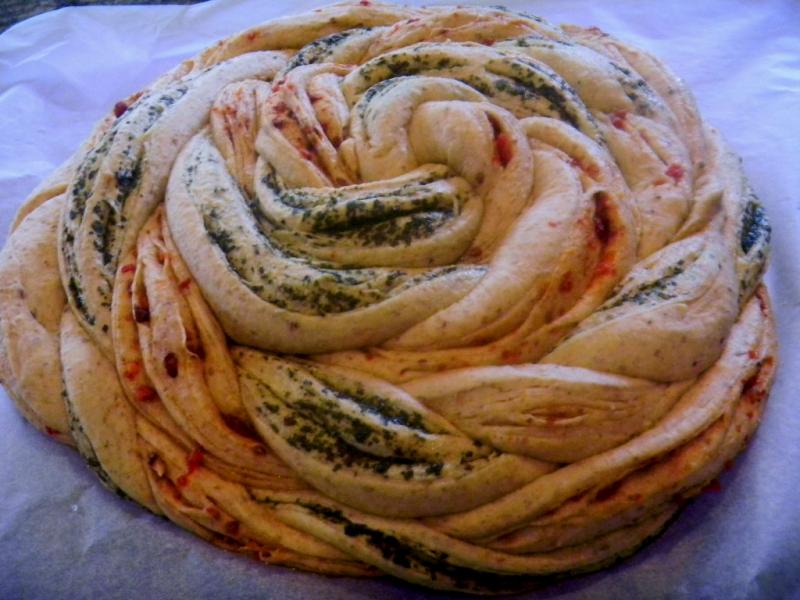 We made a little proofing pad with a heating pad on low covered with kitchen towels to get the temperature to hover right at 82 degrees.  The levains were not built on it but they were warmed up on it and the dough was fermented, developed and proofed on it too.  What a handy little contraption it turned out to be.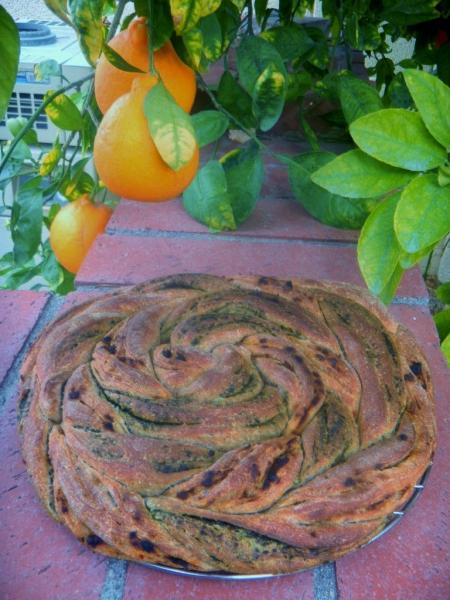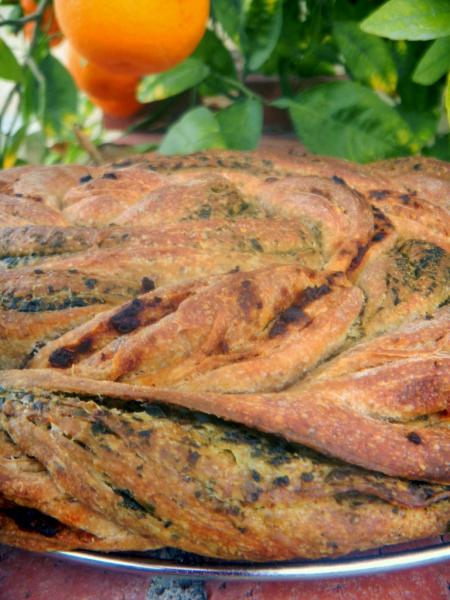 Once the levains hit the autolyse it was 12 minutes of French (2) slaps per fold in order to get this dough stretched, silky and smooth with a high degree of gluten development.  Normally we would have easily been over 75% hydration for a dough like this but, with the olive oil coming in later for both fillings, we decided to hold the water at 73.5%.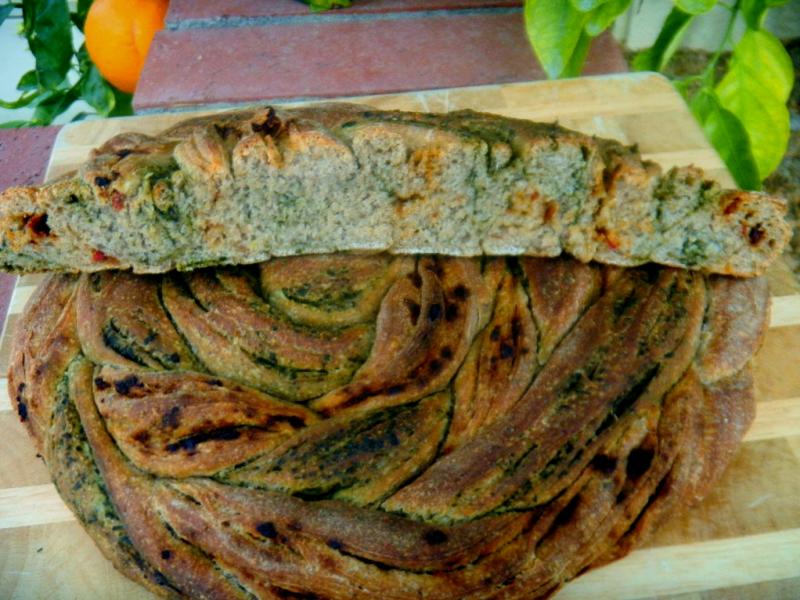 After the French slap and folds were complete, we let the dough rest for 30 minutes and then 2 sets of S&F's were done 30 minutes apart.  The dough was rested for 20 minutes, divided in half, rolled out with a pin and the filling spread on before rolling up into a log.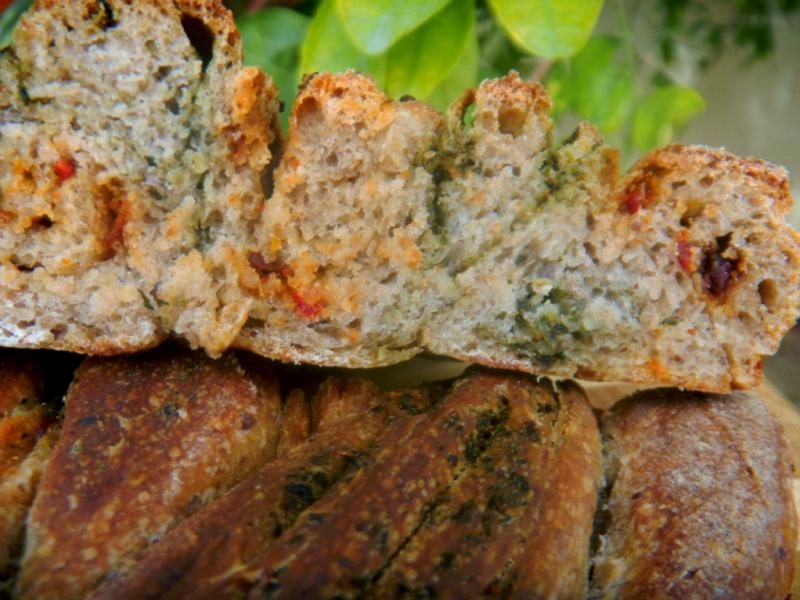 Each log was split in half and then braided with the opposite colored half and then the two green and red braids were coiled up on parchment to make the rose. 
The rose was allowed to ferment and develop on the proofing pad in a plastic bag for 1 ½ hours before being retarded overnight for 8 hours.  After removal from the fridge in the morning it was allowed to final proof on the proofing pad for 4 hours where it doubled in volume.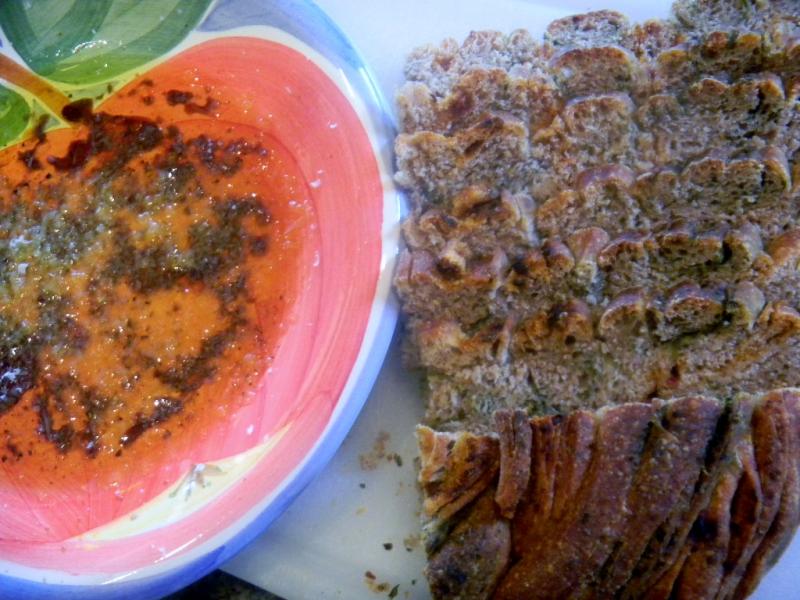 We had some lemon infused olive oil, balsamic vinegar, cracked black pepper and Parmesan cheese to dip the bread into for lunch.
The mini oven was fired up to 425 F with steam in the bottom of the broiler pan.  The bread was loaded and allowed to steam for 10 minutes before the steam was removed.   The bread baked at 350 F, convection this time, until it hit 200 F in the middle.  It was rotated 90 degrees every 5 minutes until it was done and removed to a cooling rack - about 30 minutes total baking time.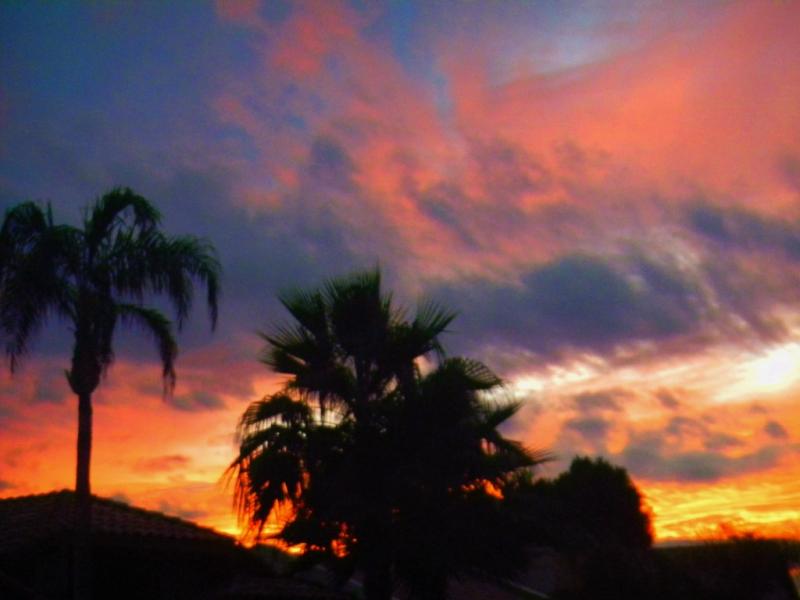 My daughter said this was the best tasting bread I have ever made but she, being away for college, only gets to sample about 10% of the bread baked around here.  My wife wants to have it dipped in olive oil, with grated Parmesan, rosemary and black pepper for a Christmas dinner appetizer.
My apprentice just wants to eat all right now with butter and not have to share it with anyone including her master!  I think that this is one of the best higher whole grain focaccias I have ever tasted.  Just delicious.  The mini oven put mini blisters on the crispy brown crust and the YW made the crumb moist and tender with that hint of SD that lingers with the herbs and tomato.
Christmas Rose - 30% Whole Grain, Pesto and Sun Dried Tomato

 

 

 

 

 

 

 

Mixed Starter

Build 1

Total

%

SD Starter

10

10

1.98%

AP

78

78

19.80%

WW

5

5

1.27%

Spelt

5

5

1.27%

Kamut

5

5

1.27%

Yeast Water

50

50

12.69%

Dark Rye

13

13

3.30%

Water

56

56

14.21%

Total Starter

222

222

56.35%

 

 

 

 

Starter

 

 

 

Hydration

100.00%

 

 

Levain % of Total

24.83%

 

 

 

 

 

 

Dough Flour

 

%

 

Spelt

20

5.08%

 

WW

20

5.08%

 

Dark Rye

20

5.08%

 

Toady Tom's Toasted Tidbits

20

5.08%

 

Red Malt

2

0.51%

 

White Malt

2

0.51%

 

Kamut

20

5.08%

 

Potato Flakes

20

5.08%

 

Oat Flour

20

5.08%

 

AP

250

63.45%

 

Dough Flour

394

100.00%

 

Salt

8

2.03%

 

Water

260

65.99%

 

Dough Hydration

65.99%

 

 

 

 

 

 

Total Flour

505

 

 

Water

371

 

 

Total Dough Hydration

73.47%

 

 

 

 

 

 

Hydration w/ Adds

73.47%

 

 

Total Weight

894

 

 

 

 

 

 

Whole Grains

31.09%

 

 

 

 

 

 

Add - Ins

 

%

 

Ground Flax Seeds

10

2.54%

 

Total

10

2.54%

 

 

 

 

 

3 T each Basil Pesto & Sun Dried Tomatoes