December 12, 2012 - 3:53am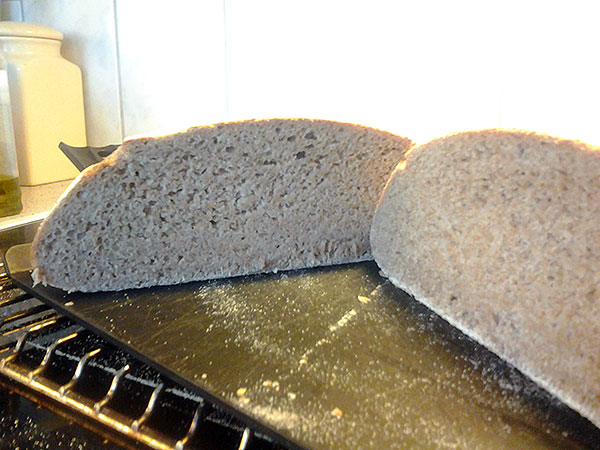 I baked this miche using 25% sifted flour and 75% whole grain flour. I used 30% spelt, 65% wheat and 5% rye. The dydration was 66%.
First I mixed 25% of the dough (including a 100% sourdough starter made of half rye and half wheat) and let the dough proof for 12 hours. I then mixed the rest of the dough and kneaded the "old" dough into it. The dough was set to proof on the counter for 2 hours. I stretched and folded it every 30 minutes. After that the loaf was shaped and put in the fridge for 12 hours. Finally the loaf was proofed for four hours at room temperature before I scored and baked it.
The loaf was put in a 275 °C oven that was turned down to 220 °C and baked for 30 minutes. The first 10 minutes I had a pan with water in the bottom to give steam.
The bread tastes really great but I would love to get some tips on how to improve it.
There are two things I'm not satisfied with. Firstly the crumb is a little soggy in the middle. Can I improve the crumb by baking the loaf for a longer time?
Secondly the crumb is a little dense. I know this is a whole grain bread and I don't expect huge bubbles. I just wonder if I can somehow improve the crumb.