On Mother's Day I found myself without a prepped starter or poolish. There were some leftover mashed potatos in the fridge, so I hit the cookbooks and found a recipe that fit the bill in Bernard Clayton's New Complete Book of Breads [1].
This made wonderfully soft, sweet rolls. They weren't as rich as brioche, but they certainly tasted much richer than what I normally bake. The crumb was even and very soft, soft enough that my 2 year old was petting it.
Soft! "Purr purr"
Sister Jennie's Potato Bread Makes 1 dozen rolls 1 cup mashed potatoes 2 eggs 1/2 cup sugar 1 teaspoon salt 1/2 cup warm water 1/2 cup (1 stick) melted butter 2 teaspoons instant yeast 4 - 5 cups all-purpose flour
I combined everything and then let it rise until it had approximately doubled in size (90 minutes).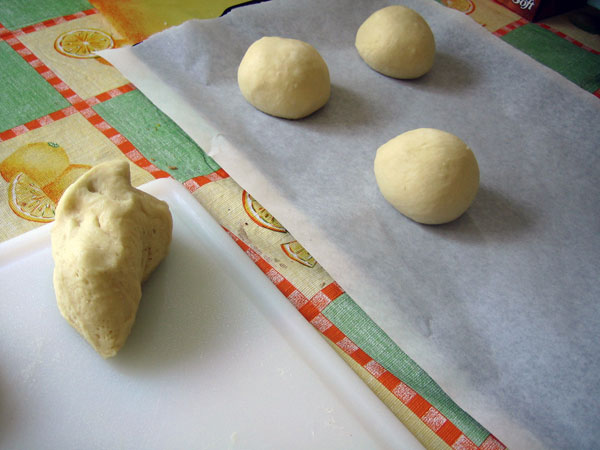 I scaled the rolls to between 4 and 5 ounces, which was on the large size (almost hamburger bun sized). There is enough sugar in them that they need to baked at a fairly low temperature and on a higher shelf than usual unless you want burned bottoms. I believe I baked them for around 20 minutes at 375.