Apple Breakfast Cake from AB&P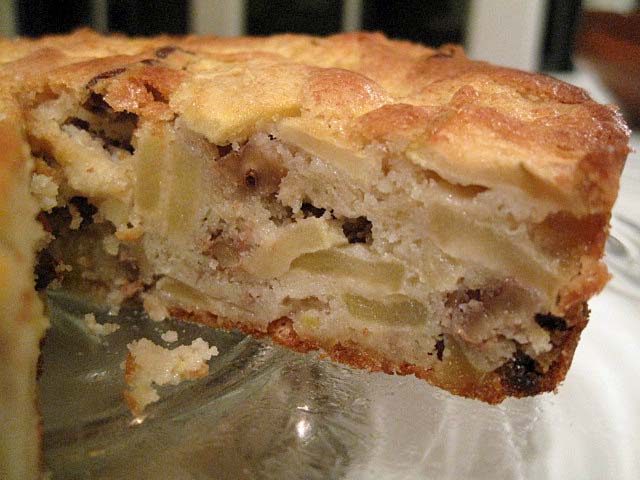 Apple Breakfast Cake
I happened upon the formula for "Apple Breakfast Cake" while browsing Michel Suas' Advanced Bread and Pastry looking for something or other I've now forgotten. My wife loves cakes that are loaded with fresh fruit, and the photo in the book looked pretty wonderful. I was also thinking about the fabulously delicious Coffee Cake we were served for breakfast several mornings at SFBI, and hoped this cake might be as good.
I'm not a cake baker. My one attempt at a genoise resulted in a wonderful, eggy-flavored, dry and crumbly, 8-inch cookie. That was 20 or 25 years ago. I have recovered sufficiently from that traumatic humiliation to be able to consider baking something called a "cake" without panic. The process for Suas' Apple Breakfast Cake had only one step that seemed like it might present a challenge, so I decided to make it.
| | | |
| --- | --- | --- |
| Ingredients | Baker's % | Wt |
| Eggs | 65.38 | 2 7/8 oz |
| Sugar | 57.69 | 2 ½ oz |
| Raisins | 57.69 | 2 ½ oz |
| Walnut pieces | 38.46 | 1 5/8 oz |
| Butter, melted | 57.69 | 2 ½ oz |
| Apples, peeled, diced | 384.62 | 1 lb, ¾ oz |
| Vanilla extract | 1.54 | ½ tsp |
| Bread flour (KAF AP) | 100 | 4 3/8 oz |
| Baking powder | 3.46 | 1 tsp |
| Salt | 1.54 | ¼ tsp |
| Total | 768.07 | 2 lb, 1 ½ oz |
Notes
I used two whole large eggs.

I rinsed and drained the raisins, although not instructed to do so in the recipe.

I toasted the walnuts for 8 minutes at 325ºF.

I used two golden delicious and about 1 1/2 braeburn apples.
Process
Spray an 8 inch cake pan with nonstick spray (or butter and flour it).

Sift the flour, baking powder and salt, and reserve.

Whip the eggs and sugar to the ribbon stage.

Add the raisins, walnuts and meted butter. Mix to incorporate.

Fold in the diced apples and vanilla extract.

Fold the sifted ingredients into the mixture until well-incorporated.

Pour the batter into the pan.

Bake at 335ºF (168ºC) for about 45 minutes. (I found my cake needed 60 minutes' baking to be sufficiently browned and firm. This may be because of the added water in the plumped raisins, or just because.)

Allow to cool in the pan for 15 minutes before transferring to a cooling rack or onto a cardboard circle.

Glaze with a flat icing made with powdered sugar, orange juice and orange zest. (I did not make the icing. I just used a light sifting of powdered sugar on each slice, just before serving.)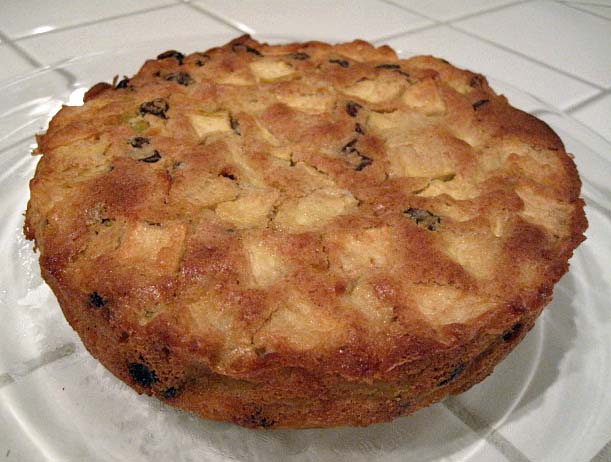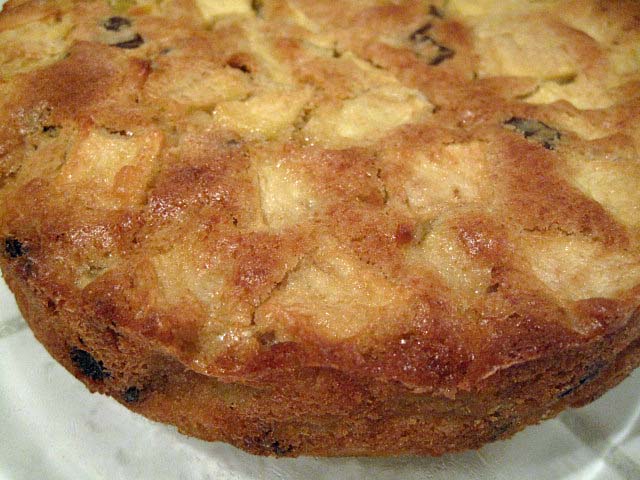 Suas' description of this pastry is, "This country-style cake is tasty, moist, and dense with apples." All true. The cake is very moist. The texture is close to that of a moist bread pudding. There is really just enough batter to hold all the apples, raisins and walnuts together. It is rather sweet, but not too sweet. I just dusted slices with powdered sugar and was glad I skipped the icing. The cake is quite rich. I think it makes a nice dessert for any meal or a little something to have with a cup of tea or coffee. I couldn't make a whole breakfast out of it.
This is a lovely cake. It is delicious to eat and has aided in my recovery from the old cake trauma.
David