Savory Bacon Cheese Bread
Savory cheese bread
I have been wanting to make Hamelmans Cheese Bread again for a while. When I saw the post a few days ago from gothicgirl on Bacon Cheddar bread it got my juices moving and here we are.
I decided to stick with my usual Pain au Levain from "Bread" and modify it substantially to suit my tastes. One thing I really like about Hamelman is that he gives you bakers percents so you can size the batch any way you want. I decided to make 4 loaves in bread pans of roughly 1.5 Lbs each after baking. So, I made a 7 Lb batch and cut it into quarters. I can bake 4 loaves in pans all at one time so for me it is better to get them in and out with little chance of over proofing the second set.
I just returned home from delivering the other 3 loaves. They smell heavenly with the bacon and herbs/garlic infused in the oil. This is not a lean diet friendly mix. With the bacon, cheese and a little bacon fat and a subtle amount of ground rosemary and garlic it tastes as good as it smells.
I thought I would include some shots of the DLX Hook in action. I use the Hook almost exclusively for all my mixes. I find it easier to use, requires less attention and far easier to clean up. This is a 7 Lb batch of 60% hydration dough. The bacon and cheese were incorporated at the end after the gluten was moderately developed. Hamelman calls for half of the cheese to be shredded and remainder cubed. The oil went in with the dough ingredients. I did cut back on the salt due to the bacon and cheese. I scaled back to 1% from the recomendation of 1.5%. It's just right for me.
I pretty much followed the formula except for the additions noted above. Another first rate bread from Jeff Hamelman's Bread. The Pain au Levain is my go to daily bread. It's a good solid base for many experiments and I what to expect.
Eric
Dough with bacon just added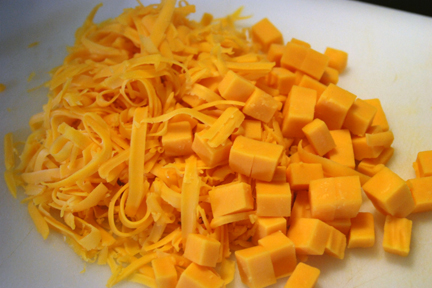 Cubed and shredded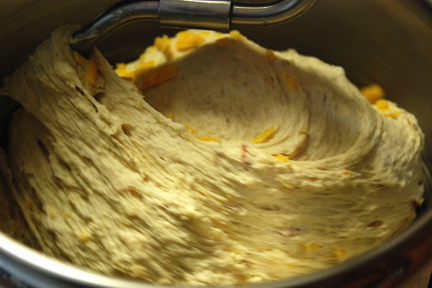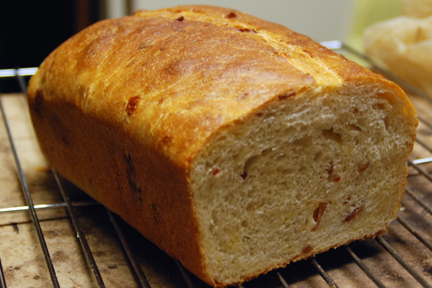 Almost forgot to take this pix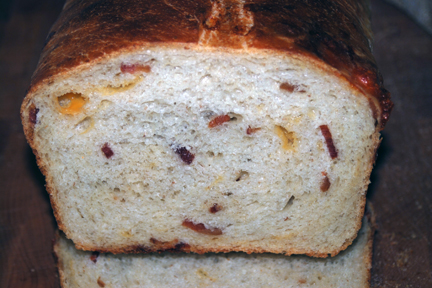 There is 1 Lb of crispy bacon (pre cooked weight) in 4 loaves and 13 Oz of Cheddar.