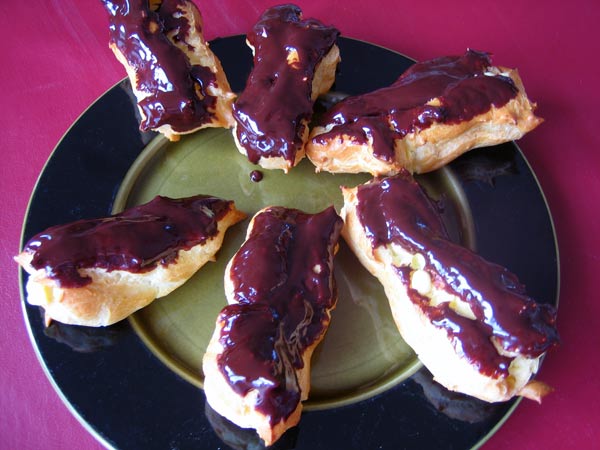 Want to impress your sweetheart this Valentine's Day? REALLY impress your sweetie? Then make these éclairs.
They look like they'd be a ton of work, don't they? I thought they would be, but they really aren't that hard. From first flipping open the cookbook (the 1997 edition of the Joy of Cooking) to the moment I was getting blissed out eating them was under two hours. Not bad at all, and fresh out of the oven these were the best éclairs I've ever had.
Eclairs
There are three parts to éclairs: the pastry (pâte à choux), the filling (crème pâtissière), and the topping (chocolate ganache). If you are strapped for time you could cut corners on one or more of the parts by doing things like using frozen puffed pastry for the pastry, pudding or whipped cream for the filling, or some other frosting for the topping. Take a look at the recipes before doing so though: none of the pieces are that hard. There are a few places where you have to bring things to a boil carefully to prevent scalding, but I've found that if you warm the ingredients in the microwave before combining them in your sauce pan you can easily cut 10 or 15 minutes of stirring out of the process.
Choux Paste (pâte à choux)

1 cup all-purpose flour

1/2 cup water

1/2 cup milk

1 stick (8 tablespoons) unsalted butter

1/2 teaspoon salt

4 eggs


Combine the water, milk, butter, and salt in a small saucepan. Bring it to a boil. Stir in the flour and, while mixing, cook another minute or 2 to eliminate excess moisture. Transfer to a bowl and let cool for 5 minutes, stirring occasionally.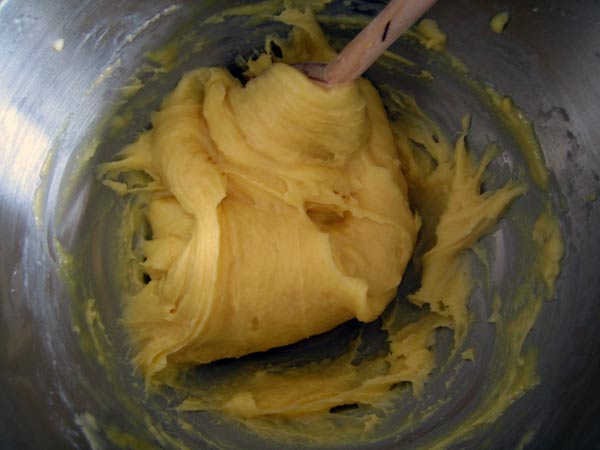 Beat in one egg at at time. When they have all been beaten in and the paste is smooth and shiny, set aside to cool. The paste may be use immediately or covered and refrigerated for later use.
Pastry Cream (Crème Pâtissière)

1/3 cups sugar

2 tablespoons all-purpose flour

2 tablespoons corn starch

4 egg yolks

1 1/3 cups milk

3/4 teaspoon vanilla


Combine the sugar, flour, corn starch, and egg yolks in a bowl. Beat with an electric mixer for 2 minutes until the mixture is thick and pale yellow.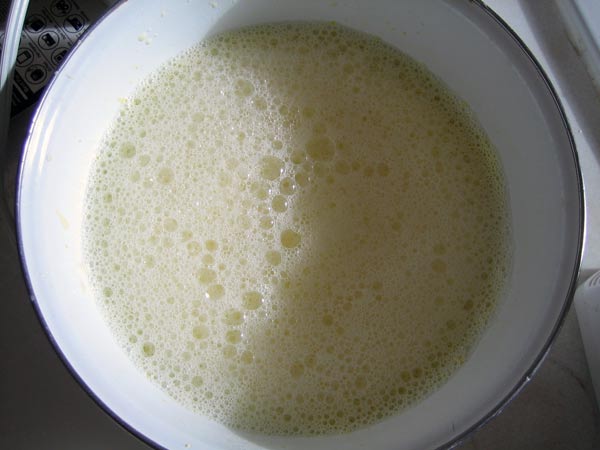 In a small saucepan, bring the milk to a boil. Gradually pour the milk into the egg mixture, stirring it in as you do so. When fully combined, pour all of it into the saucepan and bring to a boil, whisking constantly. Boil for 1 to 2 minutes then remove mixture from heat. Stir in the vanilla and set aside to cool.
Cover the top with wax paper or parchment to prevent a skin from forming. This cream may be refrigerated for a day or two before use or used immediately.
Chocolate Ganache

3/4 cup heavy cream

8 ounces semisweet or bittersweet chocolate
Heat the cream. Stir in the chocolate and continue heating and stirring until all of the chocolate is melted.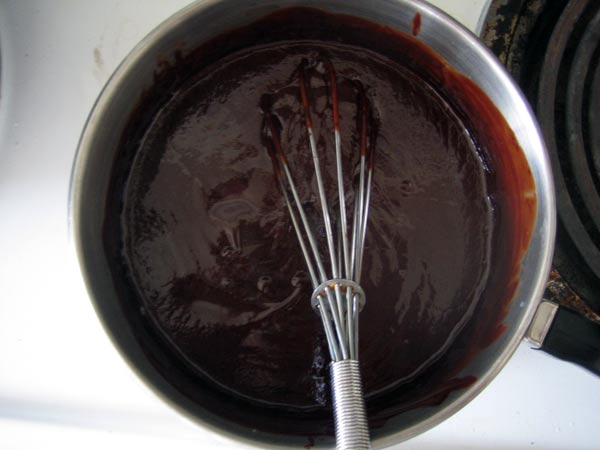 Éclairs: Assembly
Preheat the oven to 400 degrees.
Form small logs out of the Choux paste on a baking sheet. If you have a pastry bag with large tips, you can squeeze them out neatly. I do not, so I just formed the logs with a spoon and my fingers.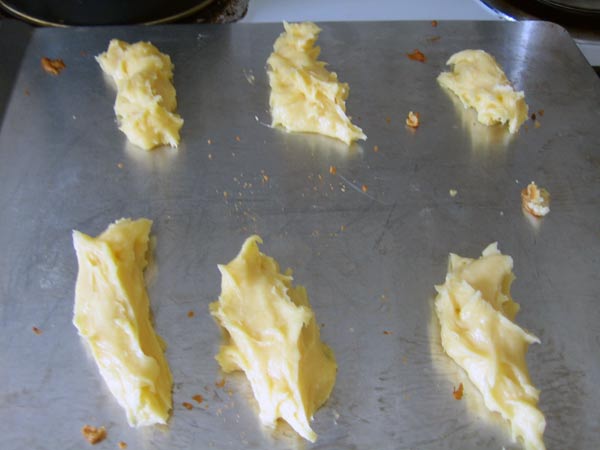 These were about an inch across and 3 to 4 inches long.
Bake the pastries for 15 minutes at 400 degrees. Reduce the oven to 350 degrees and bake for another 10 to 30 minutes, depending on the size of the eclairs you are making.
When they are golden brown, turn the oven off. Poke a hole in the small end of the eclair and place them back in the oven for another 10 minutes to dry out. Remove the eclairs from the oven and let them cool a few minutes.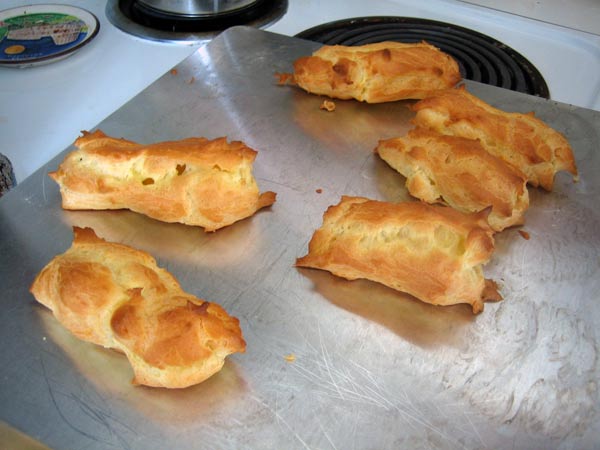 For the topping, dip or dribble the eclairs in the chocolate ganache.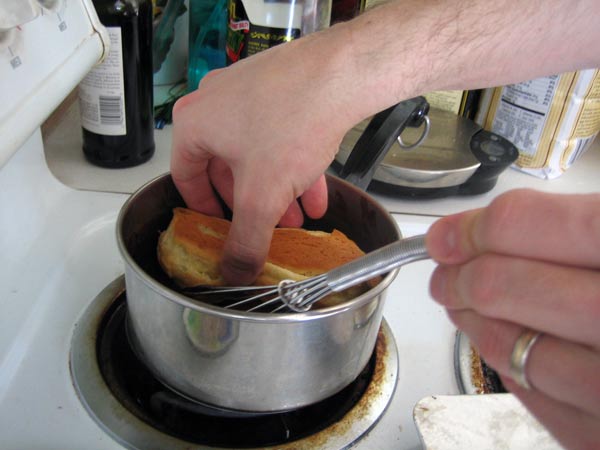 To fill the eclairs, you can either use a pastry bag and squirt the pastry cream in through the drying hole as I did. Or you can slice the eclairs lengthwise and scoop the filling inside and place the top half back on top.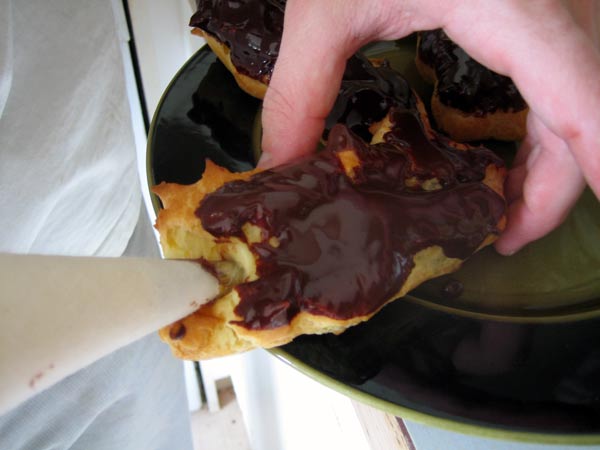 There you have it: chocolate, creamy bliss.
The eclairs keep OK for a few days in the refrigerator in an air tight container, but they are not nearly as good as when they are first assembled. Take my advice: make all of the elements in the same session, bake them up and make a fresh pot of coffee, and enjoy them immediately. You won't be sorry!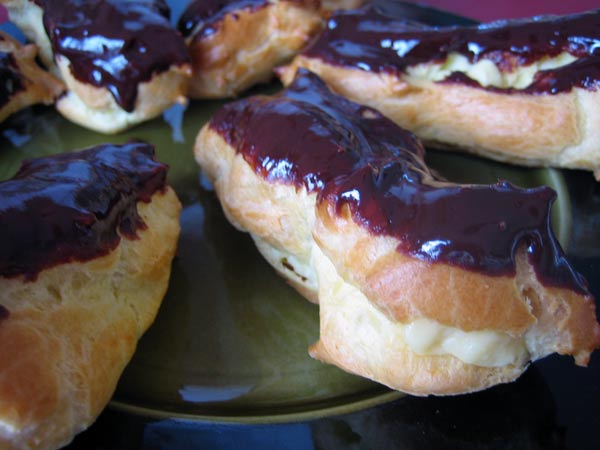 Related Recipes: Pain Rapide au Chocolat, Brioche.