October 11, 2008 - 12:11pm
tried Hammelman's 40% rye
i decided to try hammelman's 40% rye....i followed directions except i added about 100g of whole wheat bread flour as i had used up my first clear flour. i wonder how it will taste compared to greenstein's? i see the recipe only uses 2 tb of sourdough starter, compared to greenstein's 1 1/2 cups......i'm thinking greenstein's will be much more flavorful, but we'll see..
i'm wondering if i should have slashed the bread....i used the docking technique of poking in about 25 places.....but it seemed to tear a bit on one side. any suggestions? 
Hammelman's 40 % rye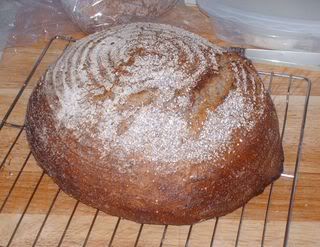 Yikes....i just took the second hm 40 rye out of the oven and i didn't get anywhere near the oven spring that i got on the first one.......i'm thinking that by the time i was done baking the first one, the second one was overproofed.......but how do you deal w/ that problem?? i have a typical home oven, nothing fancy. i have one round la cloche and so i can only bake one loaf at a time. and my oven stone is round....a cheapy i got for 10 bucks at a home supply store. if i got a larger retangular stone...could i bake two at once....would i need to get two retangular cloches and that would be expensive...... any suggestions are appreciated. or maybe i should settle for baking one hugmoungous bread and then there isn't any issue of over proofing a second loaf.....
as for the taste, the hamelman is good, but it ain't greenstein's corn rye.....that is my winner between these two.