Brown and white checkerboard loaf and the easiest cookie: Banana+coconut
This was supposed to be a laminated and braided loaf. I decided to use a similar recipe to my molasses bread [1] in this loaf, together with some 6-day old sourdough discard (calculated so I can use all the discard).

Brown and white checkerboard loaf

Brown dough
10g all purpose flour (Tangzhong)
50g milk (Tangzhong)
65g sour milk*
45g SD discard (100%)
120g all purpose flour
15g Kamut flour
50g rye flour
3g caraway seeds
2g instant yeast
3g salt
20g unsalted butter
5g light olive oil

White dough
10g all purpose flour (Tangzhong)
50g milk (Tangzhong)
30g sugar
80g sour milk*
40g SD discard (100%)
160g all purpose flour
30g Kamut flour
2g instant yeast
3g salt
20g unsalted butter
5g light olive oil

*Sour milk (substitute for buttermilk): 1 cup milk + 1 tbsp lemon juice, mix and leave it for at least 15 minutes. I prepare mine a few hours ahead, chilled in the fridge.

First proof: 1 hour 45 minutes at 24-25°C - White dough was almost doubled at 1.5 hours but brown dough was not as puffy so I waited a lil bit longer.

Pre-shape: Divide each dough into 8 equal parts for 2 rows of alternating colours (2x2, 16 dough balls). For a 3x3 grid, I would have to divide the same doughs to ... 54 pieces I think. Roll them up into balls, cover and let them rest for 15 minutes. Then, roll them again (my dough balls weren't equally round), before placing in a loaf pan.

Arrange the dough balls (as shown) and hopefully you've more skills than me at getting straight lines. :p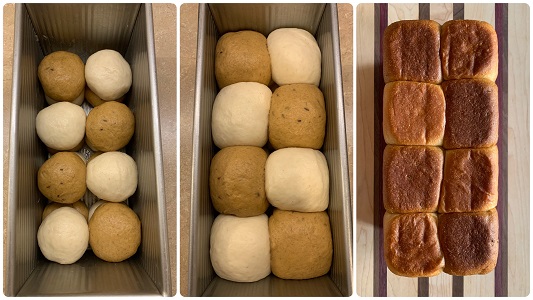 Second proof: 1 hour 20 minutes (25°C) until the dough balls were about 2.5cm / 1" from the rim.

Bake: 180°C 40-45 minutes, internal temperature registered at 97°C (90°C would've been okay)


The next bake was just to use the last two over-ripe bananas. It's the "easiest" for me since there are only 2 - 3 ingredients for the cookie and I only needed a fork to mix everything. Minimal tools and ingredients, awesome cookie. Adapted from thekitchn [2].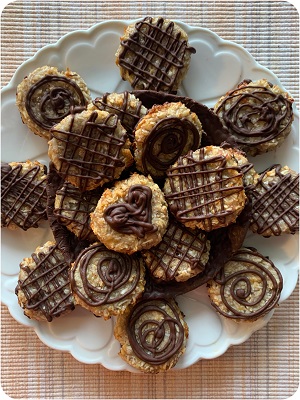 Twice-baked banana coconut cookies

Makes 20, 1 tbsp (about 2" in size) cookies
Cookie batter
2 large bananas
1 cup unsweetened shredded coconut
Optional: 1/4 tsp coconut extract

Chocolate drizzle
1/2 cup dark chocolate, chopped
1/8 tsp espresso powder
1 tsp coconut oil
a pinch of salt

Preheat oven to 180°C.

Mash bananas and mix in shredded coconut (and extract, if using) until every coconut bit is drenched with banana. Scoop 1 tbsp dollops (I used an ice cream scoop) onto parchment lined baking sheets, about 2" space between each cookie.

Bake at 180°C for 15 minutes until the edges begin to brown. Remove from the oven and with the back of a spatula, flatten each cookie to about 1cm thickness. I did this mid-bake since the batter would've been really sticky earlier on. Also, there's more banana against coconut so, it'll take a very long time to bake evenly as a mound of batter.

Return the cookies to the oven, reduce temperature to 160°C and bake for 15 to 18 minutes until the cookies are golden brown. For crispier cookies, I guess you can bake to 20 minutes.

Let the cookies cool to room temperature (about 45 minutes). Or why not eat one or two while they're warm?

The next steps are completely optional but chocolate makes a lot of cookies taste good.
Melt chocolate, coconut oil, espresso powder and salt in a bowl over a bain-marie or in the microwave. Dip the base of the cookie (it's darker than the rest of the cookie, so let's hide it) in chocolate, then let it set chocolate side up in the fridge for about 20 - 30 minutes. Drizzle the rest of the chocolate (warming it a lil if it's thickened) over the top of the cookies before letting it set again.

Easier method: dip warm cookie in warm chocolate and eat. No need to chill. :P

I melted 3/4 cup of chocolate and the extra was used to make a lil saucer for the cookies. And the last bits of it went into coffee :D