January 16, 2021 - 4:45pm
Help me diagnose my 100% whole wheat loaf, is it over proofed?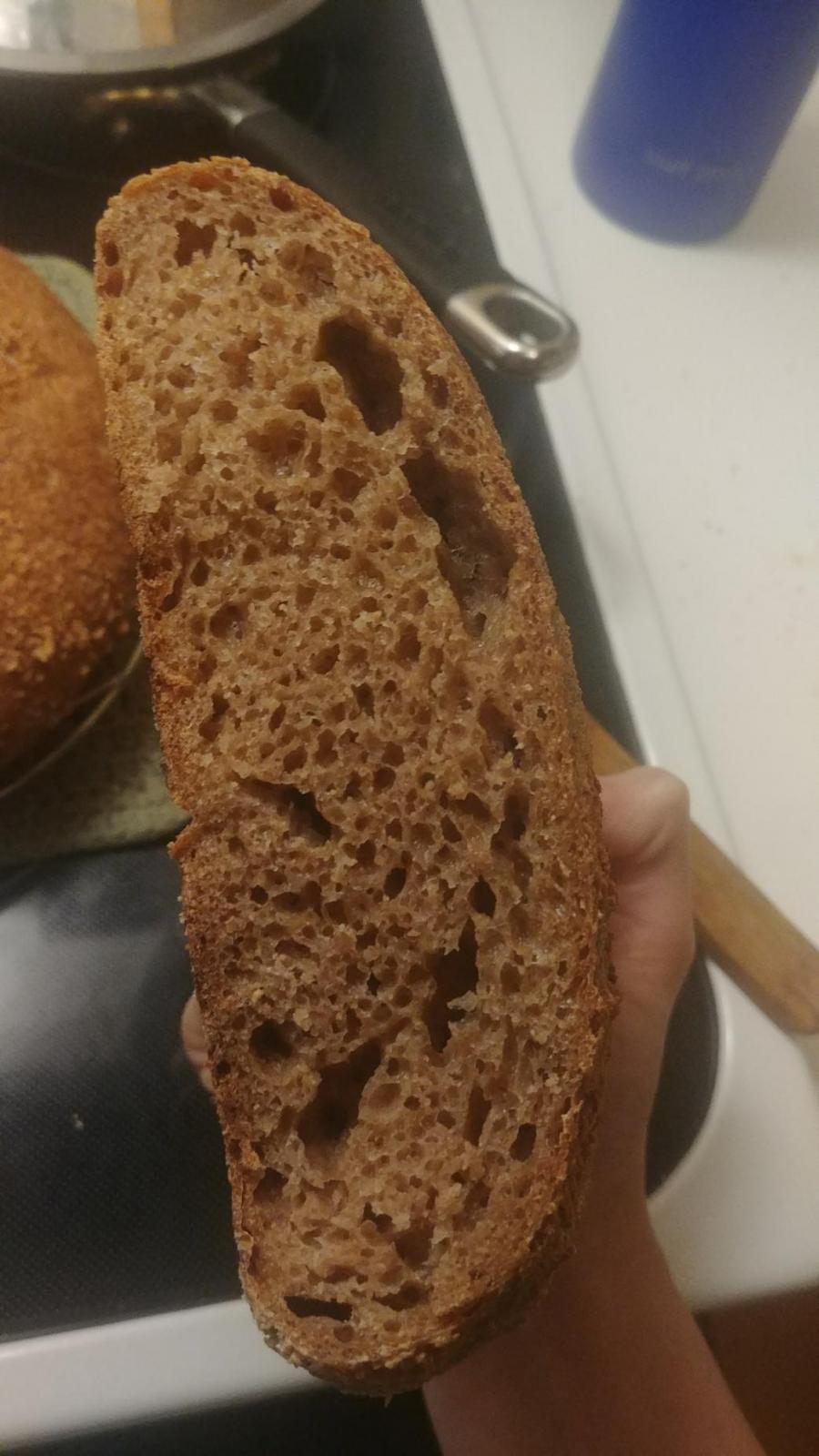 Hey everyone, I've been trying to get through my 60lb bag or wheat berries so all my breads recently have been 100% whole wheat. I've been loosely following Maurizio's method and schedule from The Perfect Loaf (https://www.theperfectloaf.com/100-whole-wheat-sourdough/ [1]), doing around 90-100% hydration. I've had a lot of trouble getting a good (or any) oven spring. At first I thought it was just that the whole wheat is too heavy or that it was my starter. I've now got to a point where I feel like my starter is strong and the dough seems good through the whole process until I bake it.
My process:
Day before grind 500g whole wheat flour, in the evening mix with 375g water and let autolyse over night. Also prepare preferment 20g starter + 40g flour + 30g water. In the morning mix the autolyse, the starter, salt, and 50g more water. Let rest than begin bulk fermentation. I do 3 sets of turns at 30 min intervals at which point the gluten seems fully developed so I just let it rest for the rest of the bulk ferment (about 1.5 hours) to not over work it. Then I preshape, rest, and then final shape and it goes in the fridge overnight. Bake in the morning in combo cooker at 450 F.
Kitchen temp is usually ~68, but I like to do the bulk ferment in the oven with light on so around 80F and my dough temperature was just under 80 by the end of the bulk. My fridge temperature is around 40F.
I'm now inclined to believe it's over proofed because it deflates when I score it and I get basically no oven spring (I've tried not scoring at all and it still goes flat in the oven). Another thing I'm noticing is that there are lots of large collapsed bubbles at the top of the loaf which I've read on other threads is a sign of over proofing. But my real problem is that I guess I'm not able to tell when it has finished proofing. I have been doing the poke test but this last time when I poked right before transferring the dough to my combo cooker it sprung back so I thought it was all good. Then pulling off the combo cooker lid I saw that it had gone flat.
So I guess I'm asking if this bread seems over proofed to you guys? and if so what is the best way to test for this?