November 19, 2020 - 4:56pm
Please help troubleshoot! Underproofed? Overproofed? Starter problems?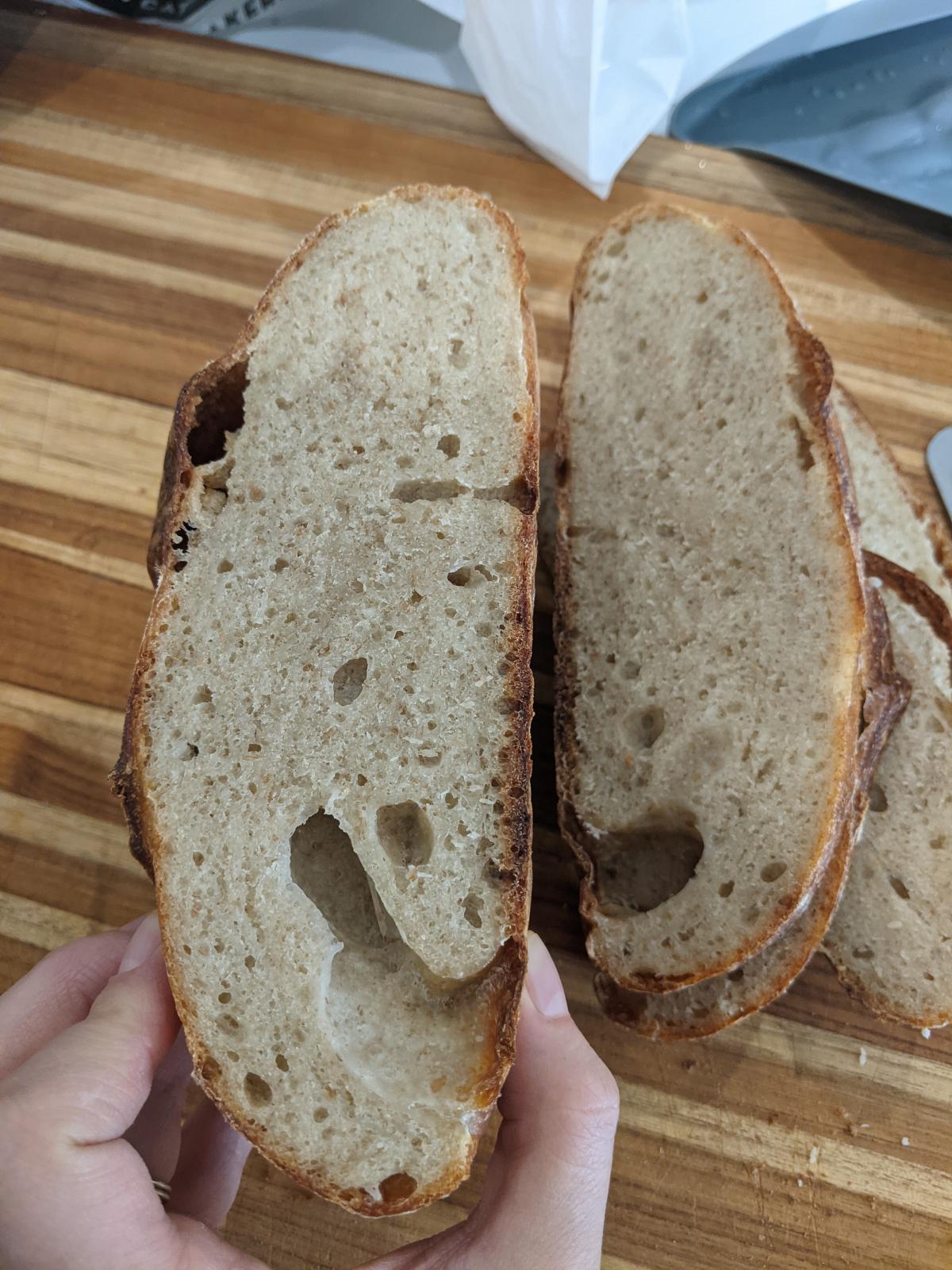 At the start of the pandemic, I had a minor panic about not being able to access good bread and decided I would learn how to bake my own sourdough. I got some starter from a family member. I used Maurizio's simple sourdough recipe, but substituted my own flour mixture (mostly AP and a bit of whole wheat, basically all I had on hand). After 2 or 3 bakes that ended in pancake loaves, I bought a thermometer, and my bakes got instantly better. Open crumb, delicious crispy crust, incredible taste. My family told me my loaves were better than the local $7 sourdough loaves we had been buying previously, so I baked and baked and baked and it was glorious.
Then, I moved out of my parents' house. A few months later, after I had neglected my starter and subsequently thrown it out, I decided to start again. I made starter from scratch a few weeks ago, which I'm currently feeding twice a day after it grows about 3x with whole wheat flour. I followed the same recipe to a T and my loaves strangely weren't rising at all, so I chucked the first batch before baking. The second batch, my starter was looking good, my levain was looking good, I made the dough, everything looked ok, I baked and.... pancakes. Gummy insides. It was almost as if it wasn't cooked it was that gummy (but it was - I checked with the thermometer). I thought, ok, maybe its underproofed. It wasn't that puffy or jiggly after I proofed it, so maybe my kitchen is cold (it also fluctuates a lot). I made it again yesterday, this time controlling for temperature by keeping everything inside my microwave (75-77 degrees) and... MORE pancakes. The crust this time also wasn't overly crunchy and had softened up by the time I cut into it. So I seem to be getting worse outcomes?
My loaves aren't rising a lot but they never did before I moved either. The poke test outcome depends on where I poke the dough, but at no point did it seem overly over or under proofed. Just maybe slightly more or less in different spots? I'm leaning towards thinking they're overproofed. As an experiment, I let my 2nd loaf of my last bake sit on the counter for 1.5 hours after I took it out of the fridge, and got the exact same result as the first loaf. Perhaps that won't do much but I figured if it came out of the fridge it might continue to proof? Not sure!
I'm going to try another bake this weekend and cut down the proofing time, just to troubleshoot. But I'm really looking for some guidance as to what the issue might be so I can stop wasting flour! Here's what I did last time:
Levain - 38g starter, 76g water, 38g white flour, 38g whole wheat
Kept levain in microwave at approx. 75-76 degrees. After 5 hours, levain was bubbly, had doubled in size, and was sour.
Autolysed 773g AP white and 165g whole wheat and 603g water for one hour. Kept in same microwave.
At start of bulk - levain was even more bubbly, rose some more. FDT ended up being about 79 degrees.
Bulk was 4 hours, at 76-77 degrees, with 3 stretch and folds. The dough temp stayed at about 78-79 the whole time. The dough rose, not too much, but had some bubbles, and felt strong. Did the poke test and while my results varied depending on where I poked, in most spots it didn't spring back super quickly.
Divided and preshaped, let rest on counter for 25 mins, shaped into boule, and let rest 20 mins in covered bowls (I don't have bannetons). I'm pretty gentle with my shaping.
Put in fridge for about 15 hours. I checked my fridge temp and it was pretty cold - around 0 degrees.
Slashed with a lame, then immediately baked in pre-heated dutch oven at 450 degrees for 20 mins, and when I took the lid off, there was no oven spring at all.
Waited 2 hours to cut into it. Sadness ensued.