November 19, 2020 - 4:08pm
Little or no rise in bulk fermentation/proofing stages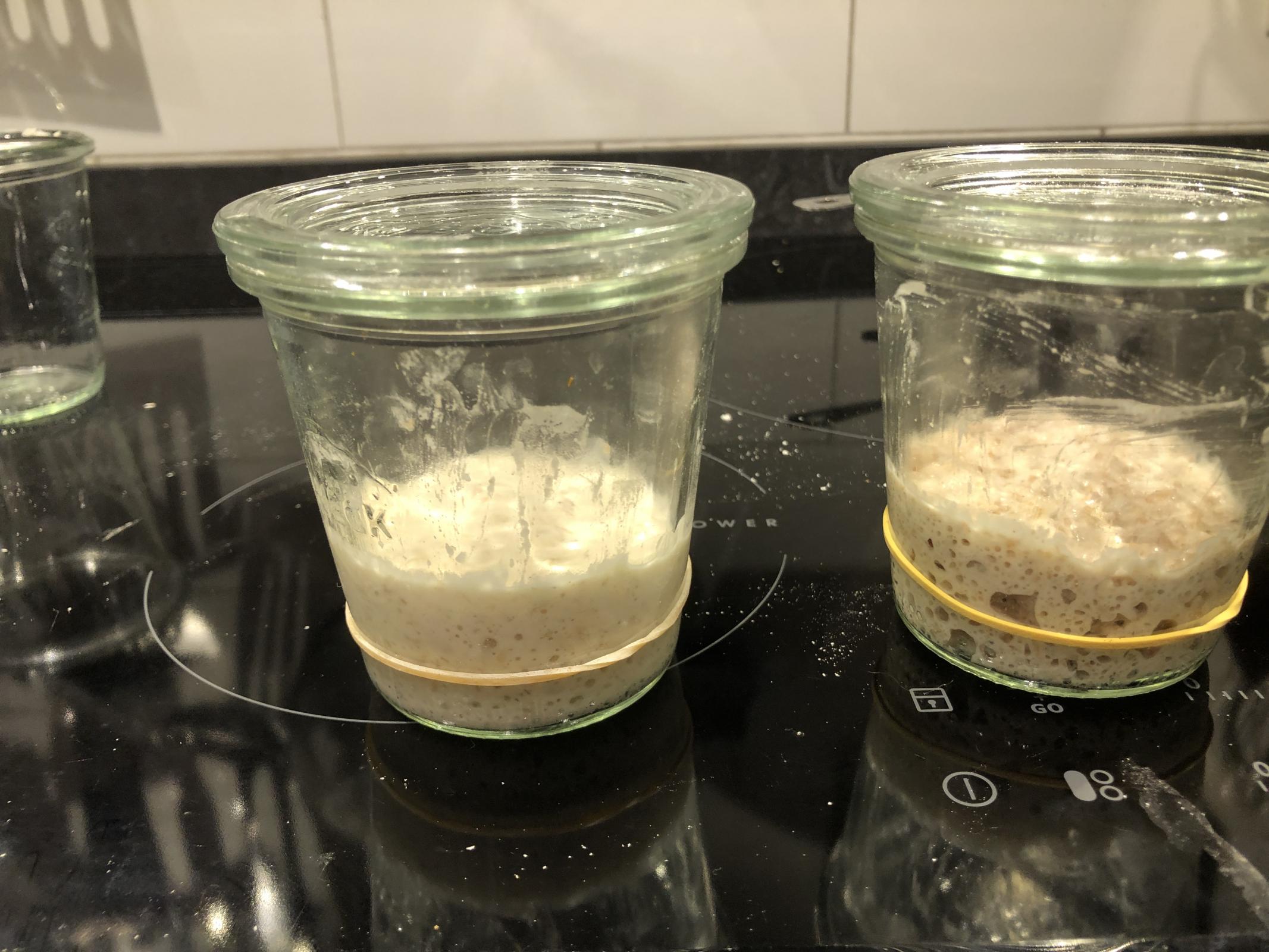 Weak starters/underproofed loaves????
I've been baking  sourdough bread off and on for about 6 months now, trying various techniques and recipes. So far, I've had only modest success; my loaves taste good, but are lacking in the crumb department and don't seem to get a good rise.   After some psuedo-scientific experimenting over the past two weeks, taking great care with timing, temperature and building gluten structure with laminating, stretching and folding, I am coming to the conclusion that the chief problem may be with inadequate yeast activity.  I'm thinking this for two reasons:

First, it seems to me that my starter or levain seem to take abnormally long to mature.  My usual starter is made with a 1 part starter/2 parts water/2 parts flour, using 50% bread flour,25% rye and 25% whole wheat.   I use the same mix for my levain.  Today, I experimented with another jar of starter feeding it  only bread flour to see if there was a difference.  As the photo shows, the starter with the whole grains has larger bubbles, but the overall increase in volume is about the same as for the plain bread flour.  But what is most notable is that it took 9 HOURS at an ambient room temperature of about 74 degrees for these babies to double in size and I suspect there's still plenty of food left for them to continue growing for hours more before deflating, because on occasion I've forgotten to put my starter in the fridge once it gets a good feed to put it in suspended animation until I want to bake again and have discovered it on the countertop after 24 hours, when it has finally tripled in size AND not yet deflated.    At the warmer temperature inside my oven with the light on and door cracked (at least 84 degrees), it usually takes at least 6 hours to double in size.  

The second reason I suspect slow yeast activity is that after my bulk ferment of up up to 6-8 hours, there is often still no appreciable rise in the dough and no visible bubbles on the surface or sides, despite a consistent dough temperature of 76-78 degrees.   I will get decent oven spring when baked, after a long overnight refrigerated proof/retard however.  

SO....if I"m right, what is the best way for me to compensate for this?   Simply add a WHOLE lot more time to the process to let my levain ripen and the dough to rise a bit before the long retard in the refrigerator?    I fear this could turn baking into a three day marathon, however.   Perhaps, make my  levain with a higher share of starter in it?  maybe 1 part starter to one part water and one part flour?   Use more levain in the dough?   

I should note that I have tried over the past months a variety of things to strengthen the starter...different feeding ratios, different temperatures, feeding regularly for 2-3 days before making the levain on the day I make my dough, etc.  As noted above, a warmer ambient temp in an unheated oven does speed things up at the levain stage, but putting the dough in the oven with just the light on for part of the bulk fermentation or proofing before a long overnight refrigerated proofing/retard made no difference over a 6 hour period  

Suggestions, please?  I'm getting frustrated.