February 20, 2020 - 2:50pm
First attempt at sourdough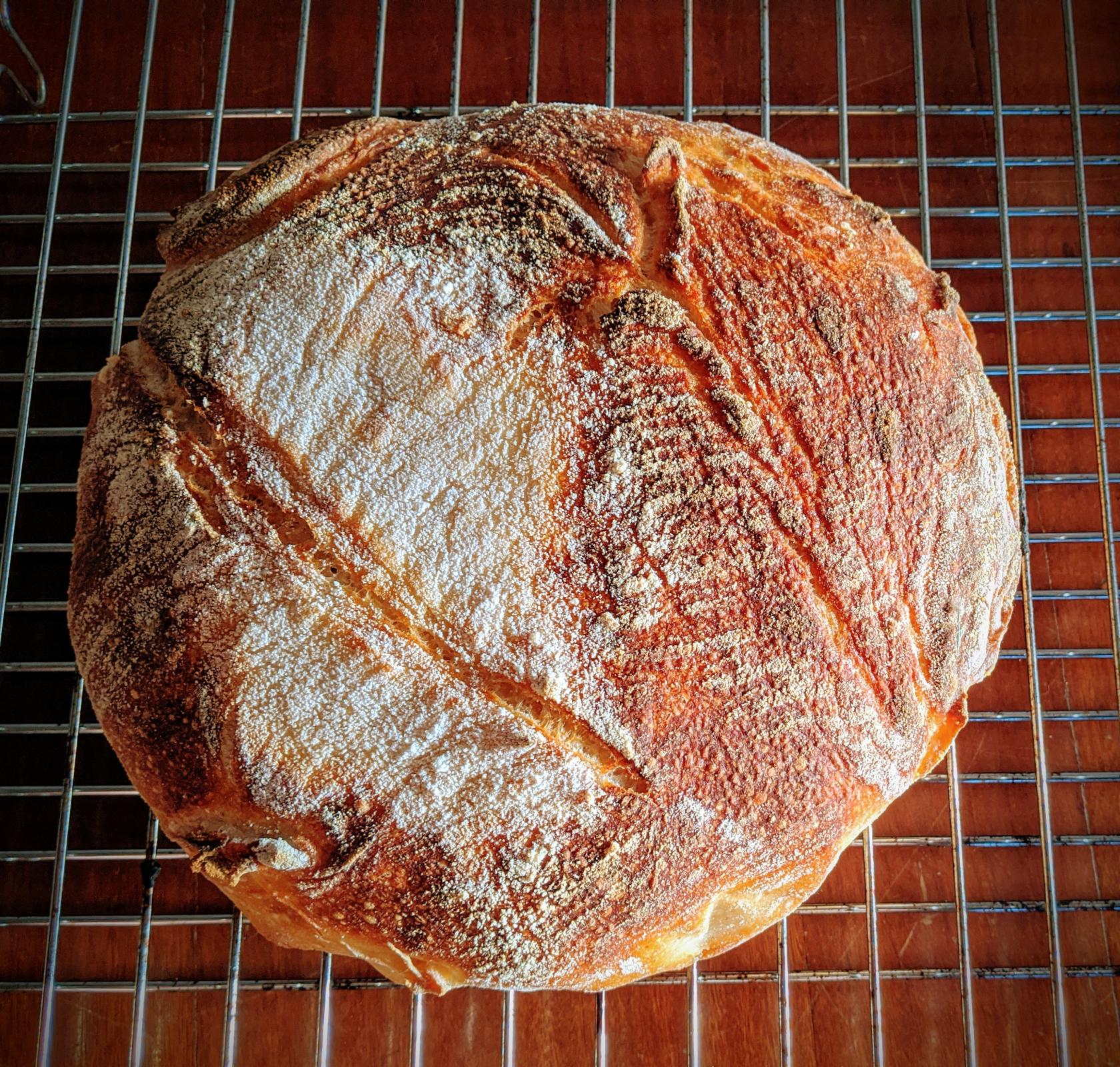 Hello,
Amateur baker here with my very first attempt at making bread. I have been building a 100% hydration rye starter for about 8 days and decided to make my first loaf this weekend. I followed the Tartine country bread recipe, except I didn't have any whole wheat flour so the dough was made with Kialla plain white unbleache. (aapprox 10.5% protein).
The folding during bulk ferment went really well.
However shaping the loaf after bench rest proved very challenging. The dough was very sticky and despite rice flour on the bench I struggled to get the dough into a nice ball with any surface tension..
As a result, when inverted the banneton, the loaf pancaked out into the combo cooker pan, quite flat.
I didn't score the loaf as it already had a few fissures on top from my poor shaping attempt.
It looked not great going into the oven, but the end result im pretty happy with for a first ever attempt at bread.  I probably cut the loaf too early, crumb had some nice holes and was quite chewy with a subtle sourdough taste.
I'm looking forward to improve my techniques. Il try and attach a pic soon.
Here is my steps set out below.
 Levain: 1 Tbsp starter 100% hydration rye (fed 10hrs prior) 100g water 26c 100g Kialla white plain flour unbleached Overnight ferment @ 26c for 12hrs 
Next day
  Dough  100g levain 350g water 25c 500g Kialla plain white flour
Autolyse 30min 
10g salt 50g water 26c
Incorporate 
Bulk ferment for 3hr with fold every 30mins. Temp 78.8f
Preshape into rounds with envelope fold Bench rest 30mins 78f 
Shape loafs using envelope fold. Rice flour on bench. Sticky side of dough up.  Place into lined banneton.  Proof 3hr @ 80f or until dent test passed.
Preheat lodge combo cooker 480f  Bake 20min covered @450f 20min uncovered 440f.  Allow to cool on rack until room temp.