SF Sourdough (Giraudo's recipe)
I tried Mike Giraudo's recipe, posted by dmsnyder.  It was as follows
250g starter (60% hydration)
600g water
1000g flour
20g salt

Makes two 875g loafs

 Mix all ingredients 2 minutes on low speed until mixed, then mix 9 more minutes on next level speed. Then a quick stretch and fold, rest dough 30 mins, then stretch and fold one more time. 

 Then cover and let dough rest for about 8 hours at room temp. 

 After 8 hours, divide and shape into loafs and then into bannetons or lightly oiled containers, cover- then into the refrigerator for at least 12 - 32 hours. (The longer the time, the more sour the bread)

 After refrigeration, place immediately into a pre-heated Dutch oven @475 for 20 mins and then uncover and cook for another 10 mins @450 (or until you like the color of your bread.) Feel free to use all purpose flour, makes for a great crumb.
I don't have a stand mixer, so I kneaded by hand, not quite to a window pane (knowing what was coming next).  Other than that, I followed this recipe to the letter.  Here are some of the details:
I forked a 60% hydration starter about 9 days ago, keep it at 10C, feed it nightly at 4:3:5 on white flour only (11.5% protein high grade).
Flour: mostly 11.5% protein high grade flour; some (about 30%) 10.5% AP mixed in due to running out of the former.
My "room temperature" for the bulk proof averaged to 19C.
My refrigerated proof time ended up being 25.5 hours.  I baked the loaves slightly longer because the color was too pale after only 30 minutes.
Here is the crumb: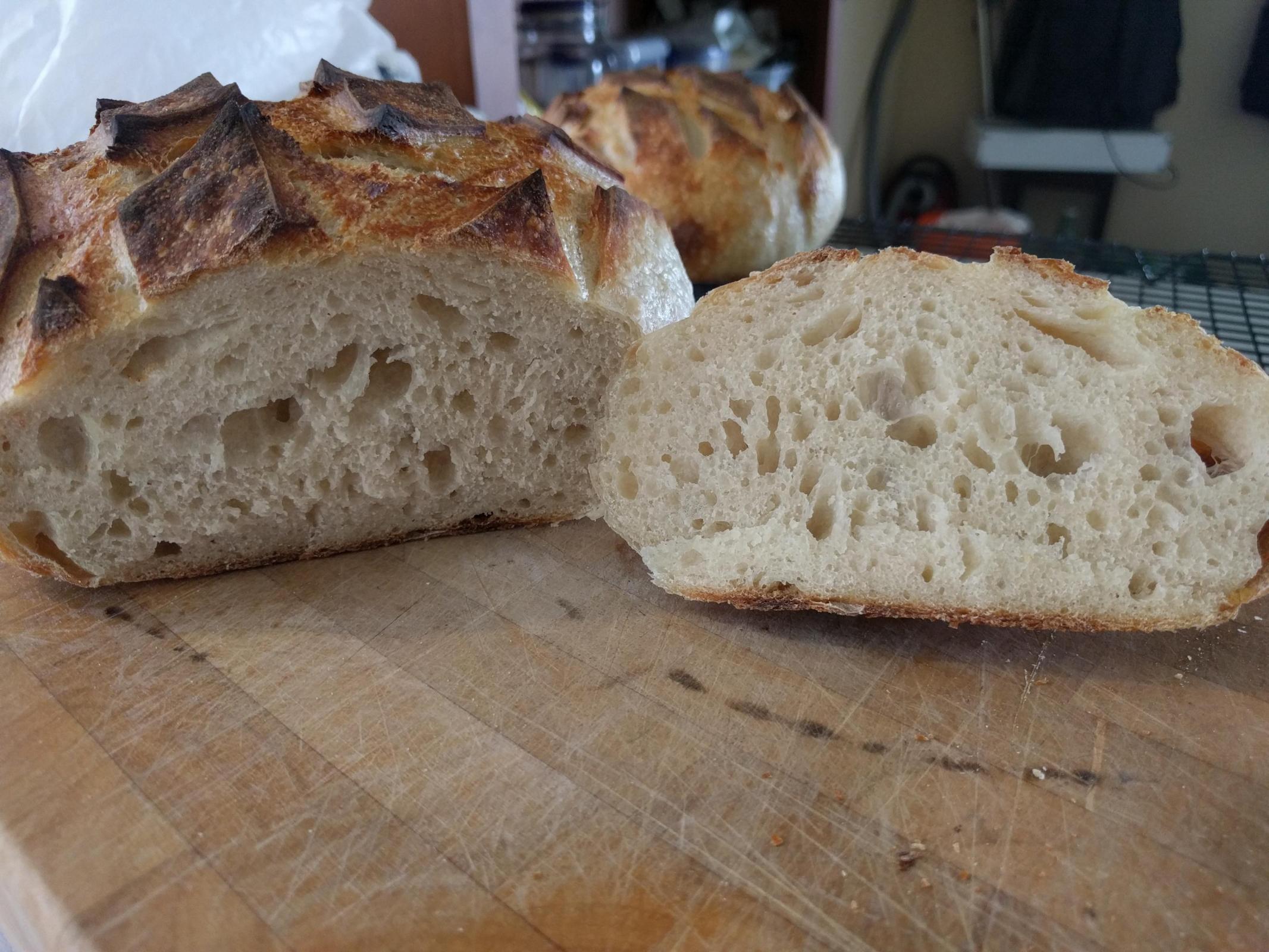 Nice crumb for 60% dough.
I've let it cool 8 hours, and just tried some.
The crust is chewy and very nice.
The bread has a mild sour tang.  Pleasant, and enough to make me go back for more.  Too mild presently, but I'm sure it will be more sour by tomorrow.
Unfortunately (and I'm being snobbish here), the sour tang isn't quite like San Francisco sourdough.  It's very close though.  A bit too much in the middle of the tongue and top of the mouth, rather than pulling at the back corners of my mouth.
But this is getting very close.