November 9, 2007 - 1:33pm
Finally -- a 100% whole grain hearth bread I'm proud of
As many of you know, I've been questing for a tasty, open crumb, 100% whole grain hearth bread for a long, long time now.

This weekend, I finally achieved my goal.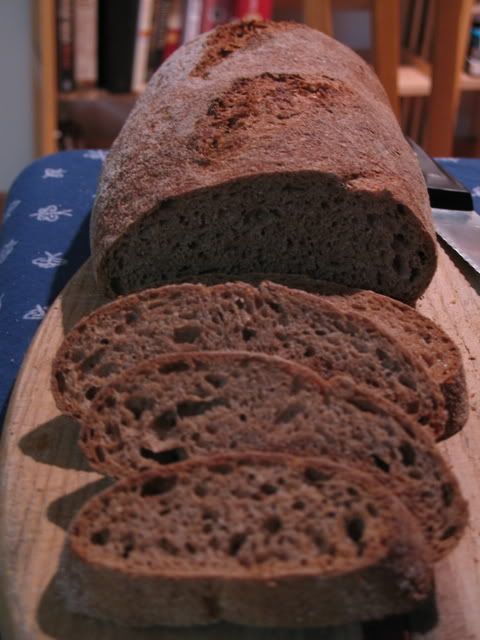 Nice open crumb, creamy texture, tangy and flavorful crumb, appealing slashes, crunchy crust.

Here's how I made it, and, to be truthful, it was mostly on a whim. The day before, I'd made some whole wheat sourdough sandwich bread, and had about 80 grams of starter left over. I didn't have time, really, to feed it, so I popped it in the fridge figuring I'd do something with it later.

The next evening, as I was thinking about what to cook for a visit from my folks (they'd come all the way from Atlanta, so I wanted something nice), I thought, "Why not try something akin to CrumbBum's miche? [1]"

So here's what I did:
40 grams of whole wheat starter at 60% hydration (Use 50 grams if at 100% hydration)
375 grams water
10 grams salt
300 grams whole wheat flour
150 grams whole spelt flour
50 grams whole rye flour
So basically, its roughly 5 percent of flour in the starter, with a 60-30-10 wheat / spelt / rye flour combination at 75% hydration.
I mixed the starter into the water, added the salt until it was dissolved, and then stirred in the flour. I then did a
stretch and fold
[2]
at one hour, and then two more at half hour intervals. After the last stretch and fold, I shaped it into a ball, and let it sit overnight.
It's pretty chilly in our house at night, getting down to 63 degrees F, so your mileage may very, but the dough was ready to shape after about 12 hours. I
preshaped it into a ball, shaped the dough into a batard after a 15 minute rest
[3]
, wrapped it in baker's linen and then let it rise at 64 degrees for about 3.5 hours. After that, a few slashes and into a hot oven at 450 for 35 minutes.
I think the final piece that came into place for me was shaping gently, but firmly. And I suspect that the long fermentation helped with both flavor and texture. Anyway, I hope I can repeat this success.