September 11, 2014 - 4:00pm
Spelt and Wheat Sourdough with Figs, Pistachios, Pumpkin and Sunflower Seeds
We were out of town for a few days and came back to a 100 year floods.  The normal rout we take to our house was closed so we had to go around and come in the back way.  The reason the road was flooded was the 5' of rain we got in one day when we only get 7" a year.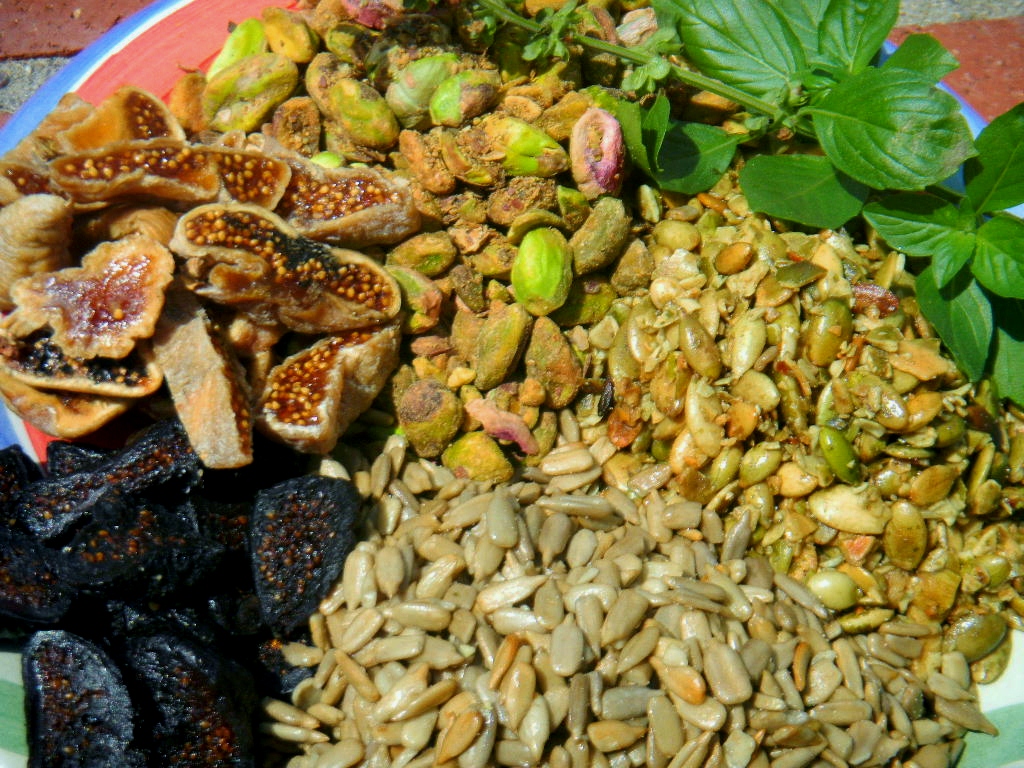 There was no place for all this water to go since we don't have storm sewers, no need for them except every 100 years, except into the lake. The lake community we live in saw one end of the lake overflow onto the road at one end.  The road has been closed since Monday and will remain closed until the lake goes down enough to clear it – that could take awhile.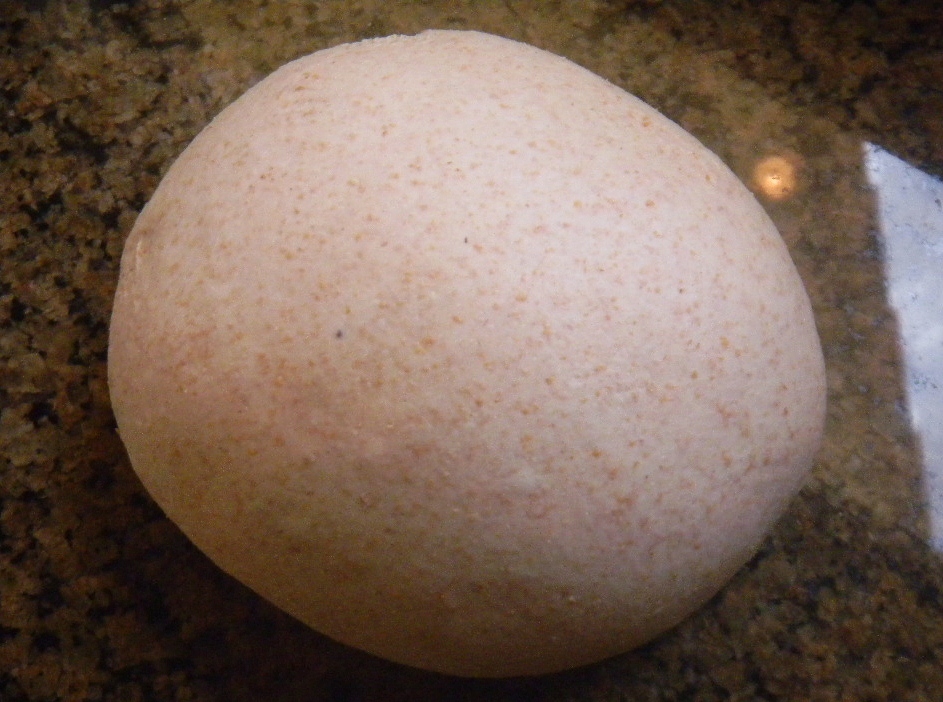 Back to bread ….even though we refreshed some of our stiff rye starter 2 weeks ago for future use, Lucy still had a couple of weeks worth of the old one that has been in the fridge 14 weeks.  We are trying to see how long it will last in the fridge before it gives up the ghost.  Well…. it made it to week 14 but it was a real struggle for the poor tired wee beasties. .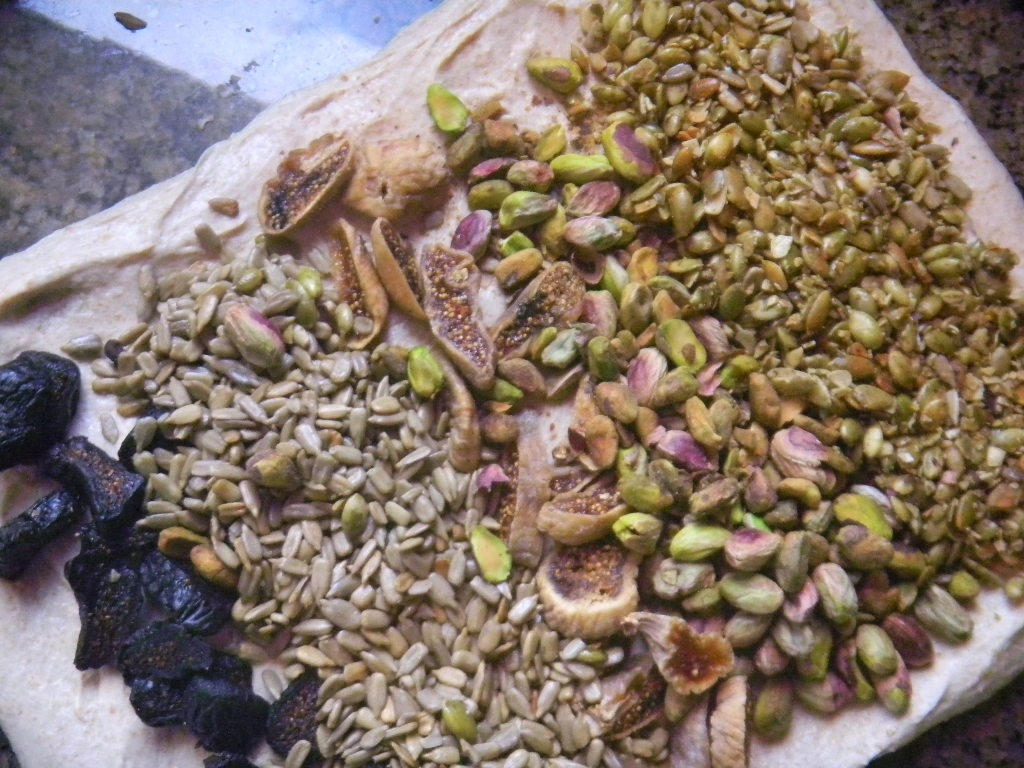 Normally we feed the starter 3 times with the sifted out hard bits of the whole grains we mill for that week bake in order to get it up to bread speed.  But this time, the starter was fed some old farina and white spelt that Lucy found hiding out in her secret pantry – who knows how long it had been there?  The weak starter didn't like it much.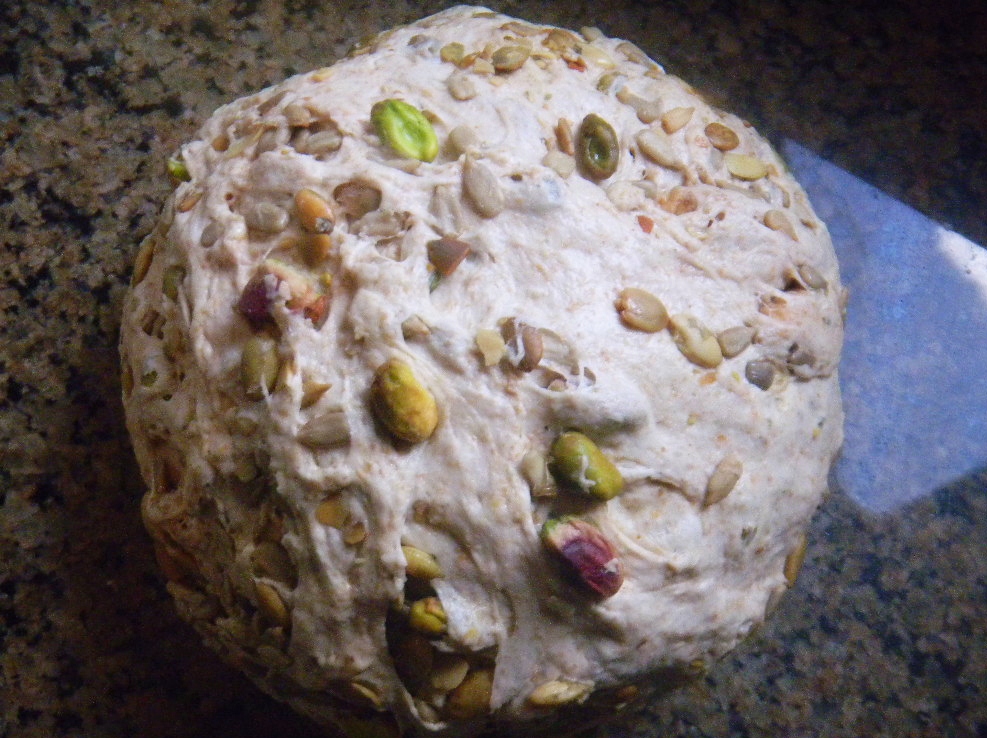 Usually our levain will double in 4 hours after the 2nd build but this one showed no movement after the 3rd build and a total of 12 hours after the first feeding.   I thought it was dead but left it on the counter overnight for another 12 hours.  Low and behold it managed to rise 50%.  My usual rule is to toss the 2nd feeding if it can't double in 4 hours and repeat it.  But since it had no movement at all we were in new territory.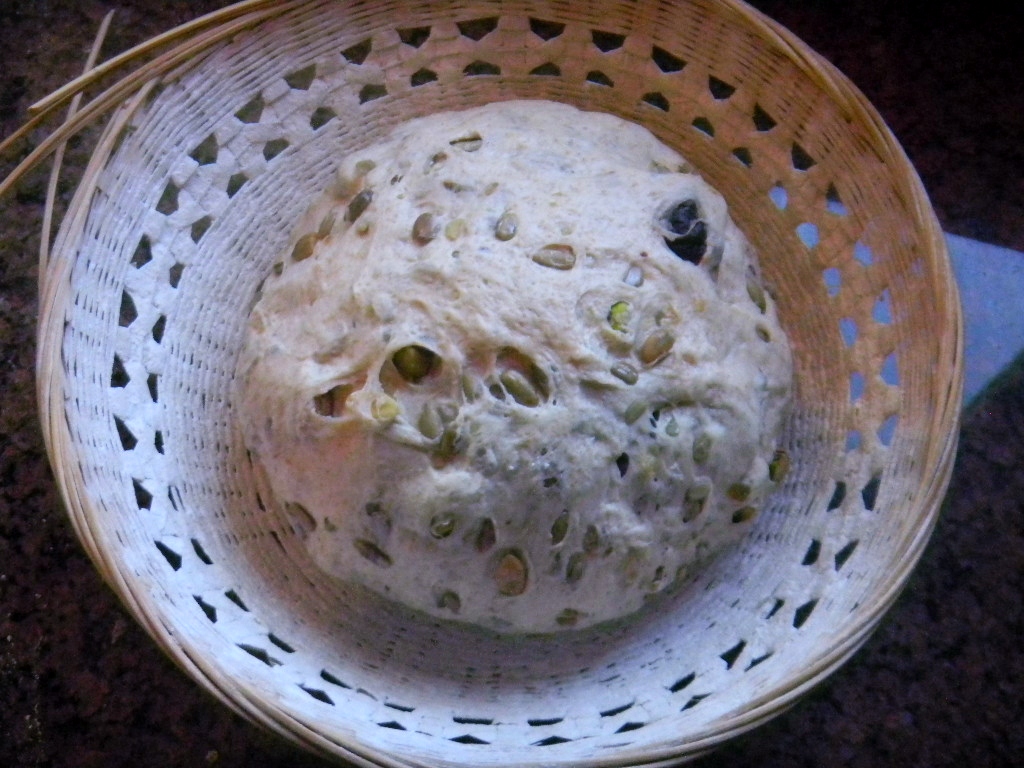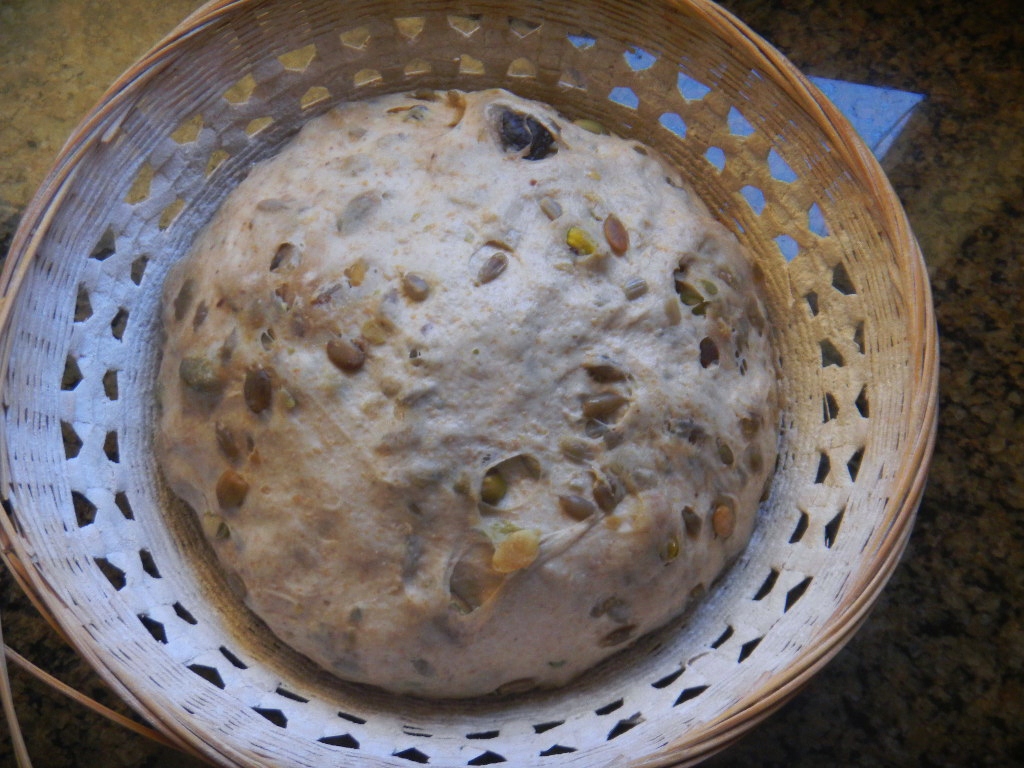 To be honest, I should have tossed half of the poorly risen levain the next morning and fed it again and see if it could double in 4 hours.   But instead I just tossed the levain into the dough white spelt and bread flour and water that had been autolysing for 1 hour with the salt sprinkled on top.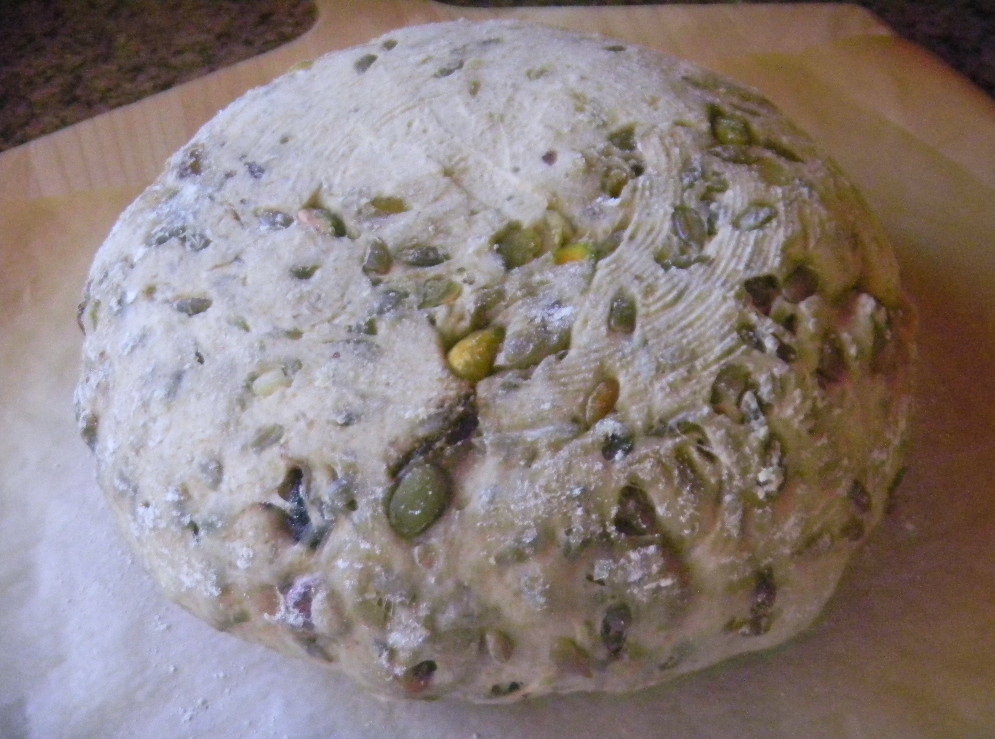 Had I been thinking more clearly or had a better apprentice, I would have not put the salt on top of the autolyse and would added it later, after the levain had a chance to work on the dough for an hour or two - uninhibited by the restrictive salt.  But instead, we mixed everything together and did 3 sets of slap and folds of 7.1.and 1 minute and 3 sets of stretch and folds all on 20 minute intervals.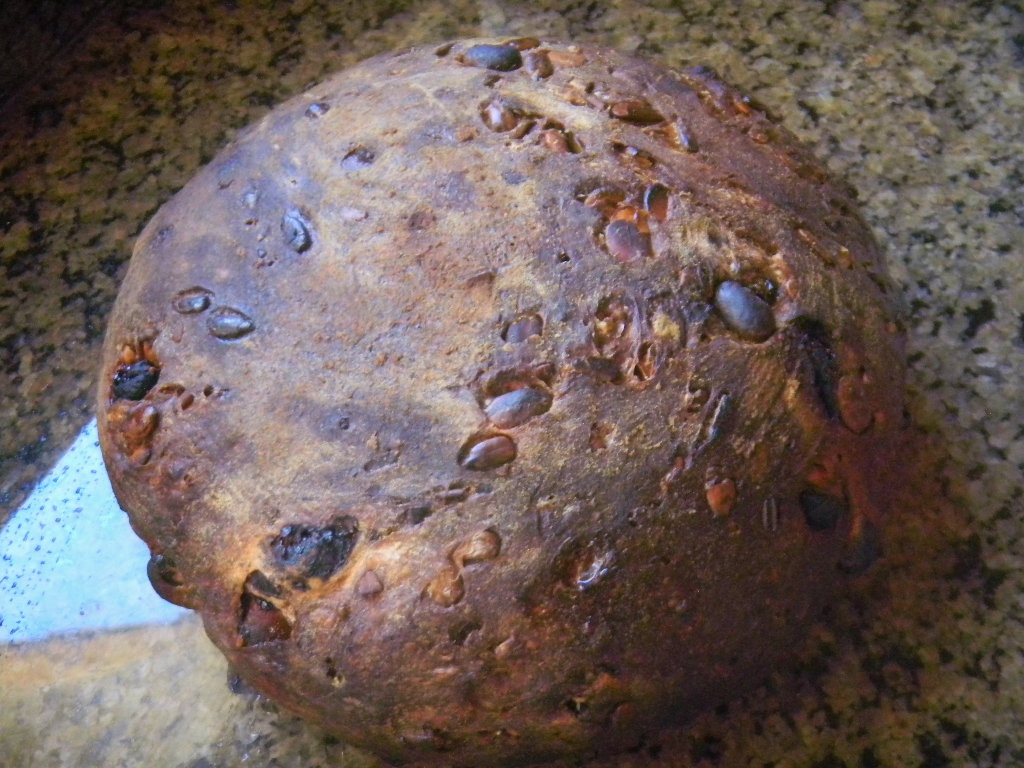 Even though the dough was 72.5% hydration it was stiff compared to our normal more slack dough.  We considered getting it up to 75% hydration but didn't do it.  I hindsight 75% hydration would have been much better so, if you make this bread, take it up to 75% so the slapping stretching and folding will be much better and the crumb will be more open too.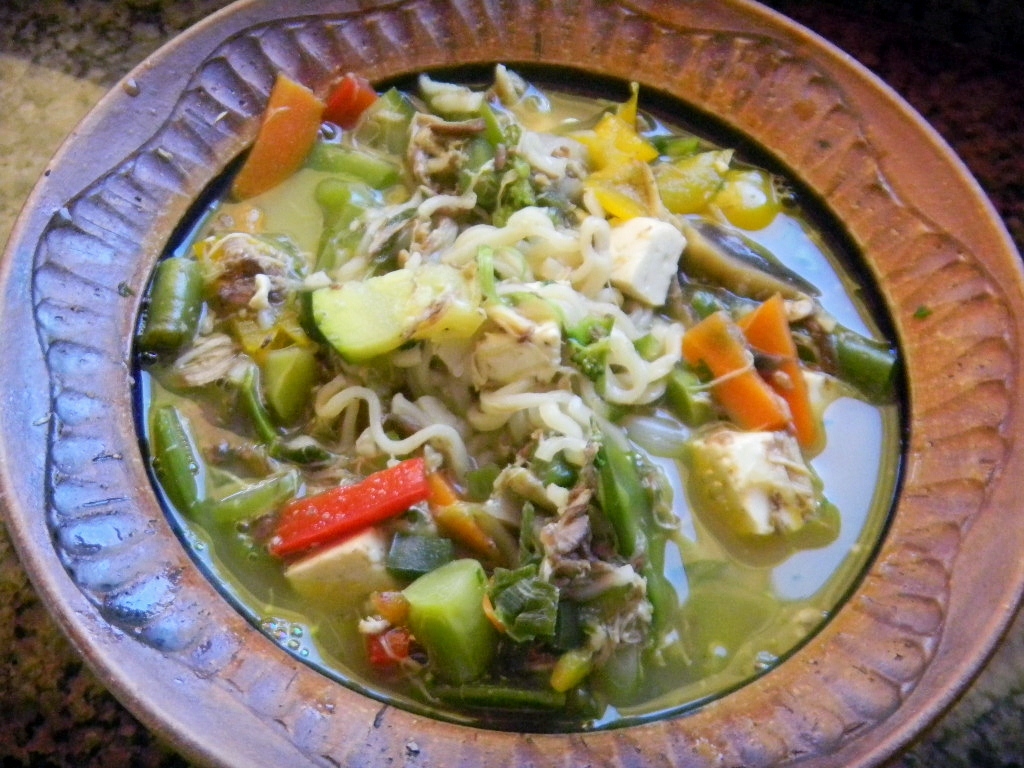 We love udon for lunch as much as a good sandwich with fruit and veggies!  Or...blazing hot chicken thighs with  twice baked potato, salad and steamed veg.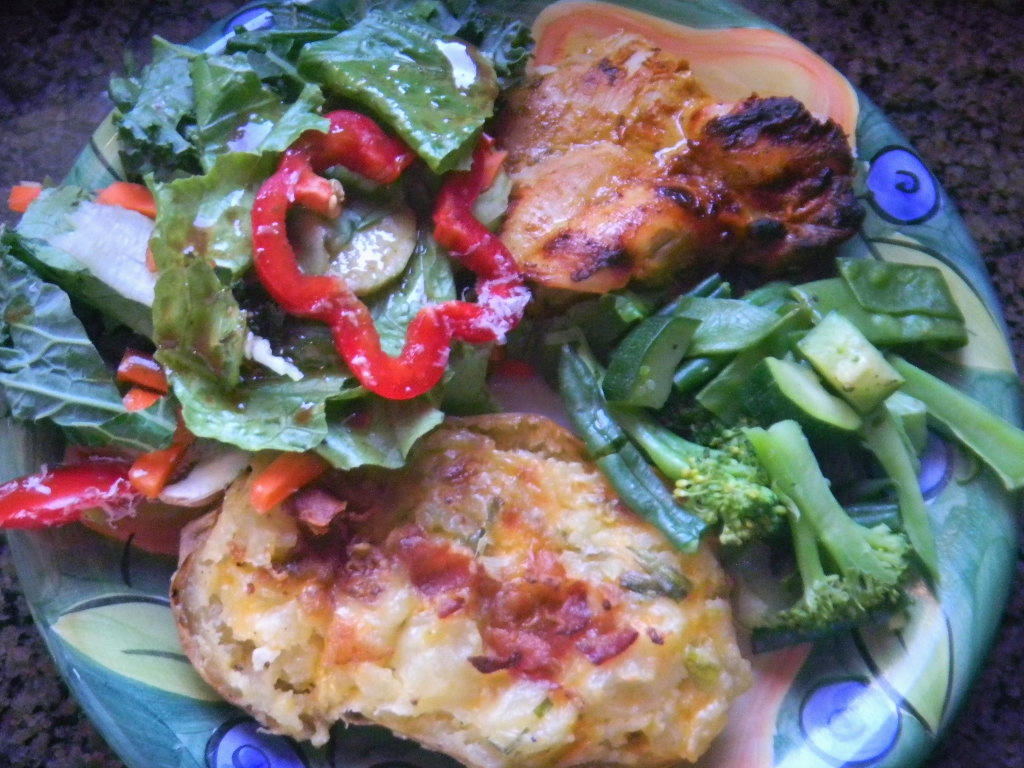 The huge amount of addins including; pistachios, 2 kinds of dried figs, sunflower and pumpkin seeds were added during the first stretch and folds an were thoroughly distributed by the end of the third one.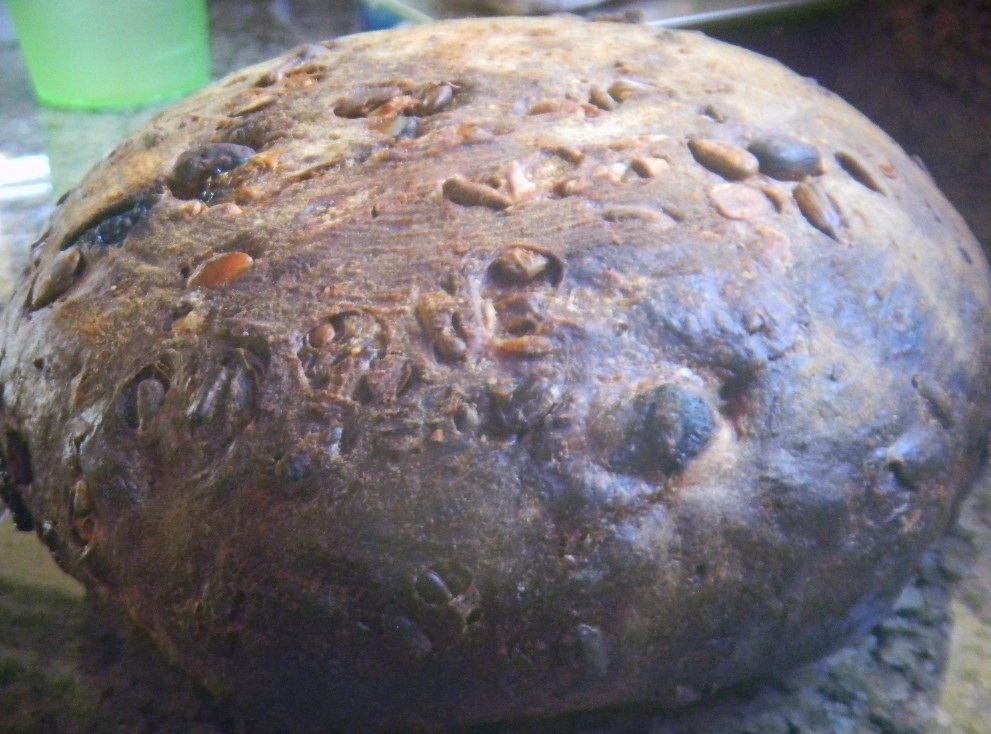 Once the gluten development was finished we skipped the bulk ferment and went right to shaping, placing it in the rice floured basket seam side down so we could bake it seam side up with no slashing.  The basket was bagged and placed into the fridge for a nice cold 16 hour retard.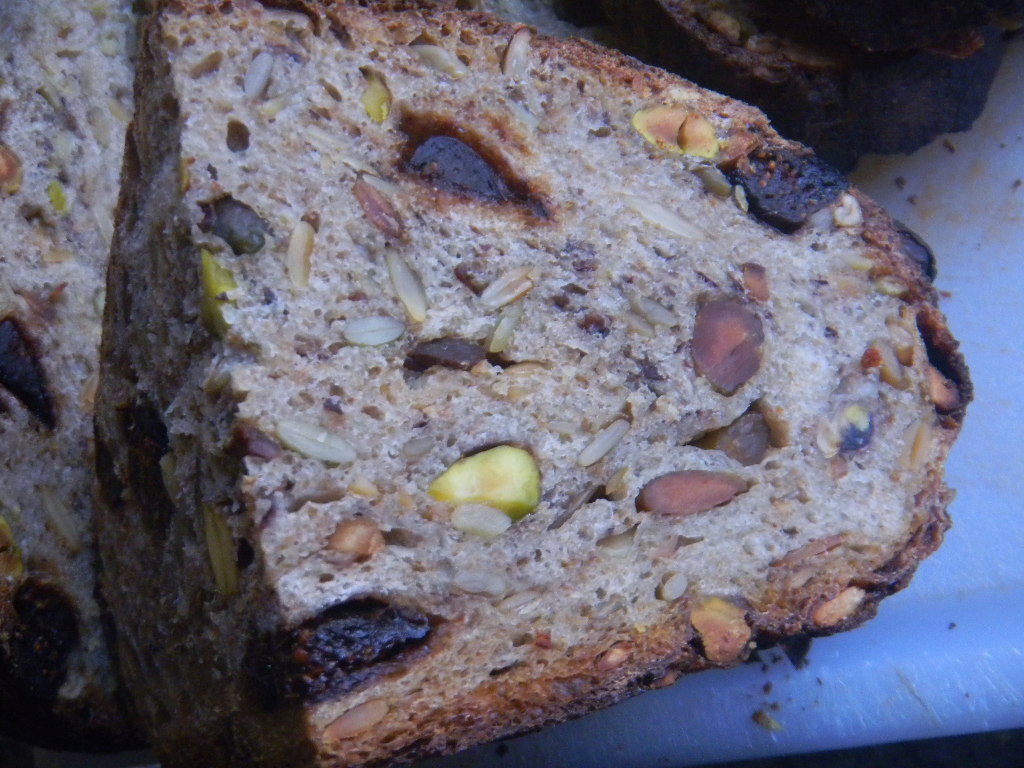 It didn't do anything while in the fridge which was sort of expected since the levain was so weak and there was no counter bulk ferment.  We took it out of the fridge the next morning and not knowing how long it would take to proof we just checked it every hour after the first two hours on the counter.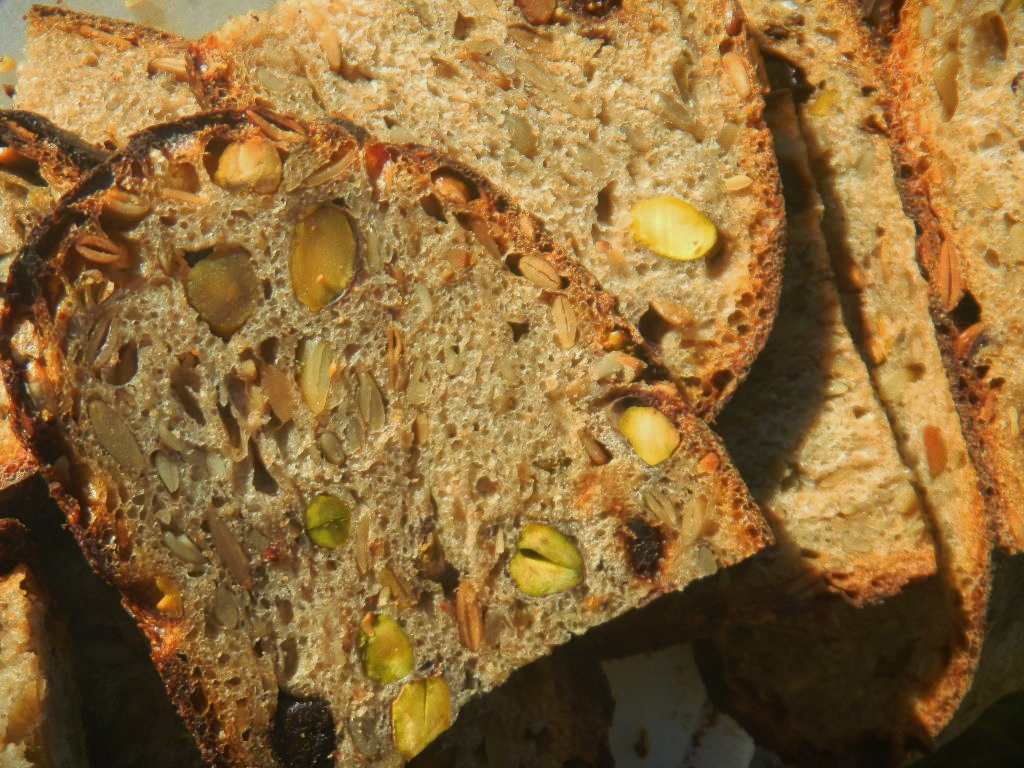 In 6 hours we un-molded the dough onto parchment on a peel and slid it onto the bottom stone for 15 minutes of steam using decreasing temperatures to 475 F for the last 11 minutes of steam.  Big Old Betsy has been preheated to 550 F and David's Lava Rock Steaming Pan went in when it hit the preheat temperature.  15 minutes later the steam was billowing and ready for the bread.
After the steam came out, we wanted to turn the bread down to 425 F convection but somehow managed to turn it up to 525 F instead.  We discovered our mistake after 10 minutes when the loaf, top and bottom, looked well done but the inside was only 133 F.  We covered the top with foil to keep it from being totally burned and turned the oven down to 425 F and later to 400 F.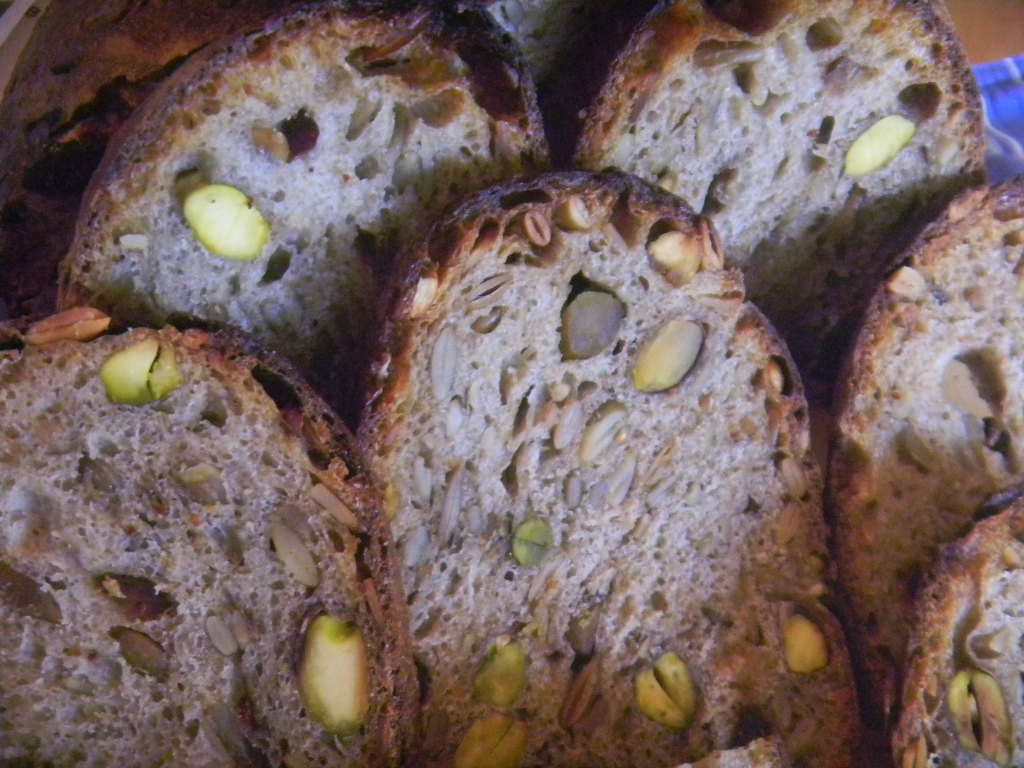 When it finally hit 200 F on the inside I shut the oven off and when it 203 F on the inside I took it out.  The crust was so hard I don't think you could break it with a hammer.  I'm was pretty sure that it is to be a total loss since there was no spring and no cracking of the crust at the seam.   Burt we will have to see the inside once it cools down to call it a total loss.  Well it is far from a loss - yeah!  It taste great,  The crust didn't go soft but it wasn't as crusty as when it came out of the oven.  .  The crumb was not very open, but it was packed with all those generous goodies , it was moist and soft and about as tasty as one would ever want.  We really love spelt and this bread really does it justice.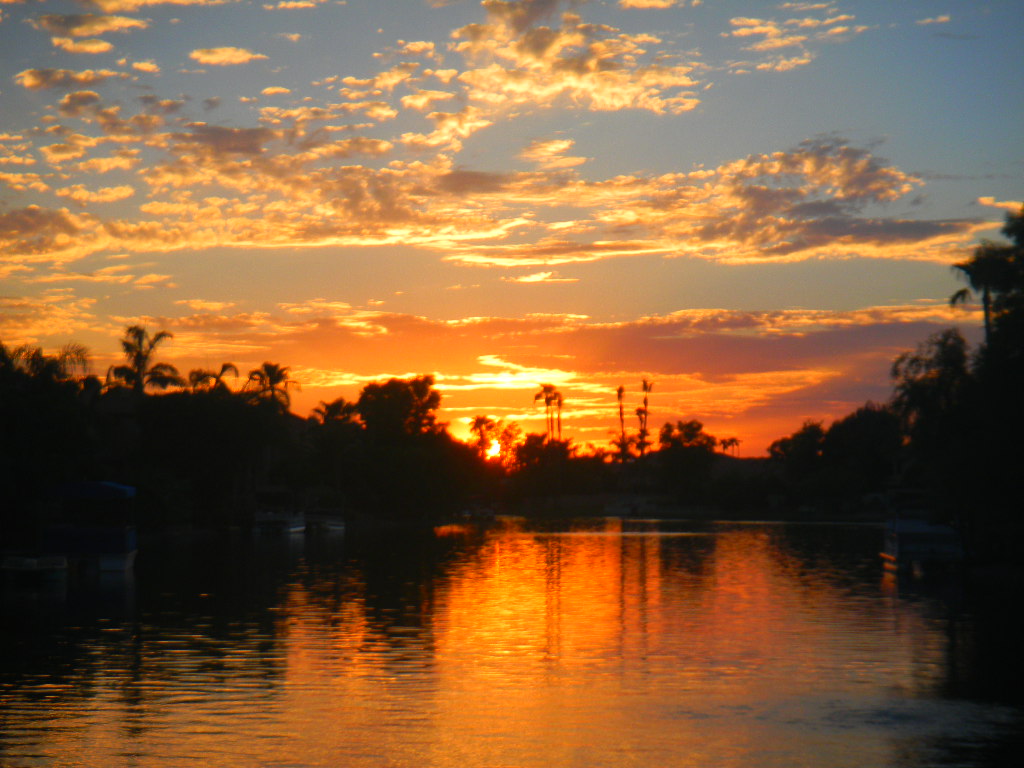 Formula
| | | | | | |
| --- | --- | --- | --- | --- | --- |
| Spelt and Farina Levain Build | Build 1 | Build 2 |  Build 3 | Total | % |
| 14 Week Retarded Rye Starter | 15 | 0 | 0 | 15 | 3.53% |
| Farina | 15 | 12 | 0 | 27 | 6.35% |
| White Spelt | 0 | 8 | 40 | 48 | 11.29% |
| Water | 15 | 20 | 40 | 75 | 17.65% |
| Total | 45 | 40 | 80 | 165 | 38.82% |
|   |   |   |   |   |   |
| Levain Totals |   | % |   |   |   |
| Flour | 82.5 | 19.41% |   |   |   |
| Water | 82.5 | 19.41% |   |   |   |
| Levain Hydration | 100.00% |   |   |   |   |
| Levain % of Total Flour | 16.26% |   |   |   |   |
|   |   |   |   |   |   |
| Dough Flour |   | % |   |   |   |
| White spelt | 125 | 29.41% |   |   |   |
| Bread Flour | 300 | 70.59% |   |   |   |
| Total Dough Flour | 425 | 100.00% |   |   |   |
|   |   |   |   |   |   |
| Salt | 10 | 1.97% |   |   |   |
| Water | 285 | 67.06% |   |   |   |
| Dried Figs | 107 | 25.18% |   |   |   |
| Sunflower and Pumpkin Seeds | 85 | 20.00% |   |   |   |
| Pistachios | 85 | 20.00% |   |   |   |
|   |   |   |   |   |   |
| Dough Hydration | 67.06% |   |   |   |   |
| Total Flour w/ Starter | 507.5 |   |   |   |   |
| Water w/ Starter | 367.5 |   |   |   |   |
|   |   |   |   |   |   |
| Hydration with Starter | 72.41% |   |   |   |   |
| Total Weight | 1,162 |   |   |   |   |
|   |   |   |   |   |   |
| Spelt | 34.09% |   |   |   |   |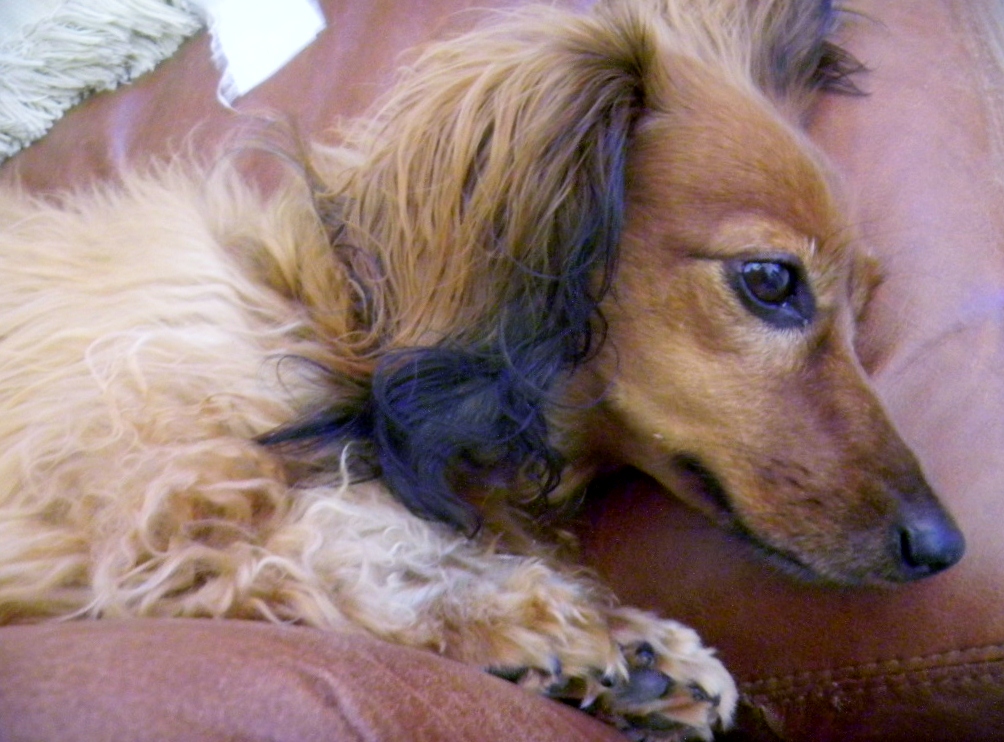 Lucy says not to forget a fine salad withlunch and dinner