February 19, 2014 - 5:28pm
Another take on Josh's Pan Maggiore
When Josh posted earlier this month on his bake of the Pan Maggiore I was instantly taken with it and decided right then and there to put it on my immediate short list of breads to try. Finally this week I was able to get a mix of it done and baked. If the loaf that came out my oven is like or close to Josh's version it's quite clear to me why he and his customers regard it so highly. I love these country style breads with combinations of rye and whole wheat but this is a standout in my book and has already been assigned a permanent spot in the old recipe folder. I copied the formula and procedure that Josh posted on his reply [1] to dabrownman, taking the ingredient numbers given and plugging them into my formula scaler/spreadsheet to get a clear picture of the percentages.
Normally at this point I'm tempted to make changes to suit my own preferences but my intention from the outset was to try to make Josh's bread, or at least a close cousin, and not my own. There are some minor differences between the formula I used and the one given in that I only keep a 100%+ rye starter and some of the percentages have been rounded up or increased slightly but that's about it I think. As far as following the procedure I went right along with what had been posted regarding times and temperatures, doing a 1 hour autolyse, holding back 10% of water for bassinage, doing the stretch and folds every 40 minutes over 4 hours BF, shaping and finally retarding for just a little over 12 hours. Bake profile was identical to Josh's, same heat and time but I did leave the loaf on the stone with the oven off, door ajar, for 15 minutes. Unfortunately I didn't have the fresh ground flours that Josh uses, which I'm sure makes a noticeable difference in fermentation and flavour but I'm quite happy with the results I did manage to achieve on both those counts. The flavour of this bread is excellent, the rye and wheat components nicely balanced and the two leavens contributing what I'd call a mid to high tang to the overall. What I like most about this bread is how moist and supple the crumb is, carrying the flavour evenly throughout from first to last bite, and I expect the loaf will retain it's moisture over several days, assuming it lasts that long. In the meantime I'm looking forward to tomorrow's sandwiches featuring this lovely bread. Many thanks to Josh for sharing his formula and procedure for the Pan Maggiore, it's a keeper!
Cheers,
Franko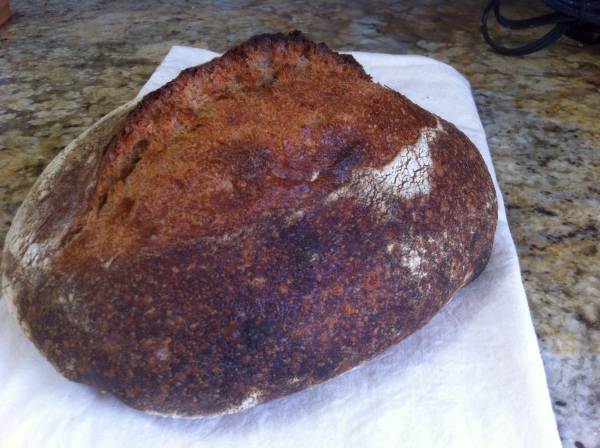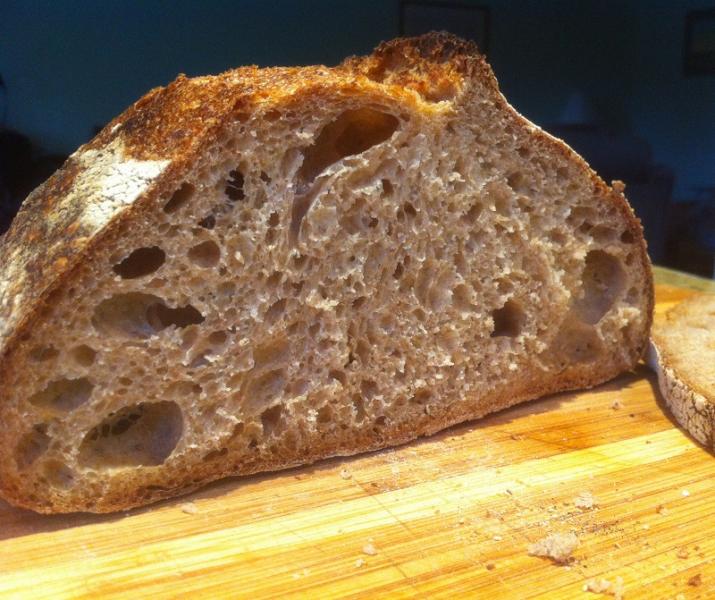 For anyone wanting to make a larger or smaller loaf than the one in the formula below click *here* [2] for an editable version.
| | | |
| --- | --- | --- |
| Pane Maggiore | % | Kilos/Grams |
| Ingredients |   |   |
|   |   |   |
| Whole Wheat Leaven |   |   |
| Whole Wheat Flour | 100.00% | 21 |
| Mature Starter -rye 100% | 47.60% | 10 |
| Water | 100.00% | 21 |
| Total weight | 247.60% | 53 |
| ripen for 14-18 hours |   |   |
|   |   |   |
| White Leaven |   |   |
| AP Flour | 95.00% | 20 |
| Rye flour-dark | 5.00% | 1 |
| Mature Starter -rye 100% | 50.00% | 11 |
| Water | 100.00% | 21 |
| Total weight | 250.00% | 53 |
| ripen for 14-18 hours |   |   |
|   |   |   |
| Final Dough |   | 1000 |
| AP Flour | 60.5% | 287 |
| Medium/Dark Rye Flour | 17.5% | 83 |
| Whole Wheat Flour | 22.0% | 104 |
| Whole Wheat Leaven | 11.2% | 53 |
| White Leaven | 11.2% | 53 |
| Sea Salt | 2.2% | 10 |
| Water | 86.0% | 408 |
| Total weight | 210.6% | 1000 |
| DDT-76-78F |   |   |
| Hold back 10% of water for bassinage. |   |   |
| Autolyse the flours and water for 1 hour. DDT-76F. |   |   |
| Add salt and mix for 2 minutes on 1st. Add the levain in |   |   |
| chunks while in 1st, then continue mixing on 2nd for 6-8 minutes |   |   |
| or until dough is moderately developed and cohesive. |   |   |
| BF for 4 hours, s&f every 40 min, shape then bulk retard overnight. |   |   |
|   |   |   |
| Overall Formula |   | Kilos/Grams |
| Total Flour | 100.00% | 528 |
| AP Flour | 58.23% | 307 |
| Dark Rye Flour | 17.91% | 95 |
| Whole Wheat Flour | 23.85% | 126 |
| Sea Salt | 1.98% | 10 |
| Water | 87.41% | 462 |
| Total weight/yield | 189.39% | 1000 |
| Total Pre-fermented Flour | 10.07% | 53 |