100% whole wheat bread with rye sourdough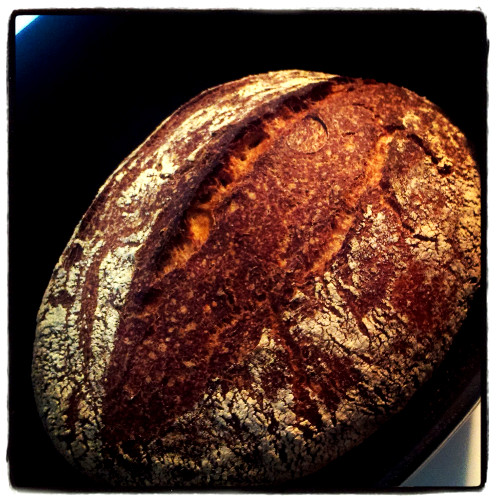 Ingredients:
- 100 grams of active rye sourdough
- 500 gr of whole wheat flour (organic Stone Ground Whole Wheat Flour, if it's possible)
- 10 gr salt
- 320 ml water
Mix all the ingredients and let them rest 20 minutes. Knead the dough for 10 minutes or until it's smooth and elastic. Use your favorite method. Let it rest 3 hours. You can strecht and fold two times during this period. You can make one piece of 930 grams or two pieces off 465 grams. Shape a ball or a batard, trying not to degas the dough very much. Let it rest one hour more. Bake about 55-60 minutes if you make one piece of 930 grams or 35-40 if you make two pieces of 465 grams. The temperature at the beginning should be about 230C and you should create some steam into the oven. The temperature at the end of the baking process should be about 180C, without steam.
In this case, I baked this bread with dutch oven, 30 minutes with the lid on and 25 minutes without lid.
More info: http://breadgallery.wordpress.com/2013/07/19/hogaza-100-trigo-integral-100-whole-wheat-bread/ [1]