100% Spelt Sourdough - trying spelt for the first time
Sending this to Yeastspotting [1].
Can't believe that I have never baked with spelt yet, well until last weekend that is. I finally got some spelt flour and went to town with it. In my typical "jump in with both feet" way, I make a 100% spelt souroudgh. Two sources were helpful with my research:
http://www.breadtopia.com/spelt-bread-recipe/ [3]
http://www.thefreshloaf.com/node/13934/100-spelt-levain-bread [4] (Shiao-Ping)
However, my ratio and fermentation schedule ended up being quite different form both of them, but the thing I learned from their posts held true: spelt has quite a bit of gluten, but not as much as wheat, and more delicate, which means it's the best to handle it gently and try hard not to over rise/proof.
Spelt Flour, 298g
Spelt Starter(100%), 105g (I started with my white starter, and fed it with spelt (1:2:2) 3 times to convert it "mostly" to spelt)
Agave, 28g (if use honey, might need more since agave is sweeter)
Water, 193g
Salt, 7g

1. Mix everything autolyse for 20 to 60min, mix by hand until even.
2. Bulk rise at room temp (~75F) for about 2.5hrs. S&F at 30, 60, 90, 120min.
4. Shape, put in basketes smooth side down, put in fridge over night.
5. Next morning take the dough out to finish proofing, about 45min for me. Score.


6. Bake in cast iron pot at 460F with lid on for 20min, lower to 430F, take away lid, bake for another 25min.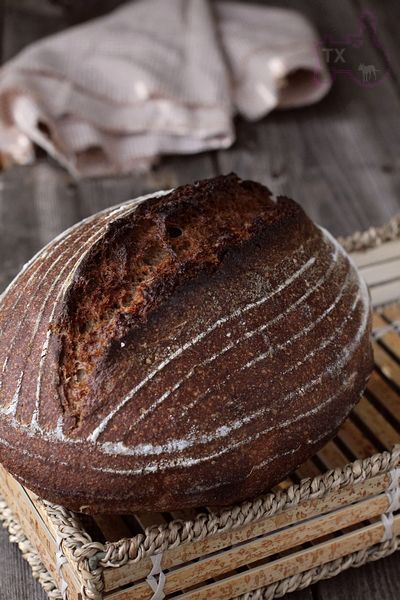 The dough is fairly wet & loose, so I chose to bake in cast iron pot to keep the height better.

I like the addition of Agave in the formula, which complements with the spelt flavor well. Honey or other sweeteners would do as well.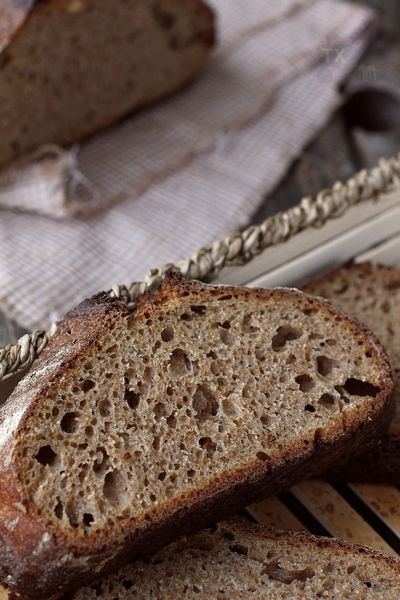 Crumb is quite open, and I really like the slightly "bitter"/earthy taste of spelt, no wonder it's used so often by other bakers.