I decided this week to have a go at the most recent (?) SF Sourdough posted by DMSnyder (http://www.thefreshloaf.com/node/27892/my-san-francisco-sourdough-quest-take-4 [1])
Must admit that the timing on this was the most difficult - I couldn't work out how to get all these 16 and 20 hour chunks in!
Ended up with the following timings:
* Starter refresh - should be 16h then overnight fridge, I did around 11 hours then overnight 11h in fridge, then 2 hours out
* stiff levain - should be 16h room temperature - I mixed this around 10am and put in the fridge at 9pm (didn't fancy getting up in the middle of the night); out again Sat around lunchtime
* mixed dough and autolyse for 2 hours
* added salt, levain, ferment should be 3.5-4h, mine was around 4 hours
* should prove for 1-2h, then cold retard overnight - I ran out of time again, so shaped and into the fridge straight away for overnight 15 hours (we were trying to get a repeater router to work ,so the bread had to wait!)
* should be 3h final proof warm & humid - mine was in the airing cupboard so very warm, only 2h and it was seriously well over the top of the banneton!
30mins on 240C in La Cloche, then 20m at 220C...  Lots of singing when it came out, cracked crust, darker than I usually do...
Pictures (sorry for delay, my phone ran out of charge!!)
Views inside the kitchen - poor lighting but gives an idea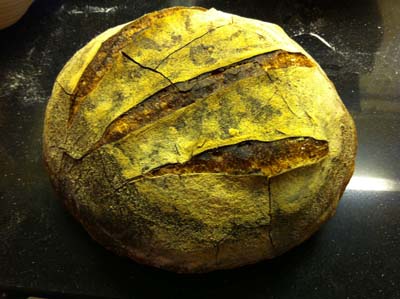 Did I mention it sung?  Really chunky cracks: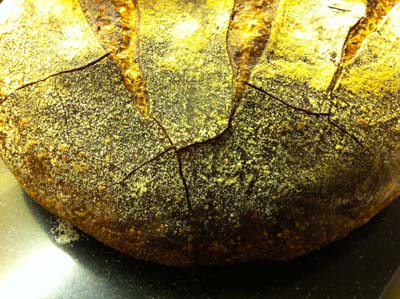 And a view of the crumb (really must stop using phone for these!)
I decided to try some natural light this morning - but no table outside as yet, it's too early!  So - I put the bread on the car <grin>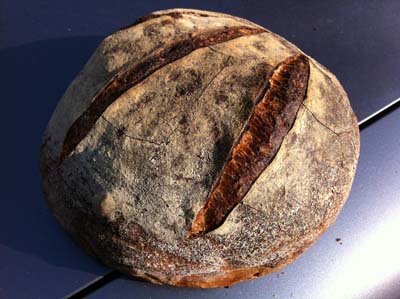 Gives a better idea of the colour - as I said, darker than I usually do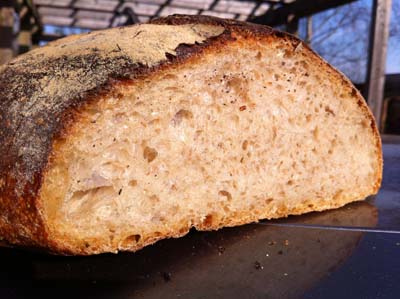 The crumb - shows quite a deep crust
And a crumb closeup: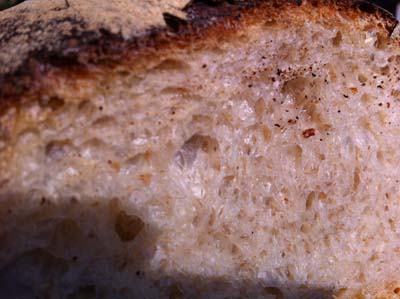 (sorry re shadows and a bit gritty)
Final pic - on the sundial, as a change from the car: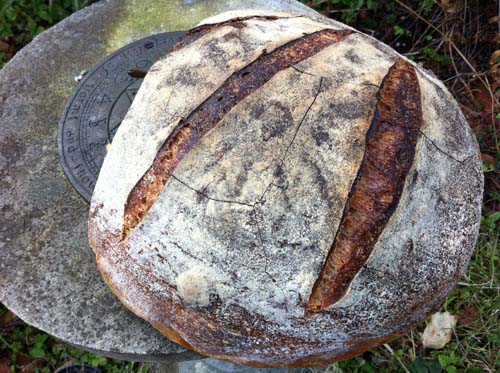 Taste - very nice, I agree with a previous comment on David's blog about a "cool mouth feel".  My only slight disappointment was that it was not sour at all - despite all the long rests in the fridge - I think probably I need to leave the levain / stiff levain out longer?  But a good looking, tasty loaf, and enjoyable to try this with these stages.  I'll try again, but need to think about timing...
S