Buckwheat-Apple-Cider Sourdough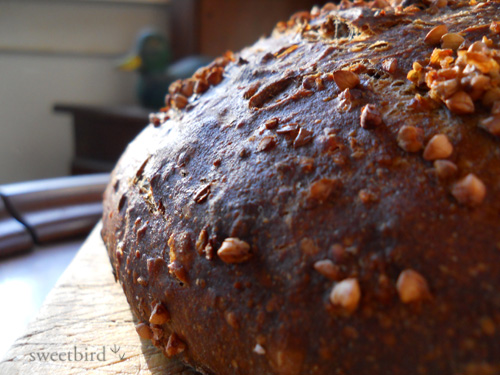 While reading the article in New York Magazine on artisinal bakers in New York City that I posted in the forums yesterday (http://nymag.com/restaurants/features/new-wave-breads-2011-12/ [1]), I saw the photo of a buckwheat-pear bread and was reminded of this one that has become a favorite in our house. It's a buckwheat-apple bread dreamed up by a Swiss baker/blogger and posted on yeastspotting a few years ago. The blog post was so charming that I had to try it immediately. I have loved it and baked it many times since.
Here is the original blog post that captured my imagination:
http://oventv.wordpress.com/2009/08/27/buckwheat-apple-sourdough/ [2]
I've made some minor changes based on what I have available. Here is the formula that I use:
Buckwheat Apple Sourdough
(by oventv.wordpress.com)
Liquid levain:
100 g buckwheat flour
125 ml hard cider
15 g mature starter (mine was 100% hydration)
Dough:
385 g bread flour
15 g vital wheat gluten
230 ml hard cider (start with 200 ml and add more cider as required)
12 g salt
a little less than 1 tsp. instant yeast (I used SAF)
1 tsp. pear honey ("Birnel"), can be substituted by any sweetener
40 g dried apple rings, chopped
85 g (½ cup) whole buckwheat groats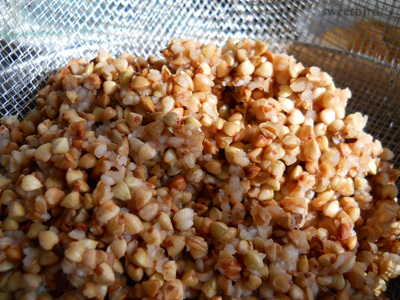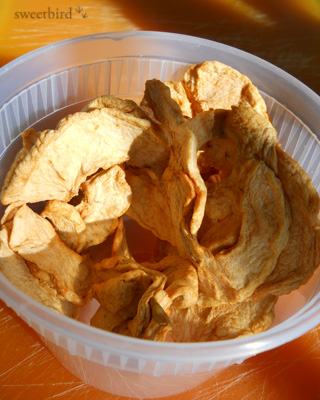 Mix the ingredients for the liquid levain and leave at room temperature for 12 hours.
Pour 1 cup of boiling water over the whole buckwheat and let it soak for 10 - 15 minutes, until cooked through.  Drain well and set aside.
Mix the liquid levain, flour, vital wheat gluten and cider and let it autolyse for 15 to 30 minutes. Check the consistency and adjust as necessary; you're looking for a tacky but not sticky dough.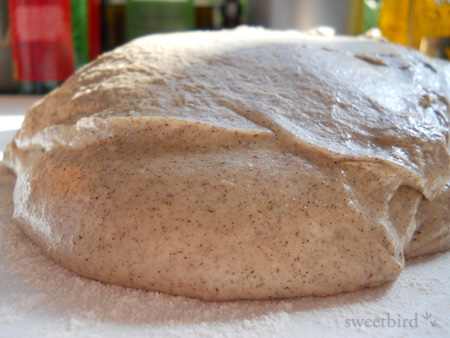 Mix the final dough, but don't add the apple chunks and the buckwheat yet. I processed for about 6 - 7 minutes on medium speed in my KitchenAid. At the end, mix in the apple pieces and about 2/3 of the soaked buckwheat groats. The rest are reserved for the top of the loaf, if you like (if not, go ahead and add them all to the dough).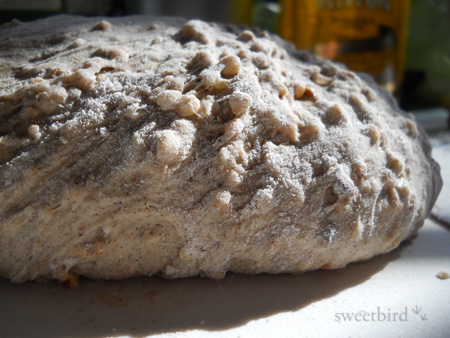 Let the dough ferment in a warm environment (I kept it at a temperature in the mid-80sF) for about 1½ to 2 hours, with two folds at 30 and 60 minutes. The original recipe calls for one fold at 40 minutes, but I thought my dough needed more. I let it ferment about 2 hours.
This dough weighs about 1,050 g, and I bake it as one large hearth loaf. It can be divided into two smaller boules if you like. Bench rest and shape, and start your oven and stone preheating to 430°F at this point. I found that the final rise was fairly quick -- about 40 minutes. In fact, it took me by surprise and my oven wasn't quite ready, so I ended up over-proofing slightly.
I used the dough ball trick that I mentioned in my previous post.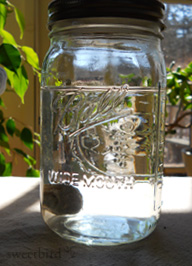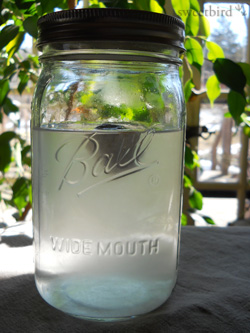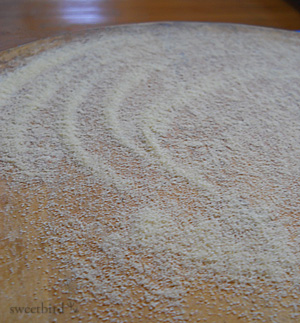 Bake the loaves on a preheated baking stone with steam at 430°F, checking and turning at around 20 minutes and lowering the temperature if the loaves are taking on too much color. I turned off the oven when the loaf reached an internal temperature of 205°F and let it sit on the hot stone with the oven door ajar for 10 minutes.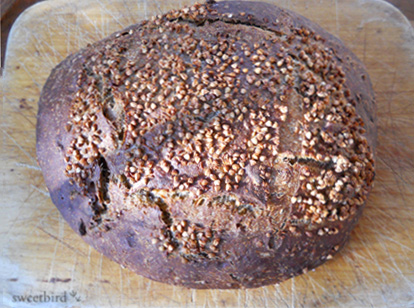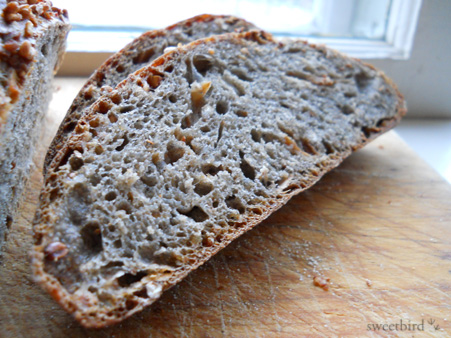 Ingredient notes:
I use a wonderful hard cider from my part of the world, the northeast U.S.  It's Woodchuck Hard Cider from Vermont and comes in a 355 ml bottle, which is just exactly the amount that is needed for this bread. About one-third goes into the levain and the rest is used in the dough. I use it at room temperature.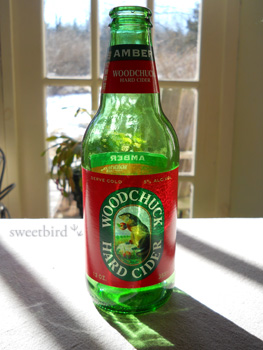 The flour I used in this loaf (besides the buckwheat flour) was King Arthur AP, even though the formula calls for bread flour. I would have been better off using the Sir Lancelot I had, or something else to offset the weak buckwheat flour, but even so this came out very well.
I use a raspberry honey from a local beekeper instead of the pear honey in the original formula.
This bread has a deep, somewhat nutty and subtly sweet flavor. It is outstanding as toast. I tried to capture the extra depth of color that it has when it comes out of the toaster. It's spectacular with butter and marmalade or with cheeses. I encourage you to try it! Thank you to the sweet baker from Switzerland (who doesn't seem to be blogging any longer, sadly). I'm grateful for this very special bread.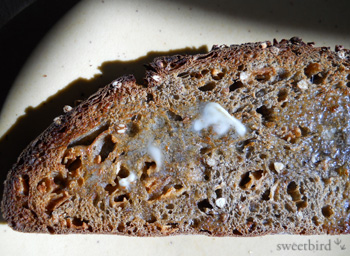 All the best,
Janie
I'll send this back where it started from, to Susan's yeastspotting:
http://www.wildyeastblog.com/category/yeastspotting/ [3]