February 26, 2012 - 7:44pm
Whole Wheat Genzano Country Bread, and Banana Pain au Levain
Hello,
These are two breads I've wanted to bake, for quite awhile. Really glad now that I have, as both of these breads are so delicious, each in their own way! With thanks to Shiao-Ping and Mr. Leader for their lovely recipes :^)
Shiao-Ping's Banana Pain au Levain <------>Mr. Leader's Whole Wheat Genzano Country Bread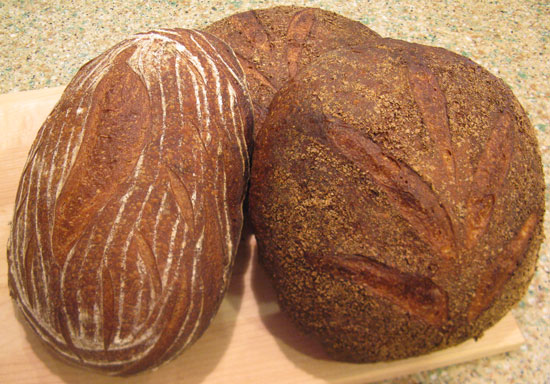 I so enjoyed reading about Pane casareccio di Genzano in Mr. Leader's book, Local Breads.
This was a really nice post, too, with great photos of that beautiful and dark crust:
http://www.thefreshloaf.com/node/24109/trip-genzano-and-forno-legna-da-sergio [1]

This is a try of the whole wheat variation, Pane lariano, with some variations; I reduced the instant yeast to 1 gram, mixed by hand, divided the recipe amount into two loaves (instead of one large loaf),  and retarded the dough overnight (for convenience)…so this is not the bread Mr. Leader intended…but I am very pleased with the resulting flavor (it's a delicious, delicious crust!).
The loaves were baked in a hot oven, preheated to 500F; then 475F for 15 minutes, 465F convection for 15 minutes, 450F convection for 7 minutes, then left in the oven (turned off/door ajar) for 10 minutes.
The loaves sang and crackled :^)

                                      The bran-flecked crust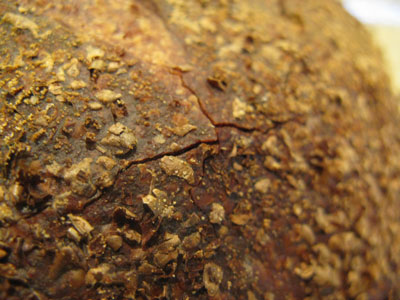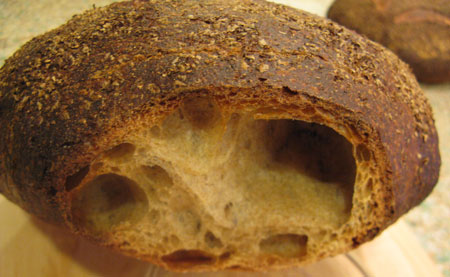 After cutting the end off of one loaf, 
                                                                                                                  I was nervous about the crumb, 
                                                                                                                  but really happy with the crust!

          The crumb, a little further into the loaf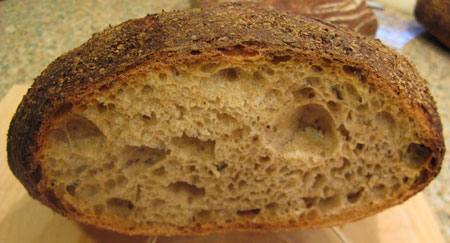 The crust could be darker yet! (yearning for my own WFO :^)  )

The second bake today, Shiao-Ping's Banana Pain au Levain [2], makes a beautifully moist and fragrant loaf; I used a combination of fresh and frozen (defrosted) banana, ripe and sweet. The sweetness and flavor of the banana really carried through to the baked bread - great flavor!

I tried to score a 'banana' on the top of the loaf; here is the crumb (the gorgeous aroma of banana bread filling the kitchen at the moment this photo was taken!):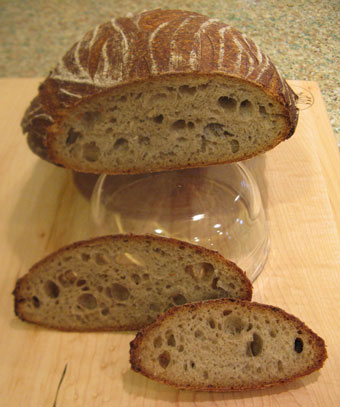 What wonderful discoveries these two breads were, today.

Happy baking everyone!
:^) from breadsong