SD 100% WW sandwich loaf with bulgur (cracked wheat) - discovered a new favorite ingredient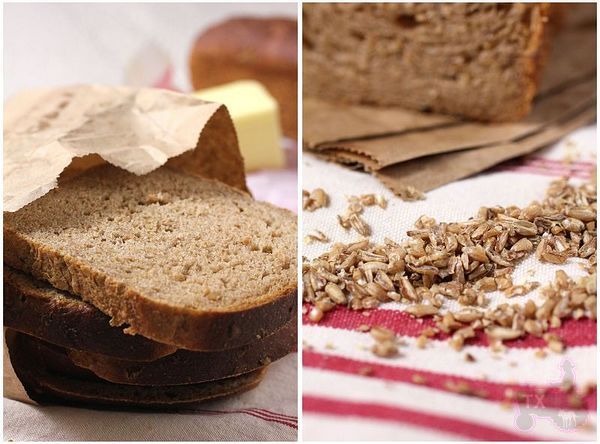 Another winning recipe I adapted from "Laurel's Kitchen Bread Book" - my main change is to use SD starter instead of dry yeast, changed fermentation schedule accordingly, and used more water. This my first time baking with bulgur, why did I wait for so long? They are fragrant, full of flavor/nutrients, AND easy to work with. Do note that bulgur is different from cracked wheat, the former has been par-cooked, and the latter has not, which means they require different method of cooking. To make it more confusing, stores often label bulgur as "cracked wheat".
Sourdough 100% Whole Wheat Sandwich Bread with Bulgur(Adapted from "Laurel's Kitchen Bread Book")
Note: 15% of the flour is in levain
Note: total flour is 415g, fit a 8X4 loaf pan. For my Chinese small-ish pullman pan (shown in picture), I used 385g total flour. For mini loaf pans in the picture, I used 138g of flour each.
- levain
ww starter (100%), 17g
water, 29g
ww bread flour, 54g
1. Mix and let fermentation at room temp (73F) for 12 hours.
- soaker
bulgur, 64g
water, 90g
molasses, 17g
2. Mix and bring to boil, set aside before start mixing the dough. By the time it's incorporated into the dough, it would've been soaked for at least two hours.
- final dough
ww flour, 353g (I used KAF)
water, 121g
butter, 17g, softened
salt, 5g
milk, 150g
honey, 17g
all levain
all soaker
3. Mix together flour, water, milk, honey, butter, salt and all levain, autolyse for 40-60min. Knead until the gluten has just been developed. More kneading will be done later, so do not fully develope the gluten network now.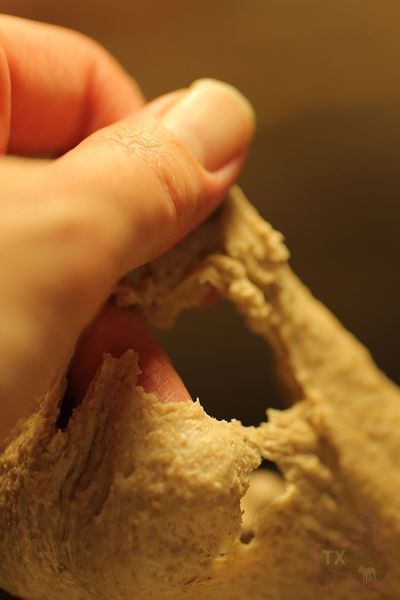 4. Rise at room temp (74F) for 2 hours. Punch down, add soaker, and knead until the dough is very developed. This intensive kneading s the key to a soft crumb, and proper volume. The windowpane will be thin and speckled with bulgur grains, but NOT as strong as one would get form a white flour dough. For more info on intensive kneading, see here [1].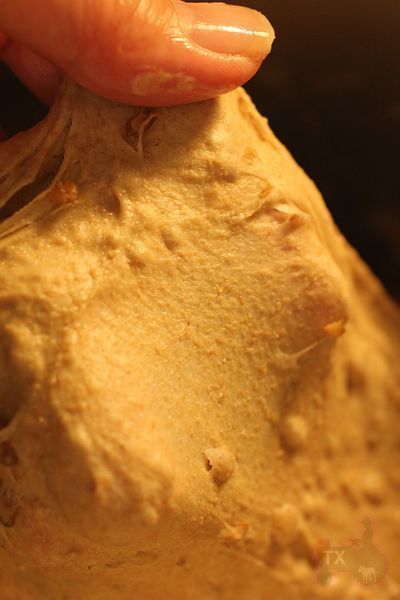 5. Put in fridge overnight.
6. Take out dough, punch down, divide and rest for one hour.
7. Shape into sandwich loaves, the goal here is to get rid of all air bubles in the dough, and shape them very tightly and uniformly, this way the crumb of final breads would be even and velvety, with no unsightly holes. For different ways to shape (rolling once or twice, i.e. 3 piecing etc) see here [1].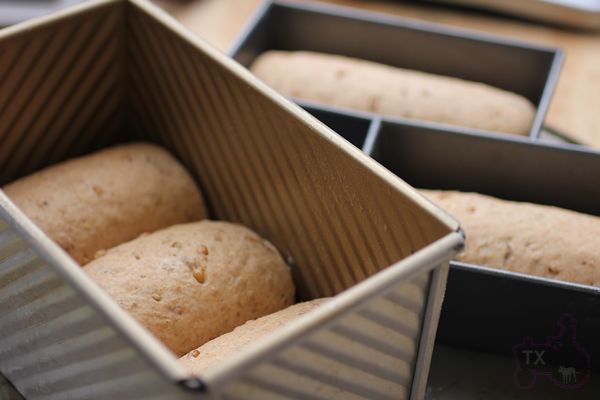 8. Proof until the dough reaches one inch higher than the tin (for 8X4 inch tin), or 80% full (for pullman pan). About 4 hours at 74F.
9. Bake at 375F for 40-45min for the big loaves, only 30min for the mini ones. Brush with butter when it's warm.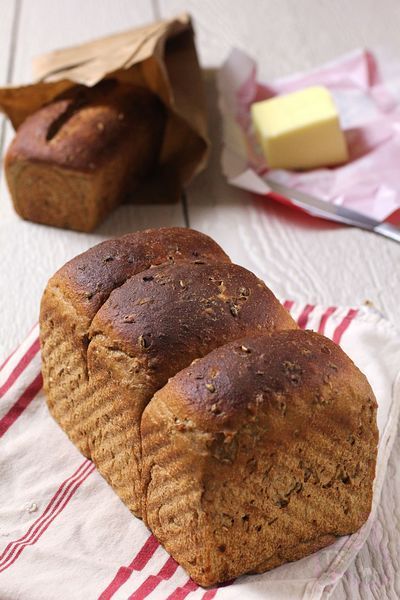 Don't be fooled by all the visible grains, the bread is NOT tough, nor dry, nor hard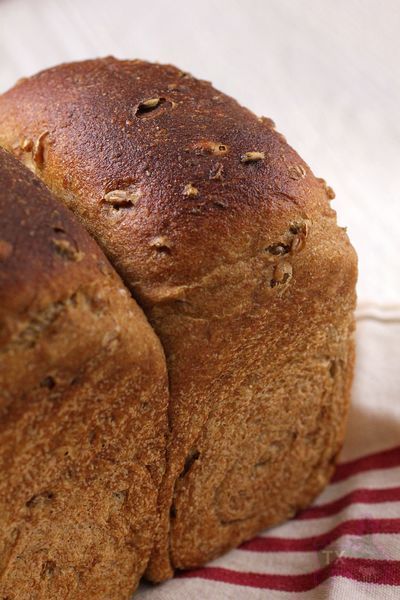 It's soft and full of flavor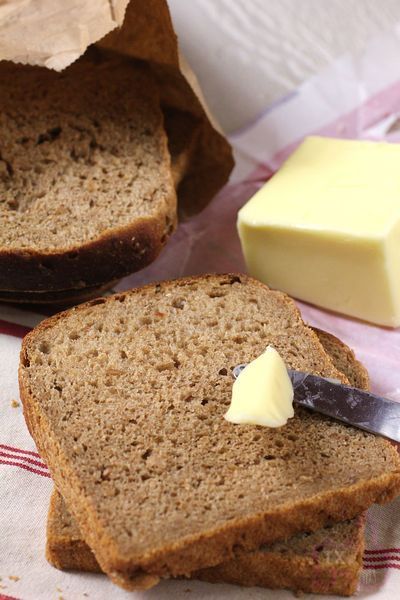 I live it lightly toasted, so fragrant! Still got enough bulgur left to play with, cant wait.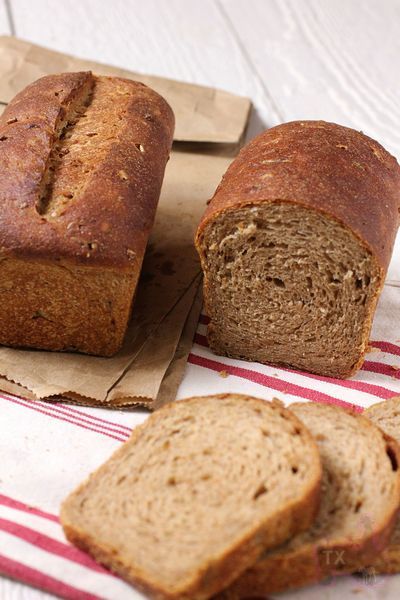 Sending this to Yeastspotting [2].