December 16, 2010 - 9:41pm
SFBI Artisan II Workshop - Day 4
Today, we mixed and baked ciabattas and challah, neither of them sourdough. We mixed and shaped olive bread, walnut raisin bread and miche to be retarded tonight and baked tomorrow. We also scaled ingredients and mixed pre-ferments for baguettes to make tomorrow. The baguettes will be made with two pre-ferments – a pâte fermentée and a liquid levain. The doughs for the ciabatta and for the miche were hand mixes, and all the levains were mixed by hand.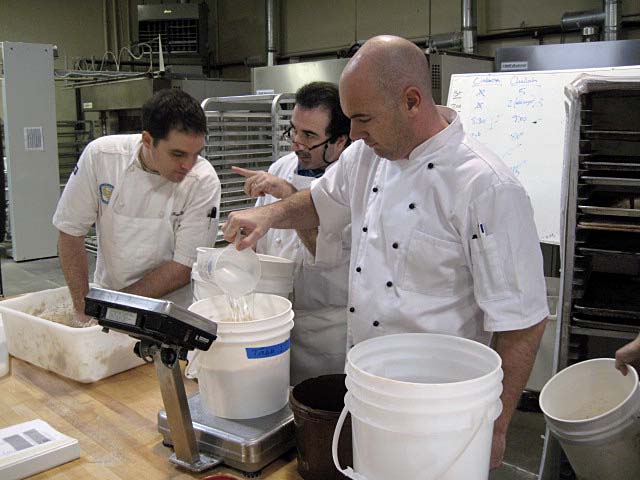 Scaling water for the miche mix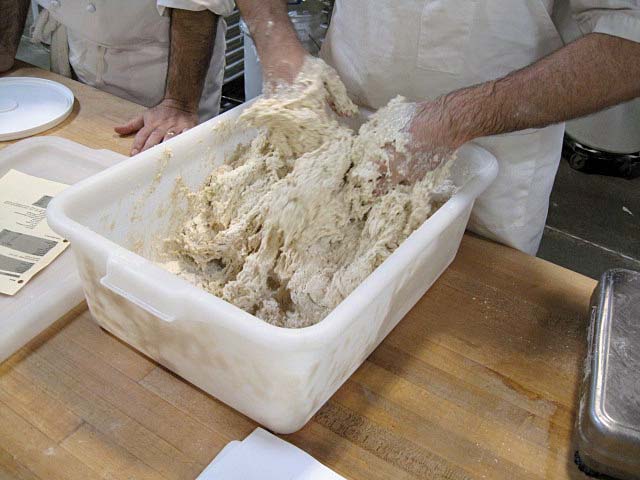 Hand mixing dough for the miches
Frank had us make 6-strand challah but he also demonstrated a variety of other braids. His challot are pictures of perfection. (Mine are pictures of squid who ate some special mushrooms.)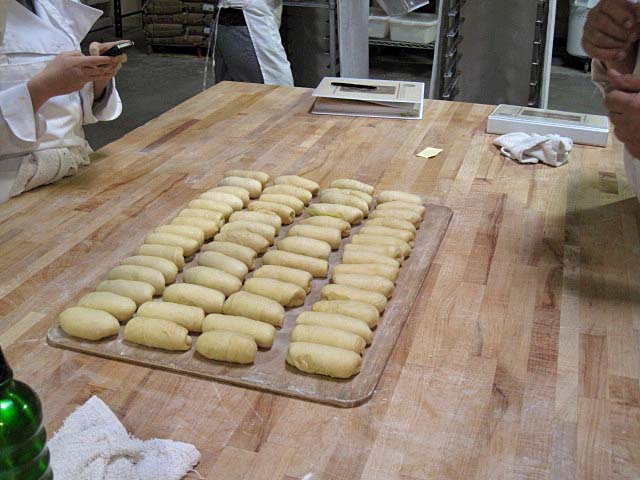 Challah pieces ready to be rolled into strands fro braiding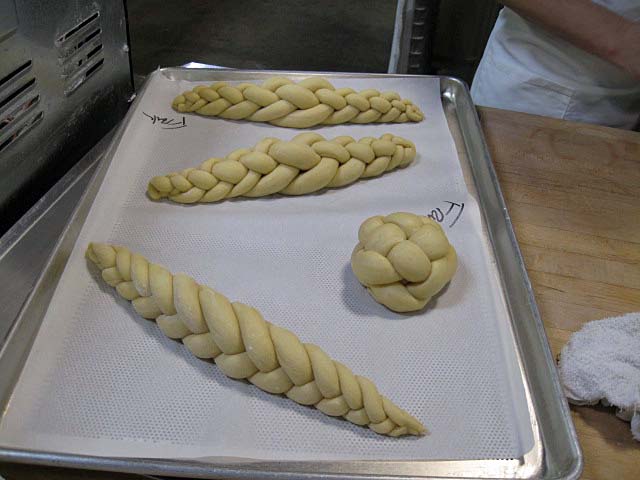 Frank's challot, ready to be egg washed prior to proofing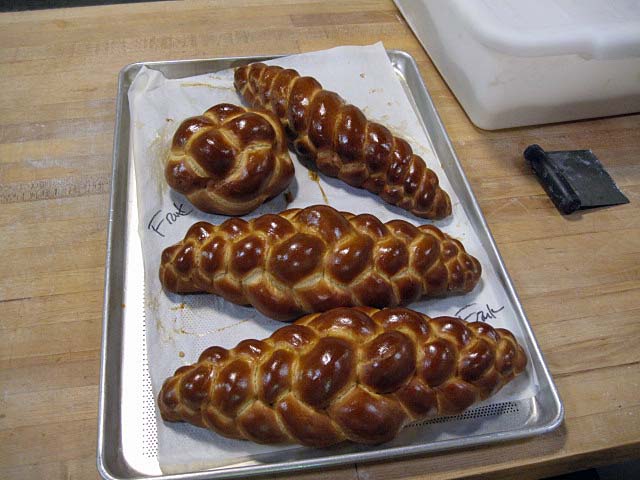 Frank's challot, baked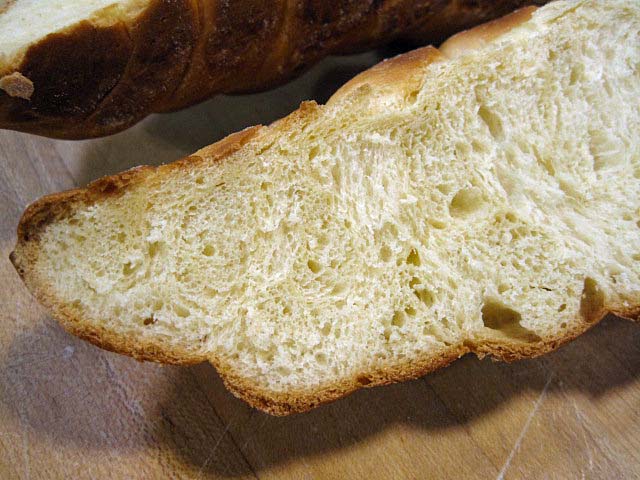 Challah crumb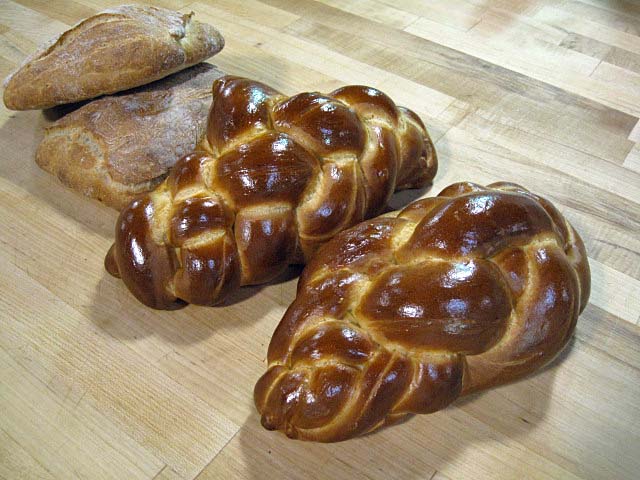 My Ciabattas and Challot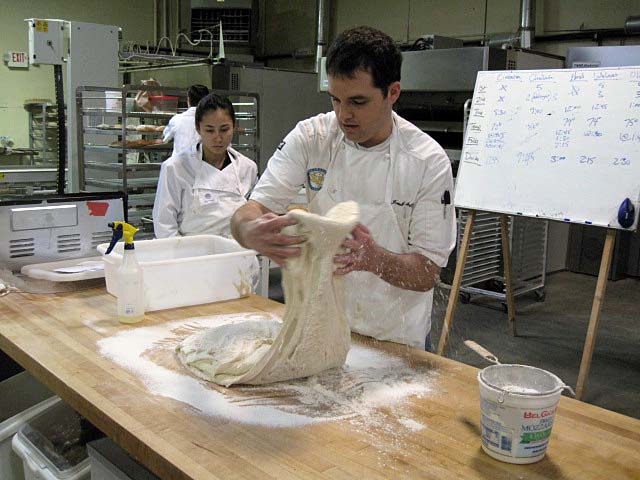 Stretch and fold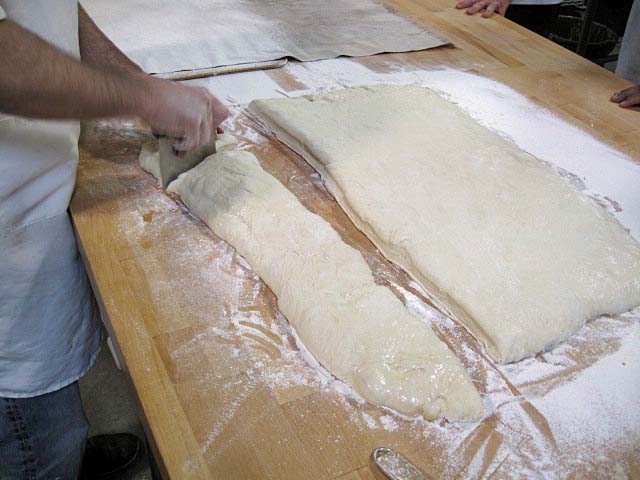 Dividing ciabatta dough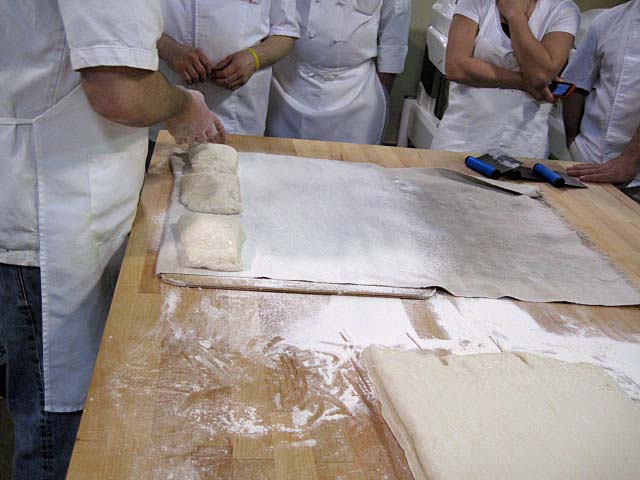 Placing ciabatta on the proofing board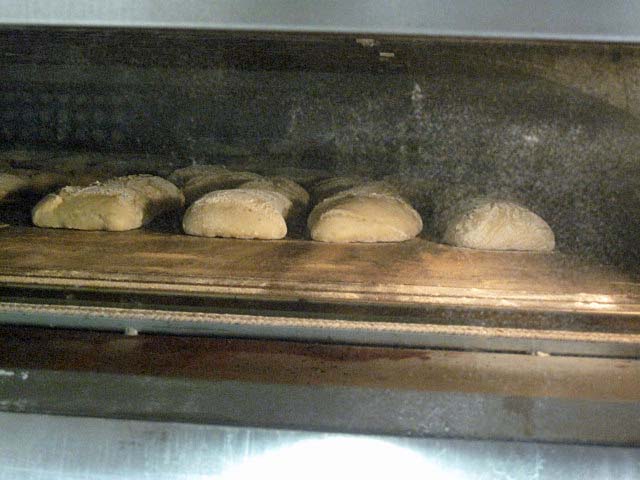 Ciabatta baking in the deck oven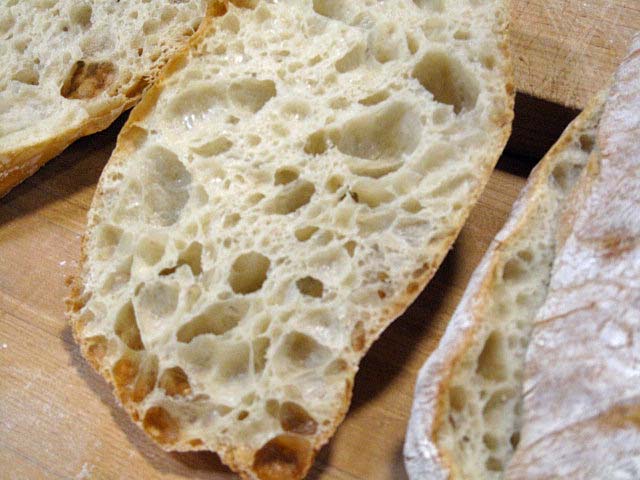 Ciabatta crumb
Both the ciabatta and the challah are delicious. I'm looking forward to the breads we are baking tomorrow.
We spent all day in the bakery and only were in the classroom to list our tasks for the day, first thing in the morning. Most of Frank's teaching dealt with dough handling issues, but I picked up a couple pearls worth sharing.
I asked him about how levain is calculated differently from other pre-ferments. (See my blog entry for Artisan II-Day 3.) Here's the answer: It's a matter of convention. Levain and other pre-ferments can be calculated either as a percent of dry flour weight in the final dough or in terms of the percent of pre-fermented flour in the total dough. No big deal. Your choice.
Frank also made two interesting comments as we were scaling and shaping the miches. The first was that long loaves like bâtards have a more open crumb structure than boules made with the same dough. I have found that to be true but attributed it to my shaping skills. The second was that the size of the loaf has a significant impact on flavor. I had also observed this with the miche from BBA which I made once as two 1.5 lb boules, which had a different flavor from the 3 lb miches I usually make. Again, I didn't generalize from that one experience at the time. Interesting, eh?
I am anxious to get home and practice some of the skills I've acquired before I lose them.
David