Mr. Potato Bread from "Bourke Street Bakery"
Another bread from the book "Bourke Street Bakery", using the same white sourdough dough as this hazelnut current bread [1]. The potatoes were roasted until barely soft and chopped to big chunks, so that they don't get lost in the dough. I have had too many potato chunks disappearing into the bread, I might have over-compensated and chopped them "too big", however they are delicious though.
The book has quite a few breads using the same basic dough, with different add-ins. The flow is very easy: 2 hours of bulk rise, shape and into the fridge overnight, take out and rise again next morning, then bake. Last time I let it warm up for almost 2 hours, this time it was 1.5 hours, judging from the scoring mark and crumb, I think 1.5 hours is better in my case. Other than roasted potato, there's also fresh rosemary to complement the flavor. Original recipe also used a little soy flour and nigella seeds, I have neither, so I used equal amount of buckwheat flour and poppy seeds, a nice subtle effect.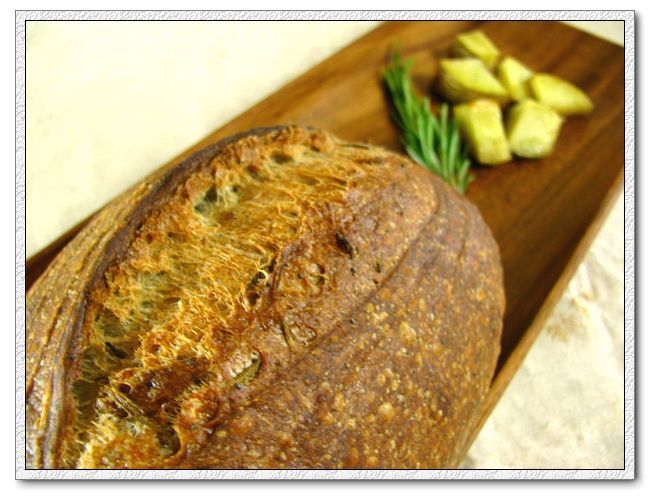 I am still trying to get up enough courage to try the pie and tarts formulas from this book. It's 100F+ here in Dallas, not the best time to make pastry dough, but cool weather is 4 months away, sigh...