November 19, 2006 - 7:07am
Success! with NYT/Sullivan St. Bakery technique with sourdough
Well, my first attempt with 100% whole wheat flour was pretty much a bust. But I thought I'd give it one more shot with sourdough and regular bread flour.

Wow. As you can see, my daugther is proud of her work (she helped me mix, which, with this technique, is about 75% of the work):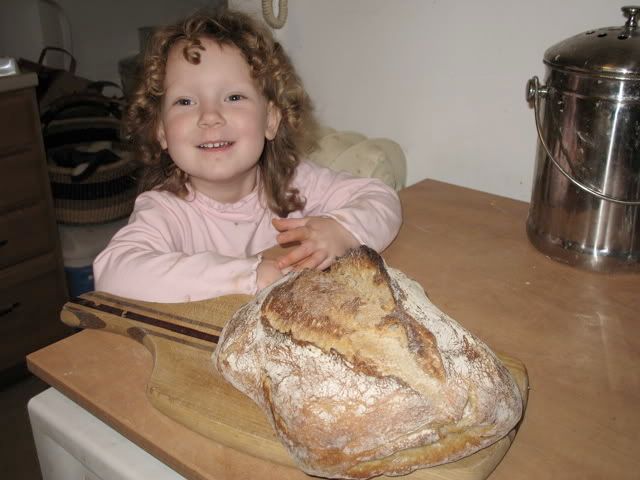 I've never had an "ear" like that on a loaf, and I've never had such a wonderful, crunchy crispy crust. Here's a shot of the crumb: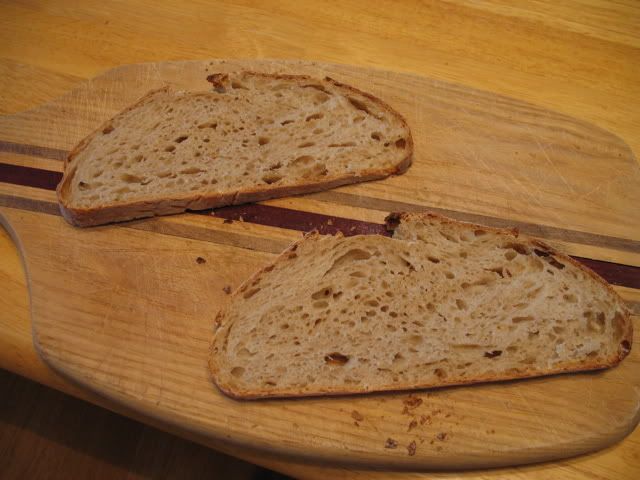 Nice and open, but without big "mouse holes." As for flavor, it was a mild to medium sourdough flavor, buttery with a slight tang and a long aftertaste. Crumb was chewy and light. Very nice.

Here's how I made it. My formula:
Final dough of 90% white bread flour, 5% whole rye, 5% whole wheat, 1.9% salt, 72% hydration.
5% of the flour was prefermented sourdough starter at 100% hydration.

Below are the actual weights of ingredients I used to get 1.1 kilograms of dough (strange, I know, but I was trying get the right size to fit my cloche): Mix together:

569 grams bread flour
32 grams whole rye flour
12 grams salt
Dissolve 63 grams whole wheat starter at 100% hydration into
424 grams water. Pour the water into the flour mix, and stir until it comes together into a dough.
Cover and let it sit for 17-18 hours at room temperature.
Flour a board copiously and then give the dough one stretch and fold.

[1]

Wrap it in a well-floured towel or sheet of baker's linen and let it sit for two hours.
Pre-heat the oven about one hour before baking to 500 degrees. Make sure that the covered pot, dutch oven or cloche is in the oven to warm up. I used a cloche

[2]

. They're not cheap. With shipping, they'll run you north of $60, but that's a lot less expensive than most dutch ovens, which seem to run $175+ for a big one of decent quality. I was given the cloche as a gift and don't have a dutch oven or a big covered cassarole.
Slash the dough if you like, though it may be too wet. Luckily, mine was perfect for slashing.
Carefully open the container to flop the dough inside, seam or slash side up. Close the oven door and lower the heat to 450.
Bake for 30 minutes covered and 10-20 minutes uncovered. (I baked mine for 15 minutes).
Let it cool on a rack for about an hour.

I don't make white-flour bread very often, but when I do, this will be the technique I'll use, though I may actually shape it next time. The dough had surprising strength and, after the fermentation, though the dough was sticky, it was by no means a batter. It kept its shape well. Amazing bread.