Red Wine Longan Sourdough - part 2 of French sourdough breads in Japan? ... and "variety breads"?
In my last post, French sourdough breads in Japan? ... and "variety breads"? [1], I mentioned the Taiwanese chef who won the second place in the 2008  the Coupe du Monde de la Boulangerie in Paris.  The chef who was responsible for the baguette/specialty breads section was Pao-Chun Wu from Kaohsiung, the second largest city in Taiwan.  The bread that won him the championship in the Asia qualifying tounament a year before the 2008 Olympics of bread-baking (to use SusanFNP's words at her Wild Yeast blog [2], as well as the 2008 "Olympics," is a creation incorporating a Taiwanese local dried fruit, longan, which was soaked in red wine and then made into a Pain de Menage style of bread.  (For a picture of this bread please refer to my comment in my last post [1].)
Longan (see pictures below) is a Southeast Chinese fruit, known for its rich syrupy aroma.  Throughout Chinese history, it is said that the North has ginseng and the South has longan.  The small town, near Kaohsiung, where chef Wu sources the dried longan for his championship boule, has been producing it for hundreds of years.  As soon as longan is harvested, it is roasted in a wood fired oven for six days and nights, during which time the town people take turns to mind the fire at night.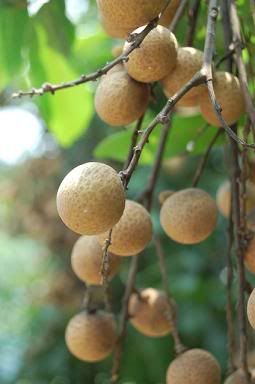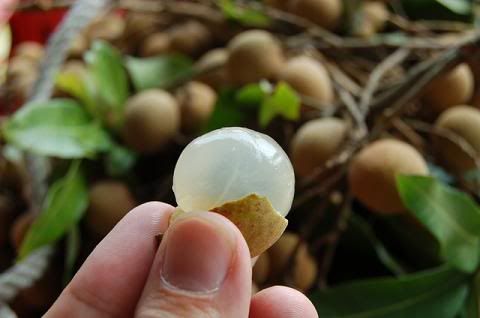 Longan literally means "dragon's eyes" in Mandarin    
As I have no way of sourcing this dried longan or having access to chef Wu's recipe, I decided to make do with what I have.  I do have a reference point as I had the pleasure of tasting it five months ago when I was back in Taiwan visiting my parents for Chinese New Year.    
I bought a bag of the dried fruit from China town in Brisbane, soaked the fruit in red wine (with a touch of Grand Marnier) and refreshed my starter at the same time last night.  I am finding my starter has been performing much better since I changed its hydration to 75% from 100%.  This  morning I mixed my dough as normal, autolysed, salted it, then mixed again, then added the dried longan and mixed it again.  I then divided it into two portions; the larger portion I added extra toasted walnuts to make it into a boule; the smaller portion I made into two skinny breads.  First fermentation was 3 hours in the balmy wintry outdoor temp of 25C (77F) and proofing was 2 1/2 hours.  It was baked in a very hot oven at 240C (460F) with steam.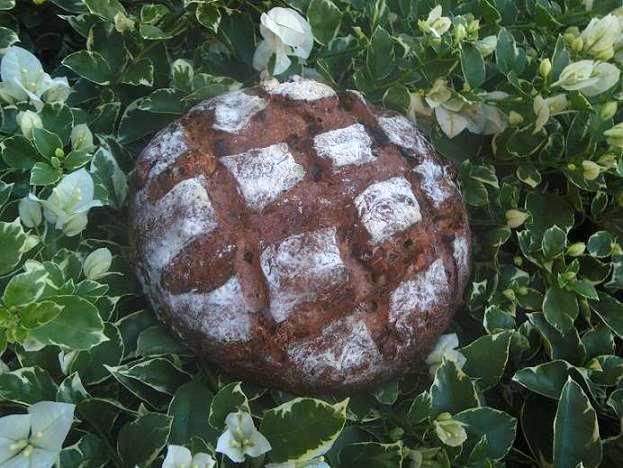 Red Wine Longan & Walnut Boule (It's early winter here in Australia but my bougainvilleas are still roaring with blooms.)    
The crumb of Red Wine Longan & Walnut Boule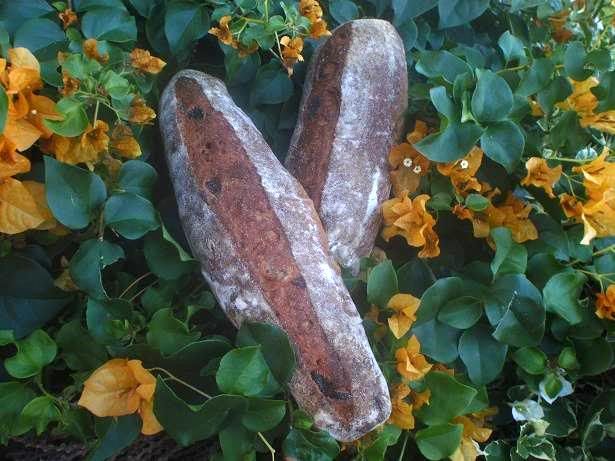 Red Wine Longan Sourdough    
The crumb of Red Wine Longan Sourdough    
I am very happy with the results of these breads.  The rich aroma from the longan and red wine is a cracker combination.   There is a delicate balance between the sweet longan and the added salt.  I was a bit shy with the red wine so the crumb color isn't as deep as in my memory.  In fact, a vintage port  may even be a better pair with the longan.  Both breads are delicious.  The crumb is moist and flavorsome and the crust is crispy and aromatic.  To further improve the flavor I could try retarding the dough next time.    
The silly thing is I thought I had my glasses on when I was weighing my ingredients (I was aiming for a final dough hydration of around 69%, counting the red wine) but the final dough was 400g more than I thought!  I do not know how much more flour or water that was actually put in.  My dough felt more like 72% than 69%!  As the flour I used was high gluten at 13.6%, I knew I could push the hydration to give the crumb a better chance of opening up; but I did not want too much hydration as my technique could not handle it.  My daughter asked me to write up the recipe for next time.  Well, it'll have to be a new one then.    
Shiao-Ping