Chocolate Borodinsky in pieces
Some time ago I posted on a chocolate borodinsky.  This was scaled to a mammoth 1.4 Kg to fill my 4x4x9 Pullman pan.  That's a lot of Borodinsky particularly since certain people in my domicile eschew high ryes.   (And eschew doesn't mean chew.)   So what do you do if you want a  bit of Borodinsky, or you are baking for other folks who love carbs, but not that many of them.   One cannot piece Borodinsky loaves as you could say a pain de mie.  Paste doesn't piece.   A dilemma.  
The answer?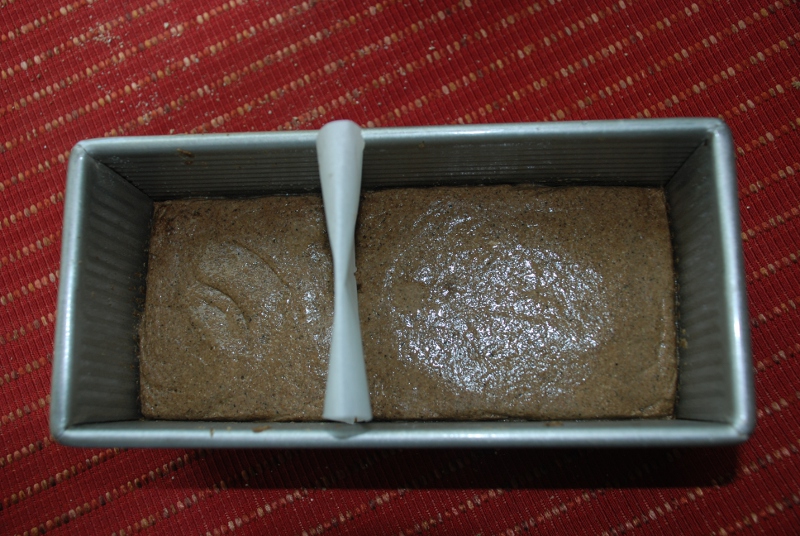 Cut a piece of parchment paper to width of pan.   Fold in half and fold loose ends to form an upside down T.  Hold vertical in pan at right division point, and then spoon in desired weight of each loaf on either side of parchment.   When pan is full, smooth down each side with wet spatula.   Proof and bake.   As you can see above, this worked.   The division wasn't quite as straight up and down as I had hoped, probably because I didn't get the exact right spot to divide the loaf.    I baked this for 50 minutes, then removed from pan.   The divisions simply fell apart from each other.   No pulling required.   I baked outside of pan for around 10 minutes longer.  
Since this loaf was experimental, I decided to cut the small one right after cooling to see if there was any reason to wait 24 hours or so as I usually do.   (Electric light plus flash.)
The crumb was actually fine - not gummy as I expected.   And the taste was good as well.   I didn't do the scald until the morning for these loaves, but I think its better done night before.
The small loaves are kind of cute.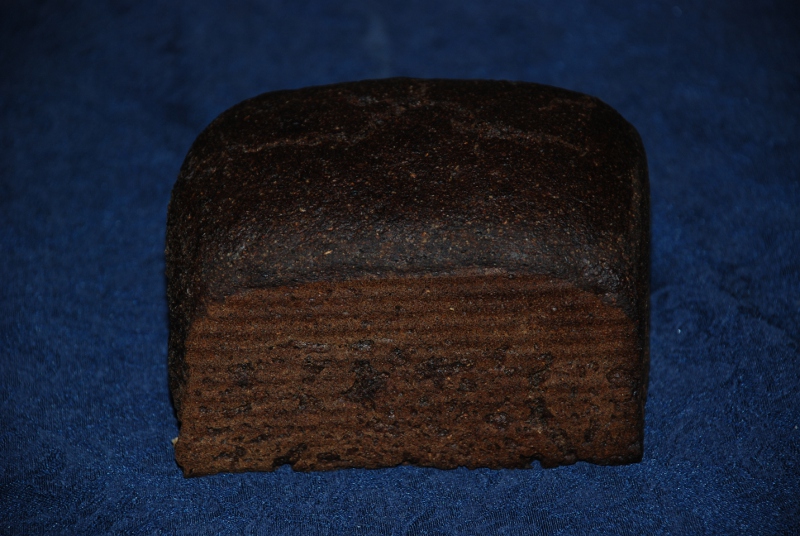 And I think more satisfying to have a whole small loaf than a cut big one.  
Update:   Here is second loaf crumb- cut after 22 hours (outdoor light)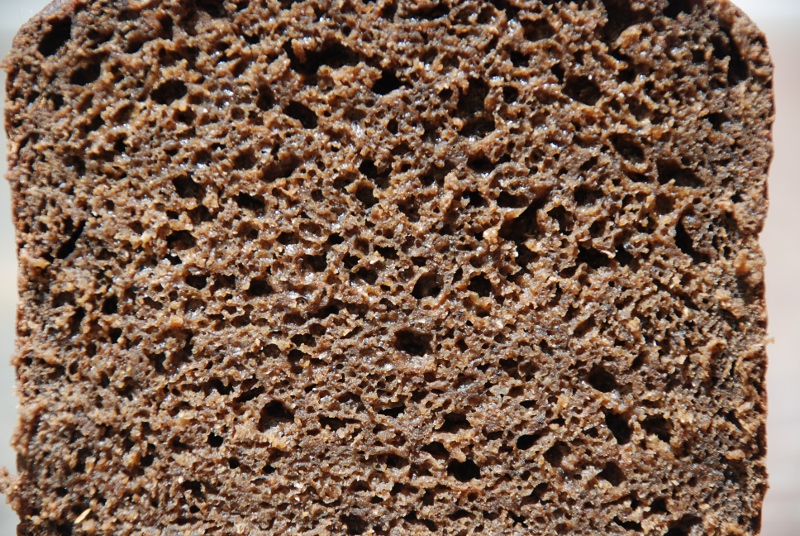 Formula and method
scaled to one 450g (dough weight) and one 700g loaf. 
 
      Small
   Medium
     Large
 
            Bake small and medium
 
 
 
 
 
 
 
 
 
 
 
 
 
 
 
 
Rye Sour - 167% hydration - Whole Rye
 
 
 
 
 
 
 
 
 
 
 
 
 
Scald
 
 
 
 
 
 
 
WR
33
52
70
 
85
 
 
Boiling Water
80
125
169
 
205
 
 
Molasses
13
21
28
 
 
 
 
Chocolate Malted Rye
12
18
24
 
30
 
 
Ground coriander
1
2
3
 
3
 
 
 
 
 
 
 
 
 
 
Final Dough
 
 
 
 
 
 
 
WR
67
104
141
 
170
 
 
KABF
44
69
94
 
113
 
 
Water
16
25
34
 
41
 
 
Molasses
0
0
0
 
0
 
 
Chocolate Malted Rye
0
0
0
 
0
 
 
Malted Rye
3
5
6
 
7
 
 
Salt
3
5
7
 
8
 
 
Ground coriander
0
0
0
 
0
 
 
Rye Sour
177
276
375
 
454
 
 
Scald
139
217
294
 
356
 
 
 
450
700
950
 
1150
 
 
Feed starter to amount night before (must be frothy in the am before using)
Mix up scald and let rest 1 hour
 
1:00
8:45 AM
 
Mix starter and scald to make sponge
 
 
3:30
9:45 AM
 
Mix all then BF
 
 
1:15
1:15 PM
 
Put parchment paper in pan as boundary
0:10
2:30 PM
 
Spoon in 686g dough into one side
0:05
2:40 PM
 
Spoon 444g into the other
 
0:05
2:45 PM
 
Smooth down each side
 
 
2:50 PM
 
Proof
 
 
1:00
2:50 PM
 
Bake with steam at 450 for 50 minutes
0:50
3:50 PM
 
Remove from pan and separate
 
0:05
4:40 PM
 
Bake 10 more minutes to harden
 
0:10
4:45 PM
 
Remove and cool
 
 
 
4:55 PM
 
 
 
 
 
 
 
Total prep time
 
 
8:10